Finding decent meal replacement products is hard enough when you eat animal products, never mind when you're a vegan relying on plant-based protein powder in a world designed mainly for meat-eaters.
As the great Etta James once said – this is an omnivore's world.
Vegans looking to increase their protein intake could benefit from meal replacements, protein shakes, and other such supplements listed below.
Alas, sometimes a multivitamin alone just won't cut it.
Our Top Vegan Meal Replacement Shakes (2022 Updated)
1 - Orgain Organic Vegan Nutritional Shake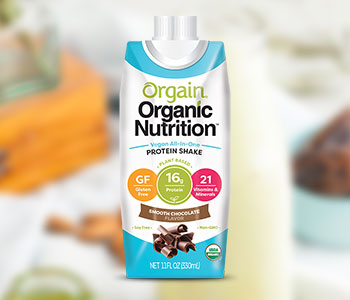 This ready-to-drink plant-derived shake has 16g of plant protein per serving, which is a little low compared to the 20g of most of its competitors on this list.
Still, it clocks in at just 220 calories per serving, which is good if you're trying to lose weight while keeping your body supplied with the right foods.
Furthermore, these shakes are gluten-free, soy-free, GMO-free, and animal-free.
If your interested on protein powder, then you can also try the protein powder from Orgain Organic.
Calories: 220
Fats: 7g
Carbs: 29g
Sugars: 10g
Proteins: 16g
PROS
16g of protein and 220 calories
Source of vitamins A, C, D, E and B12
21 vitamins and minerals
Smooth and creamy
CONS
The old formula tasted better
2 - Ample V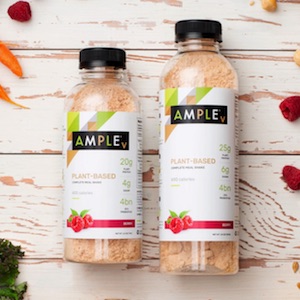 I usually prefer a simple, and  straightforward meal replacement shake. Something that I could just prepare with water and ice, and gulp down as I leave the house in the morning.
This is exactly why I like Ample V, and recommend it to my clients who don't have time to prepare an elaborate breakfast or post-workout smoothie.
I grab a bottle, pour some ice cold water, and I'm ready for the day.
You can buy it in pre-portioned, single-serve bottles, or you can also get the bulk pouch, which is cheaper on a per-serving basis.
Calories: 400
Fats: 25g
Carbs: 23g
Sugars: 4g
Proteins: 20g
PROS
Easy to prepare
Has 13g of fat, 10 g of vegan protein, and 12 g of carbohydrates
Thin but creamy texture
No artificial flavors and sweeteners
CONS
Only available in cherry flavor
I personally enjoy the fruity cherry flavor, but it wouldn't hurt if they would add more variants.
3 - Complete Start Meal Replacement Shake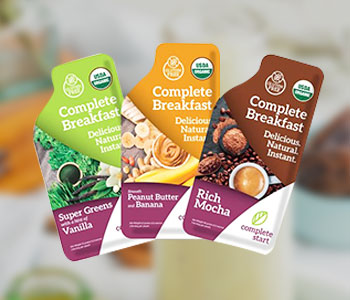 One of the top vegan meal replacement shakes I could find, this product comes with 3 unique flavors:
Vanilla, peanut butter banana, and mocha.
These GMO-free shakes are made with vegan superfoods; all you need to do is mix them with water or milk as you please.
The company worked with a nutritionist to find a strong plant-based formula for those sticking to a vegan diet.
Calories: 220
Fats: 2.5g
Carbs: 29g
Sugars: 5g
Proteins: 21g
PROS
250 Calories and 20g+ protein
​3 unique flavors – vanilla, peanut butter banana, mocha
​Contain the nutrition vegans need
CONS
​Somewhat chalky consistency for some users
This meal replacement will surely provide your body the nutrients it needs that other food sources can't provide.
4 - Ambronite Complete Meal Shake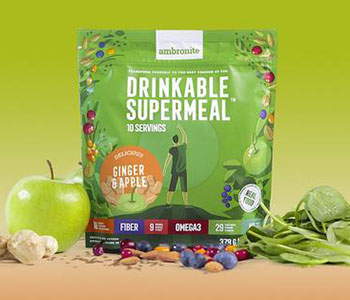 Ambronite Complete Meal Shake is the top vegan meal replacement solution that I would recommend based on my experience.
This all-in-one nutritional shake contains all the proteins and premium fats you need on a vegan diet, in addition to carbs which are rich in fiber and probiotics.
There are a bunch of different flavors to try, so it's hard to get bored of this all-in-one nutritional shake.
Some shakes can have "samey" and bland flavors, so that is certainly a nice change.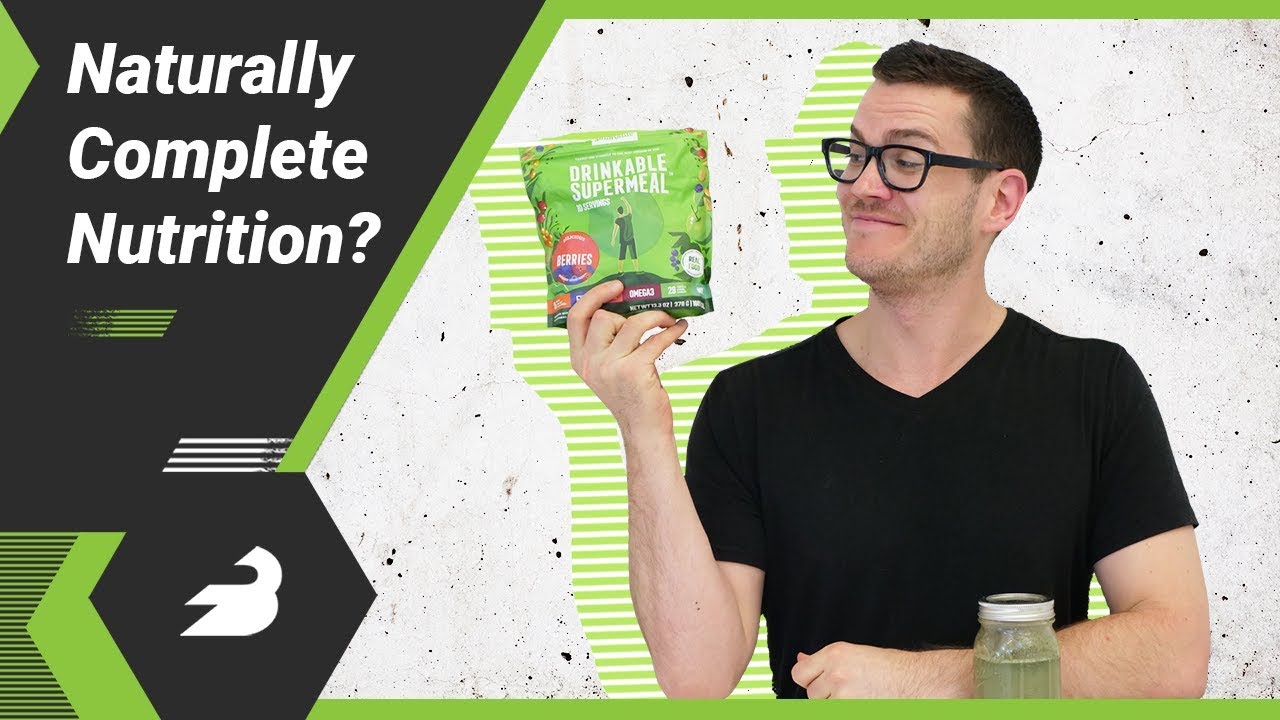 Calories: 400
Fats: 15g
Carbs: 40g
Sugars: 12g
Proteins: 24g
PROS
24 grams of protein and 160 calories per serving
29 Food-based vitamins & minerals
100% Plant-based and vegan-friendly
CONS
erries flavor could be improved
Some packages come without a promised scoop
5 - Oxyfresh Vegan Protein and Greens Meal Replacement Shake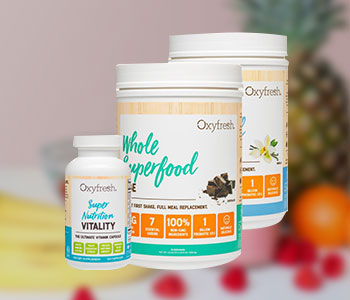 Oxyfresh – which sounds more like an air freshener than a vegan protein powder – it is a 100% GMO-free shake made from superfoods.
It includes broccoli, cabbage, collard greens, spinach, and any other green stuff you can imagine.
This organic vegan nutrition shake is not only an apt food replacement, but it also has the added benefit of being soy-free, which is a plus if you're a vegan with dietary restrictions or stomach problems.
Calories: 180
Fats: 6g
Carbs: 12g
Sugars: 6g
Proteins: 20g
PROS
20g of organic protein per serving
Contains active probiotics – good for digestion
Made with superfoods which aid wellness and healthy living
CONS
Not the cheapest plant-derived shake on the market
Feel full for a longer time and avoid those unnecessary cravings. It will also give you a higher level of energy while you're at the gym.
6 - Gnarly Meal Replacement Vanilla Vegan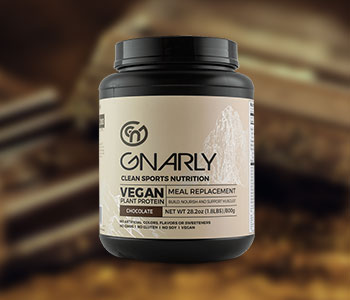 Continuing our long tradition of reviewing products with stupid names, here we have "Gnarly" Meal Replacement Vanilla Vegan…
I'm like totally stoked, dude.
Still, this nutritional shake contains pea protein isolate as well as proteins from cranberries and chia seeds, so you've got plenty of protein while you're losing weight.
Calories: 200
Fats: 7g
Carbs: 16g
Sugars: 3g
Proteins: 20g
PROS
200 Calories and 20g of protein
Very smooth consistency
Pleasant taste
CONS
A little high in sugar (6g)
Too sweet for some users
It also contains digestive enzymes which are there to reduce any gas/digestion problems that can crop up with these kinds of plant-based protein shakes.
7 - Powerootz Superfood Nutritional Shake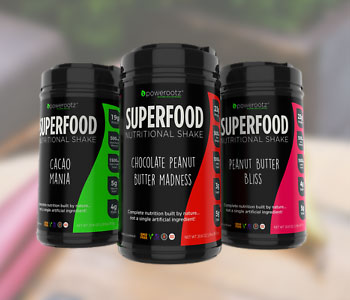 This product's flagship flavor is called "Chocolate Peanut Butter Madness", which makes me concerned for this vegan shake's sanity.
What drove the chocolate peanut butter mad? Has it been sectioned?
I digress.
Powerootz describes their shakes as the "yummiest nutritional shakes ever"; a bold claim that I doubt is backed up by double-blind clinical trial.
Calories: 150
Fats: 4g
Carbs: 11g
Sugars: 3g
Proteins: 23g
PROS
Full of vitamins and minerals
15 superfoods
Among the healthier shakes on the market
CONS
Quite expensive
Childish branding
Still, I enjoyed the flavors personally, and so do many other people who swear by these shakes.
There are 15 raw superfoods, organic peanut protein, pea protein isolate, and even rare earth colloidal minerals in this product, making it one of the best vegan meal replacement shakes in terms of nutrition.
8 - Garden Of Life Meal Replacement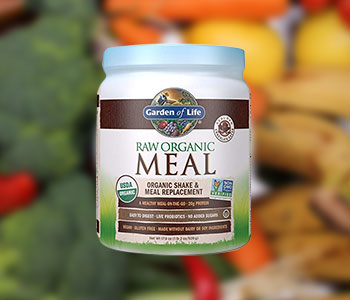 Featuring an array of gluten-free and non-GMO ingredients, Garden Of Life's food replacement shake is all about being as healthy and natural as possible.
Each serving contains 20g of plant-based protein, along with 5g of fiber, powdered greens, various vitamins and minerals that your body craves as part of a balanced diet.
Want to eat chocolate and still lose weight?
Calories: 120
Fats: 2g
Carbs: 8g
Sugars: <1g
Proteins: 20g
PROS
Very good taste
Full of vitamins and minerals
Free from GMO ingredients
CONS
The company is now owned by Nestle
Very expensive
Well, now you (kind of) can, as this product contains a generous portion of Raw Chocolate Cacao.
9 - Soylent Meal Replacement Drink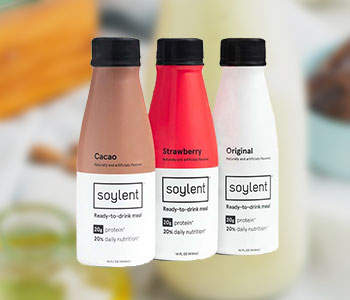 Considering the famous fictional drink "Soylent Green", which was made from human remains, you'd think you might want to steer clear of words like "Soylent" in your branding, yet here we are.
This product contains 20g of plant-based protein per serving, which seems to be the standard for many of these plant-derived shakes.
However, it also features beet-derived slow-burning carbs, Omega-3s, and a whopping 26 vitamins and minerals.
Calories: 400
Fats: 21g
Carbs: 36g
Sugars: 9g
Proteins: 20g
PROS
20g of protein
Convenient bottled shakes
Packed with essential vitamins
Low in calories and loaded with health benefits, these ready-to-go shakes are essentially a plant-based meal in a bottle which you can grab on your way out the door.
10 - Huel Vegan Powdered Meal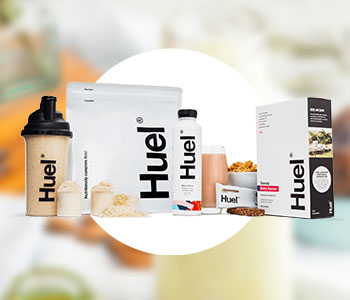 I've always liked Huel's packaging – it's incredibly simple and not marketed specifically to any gender or demographic, which is rare in the fitness world.
Their vegan protein powders are also to my liking, with their low-sugar and high-protein formula helping you feel full and energetic throughout the day.
To top all of this off, Huel's powder has a very low GI (Glycaemic Index) of 27, so diabetic vegans may find it preferable when dieting.
Calories: 400
Fats: 13g
Carbs: 46g
Sugars: 1g
Proteins: 30g
PROS
Low GI of 27
Brown rice protein and pea protein
Neutral flavor
Who says that vegan is boring?
11 - Vega All-in-One Protein Powder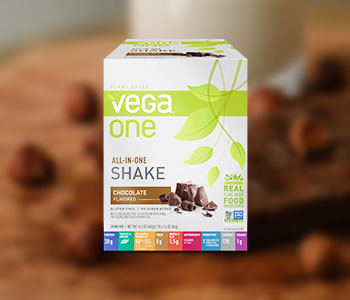 Start your day with multi-sourced protein, vitamins, minerals, probiotics, antioxidants, and Omega-3s, all sourced from the power of plants in Vega One Organic
This all-in-one vegan meal replacement shake seems to have a good balance of healthy ingredients.
For example, it features numerous vitamins, minerals, antioxidants, probiotics, and Omega-3s, helping plant-eaters to get everything they need.
Calories: 170
Fats: 5g
Carbs: 13g
Sugars: 1g
Proteins: 20g
PROS
Organically sourced
Top-selling protein powder on Amazon
Great taste
CONS
Some users claim that the older formula was better
The manufacturer claims that in a single scoop of this powder, you will meet 50% of your DV for 8 vitamins and minerals.
What Is A Meal Replacement Shake?
A meal replacement shake is a health supplement that (yep, you guessed it) is designed to replace a regular meal. These shakes are usually around 200-400 calories on average, and good ones will have all the nutrients, proteins, vitamins, and minerals that your body needs when sacrificing regular food.
So, why do people take meal replacements when they could just eat healthy dishes instead?
For some people, it's all about spare time. According to the Bureau of Labor Statistics, the average US citizen has around 4 hours 59 minutes of "leisure time" each day.
However, once you add in activities like cooking, Netflix binging, and socializing, you're left with very little time to cook healthy food, so meal replacement shakes can be a great alternative if you're short on spare time.
Additionally, some people take meal replacements to help lose weight and extra body fat, while others drink them due to certain dietary problems (1).
What Are The Benefits Of Taking A Meal Replacement Shake?

1. Speeds up weight loss - The shakes can help you to lose weight more quickly in the short term. This is not generally a long-term solution for healthy living, but if you're struggling to fit into your favorite outfit before a big wedding or event, these shakes could be the way to go.
2. Contains fewer calories than regular meals - Most shakes contain 200-400 calories per serving, which is considerably less than your average balanced dish. As such, it is easier for you to cut down your calorie consumption when you're trying to watch your weight. As you're probably aware by now, a caloric deficit is the easiest way to drop excess pounds.
3. Simple and quick to prepare and consume - There's a reason that the Western world is so addicted to caffeine – we need energy for all that stuff we're busy doing!
One study found that "bad" cholesterol levels were significantly lower in people consuming high-protein meal replacements compared to people consuming high-carb meal replacements.
If you're juggling careers, children, family, and social responsibilities, you probably don't have a bunch of time to sit around reading Goop and cooking extravagant banquets.
4. Decreases food cravings - Food cravings can be instrumental in ruining a diet, but the best meal replacements help you to feel full for 3-4 hours, making it easier for you to go without food for a little while (2). The best vegan meal replacement shakes contain no artificial sweeteners. These pesky sweeteners can cause you to crave real sugar, potentially ruining a diet.
5. Lowers cholesterol level - So, assuming you stick to the protein-packed options, you should be able to reduce your cholesterol levels significantly.
6. Contains all essential nutrients - Similar to green superfood powders, these products can provide you with all the essential nutrients you need for your body. This is to assume that you picked a reputable brand.
Meal replacement shakes are designed to provide all of the nutrients that you should consume in a complete meal. As such, they are fortified with nutrients, which might fill your nutrient gap while you are cutting back on calories.

- Peter Tzemis, Health Professional
7. Helps improve digestion - Thanks to the addition of fiber and probiotics that aid the digestive system, people with digestion problems will probably find these shakes to be very beneficial. Nonetheless, some brands may "agree" with your digestive system more than others, so shop around a bit.
​What Is The Difference Between Vegan And Traditional Meal Replacement Shakes?
The vast majority of traditional meal replacement shakes are made from animal-sourced ingredients in some way. For example, honey acts as a sweetener and whey protein is derived from cow's milk.
The simple difference between vegan and traditional shakes is that vegan shakes contain no animal-derived ingredients at all.
Generally speaking, vegan shakes are healthier too, drawing from a large pool of plant-based protein sources such as pea protein, pumpkin seed protein, brown rice protein, hemp protein (no, you won't get high) and much more.
Vegan shakes also tend to contain fewer allergens (cow's milk, etc.), which is a plus.
​What Should I Look For In A Quality Vegan Meal Replacement Shake?
1. Amount of sugar
Healthline has bothered to list 11 reasons why too much sugar is bad for you, but suffice it to say that too much sugar will make you fat, give you heart problems, and lead to diabetes. (3) We can only assume that you want to avoid all of that, so look for shakes that aren't packed to the brim with sugar.
2. Source of protein
As one of your main macronutrients, it's essential that you get enough protein in your diet. Decent vegan shakes will contain a healthy source of bioavailable plant-based protein such as pea protein or brown rice protein, fuelling your body with energy while avoiding animal-derived products. If you need a bigger boost in protein, you can supplement with a vegan protein powder (here are some of our favorites).
3. Essential nutrients
Your nutritional shake could be giving you the nutrients you need if you choose your brand wisely, although these products should always be combined with a balanced vegan diet. Look for things like superfoods, antioxidants, probiotics, fiber, and other good clean ingredients.
FAQs

Are Vegan Meal Replacement Shakes for Weight Loss Only?
Vegan meal replacement shakes are not only for weight loss. They can also be used by people with dietary deficiencies or vegans looking for a convenient and nutritious "meal" to fit into their busy schedule. Nonetheless, vegan meal replacements can be used for weight loss effectively.
Are Vegan Meal Replacement Shakes Healthy Enough?
Vegan meal replacement shakes are healthy enough for most users, assuming you go with a reputable brand and a formula that is suited to your personal diet. Most vegan meal replacement supplements undergo intense research to ensure that they are nutritious enough to support people eating a plant-based diet.
Can You Live on Replacement Shakes Alone?
No, it is not advisable to be on replacement shakes alone. While they claim to provide the essential nutrition you need on the daily, it is still best to consume your macro and micronutrients from natural food. Remember that these shakes are supplements, which, as the term means, is only to supplement what is lacking in your diet. You will still need to eat a healthy breakfast like some vegan cereals or proteins that can help start your day.
How Often Should Vegan Meal Replacement Shakes Be Taken in a Day?
Vegan meal replacement shakes are usually taken 1-2 times per day, depending on your diet and health goals. Do bear in mind that these shakes need to be combined with regular solid meals too, so any more than 1-2 per day could leave you feeling malnourished if you don't eat enough normal vegan food.
How Do You Know If Your Vegan Meal Replacement Shake Is Healthy?
You know your vegan meal replacement shake is healthy if it contains a high amount of protein (around 20g), a blend of vitamins & minerals, probiotics, essential amino acids, superfoods, and other such ingredients. When in doubt, read unbiased online reviews about the product and see what its regular users have to say.
Will Taking Vegan Meal Replacement Shakes Cause Side Effects?
Taking vegan meal replacement shakes can cause side effects for some people -- although these side effects are often similar for animal-derived shakes too. Common side effects include bloating, gas, nausea, and vomiting. Always check that you're not allergic or sensitive to any of the ingredients before taking a meal replacement shake.
Our #1 Recommended Vegan Meal Replacement Shake Is...
After months of testing, Orgain's Organic Nutrition Shake stood out as my favorite among the supplements on this list.
This plant-derived drink is loaded with micronutrients and a great amount of protein per serving, making it an ideal choice for people trying to lose weight or those with dietary deficiencies.
Having this shake for breakfast just leaves me immensely satisfied, and that's how I know it's really good for me.
I know it's not the cheapest drink out there, but given its impressive nutritional profile and delicious taste, I believe it might just be worth a shot.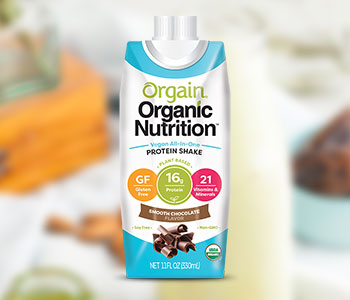 Orgain Organic Vegan Nutritional Shake
Best Vegan Meal Replacement Shake
16g of protein and 220 calories
Source of vitamins A, C, D, E and B12
21 vitamins and minerals
Smooth and creamy
Get the BEST PRICE until the end of May
Click For Best Price
About the author