You won't be able to find a 100% vegan collagen supplement in the strictest sense.
It is a protein typically found in skin, hair, nail, and bone, is primarily sourced from animal products such as beef or fish.
However, there are some plant-based collagen products that are made using cutting-edge science that work to provide the same benefits without any of the cruelty to animals.
We've researched the best vegan collagen supplements on the market today and picked out the best available.
Our Top Vegan Collagen Supplements (2021 Updated)
1 - Future Kind Vegan Collagen Booster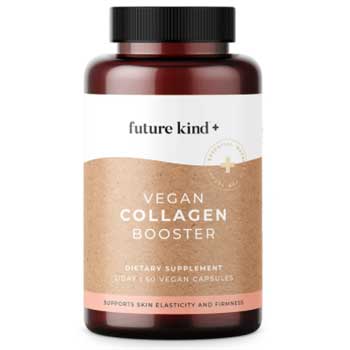 Future Kind Vegan Collagen Booster claims to contain a combination of 16 vitamins including vitamin C, vitamin A as well as potent herbal ingredients such as pea protein, aloe vera, grape seed extract - all designed to protect and promote your natural collagen production. Particularly Vitamin A has been found to increase collagen production in the body, so don't forget to chow down on those carrots.
But besides Vitamin A, this product also contains other vegan-friendly ingredients, such as grape seed extract, zinc, bamboo silica extract, and amla - an Indian ayurvedic herb that promotes skin hydration.
Lots of users claim that the product has helped them restore their skin's elasticity. Collagen ensures wrinkles are kept at bay, and it also has a positive effect on the revitalization of hair, nails, and joints.
PROS
Easy to swallow capsule form
The company offers a money-back guarantee
100% vegan and cruelty-free
CONS
Might be a bit pricey for some users
2 - Ora Organic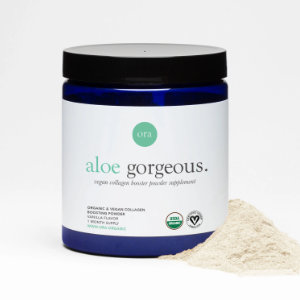 Any product by Ora Organic is not to be taken lightly and their Aloe Gorgeous is no exception. It's an organic, vegan collagen-boosting powder. Coming in a delicious vanilla flavor, it's packed with aloe vera, silica, pea protein, and vitamins C and E.
After trying several plant-based collagen products, I really feel it's making a difference in my skin, hair, and nails. I recommend giving it 30-60 days to see any noticeable effects.
Though the vanilla taste is nice on its own, I like to add the powder to my protein shakes, smoothies, or coffee.
Calories: 50
Protein: 3g
Carbs: 6g
Sugars: 4g
Fats: 1.5g
PROS
High-quality plant-based ingredients
Supports production of collagen
Delicious vanilla flavor
Certified USDA Organic
What's great is that it's gentle on the stomach. I've tried a few collagen products where it did not sit with my stomach well.
Ora Organic is a reputable company that delivers high-quality plant-based products. That way, you know all their products are non-GMO, gluten-free, dairy-free, and made from plant-based whole foods.
3 - ​Organifi Glow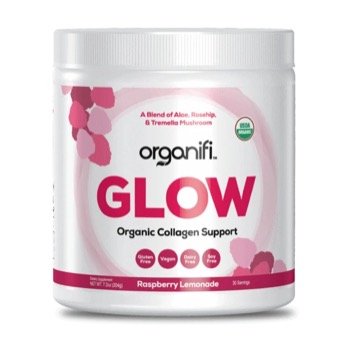 I first encountered Organifi Glow through a friend, and just by looking at the top 3 ingredients, I was instantly sold. It has aloe vera, rose hips, and tremella mushrooms -- my 3 favorites when it comes to vegan skincare.
It has a subtle yet refreshing lemonade-y flavor. It's also packed with vitamins and minerals, including iron, calcium, and vitamin C. It's essentially a superfood juice, so each scoop only has 19 calories, making it ideal for those doing keto or any calorie-restricted diet.
Having said that, it's virtually devoid of protein and fat, which may be a downside if you're looking for a protein-filled drink.
Calories: 19
Protein: 1g
Carbs: 4g
Sugars: 2g
Fats: 0.5g
PROS
Nice, refreshing taste
​Has a blend of 13 plant-based superfoods
​Contains only 19 calories
​Gluten, soy, and dairy-free
CONS
​Contains <1 gram of protein
It does well in moisturizing my skin and keeping it supple and soft. And among most plant-based collagen supplements on the market, this one has one of the lowest caloric content, too.
4 - Amazing Grass GLOW Collagen Promoting Vegan Protein Powder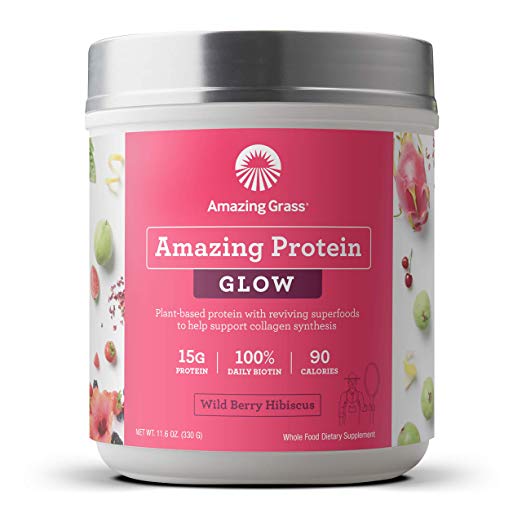 The labeling and ingredients promise that they will help you to glow, and by all accounts, this fantastic little collagen booster will do just that.
They are serving up your entire serving of daily organic biotin and a hefty dose of vitamin C all from plant-based sources.
And with three different flavors to choose from, your tongue can be as happy as your skin is, well, probably not quite as happy, you may still have to hold your nose, but at least there is variety.
Calories: 80
Protein: 15g
Carbs: 2g
Sugars: 0g
Fats: 1.5g
PROS
Supports collagen synthesis with organic plant-based ingredients
Provides both C and B complex vitamins
No added sugar
Contains 100% DV plant-based Biotin
CONS
Flavoring comes from stevia and the taste is heavily effected
With ingredients the likes of organic acerola cherry and rose petal, it's clear to see that the product is built from things that sound nice, but they have a dramatic and well-researched effect on collagen synthesis as well.
It's a product that works wonders, just a shame they couldn't improve the taste.
5 - Garden of Life Mykind Organics Plant Collagen Builder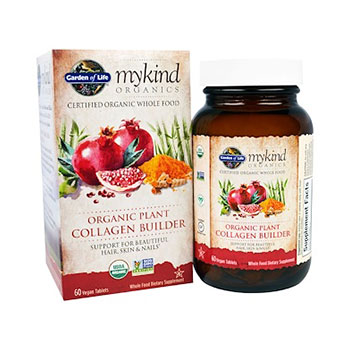 Just to clarify this straight away – a vegan collagen builder product (such as this) does not contain any collagen at all.
However, it does contain plant-based collagen co-nutrients such as high polyphenolic pomegranate, which encourages your body to produce collagen.
This ​collagen booster is really good for helping with your hair, skin, and nails, and I definitely noticed a difference after taking it.
PROS
Contains silica to make hair, skin, and nails beautiful
Protects skin against harmful UV rays
Certified USDA organic, gluten-free, non-GMO
CONS
Garden Of Life has been sold to Nestle, which is considered an unethical company in the vegan community
If you're looking to grow your nails out quickly, I'd recommend this product for sure.
It's easy to swallow, too, which makes it a favorite.
6 - PlantFusion Complete Plant Collagen Builder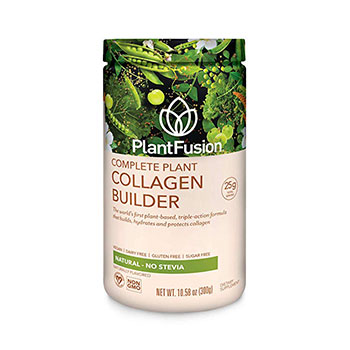 Organic collagen powder is not something that I've come across too often, but this vegan collagen powder (well… collagen builder powder) from PlantFusion gives us some versatility when it comes to consuming our organic collagen supplements.
This powder mixes well into various drinks and contains some tapioca powder which helps it to thicken up and create a nice thick protein shake or smoothie.
As well as helping to build new collagen, this healthy blend also helps to protect our existing collagen due to a unique ingredient called Oxyphyte which comes from tea.
Calories: 100
Protein: 18g
Carbs: 2g
Sugars: 0g
Fats: 2.5g
PROS
Made from a unique blend of Saberry amla fruit extract and amino acids
Prevents collagen breakdown
No soy, eggs, nuts, dairy, artificial flavors
CONS
Consistency isn't to everyone's liking
It mixes well in any liquid too which makes it a great collagen supplement.
7 - Sunwarrior Collagen Building Peptides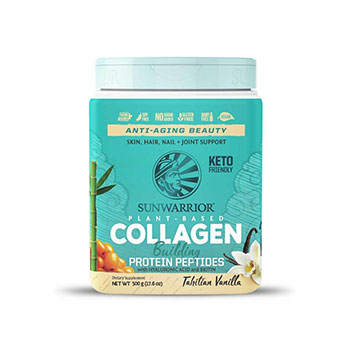 What's all the fuss about peptides?
It's a term that's thrown around a lot on skincare packaging, but how do they actually help us?
Basically, this product allows us to produce collagen from essential amino acids and said peptides, essentially providing us with plant-based collagen (or the precursors to it, anyway).
According to Sunwarrior, if we combine their peptides with a healthy diet and lifestyle, we will enjoy a slew of skin and beauty benefits, such as reduced skin aging, hair growth support, nail growth, and joint support too.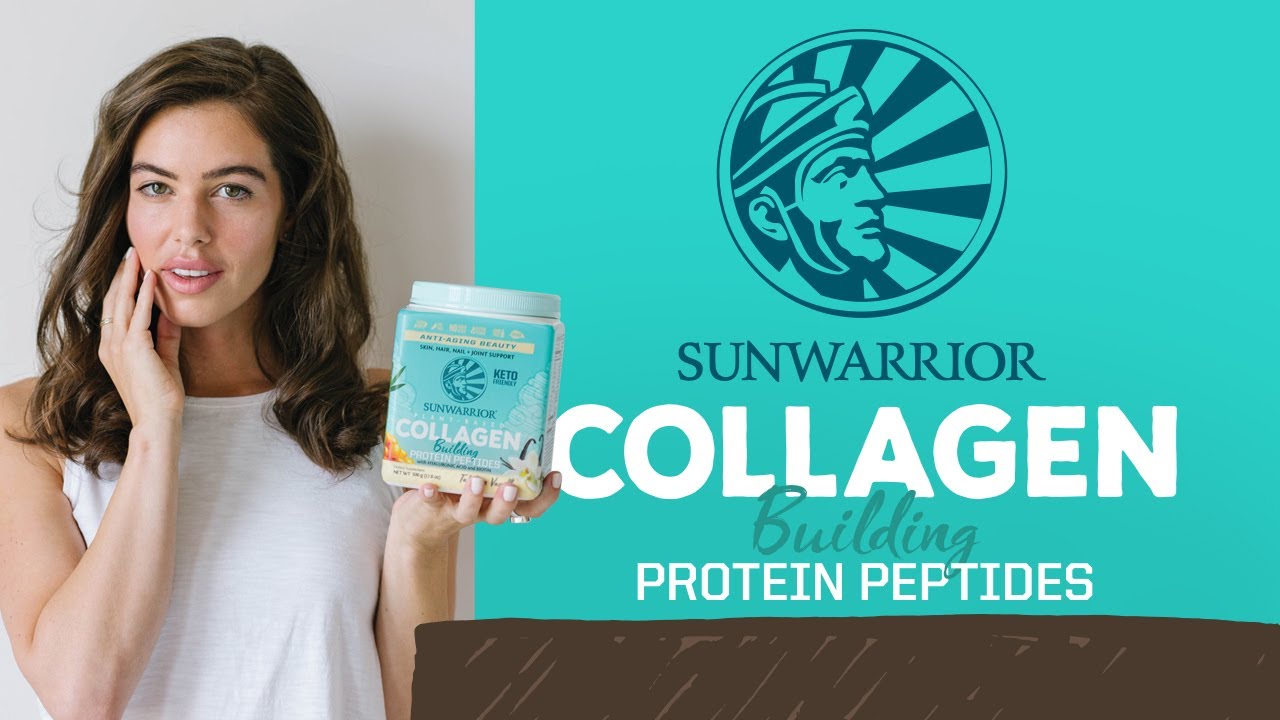 Calories: 80
Protein: 14g
Carbs: 6g
Sugars: 0g
Fats: 2g
PROS
Contains Hyaluronic Acid, Biotin, and Vitamin C for better skin
Effective anti-aging effects
Vegan, keto, and paleo-friendly
CONS
Not a great variety of flavor
Learn more about vegan collagen and how Sunwarrior does its job in making sure that you've got the right amount of collagen in your body.
What is Vegan Collagen?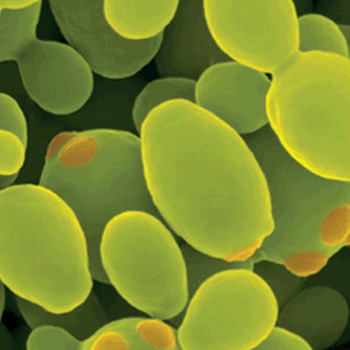 Vegan collagen is made from yeast or bacteria which scientists have genetically modified. The "key ingredient" is a strain of bacteria called P. pastoris is noted for being particularly effective at producing collagen. (1)
Scientists have introduced these bacteria strains to the human genes which represent collagen, with the bacteria responding to the genes and producing the "building blocks" of human collagen under the right conditions.
At this point, an enzyme called pepsin is added to the building blocks, causing them to take the form of human collagen.
It isn't easily accessible that's why some sort of taking supplements to supply the collagen they need in their body.
Is Vegan Collagen ​Effective?
It is effective and has many benefits for our skin, hair, nails, bones, and beauty.
It's also known for being cheap to produce and arguably safer than animal-derived collagen, as there are no animal-based illnesses that can be transmitted through the plant-based version.
Taking [animal-based] collagen supplements or multivitamins for skin health is likely to be of little benefit and there is little robust, reliable and reproducible clinical data which show their benefit in boosting collagen.

- Dr. Anjali ​​​​Mahto, Dermatologist and author of "The Skincare Bible"
Are There ​Vegan Collagen Sources?
There are no direct plant-based collagen sources, as foods rich in collagen are pretty much always animal-based.
However, there are vegan foods that contain ingredients that help to produce collagen naturally in the body.
For example, foods containing abundant amino acids such as proline and glycine can help to stimulate collagen production in our bodies. (2) ​
Sources of these amino acids are found in natural collagen-boosting ingredients including cabbage, beans, cauliflower, pumpkin, spinach, asparagus, buckwheat, cucumber, chives, tempeh, watercress, and much more.
My Recommended Vegan Collagen Supplement
Finding a good vegan collagen supplement is no easy thing to do. We recommend you go with Future Kind Vegan Collagen Booster.
As vegans, we know the importance of getting in our vitamins and nutrients through other non-meat-related sources.
This supplement has ingredients we often lack in our diet, like zinc and other essential vitamins.
Based on customer reviews, individuals have noticed their skin becoming more clearer, their hair becoming stronger, and not to mention entirely plant-based.
If you have tried this product, let us know what you like about it in the comments below!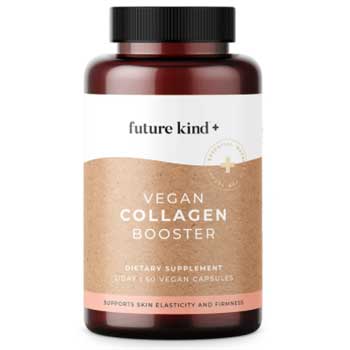 Future Kind Vegan Collagen Booster
Best Vegan Collagen Supplement
Easy to swallow capsule form
The company offers a money-back guarantee
100% vegan and cruelty-free
Get the BEST PRICE until the end of May
Click For Best Price
About the author