When I first switched to a 100% plant-based diet, I did so directly from being a meat eater and didn't take the gradual approach by becoming a vegetarian first.
I'll be totally honest that it wasn't easy, and one of the biggest things I struggled with is getting my micronutrients right.
I had heard that I had to keep an eye on my vitamins, especially vitamin B12, but iron didn't strike me as something I could end up lacking.
However, after just a few weeks of my new lifestyle, I saw some symptoms of iron deficiency. Fortunately, I was able to overcome them very quickly with some vegan iron supplements. It took me quite a while though to find some high-quality ones that were certified vegan.
So, to help you avoid spending endless hours searching, I've come up with a list of 7 iron supplements that I have fully researched and tested.
Let's get right into it.
Our Top Vegan Iron Supplements (2021 Updated)
1 - Future Kind Iron And Vitamin C Supplement
Future Kind claims to use a non-GMO patented chelated form of iron called Ferrochel. Combined with a Vitamin C whole-food derived from Acerola Cherry, their vegan Iron supplement has been shown to be more effectively absorbed than other types.
Another big plus is that the company works with an FDA-regulated facility within the USA to ensure third-party testing on every single batch. They uphold intense quality control practices and raw ingredient supplier vetting process.
And what about customer reviews? Well, users mostly praise the positive effects iron has on their health, especially those who are anemic or suffer from severe pains and cramps when menstruating.
PROS
Easy to swallow capsule form
Ample supply of Vitamin C to increase iron absorption
100% vegan and cruelty-free
2 - Snap Iron Builder with Vitamins B & C Absorption Boosters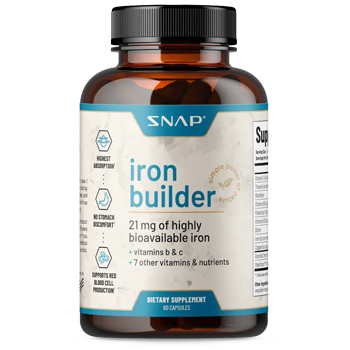 If you are needing a quick go-to for some extra iron in your diet, Iron Builder with Vitamins B & C Absorption Boosters is the way to go.
This supplement is easy to take and has is easy to digest. Customer reviews have raved about the noticeable energy levels they see after consistently taking this supplement.
For those who are pregnant, this supplement supports expecting mothers in their pregnancy journeys. The ingredients are natural and range from fiber, iron, B-Vitamins, Cherry Extract, and Vitamin C.
As a vegan, it is hard to get in some of these vitamins in our day-to-day diets, so Iron Builder helps us achieve a well-rounded nutritional diet.
PROS
Works Fast
Increases Energy & Metabolism
Comes in Small Capsules
CONS
Requires two tablets a day with a balanced diet
3 - Garden Of Life Healthy Blood Iron Supplement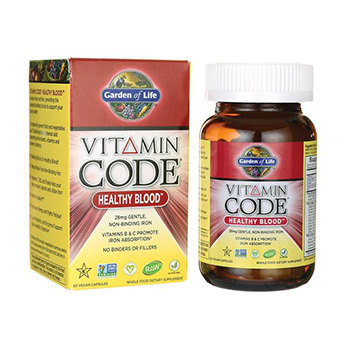 Garden of Life is a leading vegan health supplement maker, and this Healthy Blood product is one of the top-rated iron supplements on Amazon.
It's provided in capsule form, and the recommendation is to take 2 per day. This will provide 28 mg of iron, which is more than the average daily need.
You also get a nice boost of Vitamin C, B6 and B12 so you can save yourself some money on other vitamin pills you may be taking.
What a lot of people also positively comment is that it contains probiotics that help your digestive system.
PROS
Packed with 28 mg of whole-food iron
Contains Vitamins C, B6 and B12 to enhance iron absorption
​Boost energy levels and promotes healthy skin
No dairy and gluten
CONS
It's a little difficult to adjust smaller doses if needed
The reason this supplement stands out when compared to the others is that in all my customer review research, there were very few comments about stomach upset, which is a common problem for some other supplements.
You can watch this video review below about this product.
4 - MegaFood Blood Builder Iron Supplement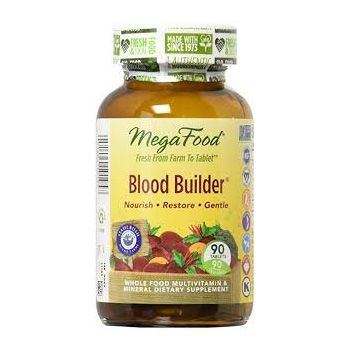 These vegan iron pills by MegaFood are another big seller on Amazon, with the biggest advantage being that they come in batches of 90 giving you better bulk prices.
The 26 mg iron dose is more than the daily need so you can get all your iron needs from just one pill.
While it's easier just to have to swallow one pill, this does make it a little bit more difficult to take smaller doses.
You also get all your vitamin C and B12 requirements for the day, but you have to be aware that these are from synthetic sources rather than whole food ones like my top recommendation above.
PROS
Contains 26 mg of Iron, Vitamin C and B12
Helps fight fatigue and boosts energy production
Certified free from gluten, soy, and dairy
CONS
Some of the ingredients are synthetic
Give it a shot and feel the difference.
5 - Deva Vegan Chelated Iron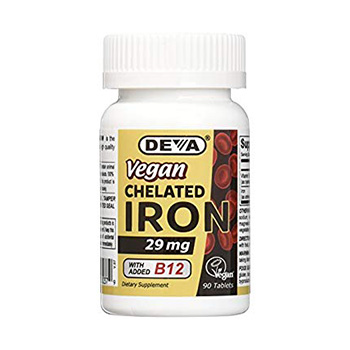 This is another one of the most popular vegan iron supplements, and it comes with full certification by the Vegan Society.
In addition to being animal product free, it's also free from gluten, soy, yeast, sugar, or preservatives.
With 29 mg of iron, it's one of the largest doses you can get from a single pill. This is helpful if you have very low iron levels or suffer from anaemia on a regular basis.
The added B12 is a great bonus and means you can skip any other B12 products you might be taking, as Deva provides you with more than 5 times your daily requirement.
PROS
29 mg Chelated Iron per tablet
Contains Vitamin B12 for better absorption
Fully certified by the Vegan Society
It's a good product and well worth giving a try as the reviews are very positive. However, one downside commented in a few reviews is that it doesn't contain folate or B6.
6 - EZ Melts Iron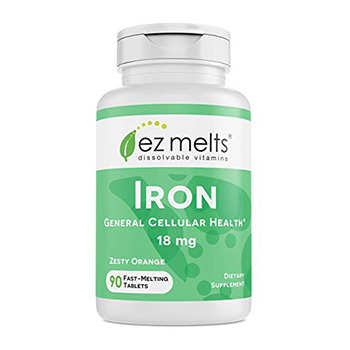 This plant-based iron supplement is perfect if you don't like swallowing tablets, especially these larger types that can be difficult to get down.
EZ Melts are dissolvable tablets with quite a nice orange flavor.
A lot of people have commented on how fast they dissolve in the mouth and that the taste is not too sweet or artificial.
One thing to keep in mind though is that each tablet only contains 18 mg of iron, so if you need larger doses, then factor that into your buying decision when comparing the price to other products.
PROS
Contains 18 mg Carbonyl Iron per tablet
​Combats fatigue and increases energy levels
Non-GMO and gluten-free
CONS
Only available in orange flavor
Only 18 mg iron per serving
Rest assured that this supplement is made from vegan-friendly ingredients and contains no gluten.
7 - Solgar Gentle Iron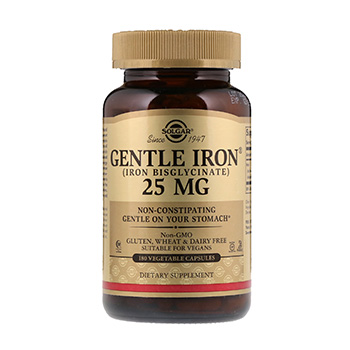 The problem a lot of people face with iron boosters is that it can be quite hard on the stomach and lead to constipation.
Solgar has solved this by using a very specific easy to digest form of iron called bisglycinate.
A lot of users have commented that this is very positive with some saying it's the only one they can take without feeling nauseous.
Because of the bulk packaging available as 180 capsules, you can save quite a bit of money.
PROS
Packed with 20 mg of Iron
​Reduces constipation and other stomach issues
Vegan and vegetarian-friendly
CONS
Only contains 20 mg iron per serving
No added vitamins
But you have to factor in that it doesn't contain any vitamins and only provides 20 mg of iron per serving.
If you're looking for a complete supplement solution, then my top recommendation above is still the best option.
8 - VegLife Vegan Iron
As the company name suggests, VegLife is all about creating plant-based products tailored for the needs of vegans and vegetarians.
These iron pills provide a decent 25 mg of iron in each serving, and if you need to take less, then you can break them in half.
There is also added B6, B12 and folic acid, all from 100% certified vegan sources.
It's a very good product that covers the main things a vegan might struggle with getting through food.
PROS
Provides 25 mg of iron in each serving
Added vitamin B6 and B12
Contains folic acid
Comes with a 60-day money-back guarantee
CONS
Half-inch size tablets can be difficult to swallow
Some users report feeling nauseated after taking them
On the downside, there are quite a few reviews that comment about the pills being quite large at a half inch long, which makes them difficult to swallow.
And there are also some reports about stomach upset so they may not agree with everyone.
9 - Trace Minerals Ionic Vegan Iron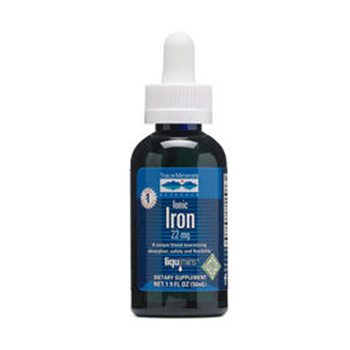 Trace minerals have created a liquid iron supplement that does have the advantage of being very fast and easy to absorb.
​Adding it to some water or juice and taking it with a meal is the best solution and iron levels will pick up very quickly.
As a gluten-free and certified vegan product, it is a good choice for people that don't mind the taste.
This is where these types of products really fall behind, as you have to prepare yourself for a very appealing sensation.
PROS
Contains 22 mg of liquid iron
Very easy and fast to absorb
Certified vegan-friendly product
Gluten-free and no added fillers
CONS
Liquid iron has a strong and not very nice taste
Can be difficult to accurately spread out the dosage
While there is a pipette to measure out drops, a few people have commented that it's not so easy to keep track of how much you have taken throughout the day.
That's why I generally recommend sticking with pills and capsules.
Do I Need To Take Iron Supplements?
No, not everyone needs to take vegan iron supplements, as it all depends on how much you can get from your diet and how well your body absorbs it.
Some people have difficulty processing iron, so even when they eat plenty of iron-rich foods (more on this below), they can't get enough into their body.
Ultimately, this can lead to iron-deficiency anaemia, which is a low level of red blood cells (1).
While this is something that a doctor should diagnose, it will almost always be a condition that requires some supplementation.
If it happens that you need one, you can choose one of our recommended supplement list.
Do Vegans Need Iron Supplements?
Yes, some vegans need to take iron supplements to avoid iron deficiency. Both men and women can quickly become deficient if their diet is not carefully planned to include regular iron-rich foods.
The problem is that a lot of plant-based foods don't contain much iron, especially when compared to animal products, including meat.
I'll cover some of the foods you should target below as well as what your body needs on a daily basis.
A great trick to help enhance iron absorption while following a vegan diet is to combine foods that are high in iron. Fortunately, these combinations make for great meals, such as tofu and broccoli stir-fry or eating an orange after dinner.

- Emily Trinh, Vegan Nutrition Blogger
What To Look For In Vegan Iron Supplements?
When you're looking for vegan iron supplements, then you have to pay attention to more than a vegan-friendly label, and check for the amount, form and added vitamins as well.
1. The Amount Of Iron Per Serving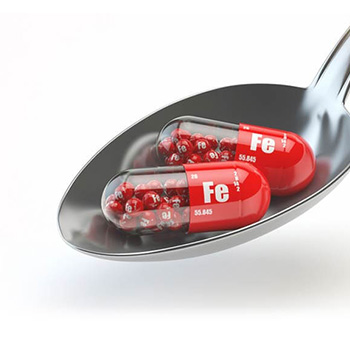 The label will clearly indicate how much iron is contained in each serving, and this should be one of the primary things to focus on.
Most will deliver more than your daily requirement, and while this might seem like a good thing, it can have some negative effects.
Taking too much iron can lead to constipation, which is actually quite a common complaint.
Ideally, you should choose a product where the daily serving is split out over more than one tablet, like the Garden of Life product recommended above.
2. The Form Of The Iron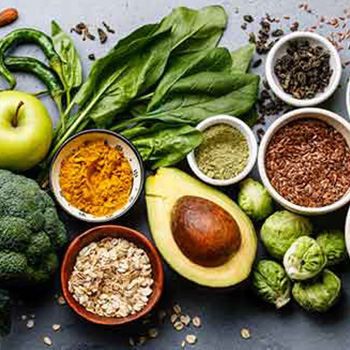 You need to consider two separate things here. First, of all, there is heme and non-heme iron, and this is very important for vegans.
Heme iron is only found in animal products like meat, while non-heme iron is sourced from plants (2).
As a vegan, you obviously only want to consider the non-heme form.
Secondly, these types of products come in pill, capsule, and liquid iron form.
It's mainly a preference, but I would generally suggest sticking with the capsules as they are easiest to swallow and don't have a bad aftertaste.
3. Vitamin C and B12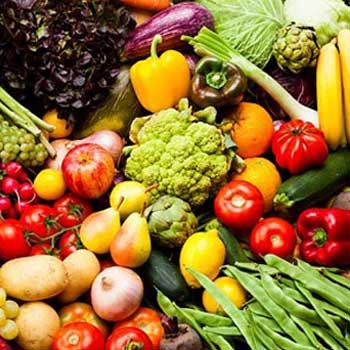 From a micro nutrition perspective, vegans also have to keep an eye on some added vitamins.
​Vitamin C is always beneficial for your immune system and iron absorption, and B12 is a critical one for vegans.
Buying a product like Garden of Life, gives you all your C, B6 and B12 requirements along with the iron, to save you having to get other products as well.
Or you can also get a complete source of Vitamin C by eating plenty of fruits and vegetables like guava, kiwi, spinach, kale, broccoli, and more (3).
For B12, you can go for beef, clams, sardines, and tuna (4).
You may also check some ​vegan multivitamin supplement to add in your diet.
How Much Iron Do You Need A Day?
You need about 18 mg of iron a day based on RDA amounts for men and women. This does slightly change with age, and your height and weight will also play a role in this. However, sticking to about 18 to 28 mg is a safe option.
It's best to start low and increase with time to see how your body reacts. And you should also keep close track of your iron intake from food to not get too much.
There are lots of factors that affect the amount of iron your body can absorb from your diet. The most important factor is your body's need for iron: more is absorbed when your body is short of iron, and less is absorbed when your stores are full.

- The Vegan Society
What Form Of Iron Supplement Is Best?
The best form of iron supplement is ferrous salt as it's the most absorbable form of iron.
You'll commonly find three forms of dietary iron referred to as ferric, ferrous, and carbonyl. They all do the same, but just at a slightly different absorption rate.
What Vegan Foods Are High In Iron?

The vegan foods that are highest in iron are spinach, beans, lentils, and certain nuts like cashews and almonds.
These are easy to source and add to your meals in sufficient quantities, but for added flexibility, supplements work a treat.
Here's a short list of the best fortified iron sources that you can add to your food plan:
Tofu
Legumes
Green vegetables such as spinach and broccoli
Nuts, like almonds and cashews
Sunflower seeds
Wholegrain cereals
Can You Have Too Much Iron?
Yes, you can have too much iron in your diet, and it can lead to some unpleasant side effects.

Some of the effects on your health include constipation, nausea, joint pain, chronic fatigue, and irregular heart rhythm.
Ultimately, this can lead to hemochromatosis, which can cause heart failure, arthritis, and diabetes (5).
It's always better to stick with the safe dosage amount recommended per day, and by keeping a food journal, you'll be able to quickly tell if you're at risk of taking too much.
You can watch this video to know the symptoms of an iron overdose and what to do about it.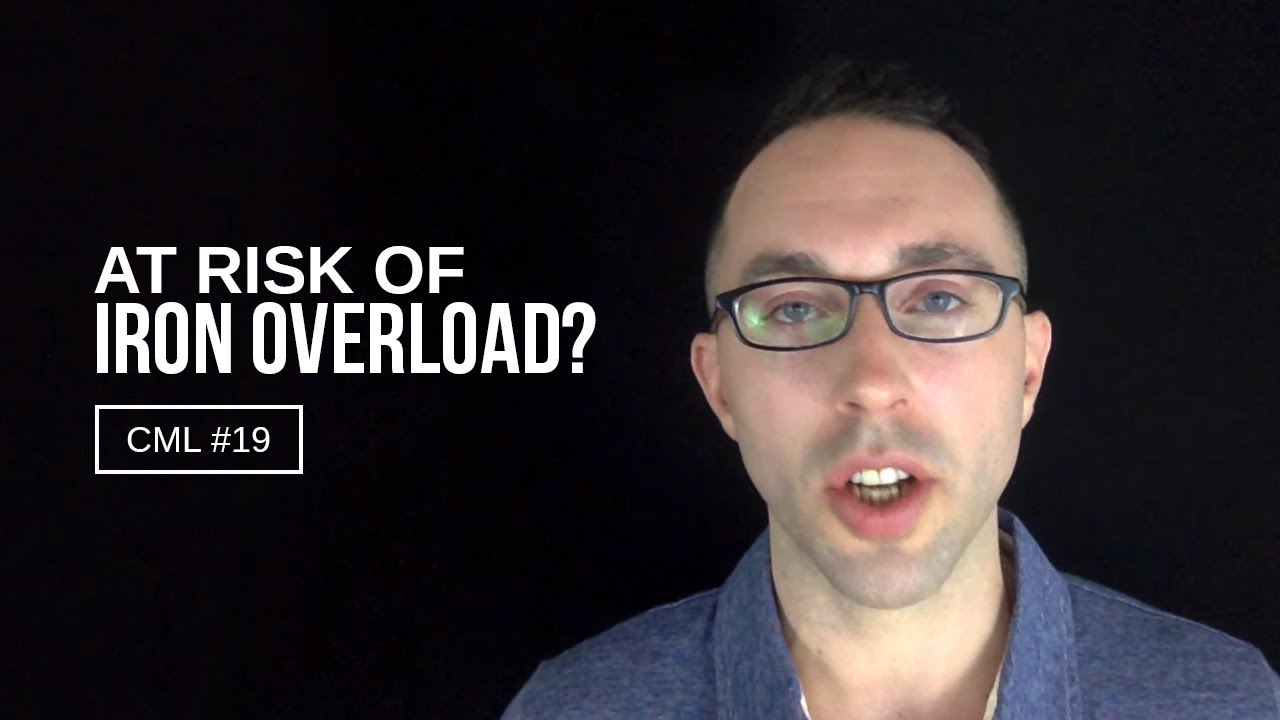 FAQs
How Do Vegans Increase Iron Levels?
Vegans can increase iron levels by eating green leafy vegetables like spinach and kale or adding beans and lentils to meals. Natural iron intake is generally best, but if you want a bit more flexibility, then stick to the Garden of Life product recommended above.
Which Form of Iron Is Best Absorbed?
Ferrous iron is the best and easiest for your body to absorb, and there are plenty of plant-based foods that you can get these from. Before you buy a dietary booster, you should always look for this type of iron on the label.
Is Iron Better Absorbed on an Empty Stomach?
Yes, iron is better absorbed on an empty stomach, but larger doses can cause stomach upset and cramps. If you struggle with iron absorption, then you can try taking it immediately before you eat something. Otherwise, taking it after your meals will just slow the process down a bit.
Which Product Should You Choose?
Popeye had things figured out - both cooked and raw spinach are excellent sources of iron.
But if you find yourself in need of that extra supplementation of iron, luckily there are some brands out there that do the deed.
After all my research, chats with dieticians, and having tried all the products above, I strongly suggest you buy the Future Kind Iron and Vitamin C supplement. Not only does it contain plenty of non-GMO patented chelated Iron, but an ample dose of Vitamin C enables faster absorption.
Future Kind Iron And Vitamin C Supplement
Our #1 Recommendation
Easy to swallow capsule form
Ample supply of Vitamin C to increase iron absorption
100% vegan and cruelty-free
Get the BEST PRICE until the end of May
Click For Best Price
About the author