Nitric oxide (also known as NO2) supplements are very popular in the health and fitness community these days, with some publications even suggesting that nitric oxide pre workouts should be taken before sex.
Personally, I don't take NO2 supplements before I get down and dirty, but each to their own.
Whether you're improving your fitness or your sex life, here we run down the best nitric oxide supplements money can buy.
Our Top Products (2021 Updated)
1 - Snap Nitric Oxide Booster
Snap Nitric Oxide Booster crawled it's way to the top of our lists because it seems to do a bang up job in unblocking your blood vessels and normalizing blood pressure levels. In fact, consistent supplementation for 6-10 weeks is reputed to effectively reduce the risks of cardiovascular diseases.
This nitric oxide supplement contains a host of potent ingredients in its formula. These include Muira puama bark extract (traditionally used as a natural energy tonic), Asian ginseng roots to normalize blood pressure, and L-Citrulline and L-Arginine - essential amino acids for producing nitric oxide.
And what about customer reviews? Well, most users certainly confirm experiencing an increase in energy levels during workouts and there are also plenty of commendations about fast product shipment.
PROS
No negative side-effects
Comes in easy-to-swallow capsule form
Also used as an effective pre-workout supplement
2 - Jacked Factory N.O. XT
Jacked Factory claim that this is the "the world's first scientifically-dosed nitric oxide (NO) boosting supplement."
They also claim that just a single serving of their NO2 supplement will help improve blood flow, increase vascularity, and increase muscle nutrition.
There are a number of strong and science-backed ingredients in these pills, including l-citrulline, nitrosigine, l-glutathione, and bioperine.
According to the manufacturer, this mixture of ingredients plays a role in increasing nitric oxide production and dilating blood vessels.
PROS
Made in the USA in a cGMP-certified facility
Pumps muscles and increases energy output
Helps enhance blood flow to muscle tissues
Supposedly science-backed ingredients
No stimulants and hidden ingredients
CONS
Their website is full of obvious typos, which doesn't give a good impression
Everything you see in the nutrition facts are real. If you're into supplements that doesn't contain stimulants or any other hidden ingredients that may affect your performance, go with Jacked Factory.
3 - VitaMonk GlycoTrax
The only active ingredient in these bad boys is glycine propionyl-l-carnitine, a natural amino acid with a catchy name that supports nitric oxide levels in your blood.
This helps to dilate your blood vessels and hence improve blood flow to your muscles and body.
In my opinion, this product's simplicity makes it one of the top muscle pump supplements on the market.
Rather than mixing in a bunch of random vitamins and minerals which often masquerade as nutrition but do very little, this product gets straight to the point right away.
PROS
Exclusively designed to increase nitric oxide production
​Enhances blood flow during exercise and pumps
​​Boosts athletic performance and energy output
Its simple formula is focused on increasing your nitric oxide production. Nothing more, nothing less.
4 - Goliath Nitric Oxide Booster
Goliath often crop up when you're looking at nitric oxide or L-arginine supplements, and it's for a good reason.
Featuring l-arginine, beetroot extract, and the l-citrulline amino acid, this nitric oxide booster is designed to help increase blood flow to the muscles and improve athletic performance.
It also comes in pill form, which is good if you're not a fan of protein shakes and smoothies.
Essentially, this nitric oxide booster product contains all the precursor ingredients that your body needs to naturally encourage nitric oxide production and hence produce great pumps at the gym.
PROS
Packed with 2400mg of L-arginine and L-citrulline
Helps improve blood flow in muscles and supports vascularity
​Helps in muscle growth and provides energy before working out
CONS
Not the best taste on the way down
Taking this nitric oxide booster supplement gave me the quick energy boost I need before working out.
5 - Ora Organic Vegan Pre Workout Powder
This plant-based pre workout powder from Ora Organic comes with 95mg of caffeine per serving, which is around the same as your average cup of coffee.
As a coffee snob, I was glad to hear this. Sadly, it can't go into my French press.
Ora Organic's pre workout blend focuses on organic (surprise surprise) ways of boosting nitric oxide production in the body, using beetroot juice powder, pomegranate juice powder, kale, and spinach.
PROS
Made from 100% organic ingredients
Helps reduce fatigue, improves focus, and relieves stress
Vegan-friendly
CONS
Contains stevia, but it could be worse
One thing's for sure with Ora Organic, they only use 100% organic ingredients with no fillers and artificial flavors that can negatively affect your performance inside or outside the gym.
It's a great all-rounder for sure, but not the best muscle pump supplement specifically.
6 - Vitality Health Booster
The main ingredient in this nitric oxide booster product is l-arginine, which naturally increases the production of nitric oxide in the body.
However, because it is also (subtly) designed for improving erectile dysfunction, it contains ingredients such as horny goat weed and saw palmetto which increase blood flow to the penis (if you have one).
If you're a bodybuilder who has problems with ED, you've hit the jackpot here. Also, if you take this nitric oxide booster regularly, you'll notice gradual improvements on your endurance.
PROS
Packed with the amino acid L-arginine that increases nitrate oxide
Helps improve exercise and pumps muscles
Helps boost sexual performance
CONS
Formulated more with ED in mind
Try Vitality Health Booster and let us know in the comments of your experience. What does that mean? Well, the more stronger you feel at the gym, the more reps you can finish in one session. And this will benefit your muscles in the end.
7 - VASOBLITZ Nitric Oxide Support
I love all the flavors that this comes in. For quite a macho-looking product, it comes in flavors like Lemon Drop, Fruit Punch, Strawberry Berry and my favorite – "Rainbow Candy".
Despite this variety in flavors, it also comes in an unflavored version which is great for mixing into your drinks and smoothies.
The formula of Vasoblitz uses hard-hitting compounds like NO3-T arginine nitrate and l-citrulline for effective enhancements in nitrate oxide production.
PROS
Packed with L-arginine that increases nitrate oxide​
Helps improve exercise and pumps muscles
Helps boost sexual performance
I mean, if you're looking for muscle pumps and vasodilation, does it get better than "VASOBLITZ"? They plan on blitzing your cardiovascular system, apparently.
8 - RESYNC Nitric Oxide Booster
This nitric oxide booster product claims that it will "boost your daily vitality", which is the kind of non-specific advertising copy that makes me skeptical when I see it.
However, after taking this powder for a few weeks, I noticed a considerable increase in my daily energy levels and muscle recovery – I felt like a whole new much more energetic person.
This nitric oxide booster supplement is filled with high-quality natural ingredients such as red leaf spinach extract, aronia berry extract, beetroot powder, and acumen turmeric root extract, setting it well apart from the competition.
PROS
Healthy natural ingredients
Helps increase daily energy levels
Ideal as a post-workout supplement
Helps with muscle recovery and prolonged performance
CONS
Not the best tasting supplement
It's perfect for maintaining your strength at the gym, as well as helping your muscles recover in no time.
I tried this during pre and post-workout and guess what, I enjoyed its benefits more during post-workout.
9 - NutraBio Extreme Nitric Stack
You would probably know this nitric oxide booster supplement is good because it has "extreme" in the name.
Joking aside, this product claims to be the most powerful nitric oxide vasodilator and cell volumizing formula available. And you know what? They might be right.
Amino acid content is optimal, with a whopping 3500mg of AAKG l-arginine in this formula, and AAKG is arguably the best form of arginine.
PROS
Very strong formula and effects
Designed to maximize nitric oxide production
3500mg of AAKG l-arginine
Includes taurine and creatine
CONS
Blood Orange flavor tastes like Lemon Pledge
The strong formula of this nitric oxide booster really proves its effectiveness in keeping your energy levels high on a daily basis. There's also 4000mg of l-glutamine, an important amino acid used for protein production.
10 - Best Naturals Nitric Oxide Pump
The packaging of this nitric oxide supplement is terrible. The color scheme is awful, and the name reads: "N.O PUMP" across the top, which is very easy to misread.
I'm not sure if it's meant to be a joke or not.
Despite its awful branding, this is a decent NO2 supplement made from a mixture of arginine alpha, ornithine alpha, arginine iso, and a handful of other ingredients.
PROS
Noticeable energy increase
Seems to improve muscle growth and nutrition
Increased endurance
CONS
Capsules are brittle and often break
It also kept me energized on a daily basis too. I've tried this for a few weeks and yeah, it doesn't live to its "NO Pump" name. I noticed improvements on my strength and endurance at the gym.
11 - Nordic Clinicals Nitric Oxide Bloodbooster
"Bloodbooster" sounds like a power-up in a vampire-themed video game to me. I guess it also makes sense for a nitric oxide product.
This product contains fair amounts of l-citrulline (800mg) and l-glutathione (80mg), both of which are said to improve the production of nitric oxide in the blood.
However, it also has a long list of ingredients which appear to do very little, and I didn't notice energy increases as I did with other supplements on this list.
PROS
Contains healthy amino acids
Ideal for people with blocked arteries
Can help lower high blood pressure levels
CONS
Long list of seemingly ineffective ingredients
You can still try this though and see for yourself. Let me know in the comments if you feel energized and pumped by taking this supplement or if you felt the same with me.
Why Should You Take Nitric Oxide Supplements?
You should take nitric oxide supplements because they use natural compounds and amino acids to naturally boost nitric oxide production in your body.
Nitric oxide acts as a "messenger molecule" in your blood vessels, instructing them to relax and dilate, allowing your blood to circulate around your body more efficiently. (1)
It is also associated with good heart health, possibly helping to ward off heart disease and other heart conditions.
Furthermore, nitric oxide can also help with erectile dysfunction problems for men. Studies show that the penis needs nitric oxide to keep it "relaxed", so it can allow its chambers to fill with blood. And you know what happens next, right?
To learn more, you can watch this cool animation from Berkeley Life explaining the function of nitric oxide in our bodies.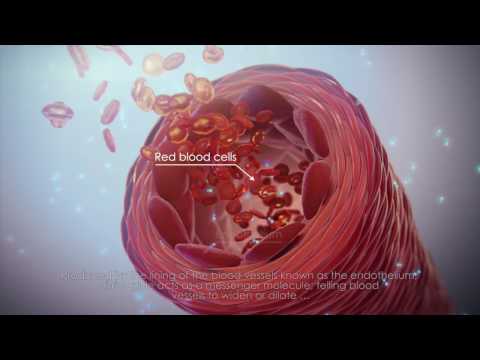 Benefits Of Nitric Oxide Supplements
Nitric oxide can help to lower high blood pressure, so it's good for people with conditions such as hypertension.
The compound also naturally gets more oxygenated blood flowing around your body, so you tend to feel an increase in energy both at the gym and in your daily life.
Studies show that using compounds such as l-arginine to boost your nitric oxide production can help men with ED to achieve better erections due to increased blood flow. (2)
Nitric oxide production is also associated with good heart health, helping to reduce the (very high) risk of heart disease for Americans.
Our work shows that the main receptors in the heart that respond to drugs don't work without nitric oxide.

Jonathan Stamler, MD, Case Western Reserve University
Side Effects Of Nitric Oxide Supplements
There are few side effects to be worried about with most nitric oxide supplements.
If the amount of l-arginine you're ingesting each day exceeds 10g (10,000mg), then you may experience some stomach pain and diarrhea, but nothing to write home about.
Some nitric oxide pills use beetroot extract for their formula due to its natural nitrates.
This may cause your excreted bodily functions to turn a funny dark red color, but once again it's not anything to be concerned about. (3)
But to be safe, always remember that all supplements need to be taken moderately. Taking high doses usually results in experiencing side effects.
How Much Nitric Oxide Should You Take?
You should take nitric oxide supplements which supply you with anywhere from 600mg to 1200mg of Arginine per day. (4)
This level of arginine will help to ensure that nitric oxide is being produced in your body efficiently.
Nitric oxide cannot be taken directly; it has to be created within your body by taking supplements with other compounds such as l-arginine and l-citrulline.
The ingredients and effects of different nitric oxide pills/powders vary wildly, so be sure to speak to your physician if you're not sure about the correct dosage for you.
It's better to get an advice from the expert before taking supplements according to your own preferred dosage.
Are There Good Food Sources Of Nitric Oxide?
There are many good food sources which can boost your body's nitric oxide levels – many people will be able to regulate their nitric oxide levels simply via the foods that they eat.
Beets are probably the best food for nitric oxide production; this is because they are naturally rich in nitrates. (5)
Garlic, non-processed meats, dark chocolate, citrus fruits, leafy greens, watermelons, and strawberries also help too.
Beets aside, dark green leafy vegetables tend to be rich in natural nitrates, so try to incorporate them into your diet if possible.
FAQs
Does nitric oxide help erectile dysfunction?
Nitric oxide helps erectile dysfunction because it acts as a vasodilator, relaxing your arteries and streamlining general blood flow around the body. This includes blood flow to the penis, helping men with ED to achieve and maintain erections more easily.
Can too much nitric oxide be harmful?
Too much nitric oxide is unlikely to be harmful to you; in fact, people who live in highly-elevated areas rely on high nitric oxide levels to function.
Tibetans who live at altitudes around 14,000 feet [have increased] nitric oxide levels. High levels of NO circulate in various forms in the blood and produce the physiological mechanisms that cause the increased blood flow that maintains oxygen delivery despite hypoxia.

​Cynthia Beall, Professor at Case Western Reserve University
Are nitric oxide supplements dangerous?
Nitric oxide supplements are not usually dangerous, but their formulas and active ingredients vary greatly from brand to brand, so be careful and only buy from reputable manufacturers.
Do nitric oxide supplements really work?
Nitric oxide supplements do really work, at least in my experience. While trying out these nitric oxide products, I noticed that I had improved energy, stamina, and muscle pumps in the gym. These supplements also improve less-obvious things such as heart health and cardiovascular efficiency.
My #1 Recommended Product
In my opinion, Snap Nitric Oxide Booster boasts a well-balanced formula which conveniently comes in capsule form, making it easy to quickly swallow when you're on the go.
A lot of gym rats become tired of mixing chalky powders into shakes (I know I do), so it's nice to see that a fantastic nitric oxide booster on the market that can be gulped down instantly – I appreciate this stroke of genius from Snap.
What do you think? Got a favorite nitric oxide booster supplement you want to share with us? Let us know in the comments below.
Snap Nitric Oxide Booster
Best Nitric Oxide Supplement
No negative side-effects
Comes in easy-to-swallow capsule form
Also used as an effective pre-workout supplement
Get the BEST PRICE until the end of June
Click For Best Price
About the author