It's predicted that sales of l-arginine will reach $880 million by the end of 2025, with more and more people realizing the diverse health benefits that this amino acid supplement can have for their body.
Whether you're taking it for high blood pressure, sexual health, or fitness reasons, you want to make sure you're investing your money in the best l-arginine supplements on the market. Let's have a little look.
Our Top L-Arginine Supplements (2021 Updated)
1 - Snap L-Arginine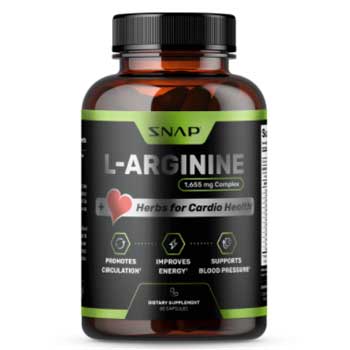 What we love about Snap L-Arginine is that it contains no sugar. It's just chock-full of essential amino acids and earth-grown herbs all mixed up in a 1655 mg potent formula, which is reputed to support increased blood flow and natural energy.
Four main ingredients are responsible for providing such a bevy of benefits: L-Arginine HCL for removing and preventing blockage in blood vessels, Epimedium which relaxes muscles and increases nitric oxide count, Tongkat Ali Extract to improve vigor, and finally Saw Palmetto for regulating prostate function in men.
Users generally favor this amino acid supplement, stating that it improved their workout performance with a few extra reps, and some even note it possesses a pleasing fragrance, too.
PROS
No sugar, soy-free, non-GMO
Comes in easy-to-swallow capsule form
Also used as an effective pre-workout supplement
2 - Goliath Arginine 3000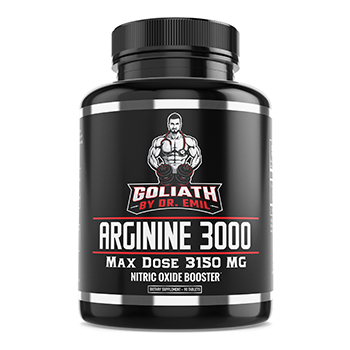 According to Goliath themselves, "Dr. Emil's products are more than just fancy labels and marketing puffery".
Goliath are proud of the science that goes into their product, and they should be. They remind you of their efforts via dashing photos of physicians and medical care professionals posing next to bulky AF athletes.
This product's name comes from its unusually high dosage of l-arginine, featuring 3150mg.
Technically, it should be called Goliath Arginine 3150, but who am I to judge one of the best l-arginine brands in the country?
PROS
High 3,150mg dose which is 2.5-3 times stronger other brands
Made in a US FDA-approved facility
Backed by clinical studies and research
Non-GMO ingredients
CONS
Can leave a funny taste on your tongue
These supplements are ideal for getting a large dose of l-arginine in one easy-to-swallow go.
These pills claim to be the strongest pill version of l-arginine supplements, and I think that it's safe to say they are.
3 - Goliath Arginine PLUS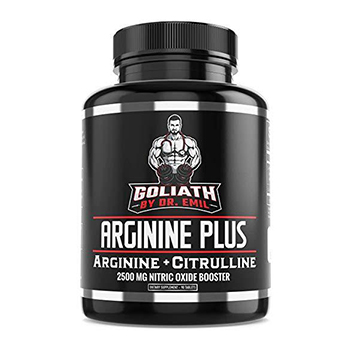 Goliath Arginine PLUS is a supplement that mixes l-arginine types AKG & HCL with l-citrulline, which is converted to arginine in your body.
That's what makes it so "PLUS", you see?
The actual dosage of l-arginine itself is still high though, coming in at 2500mg which is much higher than most other pill forms.
This product is 100% natural and GMO-free, so it's ideal if you're trying to keep your food clean and natural.
However, it does contain soy, which is a known allergen for some people.
PROS
Packed with a unique formula of L-arginine
Only made from natural ingredients
Helps reduce risk of hypertension and diabetes
CONS
Contains soy, a common allergen
They relax your blood vessels and allow your blood to flow more efficiently and calmly.
These pills are great if you suffer from high blood pressure too.
4 - NOW L-Arginine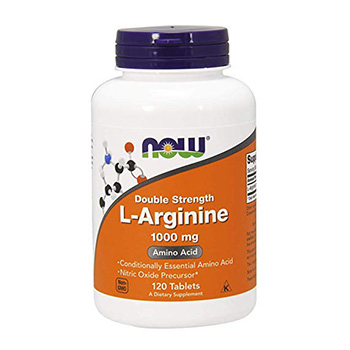 NOW claim that this product is "double strength", but they don't really tell us what they mean by that.
Was the last strength 500mg and they doubled it?
The enigma continues.
These pills are very good for improving blood flow all through your body, and you will definitely find that your blood pressure is lowered after a few weeks of consistent use, I did anyway.
PROS
1000mg of l-arginine per serving
No caffeine
Non-GMO, no fillers and hidden ingredients
Budget-friendly
CONS
Pills are a little hard to swallow
However, it does have a fairly long list of additives if you read the fineprint, so it's not ideal if you're going for a more au naturale kind of diet.
Some supplements of this kind can be packed to the brim with caffeine and give you the jitters, but not this one.
5 - L Arginine Plus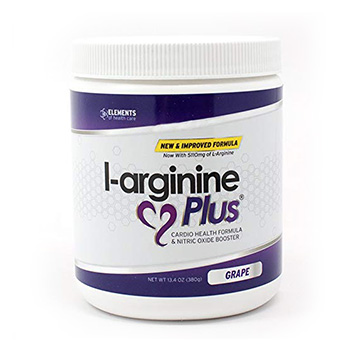 This tasty grape-flavored powder contains 5000 mg of l-arginine and 1000 mg of l-citrulline, so you can rest assured that you're getting plenty of beneficial amino acids in every serving.
The powder mixes well into various shakes, although it does take a while to dissolve in colder liquids.
If you have ever read l-arginine reviews, you'll know the amazing effects that this kind of product can have on your cardiovascular system, especially if you're prone to high blood pressure or heart disease.
PROS
5000mg of l-arginine
Feel energized throughout the day
Helps improve blood flow
Mixes well into shakes and smoothies
But then at home, I feel relaxed and ready to sleep in the evenings. It's like being a little kid all over again.
The thing I like about this product is how it regulates my energy perfectly. In the gym, I feel energized and ready to smash out a workout.
6 - Pure L Arginine Powder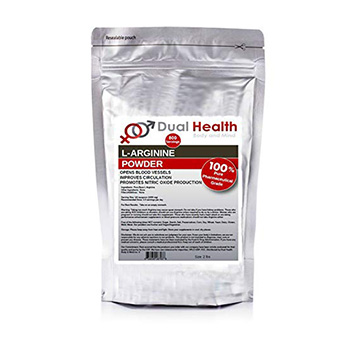 This product describes itself as being 100% "pure based l-arginine" with no additives or fillers added.
Rather than scooping some into your mixer, you are supposed to carefully measure out the correct dosage with a teaspoon, which I think is a little tedious and hard to measure properly.
Despite this, it seems to be a decent product if you're just looking for a boost in l-arginine with nothing else added.
The lack of additives means that the taste is not too pleasant, but it can be masked in shakes and smoothies if you mix well enough.
PROS
Made from pharmaceutical quality grade of ingredients
Versatile - unflavored, can be mixed in any liquid
No fillers or additives at all
800 servings per bag
CONS
Awkward teaspoon measurements are not super accurate
Awful taste
The l-arginine best brands take care of their customers with dietary restrictions, and Dual Health has certainly stepped up.
The lack of additives also makes this product suitable for veggies, vegans, and people with allergies too.
What To Look For When Buying L-arginine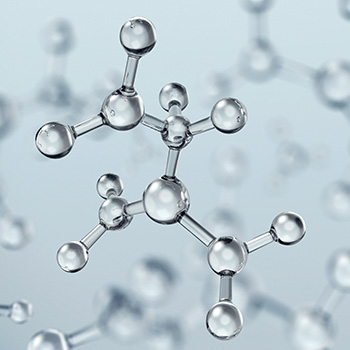 Many people need to take l-arginine supplements, especially if they don't eat enough protein or they don't have enough varied foods in their diet.
But, what should you be looking out for in these products?
The first thing is purity. In an age where many manufacturers are trying to sell substandard supplements, purity is something to watch out for.
The main ingredient of your supplement should be l-arginine (in one of its 3 forms) above all else.
There are some compounds like l-citrulline which are often included because of their ability to help boost arginine's nitric oxide production in the body.
However, remain skeptical of artificial flavors, sweeteners, and binding agents. Also be critical of any additional ingredients which don't seem to be conducive to good heart health and fitness.
Second, you should keep an eye on the intent behind the product. Because of its ties with blood flow and circulation, l-arginine is commonly used as a treatment for conditions such as erectile dysfunction.
As a result, some manufacturers include aphrodisiacs and herbal ingredients which are designed to improve libido – these ingredients will not be particularly helpful in a fitness context.
Some people absolutely need supplements of these amino acids, including those with protein malnutrition, problems breaking down ammonia, or severe burns or infections.

Mark A. Creager, M.D. Professor of Medicine
What Are The Benefits Of L Arginine?
L arginine has health benefits for your heart, your blood pressure, your immune system, and your body's protein production. Let's go into more detail.
Protein production:Because it is an amino acid, l-arginine plays a role in protein production within your body. This makes it good for people who don't get enough protein in their diet through food sources. (1)
Heart health:L-arginine has potential benefits for heart health, helping to reduce problems such as heart disease and blood pressure problems. Heart disease is the #1 cause of death for men and women in the US, claiming 1 in every 4 deaths.
Helps the immune system:L –arginine has been found to positively affect the body's immune response and inflammation, helping you to fight off those nasty bacteria and diseases. Infectious complications have been found to be less common in people taking l-arginine supplements. (2)
Dilates arteries:The compound has been shown to relax and dilate your arteries, reducing the risk and symptoms of coronary artery disease and clogged up arteries. This is good news if you're trying to make muscle gains (this guide), as your blood can flow to your muscle more effectively.
You can learn more about the benefits (and side effects) here.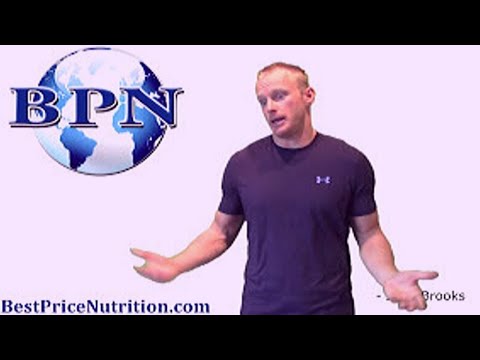 What Are The Side Effects Of L-arginine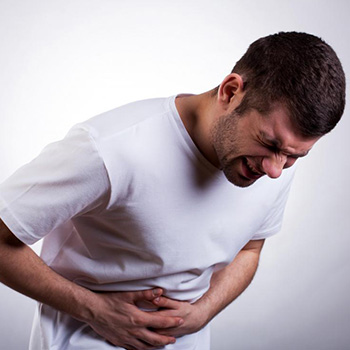 The side effects of l-arginine include nausea, diarrhea, abdominal pain, gout, bloating, airway inflammation, asthma attacks if you're asthmatic, and possible allergic reactions. These reactions are quite rare and most people taking the drug never report them. (3)
Although it is generally regarded as safe, some physicians advise against taking it if you've recently had a heart attack, as it may increase the risk of death.
Furthermore, it may increase asthma attacks and allergic responses for people who already have these conditions.
You should also be careful if you've recently suffered from cold sores or genital herpes, as the compound can bring herpes back with a vengeance.
What's The Recommended Dosage Of L-arginine?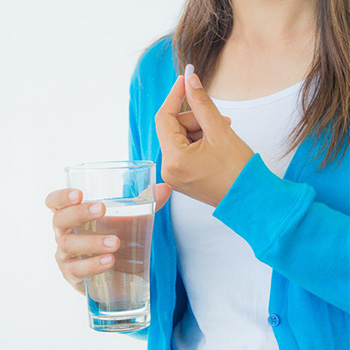 The recommended dosage of l-arginine is said to be around 6000mg per day if you're trying to improve your physical fitness and performance.
There are more specific dosages and recommendations if you're taking the supplements for reasons such as chest pain or congestive heart failure.
For example, those looking to improve their ED should take around 5000mg per day.
However, there is no officially recommended dosage or daily intake for l-arginine, so use caution and speak to your doctor if necessary.
What Is The Best L-arginine To Take?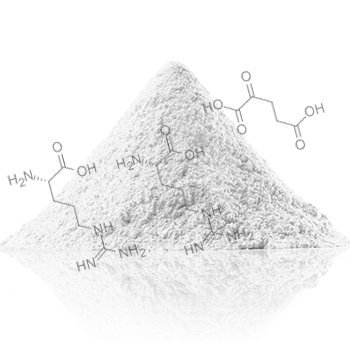 The best l-arginine to take is the AAKG type, followed by pure l-arginine and l-arginine HCL. These 3 different types are very similar, but they do have some subtle differences which affect their efficacy.
AAKG:

  this is a synthetic version of the compound which stands for arginine alpha-ketoglutarate. "Synthetic" is usually a dirty word in the health and fitness realm, but this version is more effective than its brethren.
Pure L-Arginine:  the purest version you're going to get. If you prefer a science-ey purist kind of fitness regime, then this is the version for you. It tastes awful though.
L-Arginine HC:  this version has been bonded with hydrochloride to get rid of some of the bad taste. It contains around 70-83% l-arginine, so it's not as pure.
One 2006 study in the "Nutrition" journal showed trained men consuming AAKG were able to significantly increase their one-repetition maximum for the bench press after eight weeks

- Ryan Haas, Fitness Writer
FAQs

Is l-arginine safe to take daily?
L-arginine seems to be safe to take daily so long as you're not suffering from conditions such as asthma, you haven't had a recent heart attack, you don't have allergies, and you haven't had herpes or cold sore infections. However, always consult your physician if you're not sure about taking l-arginine daily.
What does l-arginine do sexually?
Sexually, l-arginine can help to improve blood flow to the penis, making it easier for men with erectile dysfunction to get and maintain an erection. This is because l-arginine is a precursor to nitric oxide, a compound that helps to dilate your arteries and improve blood flow to various areas, including the penis.
You can also check out our list of nitric oxide supplements that you can take too.
Does l-arginine raise HGH levels?
L arginine can raise HGH levels by around 100% when resting. However, if taken in addition to exercise, it appears that l-arginine may reduce the body's capability to produce HGH from 300-500% (exercise alone) down to 200% (exercise with arginine).
Does l-arginine raise testosterone levels?
L-arginine does not raise testosterone levels directly, although it does have positive effects on symptoms of lowered testosterone levels, such as ED.
My Recommended L-Arginine Supplement
I would personally recommend Snap L-Arginine if you're trying to become fit and healthy without consuming powders and shakes. This product is one of the strongest l-arginine supplements in capsule form, as most capsules on the market usually have doses less than 1000mg.
This Snap supplement certainly does live up to its moniker in terms of their power and strength, containing 1655 mg of L-arginine per capsule. Contrary to what you might assume, they're also fairly small and easy to swallow too.
If you want your arteries to be as free as a bird, I'd suggest giving them a try. Just make sure that your nutrition is en pointe too – there's no point taking these pills if you're eating 5 cheeseburgers a day on the sly.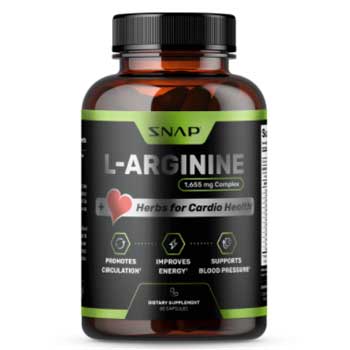 Snap L-Arginine
The Best L Arginine Supplement
No sugar, soy-free, non-GMO
Comes in easy-to-swallow capsule form
Also used as an effective pre-workout supplement
Get the BEST PRICE until the end of May
Click For Best Price
About the author