Pea, hemp, brown rice, soy protein -- vegans have it easy when it comes to options for vegan protein powders.
However, the real question is, do all plant protein powders provide the same nutritional value as whey protein?
​Truth is, not all ​vegan protein powders are created equal, and there are a lot of details you need to scoop up if you're looking for the top ​plant-based protein powder on the market.
Especially when you're considering ​a complete amino acid profile, which you should.
Here, we go over our personal best vegan protein powders to help you find the best products that ​can support your plant-based, protein-filled life.
Top Vegan Protein Powders (2022 Updated)
1 - Transparent Labs Organic Vegan
When we did the Transparent Labs Organic Vegan Protein Powder Review, the thing we appreciated the most is its clean flavor. It has no aftertaste, and the texture is not gritty.
​This powder only has 140 calories, ​and it serves up 25 grams of combined rice protein and pea protein.
Calories: 150
Protein: 24g
Carbs: 7g
Fibers 4g
Fat: 2.5g
PROS
25 grams of protein, 120 calories, and little fat and carbohydrate
Perfect for building lean muscle
Optimal source of protein and fiber
USDA Organic Certified
100% vegan and no artificial sweeteners or flavoring
CONS
Some people find it sweet due to the added organic stevia
Based on user reviews, this ​one from Transparent Labs is one of the best vegan protein powders, since it's completely plant-based, has no fillers, is gluten-free, and non-GMO. It ​also claims to improve ​digestion ​because it contains fiber.​
Additionally, the powder combination of rice and pea protein makes ​the powder a complete protein source.
2 - Snap Supplements - Plant Protein Chocolate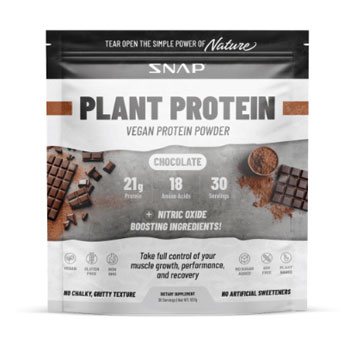 With ingredients like protein brown rice, yellow peas, and lentils, Snap's chocolate supplement is made for building and maintaining muscle mass.
The label says that adequate protein intake optimizes your strength and performance, which is essential to preventing diabetes, osteoporosis, and cardiovascular disease. Its vegan-friendly formula contains 9 essential amino acids, that blend seamlessly into hot or cold liquids.
Calories: 114
Protein: 21g
Carbs: 3g
Fibers 2g
Fat: 2g
PROS
21 grams of plant-based protein per serving
No chalky, gritty texture
No added sugars or artificial sweeteners
Effective appetite suppressant
CONS
Few complaints about customer service
3 - Future Kind Organic Vegan Protein Powder - Vanilla Flavored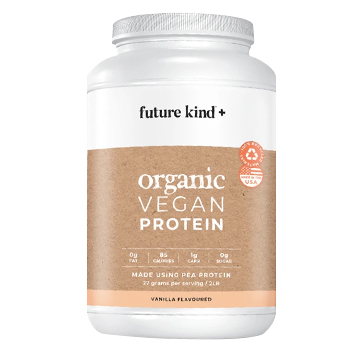 This is a great way to get in some protein. Protein is a macronutrient essential for us to have a well-rounded diet. This protein is made without sugars and fillers, giving expectant mothers all the nutrients and vitamins they need in a capsule.
Customer reviews have raved about the flavor and mixture of the powder. Most state that the taste is excellent and not chalky like similar vegan protein powders.
Having a vegan protein powder not only helps us consume an adequate amount of protein, but it too allows us to grow muscle, get toned, and help us with recovery.
PROS
Great flavor
Non-GMO
Made without sugar
CONS
May be pricey depending on the bottles bought
4 - BRF Whey Protein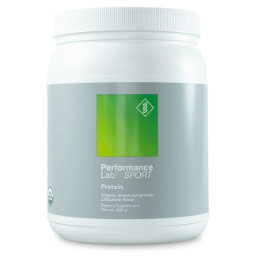 When you already have a stiff fitness regime, all you need for an extra boost is some whey protein. And the 90% isolate Whey Protein powder from BRF is the best option you have. A trusted product from Bauer, the Whey Protein package has helped thousands of fitness enthusiasts to get into their desired shape. There are a couple of reasons why the product remains a user favorite.
Ingredients
The ingredients of BRF Whey Protein are relatively simpler. Unlike the other products we have added before, this one does not have any fancy extracts. Instead, the protein powder is made using Whey Protein Isolate, which is derived from milk, and the flavor and colorant derived from Cocoa powder. In addition, the manufacturers have added an Emulsifier based on Soy Lecithin, Xanthan Gum, and a Sweetener by the name of Sucralose. So, while the product is not vegan, it is suitable for vegetarians out there.
Features
As we said, BRF Whey Protein is made using 90% isolate protein powder. So, while it contains everything you need for sustainable growth, there are no junk elements or components that can impact hormone levels. At the same time, thanks to cocoa powder, the drink would taste delicious every single time. The fat-absorbing capabilities of the drink are also excellent.
Each serving of the drink would contain 28g of protein, which is great. The drink has a minimal level of carbs, which is a blessing for those who follow strict diets. At the same time, the amount of BCCAs is very high in all cases.
Calories: 100
Protein: 20g
Carbs: 2g
Fibers 1g
Fat: 1.2g
PROS
Easy to create the drink
It contains 90% protein isolate
Delicious chocolate flavor
It does not impact hormone levels
CONS
It does not offer additional benefits
Available through the official site only
BRF Whey Protein is not a magical drink. It does not do anything about your drive or hormone levels, either. But, if you are looking for fat absorption and muscle building, this Whey Protein package is one of the most effective and safest ways to go.
5 - Ladder ​Plant Protein​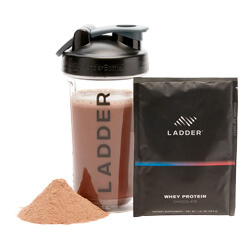 This plant-based protein blend by Ladder contains all the essential, branched-chain amino acids that you don't need to stack up on a separate EAA or BCAA supplement.
The product also contains digestive enzymes and probiotics to make sure that your body absorbs all the needed protein. This may aid in building your muscles, losing fat, and improving your sports performance faster.
Calories: 130
Protein: 26g
Carbs: 6g
Fibers 2g
Fat: 1g
PROS
CFS Certified
Contains Digestive Enzymes and Probiotics
Contains 9g of essential amino acids
Tastes good
CONS
May contain a high amount of sugar (may not be good if you're cutting down on carbs)
6 - Orgain Organic Plant-Based Protein Powder
When I tried this vegan ​protein powder out, I found that it mixed well with plain water or almond milk. The taste of the vanilla bean flavor ​was alright. However, when I mix it with a flavored drink or shake, it's a totally different story.
Flavor aside, I think ​that Orgain Organic Plant-Based Protein Powder is still one of the best post-workout products when it comes to vegan protein intake. ​
One serving (two scoops) has 21 grams of protein, 15 grams of carbohydrates, and 4 grams of fat.
Calories: 150
Protein: 21g
Carbs: 15g
Fibers 6g
Fat: 4g
PROS
Packed with 21g of organic protein and 6g of fiber per serving
​One of the cleanest protein​ supplements in the market
​Gives an energy pump at the gym
CONS
It isn't to everyone's taste, even the chocolate flavor
This Orgain Organic Plant-Based Protein Powder is completely non-GMO and dairy-free. The best part of all, with the combination of rice, pea and chia seed, you get ​a complete essential amino acid profile.
You don't want any chemical sweeteners in your protein, so no sucralose or acesulfame potassium, which are the cousins of aspartame. They can be inflammatory, and some studies have suggested they can inhibit growth

- Melissa Piercell, Naturopathic Doctor
Not surprisingly, this brand also has an organic protein and greens superfoods powder with the added nutrition of spinach, kale, and other vegetable extracts.
Read more: Orgain Organic Protein Powder Review
7 - Nuzest Clean Lean Protein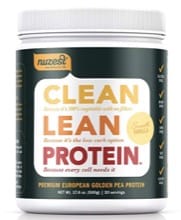 This ​plant-based protein powder from Nuzest is made up of pure pea protein isolate.
​This pea protein powder provides 21 grams of protein with only a gram of fat and carbohydrate per serving.
The Just Natural variant has a neutral flavor that ​is good for baking.
I'd consider this brand as one of my favorite vegan protein powders when it comes to making protein-filled baked goods.
Calories: 90
Protein: 19g
Carbs: 3g
Fibers 1g
Fat: 1g
PROS
Has 21 ​g of pea protein with every little fat and net carb
Has a variety of flavors to choose from
Made of pure pea protein
CONS
May not be ideal as a meal replacement due to its low ​calories
Not the cheapest
8 - LeanHemp Pure Hemp Protein Powder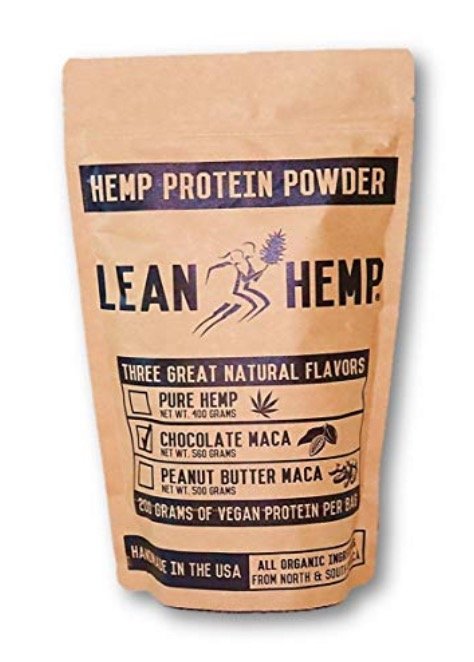 This organic, plant-based protein from LeanHemp is made from pure hemp seeds. It has three flavors available, including pure hemp, chocolate maca, and peanut butter.
I tried all the flavors of this protein powder brand, and my favorite is the chocolate maca. It has some cocoa powder, maca root powder, and coconut sugar as added ingredients on top of the hemp seeds powder.
It has 20 grams of protein per serving and 7-8 grams of fiber. Watch out for the sugar though. The pure hemp variant has the lowest amount of carb and sugar. Read our full review of the best hemp protein powders.
Calories: 160
Protein: 20g
Carbs: 9g
Fibers 7g
Fat: 4.5g
PROS
Has 20 grams of protein and 7-8 grams of fiber per serving
Has different variants available
Contains all the essential amino acids
CONS
The flavored variants (chocolate and peanut butter) are quite High in carbs and added sugar
It's a little too sweet for my liking
Pea protein ​has a complete protein profile, but can also be stacked with rice or chia ​seeds.
9 - Garden Of Life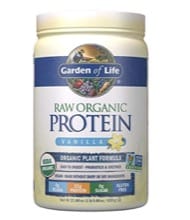 The unflavored raw organic protein powder from Garden of Life only has 110 calories per serving, making it popular for those who are aiming to lose weight. With a single scoop, you get 22 g of vegan protein with only 2.5 g of fat and 2 g of carbs.
It's a combination of brown rice and pea protein, with 13 raw organic sprouts, including quinoa, buckwheat, pumpkin seed protein, chia seeds, and lentil, among its many other ingredients.
Calories: 110
Protein: 22g
Carbs: 2g
Fibers 1g
Fat: 2.5g
PROS
You get 22 grams of protein ​per serving
Chia and pumpkin seed protein sources
Packed with other vitamins and minerals from the raw organic sprouts
Low total calories
CONS
Ingredients are hidden in a proprietary blend
Texture and taste can be tricky
It has ​a variety of classic flavors like chocolate and vanilla.
Oh, did I mention there's 0 grams of added sugar? Garden of Life knows us so well.
10 - The Plant Era Organic Vegan Dark Chocolate Protein Powder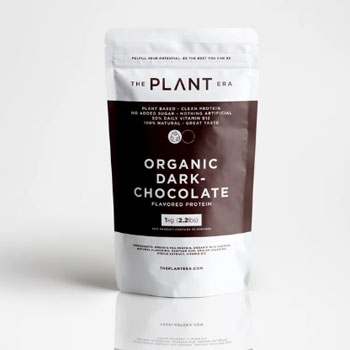 The Plant Era brings into the game its Organic Vegan Dark Chocolate Protein Powder that is well-received and loved by many consumers, including football superstar, Pierre-Emerick Aubameyang.
The Plant Era has supplemented this protein powder with 21g of organic protein plus 50% of your daily vitamin B12 that may help combat fatigue, boost energy levels, and better your mood.
Calories: 120
Protein: 21g
Carbs: 2g
Fibers 1g
Fat: 2g
11 - EarthChimp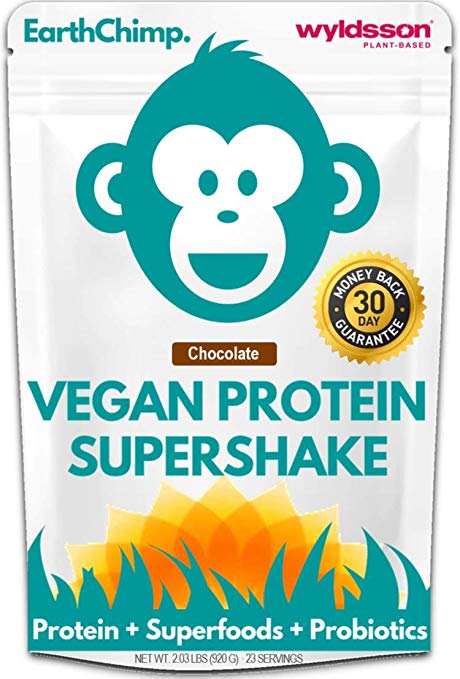 Unlike most vegan protein powders, EarthChimp doesn't have that earthy flavor.
It's not exactly a chocolate milkshake, but it tastes better than most vegan protein powder brands, especially when mixed with frozen fruits.
​A single serving of this protein powder contains 20 grams of plant-based protein with 2.5 grams of fat.
Calories: 120
Protein: 20g
Carbs: 11g
Fibers 5g
Fat: 2g
PROS
Contains with 20 grams of protein ​each serving
The chocolate variant is quite nice
No artificial flavorings
Contains a good amount of fiber, digestive enzymes, and probiotics
CONS
Texture may be too thick for some
High in carb and sugar
​This protein powder contains a blend of pea, pumpkin seed, sunflower, and coconut, which may be ​the ideal choice if you're allergic to soy.
How Many Grams of Protein Do You Need?
"How much protein I need for muscle building?" is a common question I get asked all the time.
You need between 1.6g and 2.2g of protein per kilogram of weight (0.73 to 1 gram per pound) if you want to maximize your muscle gains.
Soy based foods are some of the best foods you can eat on the planet. Soy provides a plant based protein source; a slew of vitamins and minerals crucial for reducing risk of chronic disease; and fiber that helps you fill up and feel satisfied.

-International Olympic Committee Consensus on Sports Nutrition
With this in mind, I recommend going with the upper end of the protein range, which is suggested by the scientific literature to be optimal [1]. This is essential because protein made from plants (i.e. soy protein) is generally less anabolic and not as easily digested than whey protein.
For example, a vegan athlete weighing 80 kg or 176 lbs would need around 128 to 176 grams of protein per day.
That's 1.6 to 2.2g x 80 kgs.
With these numbers in mind, and taking into account the general lifestyle of a vegan athlete, here's why I believe plant-based protein powders to be so invaluable.
What to Look for in a Good Vegan Protein Powder?
Here are 4 things to look for in a vegan protein powder:
1. Value - Protein per Dollar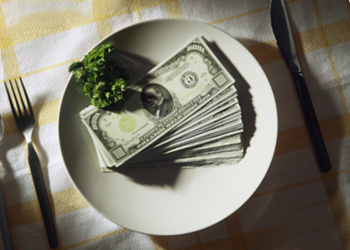 To spend the least amount of money for the most amount of protein, here's the number you need to be looking at:
Dollar per gram of protein.
The basic formula to calculate this looks like:
Protein per serving * Number of serving per container/Price
This is the quickest way to find out how much protein is in the product you're buying per dollar.
Just make sure that the plant-based protein sources are of high-quality and not something cheap with limited bioavailability.
Also, you may want to consider choosing between protein isolate and concentrate. Concentrates usually have a slightly lower protein per serving content but are definitely cheaper than isolates.
2. Percentage of Protein
When purchasing a pea, flaxseed or hemp protein powder, you should look for a high percentage of plant proteins above everything else on the ingredients list.
The higher the percentage of protein in a product, the less space is taken up by carbs, fats, sugar, and other nutrients that you may (or may not) want. The only time you would want these other macros would be when you're bulking and trying to consume a ton of calories.
If you're bulking and need that extra help in getting more calories, you may want to consider taking a vegan mass gainer.
3. Flavor & Mixability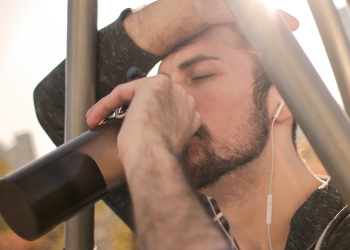 It's important to keep an eye out for powders that taste decent and can mix easily into fruit smoothies, protein shakes, and other drinks, such as nut milk.
You can combine them with your foods, as well. In my experience, I find the soy and hemp mix well with most flavors.
If you're doing something with simple milk or water, maybe go for a flavored powder.
I make my favorite protein shake with unflavored plant protein, and I can't complain.
You can make protein bars and protein cookies (check out the best protein recipes here) too.
4. Optimum Nutrition
There are many vegan products that offer lots of benefits from a nutritional perspective, such as a complete essential amino acid profile and vitamins and minerals.
Take time to find which vegan source of protein is best for your diet and fitness goals. For example, peas are known to be rich in amino acid components with the added benefit of BCAAs. Hemp, on the other hand, is a great source of omega-3 fatty acids for better cardiac health.
Apart from BCAAs, omega-3s, and other added nutrients for certain health purposes, the protein source is also a crucial thing to consider if you're suffering from certain allergies or diet restrictions.
What's Our Favorite Vegan Protein Powder?
While all the plant-based proteins ​on this list provide the necessary protein requirements of a ​pure plant-eater, I recommend Transparent Labs Organic Vegan as one of the best vegan protein powders on the market.
Its low-carbohydrate and low-fat formula ​might be ​best for keeping any extra pounds off, while the 24 grams of protein per serving ​is ​essential to ​your plant-based diet and overall health.
People on restricted diets might consider it helpful too, as it's gluten-free, soy-free, contains non-GMO ingredients, and no preservatives. With its price and nutritional content, it also wins on a dollar per gram value among all the protein powders on this list.
What ​is the best vegan protein powder for you? And which of these protein powders have you tried?
Share your experience with us!
Transparent Labs Organic Vegan
Our #1 Recommendation
25 grams of protein, 120 calories, and little fat and carbohydrate
Perfect for building lean muscle
Optimal source of protein and fiber
USDA Organic Certified
100% vegan and no artificial sweeteners or flavoring
Get the BEST PRICE until the end of May
Click For Best Price
About the author