There are a lot of natural sources of protein including nuts, fish and meat. But many people, especially those intent on building a stronger leaner physique, don't get enough protein from what they eat.
They need to bolster their protein intake. And one of the best ways to do that is with a supplement.
Hemp protein powder is one of the best plant-based protein powder sources for supplemental protein because it is highly soluble, rich in essential amino acids and completely organic.
We've scoured the supplement landscape to discover the best hemp protein powders out there.
Our Top Hemp Protein Powders (2021 Updated)
1 - LeanHemp
LeanHemp provides 8 essential amino acids so that you can get the most out of your exercise routines. Amino acids are the building blocks of protein and it is what muscles are made of.
LeanHemp is digested easily by the body and once it's in, it immediately gets to work by repairing stressed-out muscles and building new, stronger muscle fibers.
This hemp protein powder is also high in dietary fiber, which enables regularity in bowel movements. This is crucial to flushing out toxins from your system.
LeanHemp Chocolate Protein Powder is also all-natural, with no artificial fillers.
PROS
Provides all 8 essential amino acids; great amino acid profile
100% plant-based protein that's fast-absorbing
Repairs muscles and helps you build stronger muscle fibers
All natural, no artificial fillers
Zero THC; safe and legal
CONS
​Better-tasting than most but taste isn't really it's best suit
With no genetically modified organisms (GMOs) and THC, LeanHemp is both safe and effective. The chocolate flavoring is also unexpectedly tasty for an organic hemp protein powder.
2 - Orgain Organic
Update*: Their new formula has removed hemp from their ingredient list.
Orgain Organic Hemp Protein Powder contains 21 grams of organic plant-based protein, providing you with as much protein per serving as over 3 chicken eggs!
Coming in at 150 calories per serving, this low-calorie hemp protein powder is ideal as a meal replacement for vegans who are trying to keep their figure trim.
PROS
Contains 21g of organic plant-based protein
Great meal replacement
Can be mixed in smoothies or shakes
CONS
Causes bloating for some people
This organic hemp protein powder product is unflavored, so it can be easily mixed into a variety of your favorite recipes, such as ​ vegan protein shakes and vegan brownies.
3 - Nutiva Organic Hemp Powder
If you're looking for a stripped down, completely organic hemp protein powder that will drive muscle growth without bombarding your system with junk it doesn't need, then Nutiva Organic Hemp Protein Powder should be considered on your list.
There are zero fillers and additives in this supplement. Just 11 grams of pure hemp protein per serving, rich in branched chain amino acids along with plenty of fiber to keep things moving.
Nutiva makes no attempt to flavor it. This makes it easier to mix with a wide variety of foodstuffs. The end result is a healthy, vegetarian-friendly, easily digested organic hemp protein powder that will help build muscle.
PROS
​Sustainable source of protein, amino acids, and fatty acids
Easily digested for quick results ​when building muscles
No fillers and additives
CONS
​Light on supporting minerals.
And because it only contains 9 grams of carbs per serving, it's not going to go straight to your waist.
4 - Viva Labs
With each serving of Viva Labs, you receive 15 grams of amino acid rich protein per serving and only 8 grams of carbs. There is also a modest amount of fiber and plenty of iron.
Viva organic hemp protein powder is gluten-free, cholesterol-free and transfat-free, so it's not going to lift you up while dragging you down at the same time.
The cold-milled process used to produce this organic hemp protein powder eliminates the need for heating that can undermine purity.
PROS
Boosts athletic performance at the gym
Keeps you feeling full for a longer period of time
Free from gluten, cholesterol, and trans fat
CONS
Better for baking than for shakes.
In addition, there are no outside flavors of any kind that might compromise your ability to mix it with other beverages and foods.
5 - Manitoba Harvest Pro Fiber
Manitoba Harvest has a decent reputation in the supplement community for creating safe, effective, protein powders.
This Manitoba organic hemp protein powder has a higher fiber content compared to others. With 14 grams of the gritty stuff in every serving, it's likely to be good for your intestines, which in turn is good for your overall health.
In terms of taste, it's not that bad. The good news about it is that it won't interfere with the taste of other things you may want to mix it with.
PROS
Great source for protein and fiber
Boosts muscle growth and recovery
Can be mixed in shakes​, smoothies, and cereals
CONS
All that fiber in it can make it a bit gritty.
Keep in mind, too, that because this organic hemp protein powder has an extra high fiber content, it's not going to make an ideal shake. But it does work well when mixed into muffins, breads, yogurt and cereal.
6 - Navitas Organics
Navitas is another producer that chooses to offer an organic hemp protein powder that is unadorned by artificial flavors, fillers, additives, GMOs or anything else that might make it taste better but would undermine its purity.
Because it's unflavored, you can mix it with just about anything from yogurt to brownies to shakes, and it won't interfere with the taste of other ingredients.
PROS
Contains 12g of hemp protein
​Helps in building lean muscles
​Natural source of vitamin A, fiber, and calcium
CONS
​The package can be a little bigger.
Navitas' Organic Hemp Protein Powder is a great natural source of fiber, vitamin A, magnesium, and calcium. The calcium is particularly important because you'll want your new, bigger muscles to be attached to nice, strong bones.
7 - Bob's Red Mill
Organic hemp protein powder is one of Bob's newest offerings, and they didn't waste any time coming up with a winner. Red Mill has a fantastic amino acid profile, with 14 grams of pure, amino acid-rich protein per serving, and includes no unnecessary additives.
Because Bob's Red Mill hemp protein is free of outside flavors, you can mix it with just about anything from water to cakes, and it won't spoil the flavor.
Red Mill contains no sodium, trans-fats or cholesterol, and each serving contains just 10 grams of carbohydrates. Red Mill Protein Powder is also high in iron and calcium which is great for blood and bones.
PROS
​Packed with 14g of ​amino acid-rich protein
​High in iron and calcium
​No sodium, trans-fat or cholesterol
CONS
​Has hints of a mild grassy taste sometimes.
There are also plenty of the branched chain amino acids your body craves after a tough workout, which this organic hemp protein powder can provide.
8 - Manitoba Harvest Hemp Pro 70
Manitoba Harvest Hemp Pro 70 is low enough in carbs to be used by those on the keto diet. But even if you're not on a carb-restrictive diet, it will still do a great job of helping you recover from strenuous workouts and build the kind of lean, tough physique you're looking for.
Organic hemp protein powders don't get much simpler than this. Manitoba Harvest consists of 2 ingredients only: hemp protein and plant extract.
With this organic hemp protein powder, you'll get the BCAAs your muscles need. With the plant extracts, you'll get essential vitamins and minerals.
PROS
​Contains 20g protein, 2g carbs, 2g sugar
​Boost muscle growth and recovery
​Tastes great in your favorite shakes and smoothies
Hemp Pro 70 is one of those hemp protein powders that is rich in antioxidants, iron, calcium and, most importantly, branched chain amino acids that your body cannot produce by itself, but are crucial to muscle growth.
9 - Nature's Way
Featuring 13g of fiber and 11g of protein per serving, Nature's Way Hemp protein powders are a great way to get a bunch of your daily nutrients in one big go!
These supplements are suitable for vegans and vegetarians, being made with cold milled powder which is known for its purity.
PROS
11g protein, 13g fiber
​Great meal replacement
​Made from organic ingredients
CONS
Some people dislike the taste
Nature's way is also certified as an organic product.
10 - Chisoft
Chisoft are very big on letting you know that their products are "MADE IN CANADA".
Nonetheless, this hemp protein powder is brilliant for vegans who want a boost before or after their workout!
This organic hemp protein powder is specially designed with easily-digestible plant protein, making it easy for your body to absorb all the nutrients it needs from this product.
PROS
Packed with 15g protein, 8g carbs, 1g sugar
​Speeds up muscle recovery
​Promotes optimal brain function
CONS
oesn't always dissolve easily
Made from natural ingredients, this powder is free from GMOs, gluten, preservatives, dairy, hormones, and everything but the kitchen sink.
Other Pure Plant Protein: Zego Plant Protein
​What is Hemp Protein Powder?
Hemp protein powder is derived from hemp seeds. It is a dietary supplement intended to help those who feel they are not getting enough protein from their regular diet.
People who work out extensively also tend to use protein powder in order to help repair and rebuild overstressed muscles.
Hemp is renowned for its purity, easy digestibility, and affordability.
Contrary to some urban legends floating around, however, hemp powder contains no THC, so you're not going to cop a buzz by drinking a hemp protein shake (1).
Hemp vs Whey Protein
​Many people new to ​supplements hear a lot about the virtues of whey protein and are curious about how hemp and whey ​powder compare. Here is a quick look:
Hemp Protein Powder Pros and Cons
PROS
​Hemp is usually free of additives and fillers, so you use smaller quantities.
​In most cases, it mixes better with liquids than whey.
​It's usually higher in fiber than whey protein.
​Hemp is naturally rich in antioxidants and essential minerals.
CONS
Taste is usually a non-issue because there isn't any.
​In many cases it costs a little bit more than whey.
​As there are no preservatives, it can go bad faster.
Whey Protein Powder Pros and Cons
PROS
Whey is usually cheaper than hemp.
​It's sold everywhere so you can always find some.
​It's effective for building muscles.
CONS
​Whey ​tends to have lots of additives.
​It also tends to cause a bloated feeling among regular users.
​It's generally not as effective so you'll need to take more.
Both of these will help you get more out of your workouts. Many people, however, are drawn to the higher level of purity in hemp protein, the fact that they don't need to use as much of it, and the fact that the lack of flavorings means it mixes better with other foods.
Benefits of Hemp Protein Powder
The benefits are many. Especially for those who are physically active on their job or who engage in regular strenuous exercise for weight loss. Those benefits include:
Faster recovery - Because hemp protein powder is rich in branched chain amino acids, your muscles recover quicker than they otherwise would. In addition, any new muscles you build will have greater integrity, be leaner, and more durable.
Enhanced weight loss efforts - Because this type of protein powder enables you to get more from your workouts and recover faster, you'll burn more fat in the gym and be able to work out more frequently. This will enable you to shift your weight loss efforts into high gear.
Healthier cells - Free radicals course through our system attacking normal cells and undermining their integrity. Hemp protein is rich in antioxidants that have been scientifically proven to attack free radicals and render them inert. This improves the health of all your cells.
Lower cholesterol - Studies have shown that protein supplements can play an important role in helping to reduce the amount of bad cholesterol in the blood. They also tend to help stabilize blood glucose levels.
Lower risk of heart problems - The heart is a muscle. And like any muscle, it needs the essential vegan BCAAs to function normally. Research suggests that supplementing with hemp protein powder may help improve heart health and reduce the prevalence of heart disease.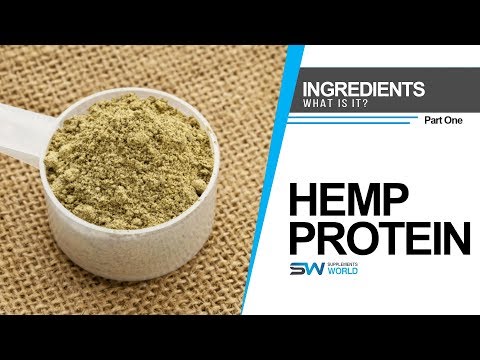 What are the Potential Side Effects?
Hemp protein powder is not fast food. It's not loaded with artificial ingredients, fat and genetically-modified organisms. It's protein gleaned from hemp seeds, and that's it.
It's the purest form of protein powder you can buy and is rich in things your body needs. As such, it's not going to generate a load of side effects.
But some people still may experience some side effects, including:
GI distress - The fact that hemp powder is high in fiber means there's a chance it may generate GI distress in some people. This may include gas and perhaps bloating.
Allergies - While the number of people with allergies to hemp is small, there are still some and those people should avoid this product.
In addition, there has been very little research on the effects of hemp protein supplement on pregnant women. Just to be safe, it's usually suggested that pregnant women refrain from taking supplements until we know more about these side effects.
Want more protein options? See our main vegan protein powder supplements page.
FAQs
Can Hemp Protein Make You Fail a Drug Test?
Hemp protein cannot make you fail a drug test. Although the hemp plant is related to the cannabis plant, hemp contains minuscule levels of THC, the psychoactive ingredient which causes the "high" of marijuana. As a result, hemp protein will not test positive for cannabis in a drug test.
Does Hemp Protein Get You High?
Hemp protein does not get you high. Although the hemp plant and the cannabis plant are related, hemp contains only trace amounts of THC, the psychoactive component of marijuana which gets you "high". So no, hemp protein will not cause you to feel high or stoned in any way.
Can You Build Muscle With Hemp Protein?
You can indeed build muscle with hemp protein by your side. Hemp protein is a "complete protein", meaning that it contains all the essential amino acids necessary for protein production in the body. However, hemp does have relatively low levels of leucine, an amino acid favored by bodybuilders.
Is Hemp Protein Better Than Pea Protein?
Hemp protein is not better than pea protein, generally speaking. Hemp protein has a PDCAAS score of 51%, while pea protein has a PDCAAS score of 85%. This means that pea protein has more essential amino acids, bringing it closer to the coveted status of a 100% complete protein.
Is Hemp Protein Fast or Slow Digesting?
Hemp protein is slow digesting. According to PDCAAS, hemp protein is a slow digesting protein, taking much longer to digest than alternatives such as pea protein. Slow digesting proteins tend to enable prolonged protein absorption, making them a good choice in the long term.
Does Hemp Protein Go Bad?
Hemp protein powders can go bad and expire, although this is true of all protein powders. If you store the hemp protein powder in the correct conditions and seal it regularly, you may be able to use it a couple of days past the expiration date, but we would not recommend it.
Does Hemp Protein Contain CBD?
Hemp protein does contain a certain amount of CBD, but these are cannabinoids which do not tend to interact with the receptors in the human body. So although CBD may be present in hemp powder, it does not have the same effects as it would in marijuana or CBD supplements.
Can You MIX Hemp Protein Powders With Water?
You can mix hemp protein powders with water, almond milk, soy milk, and much more! Hemp protein powder can be mixed into various meals and smoothies, and can even be used in baking too. Mixing hemp protein into your drinks/meals allows you to receive all the benefits and enjoy the taste.
Our #1 Recommended Hemp Protein Powder
When it comes to high-quality hemp protein powder, LeanHemp is the top choice. ​It provides all 20 amino acids, including the 8 essential ones and the branched chain amino acids that are crucial to building new, stronger muscles.
LeanHemp is also one of the few to do flavoring right with their all-natural chocolate flavor, which is an unexpected treat.
With zero GMOs, no trans-fats, no cholesterol, no sodium and 20 grams of protein per serving, it's the gold standard of hemp protein powders.
If you are interested in attaining a higher level of overall health, you should consider making a plant-based protein powder like LeanHemp part of your process.
Not sure if hemp protein is for you, then just go for an ordinary protein powder like the one from Orgain Organic.
For more protein powders comparison, see this article on whey and plant protein comparison.
LeanHemp
Our #1 Hemp Protein Powder
Provides all 8 essential amino acids; great amino acid profile
100% plant-based protein that's fast-absorbing
Repairs muscles and helps you build stronger muscle fibers
All natural, no artificial fillers
Zero THC; safe and legal
Get the BEST PRICE until the end of August
Check Current Price
About the author