Recently, I experienced some digestive issues that caused me discomfort and pain. I wanted to prevent them from developing further and affecting my body's ability to absorb nutrients.
So, I tried this plant-based protein that's supposed to ease digestion and decided to share this PlantFusion review with you.
What is PlantFusion?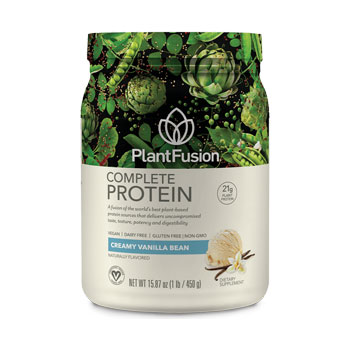 PlantFusion is a plant-based vegan protein powder. It was created by two guys working in the nutrition industry.
They wanted to make a nutrient-dense, plant-based protein powder, free from major allergens, and easy to digest.
To avoid contamination with allergens, the company produces its supplements in its own USDA organic-certified facility.
This effort is pretty impressive.
The company claims that their protein powder is vegan, contains no dairy, soy, and is gluten-free.
They also promise their protein powder is a complete plant protein that tastes great, sustains energy, builds and repairs muscles, all while being non-GMO.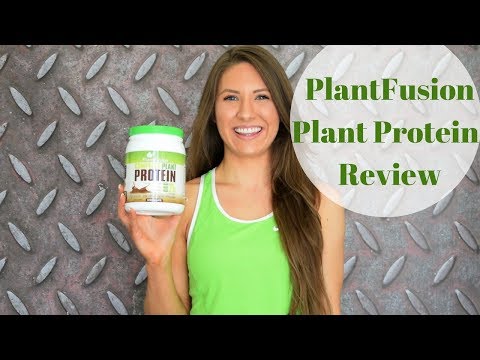 Ingredients
The recommended serving size is 1 scoop (30 grams) of PlantFusion complete protein. One scoop contains:
21 grams of protein
2 grams of carbs 
3 grams of fat
The protein also has 120 calories per serving.
Keeping in mind that this is a plant protein, such a low carb content is a pleasant surprise. I was also shocked by the amount of protein per scoop. It's an amount you'd usually see in whey protein.
I didn't expect to see 21 grams of protein in 1 scoop of plant protein.
Amino Acid Infused Protein
This vegan protein powder contains pea protein isolate, artichoke powder, organic sprouted amaranth powder, organic sprouted quinoa powder, and whole algae protein.
This blend is enriched with branch chain amino acids like L-Isoleucine, L-Leucine, L-valine, and L-Glutamine. This amino acid profile should satisfy all your lean muscle-building needs.
"Consuming a complete plant protein or having legumes in addition to grains, nuts, and seeds can ensure adequate essential amino acid intake."

- Vanessa Risetto, registered dietitian
In addition to all of this plant protein, PlantFusion has also added a proprietary enzyme blend. The blend includes bromelain and alpha-galactosidase — digestive enzymes that help your body absorb the acids better.
Flavor and Sweeteners

Now, let's go over the flavor and sweeteners in this complete plant protein. Some of these ingredients aren't only here to add to the taste of the protein powder. They also bring excellent health benefits:
It seems that each ingredient of this protein powder has been selected to provide the most nutritional benefits.
PlantFusion Complete Protein Taste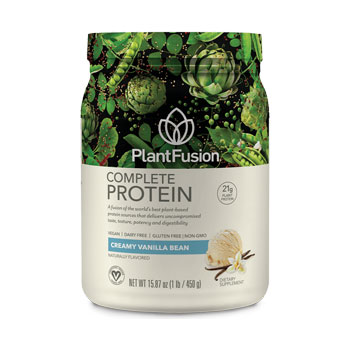 I tried creamy vanilla bean, which is pretty sweet and has an earthy aroma.
The company delivered on their promise — this vegan protein powder tastes nice, which I didn't expect.
Another thing I didn't expect from a vegan protein is its mixability.
PlantFusion Complete mixed great with both plant milk and water.
If you've had mixability issues with vegan protein powders, PlantFusion may be the right choice.
Also, here are five flavors available:
Creamy vanilla bean
Rich chocolate
Red velvet cake
Cookies and cream, and
Natural flavor — stevia-free
PlantFusion Complete Plant Protein Pros and Cons
No product is perfect, and this review wouldn't be sincere if I mentioned only the good side.
PROS
High protein content — 21 grams per serving
Mixes well with milk and water
Contains organic sprouted amaranth powder
Contains organic sprouted quinoa powder
Vegan, keto-friendly, and sugar-free
CONS
Complete protein powder isn't 100% organic
Amino values aren't on the label
Higher sodium level — 390 grams per serving
Serving Suggestions
All plant protein powders have a chalky taste. It's because they're made from plants and ingredients like amaranth powder, organic sprouted quinoa, organic sprouted amaranth powder, organic artichoke isolate, etc.
Compared to other vegan protein powders, Plantfusion amino acid-infused powder isn't gritty and grainy and only has a slightly chalky taste.
As I mentioned, it mixes well with milk and water. However, it's best to mix it with plant-based milk. The taste of the protein shake is much better that way.
PlantFusion Complete Protein Side Effects
I didn't experience side effects and felt great the entire time I used this protein. The brand doesn't mention any possible side effects either.
However, all protein powders could cause side effects if you don't follow the instructions, so be sure to read the label.
Where to Buy PlantFusion Complete Protein?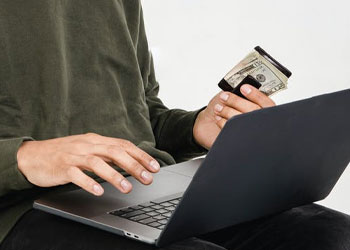 You can buy this amino acid-infused protein blend from the brand's official website or from 3rd party sellers.
It's pricier than your regular whey protein, but then again, pea protein isolate, artichoke protein, organic sprouted ingredients usually raise the price.
The company will give you a 15% discount if you subscribe for automatic delivery.
If you don't like the protein, the brand will return your money within 30 days of purchase.
User Reviews
The product has over 6,000 reviews. Some reviews claim this is the best protein ever, while others don't love it. Here are some of the most striking positive and negative reviews:
"Tastes great, blends well, would buy it again (and in fact bought it before)."

- Alexander J. Grossman
"I have lots of dietary restrictions, and was relieved to find an affordable protein powder that was dairy-free and very low sugar. The powder is extremely fine, so I recommend scooping and stirring carefully, lest you get a big floof of dust in the face. Haha. It does have a little bit of an odd under-flavor (as most vegan powders seem to have), but get the chocolate or cookies-and-cream version and mix with vanilla almond milk and it tastes good".

- Megan F
"I've gone through two tubs of the peptide version of this powder in the chocolate flavor but it's a bit more expensive and I wanted to try a new flavor so I got this one in cookies and cream. Unfortunately it tastes terrible, not even a hint of cookies and cream flavor or any flavor at all. It just tastes like chalk/grain even when mixed with milk. I actually wish I could return this".

- Samantha
"Taste is ok, not great, but the most annoying part is that it gets really foamy."

- Caroline
Should You Buy PlantFusion Complete Protein?
The product will work for anyone with major food allergies or lactose intolerance. The protein is easy on the stomach and tastes great.
However, the sodium level is pretty high, and the product isn't organic.
I recommend you check out Transparent Labs Organic Vegan protein if you want to try something that's USDA organic certified.
It's also a lot cheaper on a per serving basis -- so you get more vegan protein (24g) and a lot less sodium with Transparent Labs.
Transparent Labs Organic Vegan
Our #1 Recommendation
24g of protein per serving
All-natural organic ingredients
USDA Organic Certified
Get the BEST PRICE until end of May
Click For Best Price
About the author