Let's admit it, UGGs aren't much to look at, but the comfort and warmth is something else.
However, comfort shouldn't come at the expense of some poor animals, which is where UGG boots leave a lot to wish for from vegans.
Unfortunately, the company behind this iconic brand doesn't have any cruelty-free choices. And when it comes to vegan UGG alternatives, there are loads of shady products out there.
So, our team set out to find some alternatives that get our stamp of approval.
Our Top Vegan UGGs (2021 Updated)
1 - Willowbee Women's Zoey Boot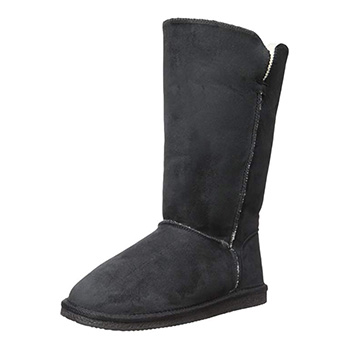 The first option on our list of vegan UGG alternatives goes to the Zoey boots. The main attraction was that they actually look like the real brand.
While using 100% animal-free materials, many customers have positively commented on the comfort and warmth they provide.
Just watch out in really bad and dirty conditions as the lining may easily stain.
PROS
Positive reviews about the faux fur lining
Hard-wearing outsole claims to have good traction
CONS
White lining may get dirty in bad weather
2 - PAWJ California Short Vegan Fur Lined Boot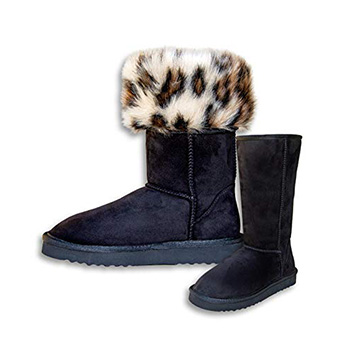 These slightly lower ones also look very much like real UGG boots, but they use faux suede and synthetic lining to provide style in a cruelty-free way.
The only negative we found is that the lining itself may wear down quickly, making the fit less snug.
PROS
The faux suede is lightweight and waterproof
Reinforced heels aim to make them more durable
CONS
Faux fur lining may break down making them less tight-fitting
3 - Airwalk Women's Nia Cozy Boot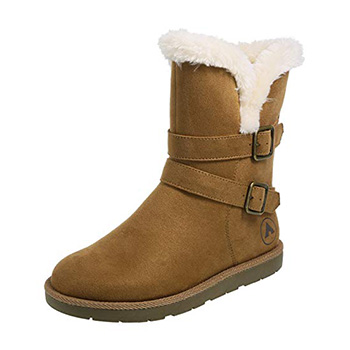 A lot of people choose these ones to make sure they can make them fit tightly around their lower legs using the straps.
On our team, they were a top pick because of the padded sole that may support your feet better.
If you have wider feet, then maybe check for other choices as the opening is a bit tight.
PROS
Adjustable ankle straps make it easier to get the right fit
Many positive comments about the padded sole
CONS
Opening on the boots is a bit tight
4 - DAWGS Faux Shearling Microfiber Winter Boots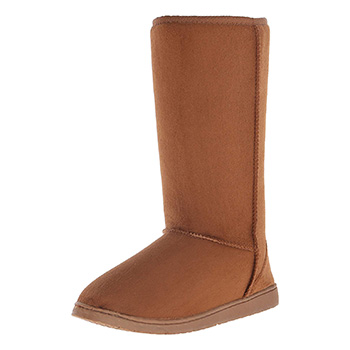 Not only do they come in quite popular and stylish colors, but the faux shearling may actually fool any Ugg brand junky.
Based on many online reviews, they also seem to work pretty well in slippery conditions.
If you fancy these, then just make sure you order a size larger than usual.
PROS
Synthetic faux shearling claims to be suitable for all weather conditions
The outer sole has a slip-resistant design
CONS
Sizing runs a bit on the small side
5 - Camel Crown Warm Winter Boots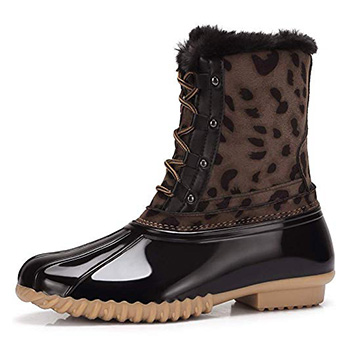 These ankle boots from Camel Crown claim to provide durable materials for tough winters, along with an anti-slip sole for safer walking.
Just beware that the lining is quite thick, which means you may want to get a larger size.
PROS
Many positive comments about the non-slip sole
The material is hard-wearing despite being faux suede
CONS
Thick fake fur lining may make them a bit tight-fitting
6 - Fourever Funky Furry Vegan Flat Boot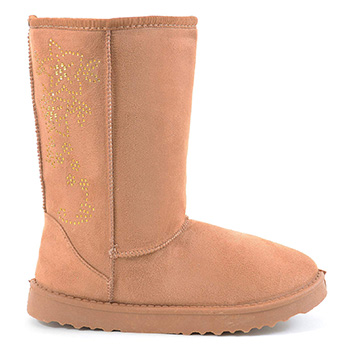 With soft fake suede, these boots have been designed with quite a thick sole.
Unlike some other products, they also seem to be quite easy to slip into.
Once you're in the boots, there may not be much wiggle room, so aim for half a size larger.
PROS
Thick sole for more protection from ground cold
Positive feedback about the ease of getting in and out of the boots
CONS
You may want to order one size larger due to tight fit
7 - Lanyani Women's Vegan Winter Boots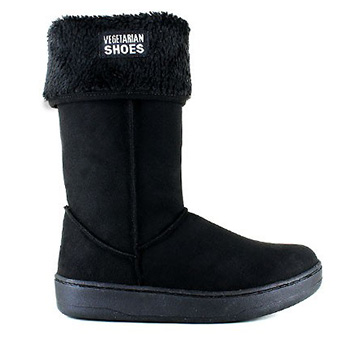 These UGG boots alternatives claim to be suitable for harsh snow conditions, despite having quite a light material design.
Unfortunately, we found a few reports about them not being entirely water-resistant.
PROS
Snow boots designed for heavy winters
Lightweight synthetic materials mean you barely notice them on your feet
CONS
Some reports of water penetrating the boots
8 - Floopi Warm Winter Boots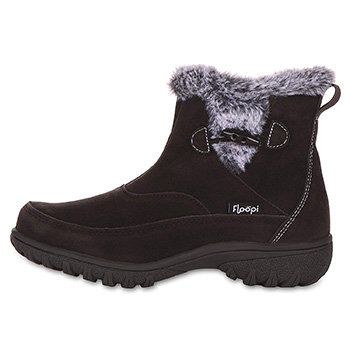 With a cool name and design, there are also a lot of positive reviews about Floopis providing good traction on snow and ice.
Just keep in mind that you may need to wear them a few days to get the full comfort effect.
PROS
Anti-skid outer sole make them suitable for snow and ice
Casual style makes them suitable for many occasions
CONS
The boots require some breaking in to fully stretch
9 - Wooden Amy Button Winter Boots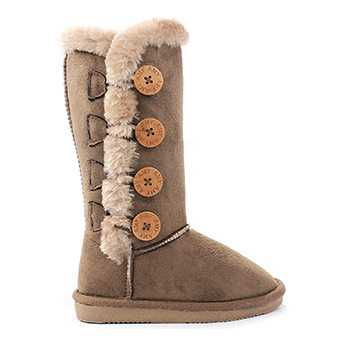 I know that decorative buttons aren't typical for UGG boots, but they do look nice.
These are also one of the higher cut boots using fake suede.
I would suggest buying a treatment to stop water from penetrating.
PROS
Faux fur trim to keep your calves and feet warm
Stylish design with fake buttons on the sides
CONS
You may need to treat this with waterproofing spray
10 - Reneeze Mid-Calf Boot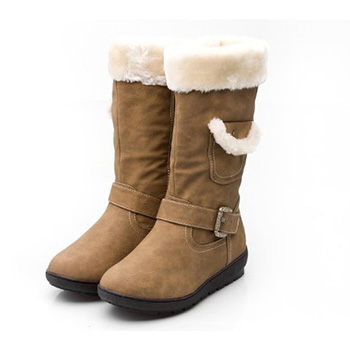 We did like the traditional look about these boots, and the mid-calf design does seem to prove decent protection.
However, there were quite a few complaints about the stitching failing after just a few months.
PROS
Mid-calf height design to provide more protection from the elements
Insole helps with some cold protection from the ground
CONS
Some reports of the stitching failing
Other Resources You May Like:
What Are UGGs Usually Made Of?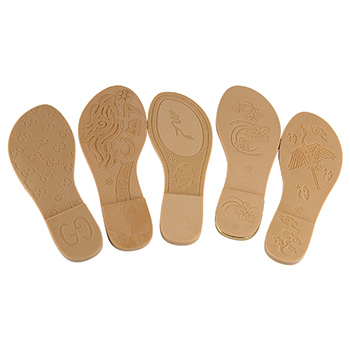 UGGs are usually made of sheepskin with the wooly fleece intact and facing inward.
In most cases, these boots have a rubber sole, but some have been made with animal leather, as well.
And, unfortunately, the company doesn't make any boots or shoes that don't involve PU leather or materials sourced from animals.
Which leads to the obvious question...
Are UGGs Cruelty-Free?
No, UGGs are not cruelty-free, and if you saw how sheep are treated in the fashion industry, even non-vegans may have second thoughts [1].
Animals are often held in appalling conditions that PETA has been highly critical of.
Why Are They Not Vegan?
UGGs are not vegan because they are predominantly made of animal products.
You might be forgiven for thinking that they only use the wool of sheep, but the animals have to actually be killed to create suede [2].
But there is a better option.
What Are Vegan UGGs Made Of?
Vegan UGGs are entirely made of synthetic, man-made materials. But it's also important to check that none of the materials were tested on animals or were sourced in an ecologically harmful way.
We did encounter some supposedly vegan UGG alternatives that didn't contain animal products, but where the synthetic materials may have been doing considerable environmental damage.
However, the above list of alternatives should give you safer options.
Every year, millions of sheep are castrated, and parts of their tails are cut off—often without any painkillers—before they're finally slaughtered for their skin, which is what UGG boots are made of.

- PETA
FAQ

Yes, some Bearpaw boots are vegan, as the company has launched a synthetic suede and wool range of shoes. Just be careful before buying a pair of vegan boots, as the company does make shoes with materials sourced from animals as well.
Are Uggs Made With Real Fur?
Yes, UGGs are made with real fur from animals that generally may not have been treated well. The main source of fur for UGG boots is sheepskin, so think about that before you consider buying a pair.
Choosing The Right Vegan UGG Alternatives
All of the above shoes are cruelty-free, but there is one brand that our entire team seemed to agree on the most. The Willowbee Zoey Boot is possibly one of the most authentic-looking ones on the market, and the overall customer feedback is very positive.
If you want to try and get that comfort with peace of mind, definitely give them a try.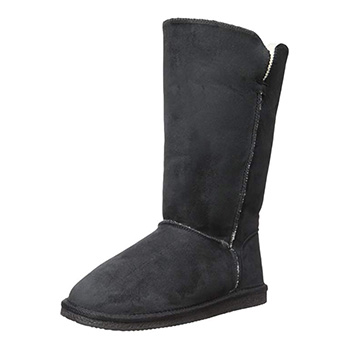 Willowbee Women's Zoey Boot
Our #1 Pick For Vegan UGGs
Positive reviews about the faux fur lining
Hard-wearing outsole claims to have good traction
Get the BEST PRICE until the end of June
Check Current Price
About the author