Did you know that the best fabric for making eco-friendly underwear happens to be vegan? Natural materials, such as hemp, bamboo, and organic cotton, are more breathable and healthier.
As the vegan fashion industry is becoming more popular, here's the best sustainable underwear to match your day's outfit and sustainable lifestyle!
Our Top 10 Ethical Underwear Brands
1 - Pact Women's Cheeky Hipster Briefs (Editor's Choice For Women) (
Editor's Choice

)
Pact is one of the best-known ethical underwear brands. Their cheeky hipster briefs for women are made from 95% GOTS certified organic cotton.
The rest of the material is elastane. Pact is determined to make the world a better place with its ethical practices.
The company uses ethically sourced materials and is fair trade certified.
Their undies are made for comfort.
They have a smooth, tagless, flat waistband, solid back coverage, and subtle lace details. The fabric is easy to care for and doesn't shrink. You can wash and dry it in a machine.
PROS
Organic basics designed for comfort
Feminine and stylish design
The briefs are true to size and come in a two-pack
Affordable and available in a variety of colors
CONS
Some users find the leg holes too tight
2 - TomboyX 9 (Editor's Choice for Men)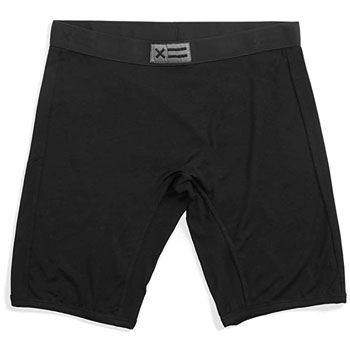 The TomboyX boy shorts boxer briefs are fit-tested on hundreds of bodies. The boxers are made in inclusive sizes from XS to 4XL.
I love these briefs because they're gender-neutral, so both women and men can wear them.
They also come in various colors and patterns so that you can have eco boy shorts for any occasion. The briefs are so comfortable.
You can use them during any activity — while running errands, exercising, sleeping, or sitting at your work desk.
I also like how the brand says they're human-friendly. They don't use sweatshops and pay their workers' fair wages.
PROS
Gender-neutral, soft, and comfortable underwear
Great range of sizes and a variety of colors
Tested on hundreds of bodies to find the perfect fit
CONS
The sizes run a little big
3 - Cosabella Hotpant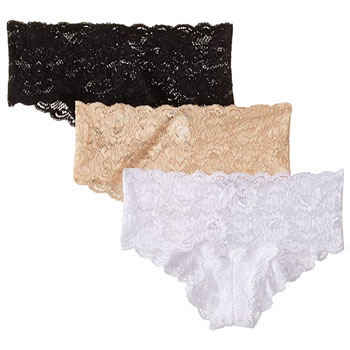 Cosabella's Never Say Never line is a well-known sustainable lingerie.
These sexy yet comfortable panties are made in the lowrider design with a scalloped edge that's super gentle on the skin.
The panties resemble thongs, but they're far more pleasant to wear.
What's more, these panties won't create panty lines or give you a wedgie. They're soft and comfortable yet don't look like granny panties.
All of Cosabella's lingerie is made in Italy, adhering to Italian working standards.
PROS
The lace doesn't tear easily or pill over time
Doesn't sacrifice style for comfort
The panties stay smooth under clothing
CONS
The undies are available only in S/M and M/L
4 - Chill Boys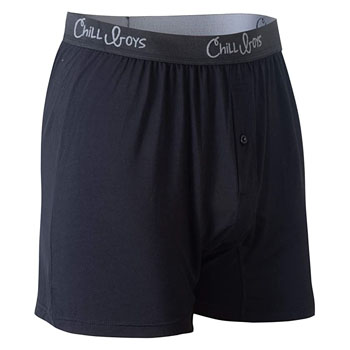 The Chill Boys bamboo boxers for men are made from cool and comfortable bamboo fibers.
These boy shorts are plush to the touch and softer than organic cotton. Moreover, bamboo has some pretty extraordinary qualities.
It wicks away moisture, keeps everything dry and cool, and is odor resistant.
The boxers are excellent for work, sleep, and training. They'll stretch and move with you.
The waistband won't cut into your skin, yet it'll keep everything in place.
PROS
Inclusive sizing — undies available in S–3XL
Relaxed and soft fit that follows your body
The boxers don't bind or chafe
CONS
There are two seams on the back that some men don't find comfortable
5 - TomboyX Soft Bra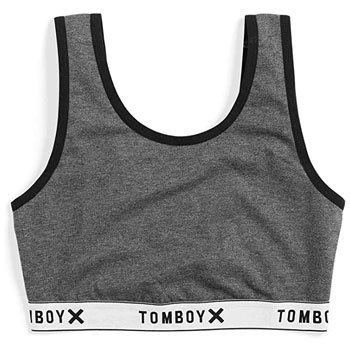 If you're on the lookout for androgynous organic basics, TomboyX has another product you could check out.
The brand's Oeko-Tex certified cotton bra is available for anyone in the XS–4XL size range.
The bra is made from soft yet opaque cotton and is free from underwires and padding.
The bra is comfortable during all daily activities, and the elastic band doesn't ride up, no matter the size.
TomboyX's unique line of bras will make you feel unapologetically good about yourself. Their ethical bras are available in an excellent range of color combinations.
PROS
Neat and sturdy stitching, good range of sizes
Requires minimal readjusting during the day
Provides extra comfort and is gentle on the chest
CONS
Doesn't offer too much support
6 - Boody Men's Boxer Brief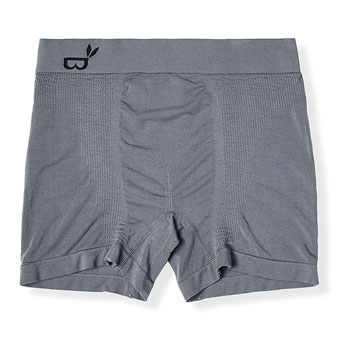 Boody men's underwear is made from Oeko-Tex certified bamboo viscose. The blend of eco-materials provides a cooling effect.
These ethical boxers are breathable and offer a generous stretch. They'll follow you no matter what you're doing.
What makes them stand out from other ethical women and men's underwear is that they have a contour ribbing for support.
The briefs also have a soft and wide ribbed waistband that ensures they'll stay in place.
PROS
Shorter leg drop limits underwear lines
Provide the support of briefs with the style of boxers
Thermo-regulating and antistatic fabrics
CONS
The front is flat; there's no pouch
7 - Ilovebad Organics Boxer Briefs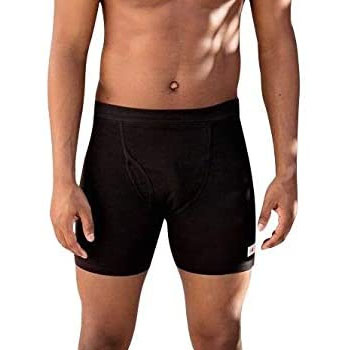 Ilovebad Organics is one of the rare ethical brands that offer hypoallergenic hemp underwear for men and women.
Their organic basics are made with natural hemp fibers and luxurious organic cotton.
The combination of hemp and organic cotton creates one of the most hypoallergenic fabrics.
These ethical boxers have no tags, and they're also elastic-free.
The fabric combo creates a snug enough effect, keeps the boxers in place, and prevents bloating, pain, and cramps caused by the pressure on your lower intestine.
The sizes range from S to XL, and you can order a single or three-pack.
PROS
A hypoallergenic blend of organic cotton and hemp
The fabrics prevent unnecessary stomach pressure
Snug yet comfortable fit provides good support
CONS
Sometimes the color bleeds during hand washing
8 - Boody Classic Kikini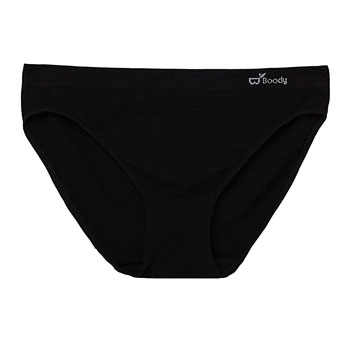 Boody is one of the eco brands that like to keep things simple. Their organic bamboo classic bikini briefs for women are a cult favorite.
These ethical panties are made from organic bamboo to provide a cooling effect during everyday activities.
The classic Kikini eco undies are seam-free and provide medium to full coverage. The ribbed waistband doesn't roll and lays flat.
The undies are great for every lifestyle. No matter if you live in your jeans or wear dresses every day, this vegan range of women's panties will suit each style.
PROS
Thermo-regulating and silky-soft lingerie
Organic fabrics manufactured in certified factories
These eco panties dry incredibly fast
9 - Pact Women's Racerback Sports Bra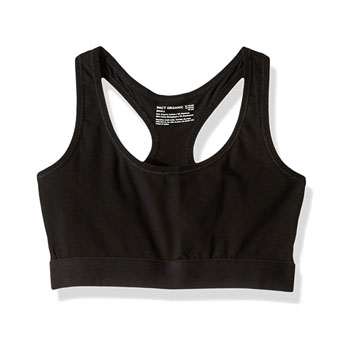 Fair trade certified and made with organic cotton, the Pact Racerback is among the most comfortable sports bras.
This great vegan bra was designed for easier movement. Women who wear A–D cups should find it the most comfortable.
The size range is pretty good and covers the XS-XL range.
It's great for yoga, cycling, weight training, pilates, and any other low-impact activity. It fits snug and offers light support.
The comfortable seams prevent irritation while the fabric is shrink-resistant.
PROS
Thick, but very soft and breathable fabric
The band is supportive but doesn't hurt
Also great for sleeping and lounging
CONS
Not a compression bra, so it's not suitable for high-impact sports
10 - Cosabella Women's Say Never Curvy Racie Racerback
No wonder that one of the bustier women's favorite bras is an eco-friendly Cosabella curvy racerback bra.
Combining the sporty and sexy styles, it's available in the DD–H size range.
It has bigger cups but a smaller band under the bust — great for women with a larger bust and smaller ribcage.
Moreover, the pullover style simplifies things and eliminates the need for annoying hooks.
It's an excellent bralette for curvy women who need something soft and simple yet supportive.
Even though it's a pullover style, it doesn't stretch out over time. It has no underwire, but it gives a decent shape.
PROS
Doesn't ride up or roll up
No shifting or overflowing
Doesn't stretch out over time
CONS
You have to wash it by hand
3 Main Issues with Undies

Underwear is what comes in contact with the most sensitive parts of our bodies. It should be clean, comfortable, and functional. Since we can't buy it secondhand, we should turn to ethical underwear brands.
Underwear production poses a couple of issues. More often than not, it combines different styles, materials, and textiles. From the elastic on boxers to bra underwires, there are tons of issues with the materials. However, the most problematic ones are:
1. Lace
Nowadays, lace is made with synthetic fibers and colored with chemical-based dyes. Luckily, some sustainable underwear brands use recycled lace, so you should check for this when choosing your eco-friendly undies.
2. Silk
While silk is entirely biodegradable, it's made from silkworms that are harmed and killed during the process.
Tussah, Wild, and Peace Silk aren't perfect either, but they're a more sustainable and ethical option.
3. Polyester
While polyester is the most common fabric for making clothes, it's also one of the worst for the environment. Each year, more than 70 million petroleum barrels are used to make polyester [1]. Scientists estimate that 85% of human-made materials found along ocean shores are polyester [2].
7 Benefits of Wearing Vegan Underwear
The concept of vegan underwear is confusing to many people. You don't eat your undies, so why should you choose sustainable underwear over regular? Sustainable and ethical underwear can benefit not only the planet but your health, as well. Here are a couple of benefits of wearing sustainable materials:
1. Natural Materials are Better for Your Body
Underwear doesn't exist only to make our bodies look beautiful. It's there to protect it from moisture and limit the chances for infections. Natural and environmentally-friendly materials allow your skin to breathe, prevent irritations, and wick away moisture.
2. It's Sustainable
"Currently, underwear generally has a very short life cycle with constant washing. The way we use underwear right now is a complete waste of resources and it is terribly damaging for the environment."

— Mads Fibiger, Organic Basics CEO and co-founder
Synthetic underwear may be cheap, but it's not made to last. On the contrary, high-quality vegan underwear should last you for years.
3. Say NO to Fast Fashion
Fast fashion is another cheap concept. It creates short-lasting trends and long-lasting consequences for the environment. Opting for ethical brands means saying "no" to fast fashion and saving a bit of the planet.
4. Support Women
The fashion industry also hurts women. Approximately 80% of fashion industry workers are women [3]. They work in unsafe conditions that result in a significant number of deaths each year.
5. Save Money in the Long Run
Now, ethically made underwear is more expensive than synthetic. However, as it's more long-lasting, you'll save money in the long run.
6. Embrace Your Body
Unlike big brands, ethical underwear brands will encourage you to embrace and love your body, not change it. Sustainable underwear won't hurt you. There aren't underwires, unnecessary padding, or light tricks.
7. Become a Mindful Consumer
The more you learn about the harmful effects of the fashion industry, the more mindful you become. The more you do to help the planet and your body, the better you'll feel about what you wear.
Buyer's Guide: What to Look for in Eco-Friendly Underwear
It's easy to decide you want to save the planet and use eco-friendly materials. It's so, so much harder finding good-quality sustainable underwear brands. There's a lot you need to pay attention to when looking for sustainable underwear, so I put up a detailed guide to make the process easier.
Ethical and Sustainable Materials
It would be best to look for fabrics that come from the earth, such as organic cotton, hemp, and bamboo. What comes from earth goes back to it — that is, they'll decompose instead of littering the atmosphere for 200 years and more. Sustainable brands usually go for:
Organic Hemp - It feels similar to linen. Hemp underwear will keep you warm in colder weather and protect you from UV rays during hot days.
Tencel (Lyocell/Modal) - Both Lyocell and Modal are made from renewable raw wood material that's turned into fibers and then into comfortable, eco-friendly underwear. It's 100% biodegradable, provided it doesn't contain synthetic materials.
Organic Cotton - Organic cotton is grown without toxic chemicals like pesticides and fertilizers [4]. Organic cotton is healthier for you, farmers, and the planet. Working conditions are thus healthier, safer, and the final product is eco-friendly.
Recycled Synthetics - Unfortunately, we can't always go the natural way. Something has to hold our undies in place, and stretchy waistbands are doing the job the best. Luckily, they can be made from recycled nylon that produces 50% less CO2 emissions [5].
Bamboo - Bamboo is one of the fastest renewing materials on the planet. We can harvest it without killing the plant, and its fibers make some super comfy underwear.
Green Business Practices - Creating high-quality textiles is harsh on the environment. It includes using a lot of water, energy, and toxic chemicals. Ethical brands use processes that are less tough on the planet.
Supply Chain and Fair Labor - The supply chain often abuses workers' rights and overworks the people engaged in the manufacturing processes. Sustainable brands recognize their workers' efforts and pay them fair wages. You may want to look for certifications, such as Fair Trade and SA8000, that guarantee the brand practices fair trade and supply chain.
Inclusivity - Sizing is a significant issue in the fashion industry. Ethical underwear brands tend to be inclusive and provide underwear for all sizes. They also use models of various shapes to promote confidence and body love.
Comfort and Confidence - Your undies should make you feel comfortable, sexy, and confident. Sustainable underwear typically doesn't contain uncomfortable underwires, padding, and tight waistbands. Both men and women should feel comfortable and confident in their eco-conscious underwear.
Community and Charity Support - Fair trade, labor, and transparency are great, but brands should always strive to do more. Suppose you're a hard-core vegan and environmentalist. In that case, you may want to consider buying your lingerie from a brand that gives back to the community and supports charitable causes.
3 Useful Sustainable Fashion Terms to Know
Suppose you're new to veganism and sustainable fashion. In that case, some terms may come across confusing, so I'll briefly explain the most common ones.
1. Global Organic Textile Standard (GOTS)
The GOTS ensures that the fabric is produced according to the highest ethical and ecological standards. Every step of the process and every company involved in the process have to be organic. This means no chemicals, pesticides, or even machine harvesting.
2. Oeko-Tex 100
Oeko-Tex ensures that materials are free from harmful chemicals, such as heavy metals, formaldehyde, dyes, and other preservative agents. Oeko-Tex certified materials keep everything at optimal pH levels.
3. Fair Trade
Fair trade controls workplace ethics standards, including safe and hygienic workplaces, proper training, reasonable or limited working hours, and fair living wages.
FAQs
What do I look for, and how do I find ethical underwear?
You may look at our list of reviewed ethical underwear for men and women. All of that underwear is made from sustainable materials, using the best environmental practices.
If you still want to look for ethically made underwear on your own, look for sustainable materials. Furthermore, you want to pay attention to the brand's environmental practices. You should also check if the brand is fair trade certified and uses certified factories for manufacturing.
What are some sustainable fabrics?
Some of the best sustainable fabric include organic hemp, GOTS certified organic cotton, Tencel, and bamboo. Recycled synthetics aren't a natural material, but they're also a good option. All of these materials are sustainable, environmentally friendly, and gentle to you.
Which Ethical Underwear is the Best Choice?
Taking into account all the brands, their offers, manufacturing, and sustainability practices, the best sustainable underwear are  Pact women's cheeky hipster briefs for women and are TomboyX 9 for men. They're made from GOTS-certified organic cotton, following fair labor practices.
Moreover, both are comfortable, stylish, and versatile. The subtle design stays smooth under clothes and matches all styles. Since they're true to size and available in various colors, you should check them out.
Pact Women's Cheeky Hipster Briefs (Editor's Choice For Women)
Our #1 Recommendation
Organic basics designed for comfort
Feminine and stylish design
The briefs are true to size and come in a two-pack
Affordable and available in a variety of colors
Get the BEST PRICE until the end of May
Check Current Price
About the author