Vegans usually have a difficult time finding foods that can satisfy their nourishment needs without reducing them to a skinny and unhealthy twig.
However, on the flip side, many vegan products are now being soaked in sugar, salt, and saturated fats that are terrible for omnivores and vegans alike.

Before going into a Hulk-esque rage, why not try some high-quality plant-based protein bars? They're handy, nutritious, and affordable.
They'll provide the energy you need to get through the day and the protein your body needs to repair and replenish muscle tissue.
And you're in luck because we've got 8 of the best vegan protein bars on the market right here
Our Top Vegan Protein Bars (2021 Updated)
1 - Orgain Organic Protein Bar​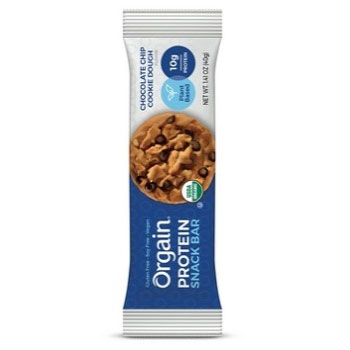 Looking for a vegan protein bar isn't a challenge anymore with Orgain Organic. The company is known for making a wide range of supplements perfect for your vegan needs, and this time, they came up with a protein bar that you can enjoy anytime.
It is packed with 10 grams of vegan protein, with only 3-5 grams of sugar and 140 calories per serving.
Orgain Organic plant-based protein bar will give you the quick energy boost you need before performing reps at the gym. It will also aid your muscles in recovering during post workout.
PROS
Contains 10g protein, 20g carbs, 5g sugar per serving
​Provides quick energy boost during pre workout
Vegan friendly and gluten, soy, lactose-free
Great tasting and affordable
CONS
High carbs count per serving
2 - Amrita Nutrition Bar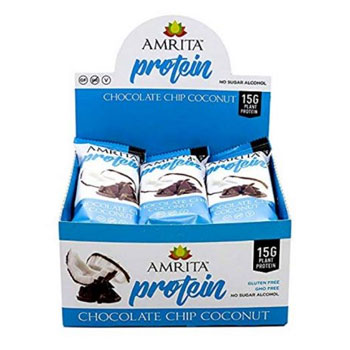 If you are a vegan athlete or just love heading to the gym and getting pumped, you need to fuel up before you hit the field, or the track, or the weight room.
Amrita Paleo Friendly Nutrition bars use a 3:1:1 protein/fat/carbs ratio that puts the emphasis where it belongs: on fueling muscle repair and growth.
The fat and carbs these bars have provide the raw energy, while the protein ensures the muscles you stress are quickly repaired, and that any new muscle is lean and taut and responsive.
PROS
Packed with 15g protein, 30g carbs, 13g sugar per bar
Perfect for your muscle-building goals
No gluten, dairy, soy, and GMO
CONS
​It would be better if there are more flavor choices.
Gluten, dairy, GMO, and soy-free, Amrita vegan snack bars are a step up from most vegan supplements in that they recognize your unique dietary requirements while enabling you to sculpt a new and more durable physique at the same time.
3 - ​GoMacro MacroBar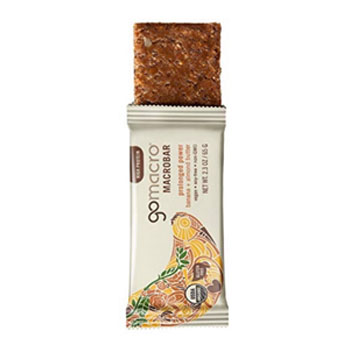 Vegans need to be careful when selecting a protein bar for energy or to help with post-workout recovery.
Some unscrupulous producers will slip animal-based proteins or animal by-products into their vegan snack bars in order to cut costs. Not GoMacro.
GoMacro's Peanut Butter Chocolate Chip protein bar employs plant-based protein only and combines it with a variety of organic ingredients to provide the energy boost you want and the well-rounded nutritional benefits your body craves.
PROS
Contains 15g protein, 53g carbs, 20g sugar
Provides an energy boost before during workouts
No GMO or any artificial flavors
Despite having loads of sodium, it makes up for being completely devoid of GMOs, artificial flavors, or harmful, animal by-product fillers. And did I say the peanut butter chocolate chip flavor is a favorite?
4 - ​Garden of Life Organic Sport Protein Bar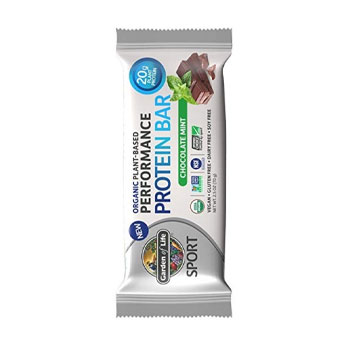 This brand has produced a first-class protein bar for the physically active that utilizes highly efficient organic pea and brown rice protein, soluble tapioca fiber, almond butter, and an entirely clean, vegan-friendly ingredient list.
Each of these plant-based protein bars contains 20 grams of high potency plant protein that will provide you the energy you need to rip through barriers.
GoL Organic Protein Bars are soy, dairy, and gluten-free protein bars that are not just ideal for vegans but for the lactose-intolerant as well.
CONS
​Flavors can be a hit or miss.
​Contains 200 mg sodium.
It's great tasting and affordable too.
5 - Vega Protein Snack Bar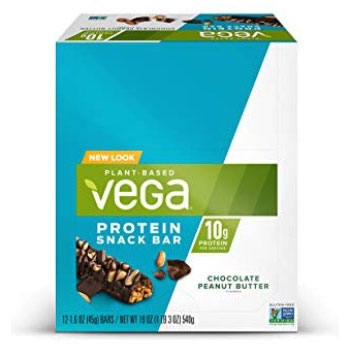 Vega Protein Snack Bars are completely devoid of GMOs and glean their protein load from pea, hemp, and brown rice protein.
As the name suggests, they're great as snacks or if you need a quick protein hit, coming in at 10g of protein and 190 calories per bar.
They don't taste as chalky as other bars out there, and there's quite a range of flavors. My favorite flavors are chocolate caramel and chocolate peanut butter.
For more healthy snack options, check out our Pulsin review.
PROS
Contains 10g protein, 20g carbs, 11g sugar
Provides a quick energy boost
Chocolate peanut butter flavor tastes amazing
CONS
It would be better if it had more protein
What you get are some of the best vegan protein bars that provide needed energy at key times and allow you to maintain your principles with confidence.
6 - ​NuGo Dark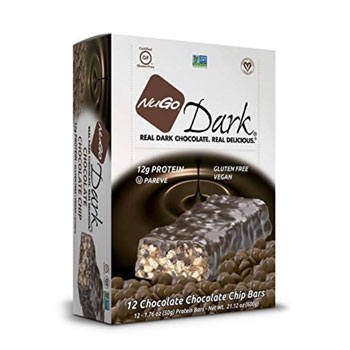 Even vegans have a sweet tooth.
The good news is that you can now get the protein you need to maintain robust health and the chocolate your sweet tooth craves in a single protein bar.
NuGo Dark Chocolate pea plant-based protein bars are a singular dietary achievement combining nutritional excellence with the highest quality natural flavors.
The result? They'll put a smile on your face while they're helping you to build strong, lean muscles at the same time.
PROS
Contains 12g protein, 25g carbs, 14g sugar
Aids in building strong, lean muscles
​100% kosher, vegan and vegetarian-friendly
CONS
Contains 14 grams of added sugar
NuGo Dark Chocolate bars are certified vegan and vegetarian, 100% kosher, and never uses destructive palm oil for the service of flavor enhancement.
7 - Squarebar Organic Protein Bar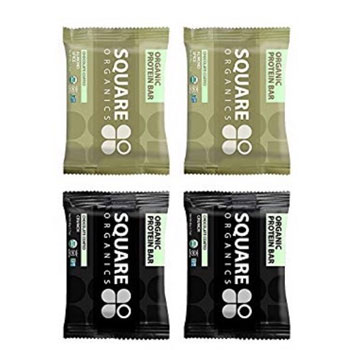 All the best vegan protein bars utilize high energy plant-based protein, and Squarebar is one of those that made the cut.
Squarebar Organic Protein Bars are the brainchild of a San Francisco couple who learned the value of eliminating inflammatory foods like gluten and soy from their diet.
The result is a plant-based protein bar that has true dietary integrity and doesn't rely on phony additives and sweeteners to achieve an unnatural and ultimately harmful flavor profile.
PROS
Contains 12g protein, ​22g carbs, 13g sugars
Made from the simplest and purest ingredients
No gluten and soy
Every Squarebar is packed with potent pea protein and is certified vegan. And each is a great pocket-sized energy source for when you're fading at work or preparing to hit the weight room.
8 - No Cow Protein Bar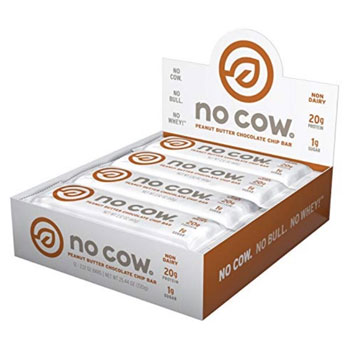 No Cow vegan snack bars wear their non-dairy bona-fides on their sleeve, or in this case, wrapper.
Each bar is not only vegan-friendly and GMO-free; it's also a great pre or post-workout snack for the lactose-intolerant.
Each No Cow bar is packed with 20 grams of high energy plant-based protein that's easy for the body to digest and which sets to work immediately to repair overstressed muscles while building new, larger muscles to replace them.
PROS
​Packed with 20g protein, 25g carbs, 1g sugar
​Great snack to eat for vegans who works out to ​gain lean muscles
​Best taken after workouts or in between meals
And, you guessed it - there's no also no dairy. It also has virtually no added sugar and trans-fats. Another good news is it contains 18 grams of beneficial fiber.
What to Look for in a Vegan Protein Bar
Choosing the right vegan protein bar might be challenging, but the following items below will help you search for the best meal replacement (1).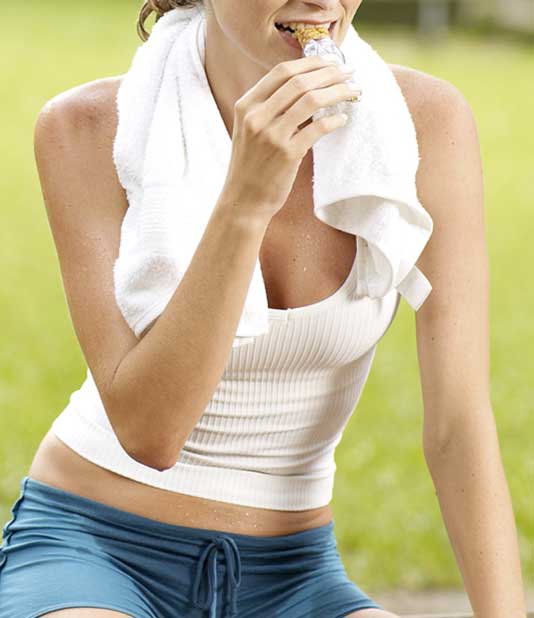 Protein amount - Protein is essential to ensuring vegans are able to maintain robust all-around health. Therefore, you want to see at least 15 grams of protein in your bar. If you're a large person, you'll want to see 20 to 25 grams. Of course, you want to make sure that the protein source is purely plant-based and dairy-free. Hemp, pea, and brown rice protein powder are some of the common protein sources in vegan bars.
Calories - One of the main reasons for eating vegan protein bars is to aid in your fitness routine. But you won't stand much of a chance of getting rid of that spare tire if your vegan protein bar is dripping in calories. As a general rule, you don't want your vegan protein bar to exceed 200 calories.
Ingredients - "The simpler, the better" should be your mantra when looking for healthy, effective and truly vegan snack bars. If the ingredient list reads like a dictionary and includes things you've never heard of, you should probably keep looking. Great vegan protein bars make the most of a few simple, well-considered ingredients.
Fiber - Fiber is an essential part of any healthy diet. Fiber helps keep things moving and ensures a fast removal of toxins from your system. Digestive health is key to reducing the risk of colon polyps and colon cancer and in minimizing your chances of developing heart disease. Plant-based protein bars with quinoa, oats, or chia seeds usually are very rich in fiber content.
Sugar - Some vegan or vegetarian protein bars try to mask their mediocrity behind a wall of sugar. The best vegan protein bars, though, are well-considered confections that eschew reliance on sugar in favor of high-quality natural ingredients such as dates and fruit.
​Related Posts:
FAQs
Is Protein Bar Good for Weight Loss?
Protein bars can be good for weight loss if they're made from healthy ingredients such as coconut, chia seeds, and other superfood ingredients. You should aim to find a bar that is high in protein and fiber but low in sugar and calories – this is the perfect nibble for people trying to lose weight.
Do Protein Bars Make You Fart?
Some kinds of protein bars can make you fart more, while others will not have this effect. Bars made from whey powder (which comes from milk) will cause flatulence in some users, especially if they have an intolerance to dairy. Vegan alternatives do not tend to give you much flatulence.
Can I Eat Only Protein Bars?
You cannot only consume protein bars as your diet. Although these bars are a brilliant healthy treat and can be used as a meal replacement, they are no substitute for real, nutritious meals. They should be eaten in addition to a balanced diet full of various food groups and nutrients.
Can Protein Bars Cause Stomach Problems?
Protein bars can cause stomach problems for some people depending on the protein they contain. For example, many bars are made with whey protein (derived from milk) and soy protein – both milk and soy are known allergens, which can cause upset stomachs in intolerant people.
Is It Bad to Eat 3 Protein Bars a Day?
It may be bad to eat 3 proteins a day – it depends on the ingredients and calorie content at hand. For example, if they contain healthy superfood ingredients like chia seeds and coconut, you're probably okay to consume multiple bars a day. On the other hand, if they're high in sugar and calories, it could be a bad idea.
Should I Eat Protein Bars Before or After Workout?
You should eat protein bars before a workout if you want to maximize their positive effects. You are advised to consume carbs and protein before working out, as this provides your body with the energy it needs and your muscles with the building blocks they need for repair.
Can You Eat a Protein Bar for Breakfast?
You can indeed eat a protein bar for breakfast, although it should not become your staple breakfast meal. A nice crunchy bar can be the perfect on-the-go nutrient-dense morning nibble, but you should usually start the day with more nutritious and natural meals, including fresh fruits and vegetables.
Should I Eat a Protein Bar After Cardio?
You can consume a protein bar after cardio, but it's not particularly necessary. The high protein content in these bars is designed to help muscles grow more effectively. In contrast, cardio exercises are not focused on building muscle – they're more about burning calories and getting your heart pumping.
Are Protein Bars Better Than Protein Shakes?
Protein bars are better than protein shakes if you're trying to increase your fat and carbohydrate intake. This way, the bars can act as a more balanced meal replacement, which gives your body more of the macronutrients that it needs. However, this all depends on the ingredients. So, make sure to consider all these when choosing your vegan bars.
Our #1 ​Vegan Protein Bar is
A lot of vegan brands are dedicated to creating products that make the vegan lifestyle more convenient. And in the plant-based protein bar category, Nuzest Clean Lean Protein Bar has set the bar high (pun intended).
Clean Lean delivers high quality plant-based protein your body needs to ramp up your workouts.
I consider this as one of my favorite vegan bards because it's delicious, contains the nutrients your aching body needs to repair and rebuild, and they're allergen-free.
It's literally my healthy post-workout protein dessert. And it can be the perfect vegan gift for your vegan friend trying to build that muscle too.
Which vegan protein bar is your favorite?
You can make your own protein bar with the best recipes here too.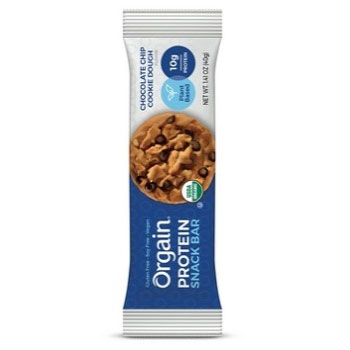 Orgain Organic Protein Bar​
Best ​Vegan​ Protein Bar
Contains 10g protein, 20g carbs, 5g sugar per serving
​Provides quick energy boost during pre workout
Vegan friendly and gluten, soy, lactose-free
Great tasting and affordable
Get the BEST PRICE until the end of May
Click For Best Price
About the author