As a fitness trainer, my goal is to help you find vegan supplements that are actually helpful and give you results. I've reviewed lots of different protein products.
Some had a gross taste. Another option didn't have the best ingredients. Then there were the ones that were simply a waste of money.
Through trial and error, I managed to find the protein products that were simply fantastic. One of those fantastic options is the Orgain Protein Bar. It has a nice taste and an impressive list of ingredients.
What Is An Orgain Protein Bar?
Orgain Protein Bars are 100% vegan and made with high-quality, organic plant-based ingredients designed to help you stay energized throughout your day.
It's a delicious and healthy snack with 10 grams of protein, 6 grams of fiber, and less than 150 total calories per bar.
It's not only an excellent source for protein but also for fiber and healthy fats.
Are Orgain Protein Bars Healthy?
You bet they are! Orgain Protein Bars are vegan-friendly and contains no dairy, gluten, or soy. All of the ingredients are organic with each bar containing Orgain's unique plant-based protein blend.
It contains less than 5 grams of sugar and has an excellent balance of carbohydrates, protein, and fat.
The protein bars come in four different flavors. Trust me when I tell you that every single option will leave your taste buds feeling happy.
Chocolate chip cookie dough
Peanut butter
Peanut butter chocolate chunk
S'Mores
Unlike other high protein bars, the taste was a high priority. Each flavor was created to be a delicious plant-based protein bar.
With such amazing flavors, these protein bars are more like a treat rather than a boring snack. I love a little taste of chocolate, and it's great to know that I'm also fueling my body with energy and nutrients. It has a sweet taste and is actually more enjoyable to eat compared to other protein bars. From my research, the number one thing people love about these protein bars is the taste. Being healthy has never tasted better.
Orgain Organic Protein Bars is a plant-based protein designed for the on-the-go individual. It's packed with healthy nutrients that is perfect for staying energized throughout your day. A quick look at their ingredients list shows that the bars include brown rice protein, pea protein, rice flour, and chia seeds.
There's no artificial ingredients and minimal saturated fat. It also contains organic almonds which is an excellent source of healthy fats. In total, this protein bar only contains 5 grams of fat. If you needed another reason to know that these are high-quality protein bars, they are also certified by USDA Organic.
If you check the ingredient list, then you will notice it also includes 3 grams of organic erythritol as a sweetener. Sugar alcohols are commonly found in protein bars but are known to create gastrointestinal issues. Erythritol is a healthy alternative to other sugar alcohols like maltitol or sorbitol because it doesn't cause gastrointestinal issues (1).
Clean eating is essential to your overall physical health. Protein is an important component to your cells, and it's responsible for building and repairing tissues, enzymes, and hormones. It's not always easy to ensure that you're getting enough protein to last through the day; especially when you consider that the body doesn't store protein and has nothing to provide when the body needs it (2).
One option is to make protein shakes, but they can be messy and aren't always simple to make. Orgain Organic Protein Bars are a quick and easy snack that keeps your body healthy. Keep it in your bag and eat it for mid-day fuel or a pre-workout (this page) snack.
It's hard to go wrong with these protein bars. There aren't many side effects to eating protein bars as long as you eat it within moderation.
For those looking for other protein bars, here are a few delicious options you can check out:
Will Eating Orgain Protein Bars Help You Lose Weight?
If losing weight is your goal, then protein bars may help curb cravings. It's a good option if you are in between meals and need something until your next meal. Eating a protein bar can help avoid unhealthy snacking at the office (especially if a well-meaning co-worker has brought donuts for everyone).
Can You Eat Orgain Protein Bars Instead Of A Meal?
Protein bars are great for on-the-go nutrition. If you have a busy morning, these bars a nice option with 10 grams of protein. It can also help build lean muscle and help with muscle recovery.
Reviews on Orgain protein powder also say it's a good meal replacement considering it contains 16 grams of protein.
Of course, you should always consult with a doctor and review your diet and meal replacement option.
How Much Do Orgain Protein Bars Cost?
Although you can buy these protein bars individually, you save more money by buying in bulk. The 12-pack option is a great value for your wallet. Orgain also has a satisfaction guarantee. If you don't like it, then you get a refund.
Check out the current price here.
What Other People Are Saying About Orgain Protein Bars
Reviews highly recommend these plant-based protein bars. Check out this review on why they love it.
CarolAnn basically summarizes why hundreds of other reviewers love this protein product. They are a fast snack for individuals who are in a rush and need something quick and easy. Above all else, Orgain Organic Protein Bar reviews don't stop talking about the delicious taste.
One reviewer commented that it's more like a dessert instead of a healthy snack.
Considering that these protein bars only have 5 grams of sugar, that's quite the praise.
Another reason why reviewers think these protein bars stand out from the crowd?
The plant-based nutrition leaves everyone feeling good about themselves. It's reassuring to know that you are eating 10 grams of protein in a healthy way with high-quality organic ingredients.
Now you will know why this bar made it to our list of the best vegan protein powders.
I carry these Orgain Protein bars on-the-go for when I need a quick snack, they are filling and my favorite is the peanut butter bars; very tasty.

- CarolAnn, Verified Buyer from New York
You can also watch this video review from Gary Nakamura to learn more about his experience in buying Orgain Organic protein bars.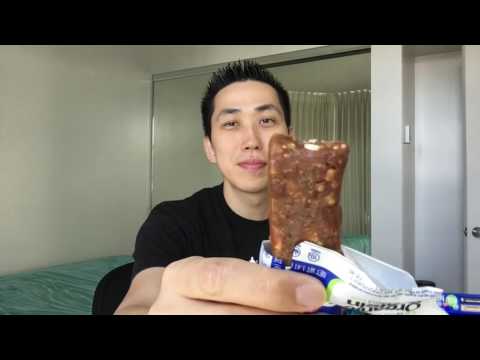 Should You Buy Orgain Protein Bar?
Overall, Orgain plant protein is gaining a reputation for nutritious yet delicious snacks. The vegan protein bar is perfect for all diets with their gluten-free, dairy-free, and soy-free ingredients.
It's also an affordable option and buying bulk can help you save even more money. Orgain has definitely raised the bar on bars.
Protein is such an important aspect to your diet, and I think Orgain Organic Protein Bars may be a good solution for you if you struggle to find a great tasting protein bar or incorporating protein into your lifestyle.
Orgain has created a clean protein bar and is USDA-certified organic. I can rave about these protein bars all day, but you should try them for yourself.
Orgain Organic Protein Bar
We Recommend
100% Plant-Based
10g of protein, 3-5g of fiber, and 140-160 calories per bar
USDA Certified Organic
Get the BEST PRICE until the end of June
Click For Best Price
About the author