My love affair with protein bars has been a turbulent one. I have tried some awesome ones, not-so-bad ones, and pretty awful ones. I also have commitment issues and continuously search for other brands to satisfy my cravings. And I'm not planning to stop this adventure now.
I decided to give SimplyProtein bar a chance since I have never tried any of their products, but I keep seeing them getting mixed reviews.
There are plenty of these sweet goodies that are waiting to be explored and reviewed, so let's get started with unwrapping!
What Is SimplyProtein Brand?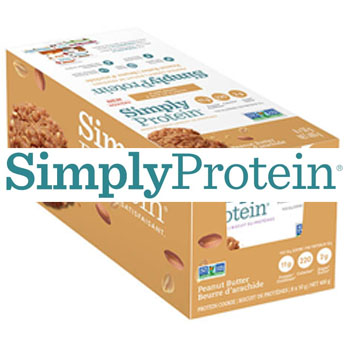 This Canadian eco-friendly company has been focusing on healthy nutrition and clean eating since the early 2000s.
All of their snacks are gluten-free, non-GMO verified, free from artificial sweeteners and artificial flavors. They do have whey protein-based products, which is clearly labeled on the package.
SimplyProtein has a long list of products great for those looking to reduce sugar intake and enrich their diet with fiber and protein.
As the manufacturer claims, their cookies and bars ''have the most protein for the least amount of calories and fat compared with leading natural foods bars.''
Aside from protein bars and protein cookies, they offer savory treats and kids protein bars.
These are perfect on the go snacks that can quickly boost your energy before lunch break or after your workout session while keeping the calorie intake in check.
In this review, I'll try to stay unbiased while munching on a super-delicious SimplyProtein protein chocolate bar.
Baked vs. Crispy Bars
Folks at SimplyProtein are aware that some healthy eaters out there are hard to please, not only in flavor but also in the texture department, so it's great that they thought about texture diversity as well.
If you are a fan of chewy, fudgy sweets, you should go for their baked protein bar options.
At 10 to 11 grams of protein per protein bar, they have slightly less protein than crispy bars, but both versions are low in sugar - up to 3 grams of sugar per bar and up to 220 calories, to be precise:
1. Peanut Butter Cookies Baked Bar
It's not super-chewy like some other baked bars, and it does resemble a mild peanut butter cookie taste. Peanut Butter Cookies Baked Bar helped me stay full for longer than I expected. It works great as a light breakfast or late-night snack.
Other ingredients include soluble tapioca fiber, soy protein isolate, vegetable glycerin, oats, peanut oil, rice flour, coconut oil, salt, less than 2% of tapioca starch, stevia leaf extract, natural flavors, and peanuts.
2. Chocolate Chips Cookie Baked Bars
I loved the soft texture! It's tasty to eat on its own or crumble into your breakfast bowl. Since I can never get enough chocolate, I wish Chocolate Chips Cookie Baked Bars were more chocolatey. But hey, it's just me, and I'm a chocolate addict.
The ingredient list is almost identical to the previous cookie bar, but this one also contains: almonds, rice flour, less than 2% unsweetened chocolate, sugar, salt, cocoa butter, and soy lecithin.
For that crunchy granola-like feel, check out SimplyProtein crispy bars.
With a whopping 14 - 15 g of plant-based protein, up to 3 g of sugar, and only up to 160 calories per bar, these are a healthy sort of temptation.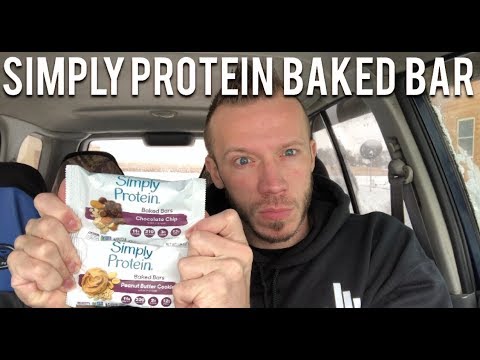 3. Crispy Lemon Bar
Fruit-based flavors are usually not my favorite, but these were surprisingly delicious. Some people might see them as bland, but I love the light lemon taste and soy protein crisps texture. Out of three crispy bar options, Crispy Lemon Bar is highest in protein, but it also contains nonfat milk. Sorry vegans!
4. Crispy Peanut Butter Chocolate
Although these come with real roasted peanuts, I expected a more robust chocolate peanut butter taste, but overall, they are not bad. Crispy Peanut Butter Chocolate Bar is a treat with confirmed hunger-curbing effects, but I wish it were completely milk-free.
5. Dark Chocolate Salted Caramel Crispy Bar
As you would expect, Dark Chocolate Salted Caramel Crispy Bar has that crispiness and crunch, but caramel flavor was simply not there. Most reviews praise its appetite suppression effect, while some users complain about chalky texture.
As long as you're not hoping for your protein bar to taste like those creamy, rich homemade brownies your grandmother used to make, you won't get disappointed.
Like other healthy snack alternatives, these are trying to be just like your regular candy bar, only a hundred times healthier.
The SimplyProtein Bar Flavors

I love writing these kinds of product reviews that require me to try all of these indulgent but healthy treats, and SimplyProtein is not lacking in flavor selection.
Some of these are surprisingly tasty, but others could be better. So, let's get started with the sweetest part of this review.
The following flavors contain only 1g of sugar, 15g of protein, 7 of fiber, and 150 calories, and they are also a great vegan source of iron and calcium.
I love how their web site allows you to filter and choose a product based on the ingredients in search of a perfect nutrition-balanced bar.
These are good choices for those who are extra-careful about the amount of sugar they take per day. Most of these are pretty tasty, considering the low amount of added sugars and artificial flavoring.
It's easy to get carried away and eat one bar too many, but pay attention because they may contain chicory root, which can sometimes cause your stomach to be more active than you would like.
If you need some dairy protein but are looking to reduce the amounts of added sugars in your system, you should check out their gluten-free calcium-rich whey protein bars that come with 16g protein and only 160 calories.
Compared to crispy ones, the texture here is more dense and creamy, and you can choose between Chocolate Mint and Coconut flavor.
Also, if you have diabetes or on a sodium-restricted diet is a good and healthy candy replacement.
Nutrition Facts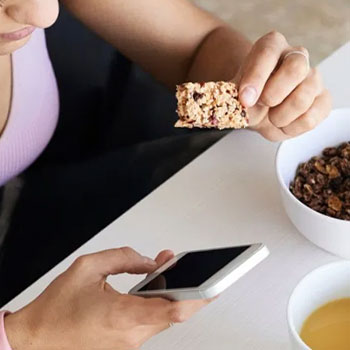 Unfortunately for those with allergies, most SimplyProtein products either contain nuts, cocoa powder, or traces of nuts.
And according to their updated ingredients list, most of them now contain cashew butter.
Although labeled as ''vegan'', make sure to double-check if SimplyProtein cookies and bars are dairy-free.
Still, they are organic, non-GMO, made of clean, low-fat natural ingredients.
They also have a decent calorie range and contain stuff that's great for your health, like brown rice syrup instead of artificial sweeteners, gluten-free tapioca starch, whole grains, and soy protein isolate [1].
To get back on point, one Simply Bar contains:
15g of protein
18g of carbs
150 calories
7 of fiber
1g of sugar
Things I Loved About It
With a decent selection of flavors, textures, vegan and vegetarian options, a good balance of nutrients, and success in curbing hunger, SimplyProtein deserves a pretty good rating.
If you're on a weight loss diet, have problems with digestion, or simply trying to cut down on processed food, grabbing any SimplyProtein protein bar is one of the best product alternatives to irresistible junk snacks.
"Note the simple ingredients list, and they all appear to be pretty reasonable and healthy ingredients. Many other bars are loaded with sugar and have 20+ ingredients." - Dale Cudmore, writer at vegfaqs.
Also, thumbs up for its appetite-suppression properties - it worked great for me!
Compared to other similar healthy food manufacturers on the market, SimplyProtein appears more nutritional and lower in junk ingredients. Still, for that price, you can probably buy something with even better texture and taste.
Things I Didn't Like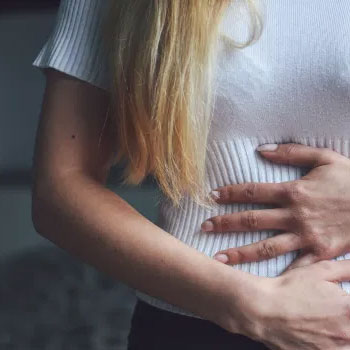 Although I especially enjoyed chocolate versions of SimplyProtein products, I would be much happier with a more robust taste in some of these treats.
I came across many mixed reviews on flavor, from too sweet to too bland.
Some reviews complain about the chalky texture and funny aftertaste, and I somewhat agree that they taste kind of average for the price.
Although I didn't experience stomach problems, some people reported side effects, such as bloating, stomach rumblings, and gas, naming chicory root as the culprit.
SimplyProtein uses a facility that also processes peanuts, eggs, and dairy products, so be careful if you are prone to allergies.
Where to Buy SimplyProtein Bar?
Some flavors are not available on Amazon, but you can find them on the manufacturer's web site.
They come in different size packages, and there are also variety packs available.
If you are in the US or Canada, you can buy them in your local stores, such as Walmart or Walgreens.
Should You Buy SimplyProtein Bar?
It works as a meal replacement as it has enough nutrients to keep you going until it's time to eat. If you're big on snacking but health-conscious, using these filling low sugar protein bars will help you stay on track with your weight loss and fitness goals.
SimplyProtein uses clean natural ingredients, making their snacks high in fiber and protein and low in carbs, fat, and sugar. For the amount of protein you get from a single bar, plus all the other good stuff, like iron and calcium, I'd say it's worth it.
However, my sugar cravings have always been off the charts, and I'm just nibbling on the chocolate crunch bar as I'm writing this protein bar review. Since I started turning to a healthy lifestyle, reducing sweets has been my biggest nightmare.
So, if you are like me, I highly recommend you try the Orgain protein bar for an extra chocolate flavor kick.
This product has been my go-to healthy high protein snack for a long time because Orgain's protein bar is the most chocolaty of all healthy chocolate bar flavors I have tried.
It may not be as high in protein as SimplyProtein bars, but these are the closest you can get to a healthy version of homemade brownies. As a plus, they are also non-GMO and gluten-free.
Orgain Organic Protein Bar
Our #1 Recommendation
10g of protein
100% Plant-Based
3-5g of fiber, and 140-160 calories per bar
USDA Certified Organic
Get the BEST PRICE until end of May
Click For Best Price
About the author