Just because tuna's not on your menu doesn't mean you can't have all the benefits of Omega-3.
Omega-3, while mostly found in fish oil, is actually also present in significant levels in many plant foods, such as chia and hemp seeds, as well as algal oil.
Yes, algae have oil.
There are plenty of options for plant eaters who want to ensure an adequate intake of Omega-3, and all of the ALA, EPA and DHA (more on these later), without wrecking the fish population and ingesting toxins and pollutants.
Just remember that not all supplements are equal, so we will focus on those that aren't packed with questionable ingredients and fillers.
Below is a list of the best vegan Omega 3 supplements.
Our Top Vegan Omega-3 Supplements (August 2021 Updated)
1 - Future Kind Vegan Omega-3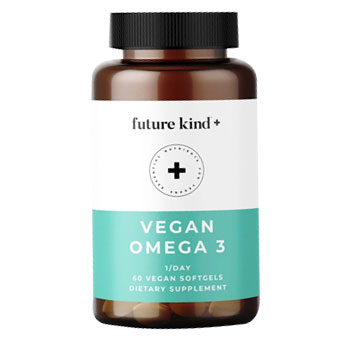 Future Kind Vegan Omega-3 supplement is a brand that relies on one particular review published in the Journal of the American Medical Association. Essentially, that review compares fish oil to snake oil, stating that it does little to nothing in treating cardiac health.
Instead, they have turned their gaze to algae, which is where the fish get their Omega-3 from in the first place.
By going straight to the source at the bottom of the food chain, vegan users will not have to worry about pollutants and microplastics (not to mention the overfishing of our oceans).
Omega 3: 275mg
Omega 6: 20mg
EPA: 75mg
DHA: 150mg
PROS
Supports memory and mental flexibility
Improves mood
500 mg of Omega-3, 275 mg of fatty acids, and 20 mg of Omega-6 per serving
Peppermint scented (non-edible) tab for enhanced taste
2 - LYFE Super Omega Pure Algae Oil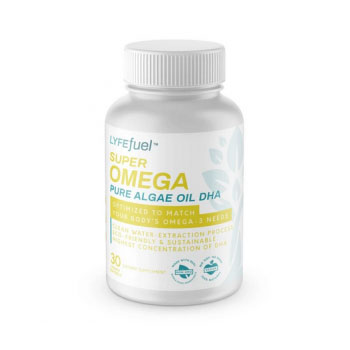 Super Omega Pure Algae Oil claims to be a DHA oil because despite only having 350mg of DHA (not the highest on this list), it is said to be the most potent. This means that its effects on the body can be observed right away.
The algae-based oil is perfect for vegans -- plant-based, effective, and no fishy aftertaste.
It's also BPA and GMO-free, and doesn't contain any artificial additives or sugars. It contains tocopherol as an antioxidant, so you get the antioxidant benefits on top of the DHA.
PROS
Highly potent DHA
Comes in easy to swallow softgel capsules
Contains antioxidants
GMO-free and BPA-free
Super Omega could've been perfect if  it has at least 500mg of DHA.
3 - Nordic Naturals Omega-3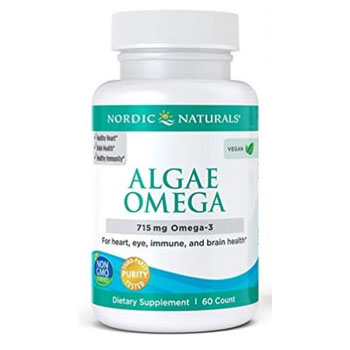 Is fish oil vegan? No, but algal oil is.
Nordic Naturals is a Scandinavian omega-3 vegan product that is derived from algae.
You see, you don't need to consume fish-derived oil – algae is a potent vegan omega-3 source in its own right.
The nutrient content of these vegan omega-3 supplements is reliable, with this vegan DHA EPA supporting good heart health, vision, immunity, and positive mood.
Omega-3: 690mg
EPA: 330mg
DHA: 220mg
Other Omega-3s 140mg
PROS
Contains 715 mg of omega-3
All killer, no filler (i.e., no filler ingredients)
Potent source of DHA and large amounts of EPA
Vegan-friendly
These essential acids can be otherwise hard to come by for plant-eaters. Nordic Naturals is indeed packed healthy omega-3 fatty acids.
4 - Testa Omega-3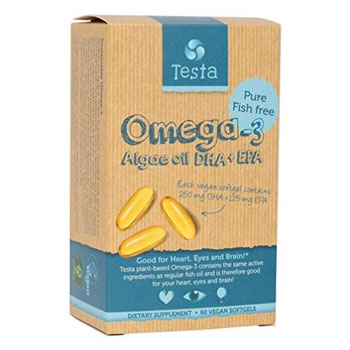 Testa is one of the best vegan omega-3 supplements on the market, featuring more than 250mg of DHA and 125mg of EPA allowing you to lead a healthy and sustainable plant-filled life.
This product is renowned for its purity, featuring no contaminants which can harm your body.
In addition, it doesn't contain fish-derived oil, a product that is responsible for killing 27% of fish around the world!
Omega-3: 450mg
EPA: 125mg
DHA: 250mg
PROS
Contains 450 mg of omega-3 fatty acids
Pure formula vegan fish oil
CONS
Some users experience side effects such as stomach pain
Perhaps one of the good things about Testa is that it doesn't give you that nasty fishy breath that you get with certain algae products.
5 - Nested Naturals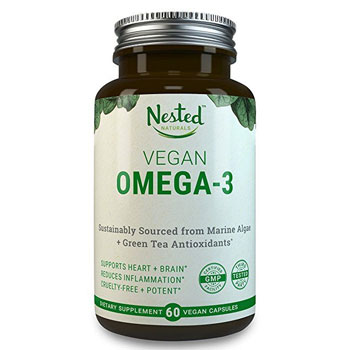 Nested Naturals Vegan Omega-3 will take care of your omega-3 needs with ease.
Each serving contains 200 mg DHA, 108 mg EPA, and 1 mg of unspecified forms of omega-3.
What I like about this particular product is the minimalistic approach to the ingredients used. If you look at the nutrition label, it's quite uncluttered; there's nothing there that doesn't have to be there (and also free from carrageenan).
I also like that they've opted to use a natural antioxidant to preserve the omega-3 fatty acids; each serving contains 100 mg of green tea extract.
The algae oil is derived from marine algae grown sustainably on a farm, not harvested from the ocean, meaning that you get a pure and high-quality supplement. Third-party testing further ensures there's no contamination or other toxins present.
Omega-3: 309mg
EPA: 108mg
DHA: 200mg
Other Omega-3s: 1mg
PROS
Contains 200mg DHA and 108 mg EPA per serving
Enhances eye and cardiovascular health
Has a clean ingredient list free from preservatives or fillers
CONS
Other supplements have higher omega-3 content
Now on the flip side, the simple ingredient list means there is nothing to mask the fishy/seaweedy/oceany flavor - which might give it a not-so-pleasant smell. However, if you prefer a no-frills, basic omega-3 supplement, then this is something you should consider.
The pills are quite large, 2.5 cm long and 0.7 cm, wide, which is a downside for those that struggle with swallowing large pills.
6 - Ovega-3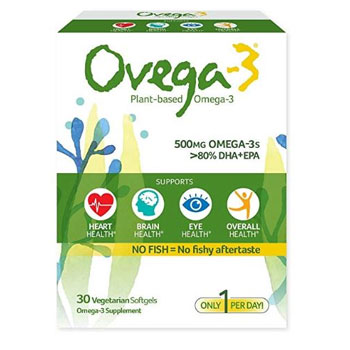 Ovega-3 Vegetarian/Vegan Omega-3 is a popular cruelty-free supplement to get your precious plant-based acids.
One of my favorite things about this product is that each serving contains a heaping 270 mg DHA and 135 mg EPA - which is a very good dosage for the long-chain omega-3 fatty acids.
This supplement delivers high quality, sustainable omega-3s without a fishy aftertaste or the risk of ocean-borne pollutants and toxins. It also contains rosemary extract and antioxidants such as vitamin E and C to prevent oxidation.
Omega-3: 500mg
EPA: 135mg
DHA: 270mg
PROS
Contains 270 mg DHA and 135 mg EPA
Made from sustainably farm-raised marine algae
Clean ingredient list and no added artificial fillers, flavorings or preservatives.
CONS
Other supplements have higher omega 3 content
However, what makes this product less attractive is that it contains seemingly unnecessary ingredients such as corn starch (?), beta carotene, sorbitol, and caramel color.
It also contains the somewhat controversial ingredient of carrageenan, which may bother some people. Users report that the pills are quite large but still easy to swallow, with no mention of the "fishy burps" that some products cause.
7 - DEVA Vegan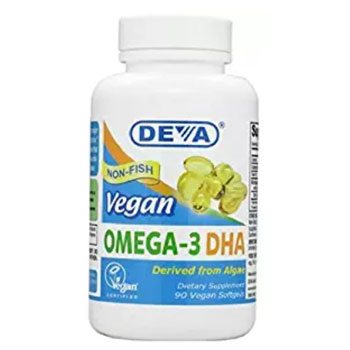 Coming in at an affordable price, DEVA Vegan omega-3 vitamins are soft-gel vitamins containing approximately 200mg of algae each.
These pills contain a large amount of DHA, helping you to consume the fatty acids that your body needs to thrive and survive.
DEVA Vegan is known for making high-quality supplements, and their entry for omega-3 is made from clean and safe ingredients.
It is also free from ocean-borne contaminants which may harm your overall health.
Microalgae Oil: 575mg
DHA: 200mg
PROS
Each serving contains 200 mg DHA
Good for sustaining strong hair and nails
Small size – great if you're bad at taking pills
CONS
Can smell fishy/unpleasant unless you keep them in the fridge
8 - Amala Vegan
Amala Vegan Omega-3 Supplement provides the important long-chain omega-3 fatty acids that also suits the vegan lifestyle. Each serving contains 120 mg DHA, 72 mg EPA, and 13 mg DPA.
As this vegan multivitamin is made from an eco-friendly and sustainable algae-farm, it results in a product free of toxins such as mercury, PCBs, and dioxin.
It features a delayed-release formula and natural lemon and peppermint flavors, helping to avoid the fishy aftertaste and "seaweed" burps. It also contains rosemary extract and antioxidants such as vitamin E and C to prevent oxidation.
This product is free from the controversial carrageenan and presents a relatively clean nutrition label.
EPA: 72mg
DHA: 120mg
DPA: 13mg
PROS
Each serving contains 200 mg DHA
Good for sustaining strong hair and nails
Small size – great if you're bad at taking pills
CONS
Has a slight fishy/unpleasant smell unless you keep them in the fridge
Users report overall good experiences and that the peppermint flavor effectively conceals any fishy burps. One negative is that one serving doesn't provide a particularly strong dose of omega-3s – there's about half when compared to other brands.
However, you do get 90 pills in a container, so you could just up the dosage to 2 pills.
9 - Bloom Algae-Based Supplement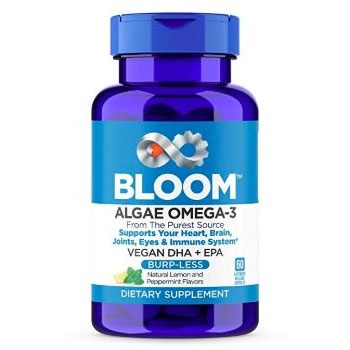 Bloom Algae-Based Omega-3 is a great plant-derived supplement that definitely packs an omega-3 punch.
Each serving provides plenty of these crucial nutrients: 336 mg DHA, 158 mg EPA and, 36 mg of DPA. So what stands out immediately is the large amounts of omega-3 fatty acids - which is great.
Noteworthy is also the inclusion of docosapentaenoic acid (DPA) - an elongated form of EPA. While the focus often revolves around the health benefits of EPA and DHA, research suggests that DPA can help prevent blood clots and wound healing, as well as reduce inflammation.
Bloom omega-3 is made from farm-raised non-GMO algae and processed in a GMP certified facility which ensures quality and purity. You can rest assured that this supplement is free of any ocean-borne toxins, pollutants, and contaminants.
DPA: 36mg
EPA: 158mg
DHA: 336mg
PROS
Each serving contains a large dosage of omega-3s: 336 mg DHA and 158 mg EPA
Derived from farm-raised non-GMO algae and manufactured in a GMP certified facility
Small, easy to swallow soft gels
CONS
A serving constitutes 2 pills, so it won't last you super long (though it does provide more EPA and DHA than other supplements)
As they're derived from farm-raised algae and include natural lemon and peppermint flavorings, these won't give you the dreaded "seaweed/fish burps." The ingredient list is also super clean and is one of few algae-based supplements that don't contain carrageenan. Vitamin E is added for its antioxidative powers.
Users report good experiences with no "fish-burps" or any other issues with digestion.
Other Supplement you May Want To Check Out:
Should Vegans take Omega-3 Supplement?
According to a fascinating article by Vice, it is essential that vegans take omega 3 pills. In fact, it's necessary that EVERYONE gets enough omega 3 in their diet. You see, the average American diet is absolutely drenched in omega 6, but omega 3 is nowhere to be found (1). Especially as a vegan, you have to make sure that you're eating enough plant-based sources daily to meet the required omega-3 dose.
There are 3 kinds of omega-3 fatty acids – eicosapentaenoic acid (EPA), docosahexaenoic acid (DHA), and alpha-linolenic acid (ALA). EPA, DHA, and ALA all help the body through their numerous health benefits.
Though some people think of nuts and seeds as a vegan omega-3 source, they only contain ALA, which means they're missing out on the huge health benefits of both EPA and DHA. The best vegan omega 3 supplement should contain all three.
As a result, vegans  must consume algal oil – supplements made from algae. These algae are the sources of DHA and EPA that fish eat and what makes fish-derived oils so rich in omega-3 in the first place!
Health Benefits from Omega-3 Supplementation
As fatty fish and seafood with preformed EPA & DHA are off-limits for us vegans, our levels of these long-chain omega-3s are often lower when compared to omnivores, as we mentioned.
This is quite alarming, seeing as DHA and EPA are responsible for some of the profound health benefits of omega-3:
So what do we do?
Are we vegans doomed to live our lives with poor intakes of omega-3s?
Luckily, no.
What to Look For in a Quality Vegan Omega-3 Supplement
Algae-Based Omega-3 Supplement – Fish get their omega-3 from algae, so supplements made from algae oil have all the same omega-3 benefits as fish-derived oils
Formula that is free from contaminants such as heavy metals, bioaccumulative toxins, and pollutants
High amounts of DHA and EPA – the 2 rarest fatty acids in a vegan diet
Make sure that the product sources its nutrients from algae and not fish – some packaging can be misleading
Look for products produced with GMP-certified standards and have been tested by an external third-party independent testing group (i.e. no biased testing)
Look for ingredients, such as lemon and peppermint, that help to mask the "fishy burps" associated with some of these algae products
What Ingredients to Avoid
Fish Oil – First and foremost, make sure your supplement doesn't contain fish-derived oil, as some packaging can mislead you with unclear information. Fish oil supplements are obviously not vegan, so make sure your Omega-3 is algae-derived.
Gelatin – Make sure your omega-3 supplements don't contain gelatin, especially if they're the "squishy capsule" type, which is often made from gelatin (i.e. animal bone marrow found in some food) Many vegan omega-3 supplements use carrageenan instead, which is 100% vegan.
Carrageenan – On that note, although carrageenan is the vegan alternative to gelatin, this ingredient is controversial in itself. Evidence suggests that it initiates inflammation in human colonic epithelial cells. Additionally, degraded carrageenan, known as poligeenan, allegedly has cancer-promoting effects.
Why Fish Oil Is a Pretty Bad Idea for Omega-3
Many fish-derived oil supplements on the market are oxidized, or to use the colloquial term, rancid (10).
It's no wonder seeing as the fish first has to be caught and then transported to shore where it's then fractionated into oil, stored in large tanks, and shipped away to a factory for further refining, this refining process involving several steps including repeated heating at high temperatures and deodorization in order to remove undesirable taste and rancidity.
So, as a consumer, you've more or less no idea where the oil originally came from, how old it is, and how many steps of refinement and heating it has undergone.
Furthermore, there's one more problem with this oil:
Bioaccumulation
Fat-soluble pollutants, such as polychlorinated biphenyls, may biomagnify in marine food chains and may end up in concentrated amounts in your fishy oil supplements (11).
A study found that fish-derived oil (contaminated with polychlorinated biphenyls and organochlorine pesticides) showed significant negative effects on oxidative stress and antioxidant capacity in rats (12).
FAQs
Is Vegan Omega-3 as Good as Fish Oil?
Vegan Omega-3 is not as good as fish oil in terms of potency, although algae-derived algal oil is nearly as potent as fish oil and is 100% vegan. This is because fish become rich in omega-3 by eating and digesting these algae, which is rich in EPA and DHA essential fatty acids itself.
How Much Vegan Omega-3 Should I Take?
According to the International Society for the Study of Fatty Acids and Lipids, adults should take 500 mg of vegan omega-3 fatty acids every day. This means that your total consumption of DHA EPA and ALA essential fatty acids should amount to around 500 mg every single day.
Can Vegans Take Fish Oil Pills?
True vegans cannot consume fish oil pills as they contain animal-derived ingredients. However, they can take oils derived from algae, which feature very similar levels of omega-3 in its vegan DHA and EPA forms. Algal oil allows vegans to consume their intake of omega-3 without consuming fish products.
Our #1 Vegan Omega-3 Supplement Is..
Out of all the reviewed products, we would recommend Future Kind Vegan Omega-3 as the best vegan omega-3 supplement.
What is interesting about Future Kind is that they have produced a Vegan Omega-3 supplement made entirely from algae. Look at it this way: this is where the fish get these essential fatty acids from in the first place.
By going straight to the source at the bottom of the food chain, customers won't have to worry about ingesting pollutants. Not to mention the overfishing of our oceans. David Attenborough would attest to that!
But most importantly, the softgel capsules are just the right size and easy to swallow.
What vegan omega-3 supplement have you tried? Got any experiences you'd like to share? Let us know in the comments below.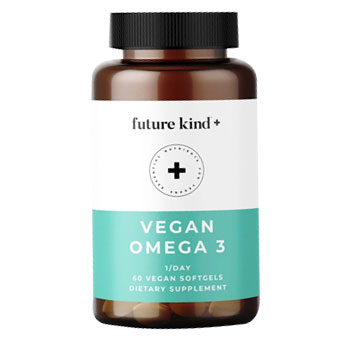 Future Kind Vegan Omega-3
Best Vegan Omega-3 Supplement
Supports memory and mental flexibility
Improves mood
500 mg of Omega-3, 275 mg of fatty acids, and 20 mg of Omega-6 per serving
Peppermint scented (non-edible) tab for enhanced taste
Get the BEST PRICE until the end of May
Click For Best Price
About the author