Mascara has a lot of ingredients from animals in its formulas. It's challenging to find cruelty-free beauty brands, but it's even harder to find vegan mascaras from these brands.
I did some research into vegan mascaras and what the best ones were in the beauty market. Let's take a look at the best vegan mascaras.
Our Top Vegan ​Mascara ​Picks (2021 Updated)
1 - Ecco Bella Natural Mascara
If you have sensitive eyes, then this is one of the vegan mascaras for you.
Several women say this mascara didn't hurt their sensitive eyes. This may be because this mascara is made with natural ingredients with no harsh chemicals. It's also fragrance-free.
The lacquer, shellac, and animal products have been replaced with natural products like clay and flower wax, making it one of the most natural vegan mascaras.
The colors also receive rave reviews. This cruelty-free mascara comes in both black and brown colors.
Brown mascara is hard to come by, and this is a high-quality brown color. It has a silky texture and just the right color to prevent it from looking too dark.
To top it all off, the mascara tube comes with a mirror. Perfect for those on-the-go touch-ups.
2 - Tarte Cosmetics 4-in-1 Natural Mascara
Tarte Cosmetics is one of the most vegan-friendly makeup brands, and they have one of the best vegan mascaras.
Their mascara comes with a straight wand. Usually, this is hard to apply to your lashes, but people say that this mascara still does the job for them.
It makes their lashes look thicker and stronger with only one coat — all without clumping. The formula leaves lashes looking feeling silky with volume.
If you're looking for an extra dramatic look, then you can apply multiple layers to make your eyes stand out.
You can't go wrong with this cruelty-free and vegan 4-in-1 natural mascara if you are looking for longer and curlier lashes
3 - IT Cosmetics Superhero Elastic Stretch Volumizing Mascara
How does IT Cosmetics make your lashes have so much volume? They use a special elastic stretch technology. It's made with peptides, proteins, biotin, polymers, and collagen. All of this helps enhance your lashes into making their full volume.
Many people say this mascara gives them a crazy amount of length with only one coat. The mascara is smooth and silky and applied easily to the lashes. It doesn't flake or get clumpy for several hours.
It's not waterproof, but the cruelty-free mascara still might be worth it for you.
4 - Smashbox Superfan Fanned Out Mascara
This vegan and cruelty-free mascara claims to give your lashes lots of volume and length. The lengthening mascara works for 12 hours and lifts your lashes. It's made without parabens, phthalates, oil, fragrance, and silicon.
It's a thick formula, but it doesn't clump on your lashes. It also doesn't run or smudge during use. They also claim that the super black color doesn't flake or make your lashes look unnecessarily heavy.
The wand is a double-bristle brush and helps style your lashes to a beautiful curl.
5 - PÜR Big Look Mascara
This is another vegan-friendly mascara for sensitive eyes. A lot of people who are sensitive to mascara say this didn't irritate them.
The cruelty-free formula is made with argan oil, which is filled with omega fatty acids, vitamin E, and antioxidants. The company claims that argan oil is nourishing for lashes and aids in building a dewy sheen. Vitamin E aids in protecting the eyes from damaging cells.
They say they are clump-resistant, and the reviews match that claim. Many people say that, even though the formula is thick, it doesn't clump or flake.
It only makes their lashes long while looking natural.
This mascara is waterproof, which is something to consider before purchasing.
6 - Too Faced Better Than Sex Mascara
The Too Faced mascara is unique for its added Acacia Senegal tree extract. It's designed to be nourishing and give your lashes a thicker appearance. It also contains unique peptides for the mascara to be a dramatic black.
The brush is shaped like an hourglass, which is designed to coat your lashes evenly and not leave behind any clumps.
People love this vegan and cruelty-free mascara because it only takes one coat to extend and thicken the look of your lashes. The black color looks natural while making your eyes pop.
It is also smudge-proof, which is great for everyday wear. The polymer ingredient helps form a film on your lashes to let the mascara stay in place.
There's a waterproof mascara and a non-waterproof version available.
7 - Urban Decay Perversion Mascara
Urban Decay is another brand known for its vegan makeup. The Perversion Mascara is one of those Urban Decay products that are popular.
This mascara is different because it contains hairdensyl, which is a blend of proteins and amino acids that stimulates lash growth.
The color is a bold black, and it helps create a dramatic eyelash look. The formula helps your lashes look full and long. The black mascara has a creamy texture that attaches to the eyelashes with only minimal clumps.
Since the formula is a little bit thicker than others, it's a little harder to apply. However, once it's on, then you'll be impressed by how it separates your eyelashes and adds volume.
8 - Pacifica Aquarian Gaze Water-Resistant Mascara
All Pacifica products are 100% vegan and cruelty-free. It's made without ingredients like animal products, gluten, parabens, sulfates, oil, and more.
It does contain good ingredients like coconut oil, kelp extract, and vitamin B to help hydrate your lashes and make them longer and stronger.
Vitamins also promote growth, so it's great that this has vitamin B. Vitamin B prevents lashes from becoming brittle.
It's water-resistant, which is a step up from waterproof. Water-resistant means you can wear it for swimming in chlorine water and ocean water.
This water-resistant mascara comes in two colors; black and blue.
9 - Milk Makeup KUSH High Volume Mascara
There's one ingredient that really stands out in this mascara; CBD-rich cannabis oil. It's a conditioning oil that gives thickness to lashes.
It also gives the vegan and cruelty-free mascara formula a creamy texture, which makes application smoother and is an extra conditioning benefit.
The hydrating formula creates width and length to lashes for long-lasting effects. People love it because it helps define their eyes. One person noted it looked great for about 9 hours before it starts to wear off and needs a touch-up.
The one downside is that this volume mascara is not waterproof.
10 - Jordana Best Length Extreme Lengthening Mascara
Need a mascara focused on stretching your lashes to full volume? Jordana has a cruelty-free mascara product for you.
They claim you only need one stroke to receive dramatic lashes worthy of the red carpet. It gives great length and volume with no flaking or clumping. However, one person said this mascara was easily smudgeable. It's worth noting that this is not a waterproof mascara.
The brush has long and short bristles to get the formula on every one of your lashes. It helps with lash separation and making sure the mascara has a lightweight feel. It's easy to apply mascara smoothly with this brush.
11 - NYX Professional Makeup Doll Eye Mascara
Doll Eye Mascara has unique ingredients in their vegan and cruelty-free formula. It contains a blend of natural oils, vitamin E, and nylon fibers. The company claims that the vitamin and other ingredients extend lashes and add volume.
It's a thick mascara, but it's easy to apply and not get any clumps. As the day goes on, you'll notice that the mascara won't flake or smudge, giving you the perfect look all day. It probably helps that this is a waterproof mascara.
The black color is another feature that receives rave reviews. The pigment is great and easily covers all your lashes.
12 - Hourglass Caution Extreme Lash Mascara
This is an all-in-one mascara that lengthens, adds volume, and lifts lashes. The effect is a dramatic look from the ultra-black formula.
It won't smudge or flake though. It stays on for as long as you want it on your lashes. They make your lashes thick.
A lot of people love the wand for this mascara. It's an innovative brush that helps create volume and definition for lashes. It has a tapered end to help cover the smallest lashes in the corners of your eyes.
This is a high-performing mascara without any of the ingredients that you want to avoid, including parabens, gluten, sulfates, fragrances, dyes, and more. It's also cruelty-free.
13 - e.l.f. Eye Enhancing Mascara
e.l.f. is one of the most affordable vegan and cruelty-free makeup lines on the market. They have a lot of mascara options, but today we are going to look at their Eye Enhancing Mascara.
What I thought was unique about this mascara is that it includes a light-reflecting glitter look. It's designed to enhance (Hence the name of the mascara) and complement your eyes.
Some people don't like the shimmer look on their eyelashes, but others love it. It sounds like if you are looking to make your eyes sparkle, then this is the mascara for you.
It's worth noting that the mascara doesn't last long. One person pointed out that they had to reapply every 3-4 hours.
Why Is Mascara Not Vegan?
Mascara is typically not vegan because it contains ingredients from animals. Let's take a look at some common ingredients from animals that are found in makeup like mascara.
Beeswax - Beeswax or honeycomb is made by bees, which makes it a non-vegan item. It's used to keep mascara smooth.
Guanine - Guanine is derived from fish scales. It makes mascara shiny.
Panthenol - Panthenol is derived from meat and honey. It acts as a lubricant and moisturizer and makes fine hair, like lashes, shiny.
Shellac - Shellac is made from insects. It has a shiny effect that makes lashes look glossy.
Collagen - Collagen is a protein from the tissues of animals. Collagen is popular in the beauty industry because it helps plump and firm lashes, skin, and nails. [1]
Lanolin - Lanolin is made from sheep and is known for its moisturizing properties.
​Watch the video for more vegan mascara reviews.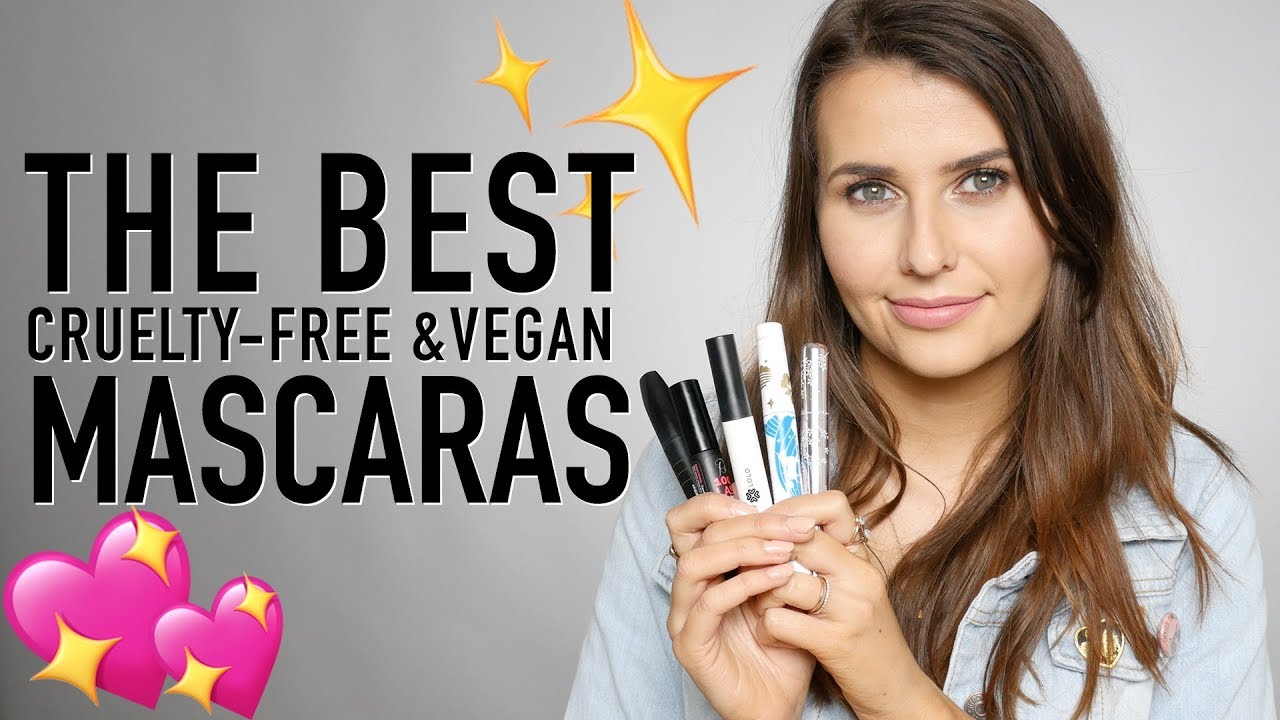 How Do I Choose the Right Vegan Mascara for Me?
If you're vegan, you have to consider a mascara's ingredients [2] before you can even start to judge its quality. You can check out some vegan foundations that will match your mascara too.
Once you find a vegan mascara, how do you determine if it's right for you? You'll need to consider your lash type to answer that question.
Others who have transitioned into vegan products noticed that their skin looked more healthy than before. This may be due to vegan products being natural and nutrient-rich.

- Sandra Taylor, Make-up Artist
There are four different lash types with varying vegan mascaras being the most beneficial for that type.
Long lashes -  Choose a mascara that has a curling or lifting formula.
Short lashes - Choose a bristle brush to ensure all your lashes get covered in mascara.
Straight lashes - To get eyelashes that curl, you'll need an eyelash curler. Choose a mascara that has a curling formula.
Varying lash length - Choose a mascara with lots of natural ingredients to encourage lash growth.
FAQs
Is Covergirl Mascara Vegan?
Covergirl mascara is not vegan. It contains some common animal ingredients like beeswax, sodium chondroitin sulfate, atelocollagen, and lanolin.
The good news is that this makeup line is cruelty-free and doesn't test on animals. However, Covergirl mascara is currently not suitable for vegans to use.
Dior mascara is not vegan. A quick look at their mascara ingredients says they use Cera Alba (beeswax).
They are also not cruelty-free. Yes, they test on animals. China has laws that won't let cosmetics be sold in their country unless they have been tested on animals first.
What Is the Best Vegan Mascara?
It's comforting to know that commercial brands are stepping up and going cruelty-free. I have to say that one of the consistent albeit trivial challenges vegans face is finding a cosmetic product that doesn't go against the lifestyle.
After intensive research and from personal experience, I can say with confidence that Ecco Bella does produce one of the best vegan mascaras.
The natural ingredients make it lightweight, easy to wear, and best of all, ideal for sensitive eyes. The brown shade perfectly matches my blonde for a nice, lifted, everyday eye look while I reserve the black shade for more dramatic eye makeup.
Have you tried any of these vegan mascaras? Share your experience with our readers
If you want more vegan-free makeup, check out the list of the best vegan brands here. And when we talk about makeup, don't forget to put on your sunscreen.
ECCO BELLA NATURAL MASCARA
Best ​Vegan Masacara
​100% organic and natural
​Suitable for sensitive eyes
​Great customer service
​beautiful colour choices
Get the BEST PRICE until end of June
Click For Best Price
About the author