When it comes to caring for your skin and protecting the environment, you don't have to choose between one or the other. Today, several sustainable and vegan skincare options are available, including vegan makeup primers, creams, concealers, chemical peels, and more. In this article we'll cover the best sustainable and vegan makeup primer and skin treatments, including:
Best Vegan Makeup Primers and Creams for a Flawless Face
With the various vegan products on the market today, you can do away with any harsh ingredients, such as parabens or sulfates, that are not only bad for the environment but potentially for your skin as well. From makeup primers to neck creams to concealers, you have better options than ever before.
To help you get started, we identify some of the best products currently available.
Best Vegan Makeup Primer
It's no secret that primer is the key to a flawless makeup application. It establishes a natural barrier between your foundation and your skin and can help control shine, even out your look, and make your makeup last longer.
Various vegan makeup primers cater to certain skin types, such as oily or dry. Selecting the right one, then, will depend upon your own skin type.
When it comes to the best one overall, however, we chose Hourglass N28 Primer Serum. Celebrated as the best primer for aging skin, it can benefit you at any age.
The primer itself is not only vegan, but it is also packed full of specialty ingredients that will help keep your skin looking supple and fantastic all day long.
The Hourglass N28 Primer Serum contains everything from hyaluronic acid to the essential vitamins A, C, and E. This makes it the perfect primer because it helps to hydrate, brighten, and smooth those fine lines and wrinkles.
When it comes to searching for the best vegan neck cream, look for one that is packed with antioxidants and anti-aging ingredients. It should also be non-comedogenic, so it won't clog your pores.
Best Vegan Neck Cream
A neck cream can keep this area's skin surface protected, making it more resilient to wrinkling.
When it comes to searching for the best vegan neck cream, look for one that is packed with antioxidants and anti-aging ingredients. It should also be non-comedogenic, so it won't clog your pores.
At the top of our current list is Fiera Multi-Effect Neck + Décolletage Cream. Reviews for this vegan product are overwhelmingly positive.
The Fiera neck cream contains a mix of the natural substance hyaluronic acid, retinol, and niacinamide, all of which aid in hydrating, brightening, and smoothing your skin. Plus, it is free of parabens, phthalates, sulfates, and synthetic fragrances.
Best Vegan Concealer
Concealers are one of the most beneficial beauty products to keep on hand. By applying it to key spots around your face, you can refresh tired eyes, hide dark circles, blemishes, and scars, and create a more even appearance and skin tone.
When searching for the ideal vegan concealer, you'll want to look for a few key things, like full coverage and long-wearing formula. Several sustainable and vegan options are available today, with Fiera anti-aging concealer receiving many of the highest accolades from customers. For this reason, the pick for best vegan concealer is the Fièra Luxury Concealer. Don't let this regal name fool you, however, as it can be worn every day, with casual makeup as well as for those times when you want to impress.
The Fièra Luxury Concealer provides fantastic coverage that doesn't settle into fine lines or wrinkles. Best of all, it is packed with anti-aging ingredients that help your skin over time.
Best Vegan Chemical Peels
Chemical peels can improve overall skin texture and tone, erase wrinkles and fine lines, minimize pores, and smooth and balance your skin. When looking for an at-home chemical peel, however, you do need to be wary of questionable, non-vegan ingredients like lanolin, beeswax, and lanolin.
The good news for vegans today is that there are plenty of amazing vegan chemical peels on the market, and they will leave your skin looking and feeling its best in no time.
Our current favorite is the Overnight Sensation™ Gentle Resurfacing Peel by Thrive Cosmetics. This chemical peel is gentle enough for sensitive skin but still effective enough to leave your skin looking radiant and feeling smooth.
A close runner-up is The Ordinary AHA 30% + BHA 2% Peeling Solution. This peel contains a mix of vegan-sourced glycolic, lactic, and salicylic acids to exfoliate your skin and leave it looking bright and radiant.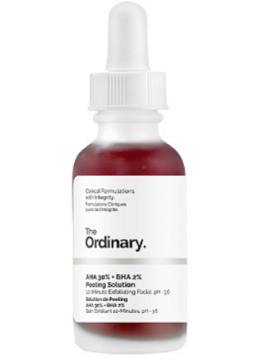 Can You Wear Makeup After a Chemical Peel?
To achieve the optimal effect of a chemical peel, you should avoid wearing any makeup for at least 24 hours after your peel.
When you apply a chemical peel –whether at home or professionally – the chemicals in the peel remove the top layer of your skin. This removal leaves your skin vulnerable to infection, so it's important to give it time to heal before you put anything else on it.
Best Vegan Microneedling
If you're looking for a vegan-friendly microneedling device, there are a few things you'll want to keep in mind. First, you'll want to ensure that the device is made with stainless steel needles that can be easily sterilized. Second, you'll definitely want to make sure that the device is easy to use and comes with clear instructions.
A favorite one meeting these criteria is the ORA Face Microneedle Dermal Roller System, which glides effortlessly over your skin.
To get the most out of microneedling and avoid any potential risk of damaging your skin, you may prefer to seek out a professional instead.
The difference between doing microneedling at home and professionally is that a professional can better identify and target problem areas, then tailor the treatment to your specific needs. Professional microneedling also goes much deeper than at-home treatments, which means you'll see better results.
Fraxel vs Microneedling
Fraxel laser treatment is similar to microneedling in that it involves using a device to create tiny injuries in the skin to improve tone and texture.
Both treatment types can be effective in improving the appearance of your skin. However, they do differ in other key ways and these can factor into your decision of which to choose.
Fraxel laser treatments are more expensive than microneedling, and they typically require more recovery time. Microneedling is less invasive and can be done at home or by a professional, making it a more convenient and affordable option.
Filler and Botox Treatments
Fillers and Botox are both great options when it comes to treating noticeable lines in the skin on your forehead. Yet, there are some things that you, as a vegan, need to know when determining which treatment is right for you.
Filler vs Botox
Traditional Botox and fillers are, unfortunately, not vegan. Due to their classification as medical products, they're required by law to undergo testing on animals first. On top of that, Botox is produced with an egg base, eliminating it as a vegan skin treatment. However, there are some companies today that are trying to phase out animal testing in the upcoming years. Allergan, which produces Botox products, is one of those companies. Stay tuned to news of vegan-friendly fillers and Botox, hopefully in the very near future.
Frownies vs Botox
Currently, there are vegan and cruelty-free alternatives to Botox, which include the use of Frownies. Frownies are patches you can wear overnight to smooth out lines and wrinkles. They are easy to use and much less expensive than Botox or fillers. Plus, they're vegan-friendly and sustainably made!
The Bottom Line
Keeping your skin healthy and young-looking doesn't have to be difficult today. There are plenty of great vegan and sustainable makeup primers and skin treatments out there to choose from. With a little research, you're sure to find the ones that work best for you. Your skin, and the environment, will ultimately thank you for your efforts!
FAQs
What are common ingredients in vegan primers?
A vegan primer is made with plant-based ingredients and never tested on animals. Ingredients may include vegan glycerin, vegetable extracts, plant oils, and silicone.
How does a chemical peel work?
During a chemical peel, a chemical solution is applied to the skin. This chemical solution peels away the damaged skin cells, and new, healthy skin grows back in their place.
What are the benefits of chemical peels?
The benefits of chemical peels include erasing wrinkles and fine lines, lifting skin, fading discolorations, minimizing pores, treating acne, soothing scarring, balancing skin texture, and smoothing the skin.
How long does it take to recover from a chemical peel?
The recovery time from a chemical peel will usually be between 7 and 14 days. Much will depend on whether you undergo a medium or deep chemical peel. Redness may last for months.
Are microneedling results permanent?
Microneedling results are not permanent. The reason for this is that the skin, as a living tissue, continues to transform throughout your lifetime.
Are Botox injections painful?
Botox injections can be painless or cause only minimal pain. You may feel a slight discomfort or stinging sensation as the injection occurs.
About the author