Always being on the go I would find myself hungry, but too busy to stop and eat.  I needed something quick, convenient, and healthy that fit into my busy and active lifestyle. Then I found it, the protein bar!
Protein bars are easy to find, easy to carry around, and they're packed with most of the nutrients you need for mid-workout energy or post-workout recovery.
In this review, we'll take a look at one of the most popular vegan-friendly protein bars on the market today: CLIF Builders Bars.
What are CLIF Builders Bars?
Don't make the same mistake I made and confuse the Clif Builders protein bar with their slightly less intense cousin, the Clif bar.
Clif produces two protein bars, one simply named Clif Bar, and then these bad boys, the Clif Builders bars - made specifically for people looking to build muscle.
Clif Builders Bars pack a high protein punch. They also contain a healthy amount of amino acids necessary to help your muscles recover after a hard workout.
Their official product description makes no bones about this: "It's the great-tasting protein bar that makes every ingredient count—so you can get the most out of your workout," their website claims.
There's also no shortage of options when it comes to flavors. Despite being an entirely plant-based protein source bar, Clif bars have pulled out all the stops to make sure their customers' taste buds don't get bored.
What's in a CLIF Builder Bar?
Nutritional Information
Before we take a look at its ingredients, let's reveal some key nutritional facts of this protein bar. Per 68 g serving, they offer you:
20 grams of protein
29 grams of carbohydrates
10 grams of total fat
280 calories
2 grams of fiber
22 grams of sugar
0 milligrams of cholesterol
200 milligrams of sodium
Those of you familiar with protein bars will notice a high protein content, plenty of carbs, and tons of energy - making it a great pre-workout energy bar. Like most protein bars, they're not meant to be a meal replacement, but they're ideal for a reliable protein snack.
What you may also note is the extremely high amount of sugar per serving - meaning that they're closer to the wrong end of the overall "good your you" spectrum than many of their competitors. They're also not ideal if you're aiming for weight loss.
Ingredients
All seven flavors are 100% vegan, gluten-free, and contain non-GMO ingredients. So there's no need for you to frantically Google each ingredient as you wait in the checkout queue. Yay!
Let's take a look at exactly what's inside the Chocolate Peanut Butter flavor protein bar and discuss some of the notable ingredients:
Soy Protein Isolate, Cane Syrup, Cane Sugar, Brown Rice Syrup, Palm Oil, Vegetable Glycerin, Unsweetened Chocolate, Soy Flour, Rice Flour, Chicory Fiber Syrup, Roasted Soybeans, Cocoa,
Soy Protein Concentrate, Natural Flavors, High Oleic Sunflower Oil, Rice Starch, Soy Lecithin, Alkalized Cocoa, Sea Salt.
1. Soy Protein Isolate, Soy Protein Concentrate
Being a vegan product, Clif Builders bars can't obtain their protein from whey, as most protein bars do. Clif has opted for soy as their primary source of protein and other vitamins and minerals. This decision is great for vegans, but not if you're concerned about the bean's supposed links to various health issues [1].
2. Cane Syrup, Cane Sugar, Brown Rice Syrup
As mentioned before, Clif Builders bars don't hold back when it comes to sweetness, and these three ingredients are the main culprits. While processed syrups and sugars certainly add to the flavor of protein bars, they're not ideal if weight loss is one of your goals [2].
3. Palm Kernel Oil
The presence of any palm-related product in my food causes me concerns. While palm kernel oil is undoubtedly plant-based, its production is a significant contributor to deforestation and the endangerment of several wildlife species [3].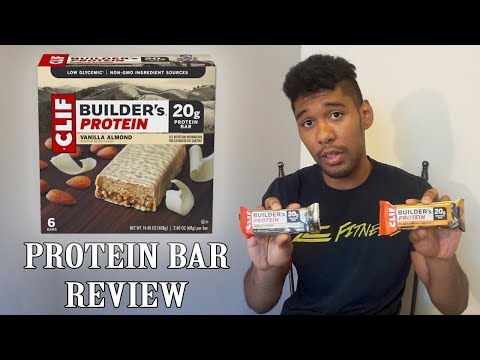 How do They Taste?
As I mentioned earlier, there are seven flavors of Clif Builders Bars: Chocolate, Chocolate Hazelnut, Crunchy Peanut Butter, Chocolate Mint, Vanilla Almond, Chocolate Peanut Butter, and Cookies 'N' Cream.
My personal favorites were the chocolate peanut butter, cookies n cream, and crunchy peanut butter rounding out the top three. But honestly, there is only one of these seven flavors that I didn't enjoy the taste of.
In the future, I'll give Chocolate Mint the skip. The high sugar content per serving - combined with this particular flavor - made me feel like I was eating a candy bar rather than a pre-workout protein bar.
PROS
The Clif Builder comes with a very generous serving of protein content and calories.
This protein bar comes in seven different flavors - six of which are absolutely delicious, especially peanut butter (you can skip the chocolate mint).
100% organic, vegan protein bar.
CONS
These protein bars are extremely sweet and not ideal for weight loss.
The presence of palm kernel oil means that they're not the most environmentally-friendly bar on the market.
At 68 grams per bar, these may be a little large for customers wanting a modest pre-workout snack.
For those dealing with side effects, you can check out these vegan bars:
Where Can You Buy Clif Builder Bars?
The best place to order these bars is from their official website.
Clif Bars allows you to order a box of the same flavor name protein bar or a variety pack covering four flavors. The best combination pack is Peanut Butter, Vanilla Almond, Chocolate Peanut Butter, and plain Chocolate flavor.   Each box contains 12 bars.
The price per bar is very reasonable compared to their competitors, and shipping is free for any order over 40 bucks in the United States.
A shipping fee is charged for orders under this threshold.
User Reviews
"I use them as a long-lasting, convenient snack that contains enough protein to help with the kinds of activity that I enjoy."

- Peabody87
"The taste and texture of these bars is like a nice candy bar except it is loaded with protein. I like to take these on hikes to snack on."

- jamhenny
"Tastes great, but super high sugar content and sodium. I should have read the ingredients closer."

- JenBarb579
"This is a great product when it comes to the taste and amount of protein in it. However, it contains way too much sugar."

- alexromani
Would We Recommend Clif Builder Bars?
Unfortunately, I would not recommend Clif Builder Bars.
I track what I eat daily, and I would love to have a bar with less sugar and more nutritional value.
Because of this, I go with Orgain Organic Protein Bar. It is gluten-free, and the ingredients are easy to read, signaling to me that they are worth eating. There are different flavors made without peanuts and tree nuts as an ingredient, which is fantastic for those of us with peanut or tree nut allergies.
Compared to the Clif Builder Bars, the Organic Protein Bars have over less than half of their sugar. It is tasty and is an excellent quick pre or post-workout snack for me!
Orgain Organic Protein Bar
Our #1 Recommendation
100% Plant-Based
10g of protein, 3-5g of fiber, and 140-160 calories per bar
USDA Certified Organic
Get the BEST PRICE until the end of June
Click For Best Price
About the author