Ice hockey is a brutal and demanding sport that requires athletes to play in a different league in terms of their general fitness levels.
You might think it would be hard to find people playing at this level who also live a vegan lifestyle, but you would be wrong.
Here are a few examples of the best vegan athletes who have played for the NHL.
1. Zdeno Chara
Standing at 6'9" and 43 years old, Zdeno Chara cuts an imposing figure as the tallest and oldest active NHL player on the ice.
But for the past couple of years, this impressive hunk'a'puck slapping fury has been entirely powered by plants.
Zdeno credits his vegan diet with helping him improve his performance in the rink at a time in his career where most other athletes hang up their boots.
Now looking at his mid-40s, the player has more energy on the ice and is recovering faster than ever.
[thrive_leads id='11437']
"I believe that nature has the answer to every question. The more we evolve, the more we can confirm that nature's products are actually healing and the gateway to a better life."

- Zdeno Chara, NHL Legend
2. TJ Galiardi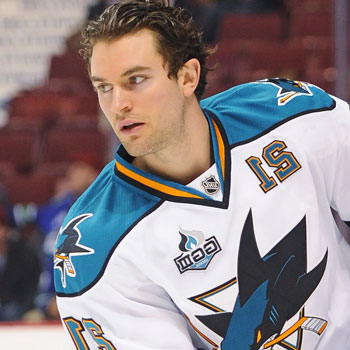 Throughout his long tenure to the stick and the puck, TJ has attributed his plant-based diet to giving him more energy and drive.
A hockey player with a respectable career and awards such as Rookie Of The Year back in 2008.
TJ's wife inspired him to start experimenting by removing animal products out of his diet to see how he reacted.
The more products he removed, the better he started to feel. He said that he started to feel more energised, recovered faster and slept better.
TJ is now the proud CMO of Outcast Foods. This company rescues fruits and vegetables from being wasted and upcycles them in vegan-friendly no waste packaging for superior vegan nutrition.
3. Michael Zigomanis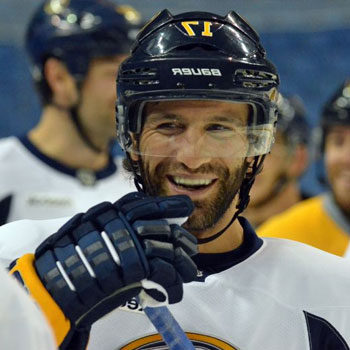 Not content to be one of your average knuckleheaded hockey players, Ziggy is cut from a different cloth.
He has won awards for being the most "gentlemanly" both on and off the ice with his frequent charity and community contributions and cool demeanor.
Not one to use his hockey stick to hit anything other than the puck; these good manners and ethics extend into the hockey players' plant-based diet as well.
He attributes his plant-based diets' effect to faster recovery times and near boundless-energy.
Not content with just eating for the environment, Zigmanis consumes from his environment, growing a lot of his food.
He is currently signed with the Rochester Americans, but it seems  his new diet is more than enough power for two sports, and he has started training to take part in the Canadian Triathlon circuit.
4. Georges Laraque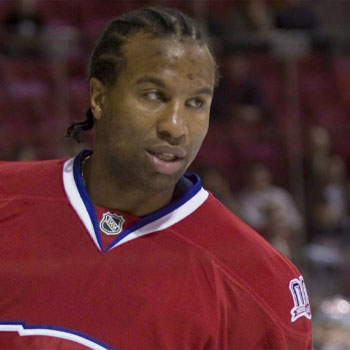 Having turned to a plant-based diet back in 2009 after watching Earthlings, Laraque is a classic example of someone who decided to go vegan for his conscience and was then further educated.
He believes hockey players and other sports stars can lose weight, get fit, and perform at their best while on a  plant-based diet.
He has worked as a politician for the Canadian green party, is a vocal advocate for PETA and animal rights, and also has a strong affiliation with the Canadian LGBTQ community.
The choice to go vegan is more about just good eating, and Laraque takes vegan ethics to the next logical level.
"Vegetarians save hundreds of animals a year and vegans save thousands from a life filled with suffering and the most painful death imaginable. Not only is vegetarianism good for animals, but it is also good for our health and [the] environment."

- Georges Laraque, NHL Legend
Benefits of a Plant-Based Diet in the NHL
Many public health benefits come with going vegan such as a lower risk of cancer, better heart health, and a lowered risk of obesity and diabetes [1]. But how does it affect hockey players specifically out on the ice?
Well, if you take hockey players like Zdeno Chara and Michael Zigomanis at their word, then being vegan has helped improve their game out on the ice.
They have said that being vegan improves their recovery time and can get you back in the game again sooner [2].
They have also said that being vegan has given them more energy to dedicate to their hockey season [3].
Conclusion
Years ago, it was a lot tougher to find examples of people in respected positions in sports who were vegan. Nowadays, in practically every team in every sport, you'll find people at the top of their game who take the time to think about the ethics of what they eat.
The results are what matters, though, and we're looking forward to the vegan season where a team like the Bruins proves that you can have less meat in your diet and still have a team that gives their best performance.
Who is your favorite vegan athlete? Let us know in the comments below.
[thrive_leads id='11437']
References:
https://www.ncbi.nlm.nih.gov/pmc/articles/PMC3662288/
https://www.ncbi.nlm.nih.gov/pmc/articles/PMC6742661/
https://www.ncbi.nlm.nih.gov/pmc/articles/PMC5598028/
About the author