Asics is a trusted athletic shoe brand for walking and running that has been around since 1949. Founded by Kihachiro Onitsuka, Asics is built on the philosophy of "A sound mind, in a sound body," which embodies the brand's desire to help people live happy lives, both mentally and physically. Today, Asics sponsors some of the top professional runners in the world, including Sara Hall, the second-fastest American in the marathon, and her husband Ryan Hall, the American record holder in the half-marathon.
Asics shoes are built with quality and durability in mind, and the brand has a variety of walking and running shoes to suit your performance needs. Whether you're looking for something with more stability or just a lightweight trainer, Asics shoes cover all the bases. In this article, we cover:
The Best Asics Walking Shoes
Neutral walking shoes have medium-level arch support, which means they are designed for normal-sized arches that do not overpronate or underpronate. Overpronation occurs when the arch collapses upon landing, which may cause aggravation for some in areas such as the Achilles, ankle, or knee. Underpronation (also known as "supination") occurs when the ankle and arch do not roll inward naturally, which puts pressure on the ankle and toes and can lead to plantar fasciitis or unwanted ankle sprains.
These neutral Asics walking shoes are ideal for someone whose foot rolls naturally inward without collapsing.
Gel-Excite: An all-around comfortable trainer, the Gel-Excite has neutral support and cushioning and is ideal for the casual walker or runner. The shoe has a relatively high heel to toe drop of 10mm, which helps push the foot forward as you land on your heel.
Gel-Contend: The latest model 7 of the Gel-Content includes an engineered mesh upper sole, which stretches with the foot's natural motion. Reviews rate the shoe as soft, comfortable, and flexible. The flexibility is largely due to the flex grooves in the outsole, which allow the shoe to move easily with each step for a more natural toe-off.
High-Cushion Shoes
Gel-Pulse: The Gel-Pulse is designed for individuals with high arches who underpronate. Typically, the outer side of your foot hits the ground without normal pronation, causing large shock absorption through the lower leg. The Gel-Pulse reduces the effect of underpronation by providing ample cushion for shock absorption and no rigid medial posts that inhibit movement.
Gel-Kayano: Described as "luxurious" by Asics, the Gel-Kayano is on its 26th model and is one of the best shoes for ankle support when walking. The shoe has the maximum amount of cushion gel from the forefoot to the heel for high-density shock absorption. The midsole is firm to help control torsion of the foot and reduce the risk of bunions. This shoe is truly the king of cushion and support for those who need it most.
Stability Shoes
GT-1000: One of the best motion control walking shoes on the market, the GT-1000 is designed for people who overpronate and helps stabilize the ankle and arch. The latest model (on its 10th anniversary) features a new engineered mesh that adjusts to your foot's natural shape, lightweight FLYTEFOAM® midsole cushioning, and increased shock absorption in the heel. The shoe's support system includes a dense foam on the inside of the midsole to help minimize the inward roll of the foot.
Gel-Kayano (listed above): Also considered a stability shoe for those who overpronate. It has more cushion than the GT-1000, which is why it's been dubbed the best men's walking shoes for flat feet, and one of the best shoes for bad feet and knees.
The Best Asics Running Shoes
Looking to run a few miles on the roads or hop on the treadmill? Asics carries a wide variety of running shoes that work on any terrain. Before you choose your running shoe, first ask yourself what kind of running you'll be doing. Are you training for a 5k, doing speed work on the track, or hitting rocky trails? Or, perhaps you just need a lightweight trainer to go out and jog a few miles.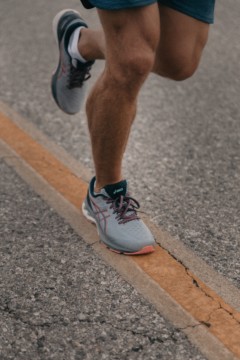 Neutral Running Shoes
Gel-Cumulus: The Gel-Cumulus is a lightweight, neutral trainer with excellent responsiveness. It includes Asics' premium FLYTEFOAM® in the midsole, as well as a soft gel pad in the heel.
Gel-Nimbus: A tried and true neutral trainer by Asics, the Gel-Nimbus is ideal for daily training and long distance racing, such as a marathon. It offers more cushion than the Cumulus, so it is slightly heavier as a shoe, but rated as a softer landing than the Cumulus.
Stability Running Shoes
In addition to the Gel-Kayano and GT-1000, which can work for both walking and running, the following stability shoes are recommended for runners:
GT-2000: The GT-2000 features a 3D Space Construction that increases compression with each footstrike. It is built for overpronators who want a responsive bounceback feel. The GT-2000 has also been rated one of the best running shoes for treadmill workouts by Fleet Feet.
Gel-Jadeite: Also built for overpronation, the Gel-Jadeite creates a stable stride and has maximum breathability, thanks to the engineered upper mesh. The Jadeite keeps your feet cool and dry when training and includes the DUOMAX™ stability technology.
Brooks shoes have a wider toe box than Asics. This might be helpful for those with bunions, or people who don't like their feet to feel cramped.
For Road Racing and Quicker Workouts
Metaspeed Sky: With a 5mm drop (as opposed to 10mm drops for most Asics trainers), the Metaspeed Sky racing shoe helps propel you forward and is designed to extend your stride length. The bouncy midsole foam and springy carbon plate encourages a strong toe-off and helps you conserve energy when racing, making it one of the best Asics for running on the track or road races.
Magic Speed: Another lightweight shoe great for racing, the Magic Speed includes a carbon forefoot plate, which creates a smooth rolling sensation as you land and push off. It is a versatile shoe that can also be worn for regular training runs, as it has slightly more durability than the Metaspeed.
Metaride: Engineered for runners who race long distances, such as a half-marathon or full marathon, the Metaride provides plush cushioning and lightweight foam construction. It is a zero drop shoe, which means the heel and toe are equal height stacks and forces you to land on your midfoot. There are no carbon plates or plastic pieces in this shoe, making it extremely lightweight.

Asics vs Brooks for Running–Which is better?
At the end of the day, both brands are solid choices for your running or walking shoe needs, and neither is necessarily better than the other. It all comes down to different shoe technology, fit, and personal feel.
Some main differences between Asics and Brooks:
Brooks shoes have a wider toe box. This might be helpful for those with bunions, or people who don't like their feet to feel cramped.
Asics is known for creating narrower shoes all around, from the heel to the forefoot.
Asics is famous for their GEL technology, which is a proprietary material that can only be found in their walking and running shoes.
Brooks is only a running shoe brand–they do not design shoes for other sports, while Asics has shoes for tennis, golf, wrestling, and more.
FAQs
Can Asics shoes be washed?
Asics recommends washing your shoes by hand, using a vegetable brush, mild soap, and a sink. The washing machine and dryer can wear out your shoes much faster than washing them by hand, and you should only have to do this once every few months.
Should I size up in Asics shoes?
Generally, Asics shoes tend to run true to size. Men's shoes can sometimes run too big.
How long do Asics shoes last?
Asics recommends replacing your shoes every 400 to 500 miles.
About the author