Being vegan comes from your head to your belly, all the way down to your toes. Whether lounging around at home, on holiday, or at the beach, flips flops are the best choice of footwear for convenience and comfort.
It's more than just avoiding leather, and the best eco-friendly flip flops come from companies that genuinely champion a sustainable ethic.
In this guide, we're going to look at the flop and the flip to find the footwear comfort and style that will have your feet feeling as vegan as your tum.
Our Top Vegan Flip Flops & Sandals
1 - Gumbies Islander Unisex Flip Flops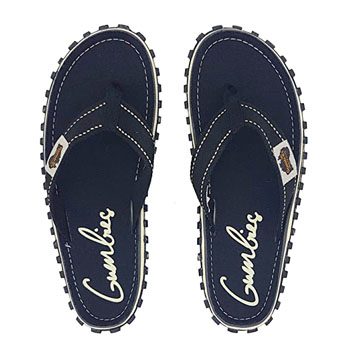 I won't beat around the bush (although I could feet beat that bush endlessly in these indestructible flip flops). I'm a Gumbies man through and through. I bought my first pair as a gift a long time ago, and try as I might, they wouldn't die.
After many years, beaches, and even the odd hike (they have a good grip for a flip flop), my original pair did begin to fall apart, and I had no hesitation in replacing them with a second.
The base is made from a recycled tire and the sole and strap from recycled canvas. They look as good as they feel, and you won't need another pair for a long, long time.
PROS
About as rugged and long-lasting as a flip flop possibly can be
Made from almost exclusively recycled materials
Effortlessly stylish design
Unisex and superiorly comfortable on the foot of all genders
CONS
You may never get to buy another flip flop again
2 - Rainbow Sandals Hemp Flip Flops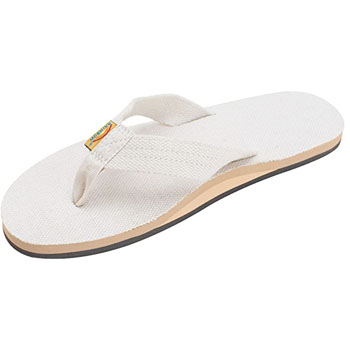 If you're looking for a stylish and straightforward flip flop made from durable but eco-friendly materials, then the Rainbow Sandals Hemp Flip Flop is perfect.
The brand is renowned for making footwear that stands the test of time and provides excellent support and easy comfort. The company does make leather products, but the hemp flip flop is available in both men's and women's.
PROS
Hemp is as eco friendly as it is durable
An established brand with an excellent reputation
Super comfortable toe strap
CONS
The company does work with leather on other shoes
3 - Olli Flips Flops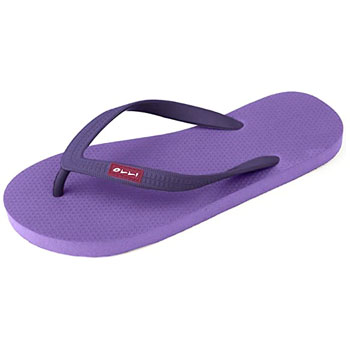 Choosing vegan doesn't mean settling for less, and rubber is the obvious natural choice for spongy, silky comfort. These flip flops are sourced and approved by the fair rubber association so you can have a clean conscience soul as well as cushioned soles.
The rubber will naturally mold to the curves and contours of your feet to provide unique support that feels like you're walking on clouds.
PROS
Part of the fair rubber association for responsibly-sourced rubber
Will mold to the unique shape of your feet
No animal-based glue and certified vegan
CONS
The rubber sole is super comfortable, but the strap a little less so
4 - Indosole ESSNTLS Vegan Flip Flop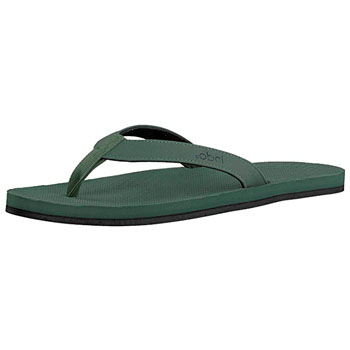 If you got a rocket scientist to design the ultimate eco-friendly vegan flip flops, I think the final design would be pretty similar to the Indosole ESSNTLS range.
They have been perfected down to the tiniest detail. They start by upcycling car tires for the sole, which is the perfect material as reuse is better than letting them sit in a landfill as tires will never degrade.
They are waterproof and also include a natural rubber arch support for durability. The strap is made from fabric that doesn't rub, and the company is ethical and zero-waste.
PROS
The ultimate in sleek design and superior comfort
An ethical zero-waste company that takes the vegan commitment seriously
Possibly one of the most comfortable and well-fitted designs we've tried
CONS
Definitely has a price tag that matches the quality
5 - HUGGOES Summer Beach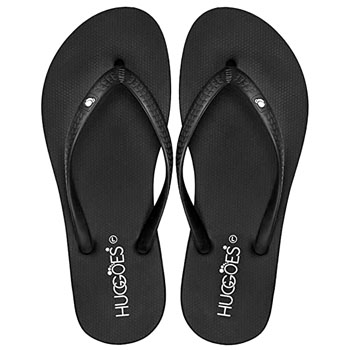 If you're going to be dipping your toes in the water, you need natural rubber flip flops that are waterproof and durable.
HUGGOES specializes in beachwear that can tackle sand and sea while still providing superior comfort. These natural rubber flip flops are expertly designed to stand the test of time and provide unrivaled support and comfort.
They also have an unsurpassed range of colors and designs to fit any vegan style.
PROS
Massive selection of cool colors
Specialized footwear that is designed for long-lasting comfort
Waterproof and durable
CONS
Sizes run a little small, so you should order up
6 - SOLE Women's Santa Cruz Flip Flop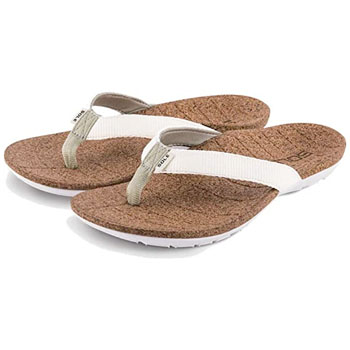 These super sleek and stylish womens eco-friendly flip flops offer the ultimate in sex appeal, and what is sexier than being vegan?
The recycled cork footbed feels like walking on cushions, and the nylon strap and recycled rubber webbing provide excellent support. Whether walking the beach or posing for the gram, these would be my choice for the fashionista.
It's a shame they don't make them for men.
PROS
Super stylish and chic design
Comfortable recycled cork footbed
Designed to provide as much support as comfort
CONS
Cork is known to degrade when exposed to seawater
7 - Rider Sandals Delta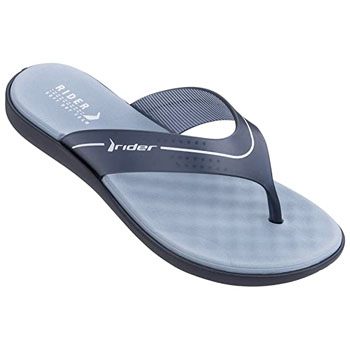 I love the design and the feel of these vegan certified and 100% recyclable flip flops.
The company promises that the PVC is sourced 30% from recycled materials, and the rest is responsibly sourced, which goes a long way to calming my usual knee-jerk no response to PVC in general.
They are far from the most eco-friendly flip flop on the list, but the flip flops are made with an eye towards sustainability, and they're one of my favorite looking vegan flip flops for men.
PROS
Rugged and long-lasting construction from recycled materials
As ethically sound as PVC can get
Superior support and comfort from the design and material
CONS
PVC is not the ideal choice for eco-friendly consumers
8 - Bumpers Massage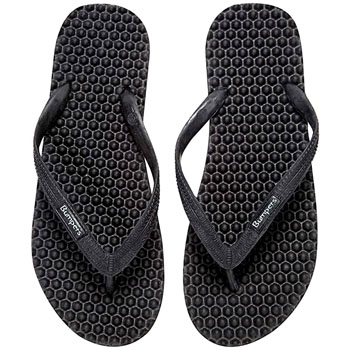 Why just walk on your feet when you can get them massaged at the same time? These vegan sandals truly think outside the box and use their natural rubber sole design to provide the ultimate in comfortable footwear.
The bubbled base will treat your feet to a soothing massage effect with every step, and the sustainable design is also committed to zero-waste in their production. There's no flip flop in this win-win.
PROS
Unrivalled comfort with every step
Sleek design made from entirely sustainable sources
A genuine massage effect for sore feet
CONS
Not as durable or long-lasting as other options
9 - OriginalCorkShop Flip Flops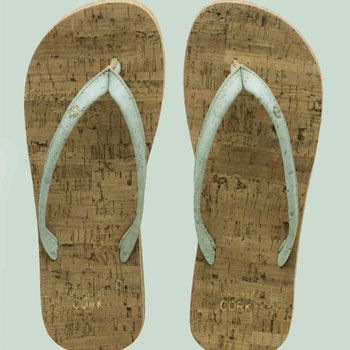 It's not just for wine bottles; these all cork flip flops are as sustainable and eco-friendly as it gets.
That doesn't mean they're short on comfort or fashion, though and these incredibly well made flip flops even got featured in Vogue UK.
They will ultimately be completely biodegradable when you finally decide to retire your pair, and you'll be supporting a smaller boutique seller with a great ethic.
PROS
100% biodegradable and completely eco-friendly flip flops
So stylish they even made it onto Vogue UK's radar
The cork provides a lovely comfortable cushion for your feet
CONS
Cork cannot stand up to the sea, and so they're not so great on the beach
10 - Guardians Of Our Future Fair Trade Recycled Rubber Flip Flops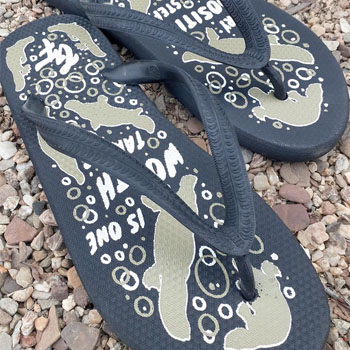 It doesn't get more sustainable than supporting smaller businesses that promise to give back.
These flip flops are certified fair trade and donate $1 from their already very reasonable price to ReachOut Australia, which looks after young people struggling with mental health issues.
They have an incredibly comfortable springy texture that supports your feet, and the materials are responsibly sourced and largely recycled.
PROS
Small business with a great heart
Eco-friendly and budget-friendly too
Donates a percentage of the profit to charity
CONS
Not quite as durable as other footwear choices
For those who might be shopping for a plant-based friend,  check out these best vegan gifts: 
Buyer's Guide To A Truly Vegan Flip Flops

When looking for vegan footwear, we all know to avoid obvious animal products like leather, but unfortunately, finding out whether your shoes use animal glue is a little more complicated.
The only sure way is to ask the seller/company directly or look for a certified vegan label.
Many of these flip flops will be made from synthetic rubber. Still, you should look for natural rubber where possible as it's a more eco-friendly process [1], and even better if it is certified fair trade or approved by the Fair Rubber Association.
Hemp, cork, natural rubber, and recycled materials are the most eco-friendly you can find, and they make for great vegan sandals or flip flops.
PVC is problematic due to the environmental cost in its manufacture [2]. If it's recycled, that cost is at least mitigated but still far from ideal.
What Are The Best Vegan Flip Flops
I am a little biased in my belief that there is no better flip flop than Gumbies. This is primarily due to the fact that since I got my first pair, I've never had to try another because they are nigh on indestructible.
The company has a great ethic in the manufacture of these mythically unkillable shoes. They are made from recycled rubber tires, and they provide impressive grip as well as excellent arch support and comfort.
The canvas strap doesn't rub, and the style and design oozes effortless cool.
The other options on the list might suit you a little better for your tastes, needs, and preferences, but I promise if you try the Gumbies, you won't be buying any new flip flops for an eternity or more.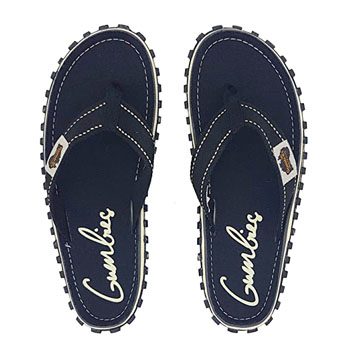 Gumbies Islander Unisex Flip Flops
Our #1 Recommendation
About as rugged and long-lasting as a flip flop possibly can be
Made from almost exclusively recycled materials
Effortlessly stylish design
Unisex and superiorly comfortable on the foot of all genders
Get the BEST PRICE until the end of May
Check Current Price
About the author