Vegan protein powders have been flooding the market these days, but they often come with a price tag that, more often than not, doesn't match the end results.
That's why our team here wanted to review Purely Inspired Organic Protein Powder - a product that promises all the benefits while keeping the price moderate.
So, let's dive into an in-detail review and see what you can actually get from this product.
What is Purely Inspired Organic Protein?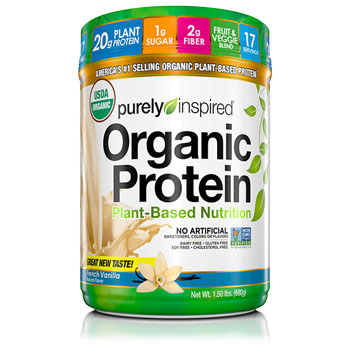 Like most high-quality vegan proteins, Purely Inspired uses a blend of pea protein and organic brown rice protein to provide you with a daily dose of essential amino acids.
As a bonus, all products coming from Purely Inspired are both non-GMO verified, USDA organic certified and made with 100% pure ingredients.
Purely Inspired Organic Protein Powders also contain fruit and veggie blend packed with vitamins and minerals and all the good stuff coming from pea and brown rice protein.
So, if you've been wondering what's the catch, keep reading this review to find out about the good and not so good sides of this organic vegan protein powder.
How Does It Work?
Although plant-based proteins are an obvious choice for vegans, they may also be great for health-conscious folks and those who want to cut down on animal products.
Purely Inspired organic vegan protein powder can work with your weight loss plan as a dietary supplement or post-workout shake that promotes muscle repair.
Also, the content of branched-chain amino acids (BCAA) in organic pea protein helps build lean muscle [1].
Purely Inspired Organic Protein Nutrition Facts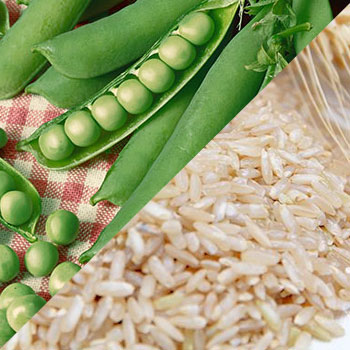 So, let's break it down to molecules and take a closer look at the ingredients.
Each serving contains:
Plant-based protein 20g - Organic pea protein is high in fiber and BCAAs, while brown rice protein is hypoallergen loaded with essential amino acids [2].
Calories 160
Carbs - 11g
Dietary fiber - 2g
Fat - 2g
Purely Inspired protein powder also contains:
Organic fruit and veggie blend - This is where vitamins and minerals come from. It includes organic broccoli, spinach, blueberry, and flaxseed extract.
Calcium 200mg
Potassium 30mg
Sodium - 260g
Iron 6.5mg
"I see plant-based protein powders along with all things plant based trending. There are a variety of reasons for this—health, the environment, sustainability, animal cruelty/compassion, ethics, and religion. Plant-based foods and products are here to stay."

- Ginger Hultin, writer at Today's Dietitian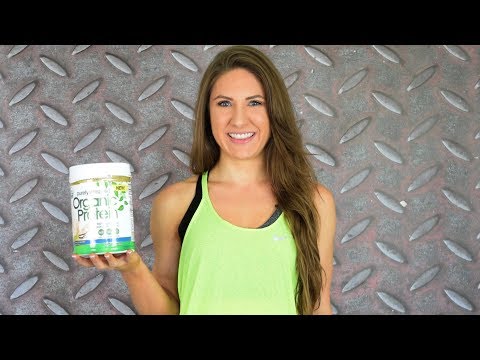 How About the Taste?
Oh, the inevitable debate that usually boils down to highly subjective claims - some say it's a great-tasting protein powder, others are not so pleased.
We agree that vanilla flavor tastes kind of bland, which is expected, considering that it's sourced from pure ingredients. So, if you're a fan of natural flavor protein, you'll probably enjoy it.
On the plus side, there's no grittiness that you would expect to get from every other plant-based protein powder.
Another downside is the limited range of flavors - there are only Decadent Chocolate and French Vanilla available.
PROS
Great value for money
100% plant-based protein sourced from pure ingredients
Soy and gluten-free
An effective dietary supplement that is easy to use
CONS
Too sweet for some users
For some users, 20 grams of protein per serving is too low
Some side effects such as bloating and nausea
How to Consume Purely Inspired Organic Protein?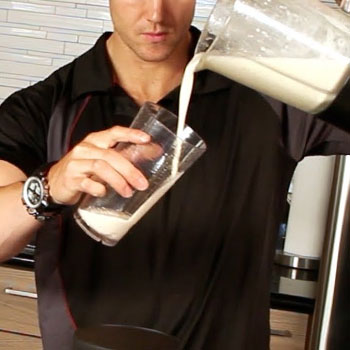 Add two scoops of Purely Inspired Organic Protein Powder to 9 to 10 oz. of water, or mix it with some soy or almond milk to make your protein shake.
For a smooth texture, don't add the powder straight into smoothies - mix it well in a shaker first.
Since it's free from artificial flavors, it won't spoil the taste when added to smoothies and shakes.
You can also add it to your healthy breakfast bowl with oats, some banana, and nut butter.
A single container of Purely Inspired Organic Protein Powder is good for approximately 17 servings.
Side Effects
Purely Inspired Organic Protein Powders have no serious side effects, although some users reported bloating and stomach irritation. This may be due to acacia gum, which is used as a natural thickener.
A couple of Amazon reviews mention that the product label indicates that this protein powder was ''produced in a plant that also processes eggs, soy, and tree nuts'', raising suspicion about the absence of allergens.
Where Can You Buy Purely Inspired Organic Protein?
If you are in the US, Purely Inspired protein powders are available in local stores (e.g., Walmart, Walgreens), as well as on Amazon. Still, you can also order directly from the manufacturer.
If you happen to change your mind about the purchase, Purely Inspired offers a 30-day money-back guarantee if you order directly from their online store.
What Do Others Say About It?

For most people who gave it a 5-star review, it is a well-balanced protein blend that helps them reach their daily nutrition requirements.
One review puts it like this:
''I use it as a substitute on my days off when hard-core proteins are not needed, but I want to ensure I'm hitting my daily goal. I have nothing but positive things to say about this protein as it offered a getaway to more organic consumables in my diet''.
Great reviews don't only come from fitness enthusiasts, but most people see it as their go-to vegan protein shake for added protein in their diet.
On the other hand, most 1-star reviews listed stomach problems or complained about the ''awful'' taste.
The content of cane sugar and stevia in Purely Inspired plant-based protein powder is yet another debatable topic among some reviewers. Still, one man's Decadent Chocolate is another man's bitter pill, so it's best to try it yourself and decide if it's too sugary or too bland.
FAQs
Why is the container half-full?
The product is filled by weight, not by volume, but you still get the exact amount of servings listed on the label.
Can it be used as meal-replacement?
As indicated on the package, this protein powder is not designed as a meal replacement.
Does it contain traces of milk, eggs, or nuts?
Although none of the above ingredients are listed on the package, the product is made in a facility that processes those ingredients.
Should You Buy Purely Inspired Organic Protein?
When it comes to value for money, this is one of those products that, at first glance, can seem too good to be true.
Purely Inspired Organic Protein Powder is a great source of dairy-free protein that does the job both as a workout supplement and in weight-management. It's easy to use on the go, and its well-balanced ingredients will add some extra fuel to your busy lifestyle.
So, yes, Purely Inspired Organic Protein gets thumbs up from us!
However, if you are after protein powders with a higher concentration of protein to boost your muscle growth, we'd recommend you check out Transparent Labs Organic Vegan.
Transparent Labs Organic Vegan
Our #1 Recommendation
24g of protein per serving
All-natural organic ingredients
USDA Organic Certified
Get the BEST PRICE until the end of May
Click For Best Price
About the author