Nitrosurge is a pre-workout supplement designed to boost energy, give you clear focus, and intense pumps.
In our Nitrosurge preworkout review, we will examine how beneficial this supplement truly is by looking at its ingredients more closely. We will also look to see if there are any risks involved with using it, as well as looking at customer reviews too.
Here's everything you need to know.
What Is Nitrosurge?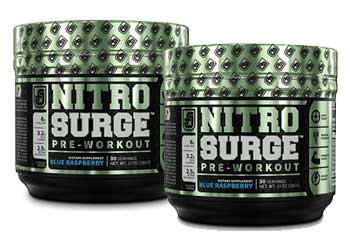 Nitrosurge is a pre-workout energy powder created by Jacked Factory, a company that manufactures and sells a host of pre-workout supplements.
On the official website you will find claims that Jacked Factory Nitrosurge contains nothing but powerful research-supported ingredients in effective doses, which give you laser focus, powerful pumps, and endless energy.
Indeed, these are all important aspects so that you can give your 100% when you workout - but can the ingredients back up?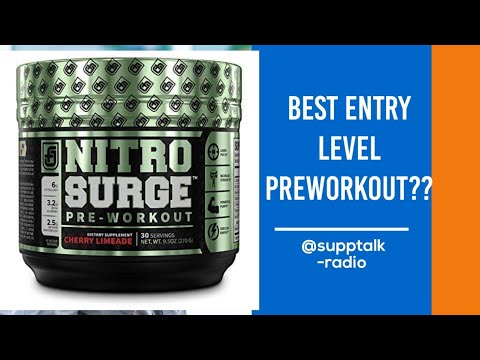 Alternatives that you can check out:
Ingredients List

To truly learn how effective a supplement is you should look closely at the ingredients it contains and their quantities per serving:
L-Citrulline (3 g per serving) - L-Citrulline as an ingredient will help to boost the production of nitric oxide [1], which helps boost blood flow. This can help to increase strength, enhance muscular endurance, boost powerful pumps, and delay fatigue when training.
Beta-Alanine (1.6 g) - Beta-Alanine been shown to boost both strength and power, enhance endurance levels, promote growth and fat loss, as well as helping to aid recovery [2].
Betaine Anhydrous (1.25 g) - Research has found that this ingredient could improve body composition, muscle size, and an increase in power [3].
Caffeine Anhydrous (180 mg) - This is a natural stimulant that can significantly raise exercise performance, focus, and your ability to burn fat [4].
Caffeine L-Theanine (90 mg) - L-Theanine is an amino acid can boost focus and attention [5].
Theobromine (50 mg) - Theobromine is another stimulant that can stimulate your heart causing increased blood flow [6].
AstraGin (25 mg) - This is a combination of astragalus root extract and tienchi ginseng root extract. This combination of ingredients works in a similar way as Bioperine and is designed to increase the bioavailability of the other ingredients.
How Does Nitrosurge Taste?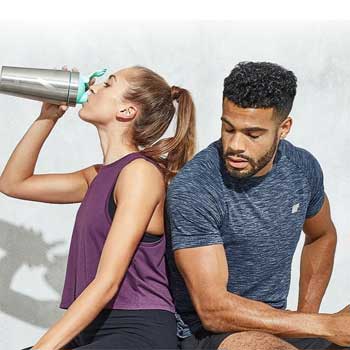 Nitrosurge comes in a variety of flavors including:
Blue raspberry
Fruit punch
Watermelon
Pineapple
Cherry limeade
Cotton candy
Artic white
Sour peach rings
Strawberry margarita
The taste of pre-workouts can be subjective, so it is pleasing to see so few user reviews complaining about the flavoring.
Regardless of the flavor chosen, it is pleasing to hear that the taste of this product matches what they are supposed to taste like.
This means you can drink it without having to worry about it upsetting your stomach and ruining your workout.
The powder itself is fine and mixes easily, which is another bonus, as no one wants to drink something that feels as though you have a mouthful of sand.
PROS
A powerful and effective formula
Great flavor and easily mixed
Money-back guarantee
CONS
Missing a few vital ingredients (creatine for example)
Some users may experience side effects
Ineffective for some users
Potential Side Effects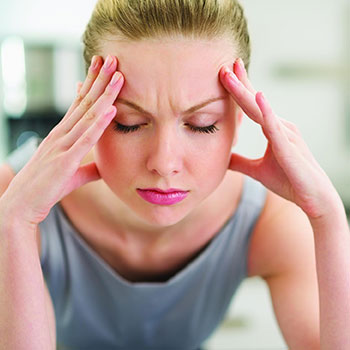 Unfortunately, many people have experienced side effects when using pre-workouts like Nitrosurge.
Even though the label promotes health, certain ingredients found in Nitrosurge have been known to cause issues.
For example, caffeine, which is one of the main ingredients has been shown to cause insomnia, nausea, increased heart rate, drowsiness, headaches, anxiety, as well as jitteriness and restlessness [7].
Research has also found that beta-alanine, which is also found in the formula, could cause paresthesia.
This is a tingling sensation that may occur in your hands and feet. While this is a harmless reaction in your nervous system, it can be uncomfortable for some [8].
When using a pre-workout, you should always use a smaller amount first so that your body can build up a tolerance to its ingredients. This will reduce any side effects.
Alternatively, if you experience any undesirable side effects then you may want to discontinue use altogether. It is always a good idea to speak to your doctor before use too.
Where To Buy Nitrosurge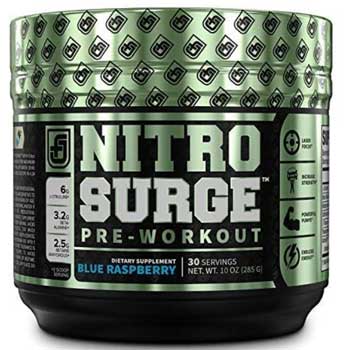 You can buy Nitrosurge either from its official website or from e-commerce websites.
Of the two options, buying from e-commerce sites tends to be the cheaper option with a 10-ounce tub with 30 servings costing you about a Jackson and a fiver.
Both options offer a full 100% money-back guarantee, so if you are not happy with your purchase you simply need to contact the manufacturer (Jacked Factory) for a full refund.
At the present time Jacked Factory only ships within the USA and Canada.
So if you are not in one of these countries you will not be able to purchase this product, or will have to pay high shipping fees and any other fees to receive the product.
User Reviews

When looking at Nitrosurge Pre Workout reviews from actual users you will find that over 70% of reviews are rated 5 stars.
The best thing about this product is that it helps me feel amped up without making me all jittery. Plus, the focus is intense with just one scoop (two scoops if you want maximum results). Even my workout partner asked "What got into to you today?" I told him the new Blue Raspberry Nitrosurge! Definitely has my vote."

- Sean Coen, Buyer
"Tastes great and it does the job well. Each serving gives me a ton of extra energy, and helps me crank more weight. For someone who is 63 years old, I need all the help I can get. Highly recommend it to anyone serious about lifting, getting lean, or just needs that extra boost to get things done."

- Bruce, Buyer
There are very few negative reviews, although those that were seen did mention that they did not experience the benefits they thought they should.
"Worst pre workout I ever tried. Period. The only good thing about it is the taste. Everything else is just a waste of money."

- Foodie, Buyer
"My initial experience with Nitrosurge was great. But after the first couple of days, what was supposed to be a "surge" turned out to be a dud. By the 4th and 5th day, the preworkout did absolutely nothing - and that's with doubling the amount in each serving. Overall, there are better products out there."

- Brianna B, Buyer
FAQs
What Is The Recommended Dosage?
The recommended dosage when you first start using Nitrosurge Pre Workout is one scoop with 8-10 ounces of water.
This should be consumed 25-30 minutes before your workout.
The reason why you should only take a single scoop is so that you can assess what effect this pre-workout will have on you.
The usual dosage is two scoops with 12-20 ounces of water, again 25-30 minutes before working out.
Does Nitrosurge Contain Any Sugar Or Carbohydrates?
Nitrosurge does not contain any sugar or carbohydrates. It is sweetened with sucralose, which is a zero-calorie artificial sweetener.
Should You Buy Nitrosurge Preworkout?
Nitrosurge Pre Workout from Jacked Factory is a good quality pre-workout that will help boost the intensity of your workouts. Ultimately leading to muscle growth or faster fat loss results.
Is it the best pre-workout available? Unfortunately, it isn't. While it has some good ingredients, such as l-citrulline, beta-alanine, l-theanine, and betaine anhydrous, it is still missing some key ingredients, like creatine for example. Some of its ingredients may cause side effects too.
While these are not major issues, it is enough for us to warrant suggesting an alternative.
Our alternative pre-workout powder would be 4Gauge, which has a low stimulant formula that comes with zero side effects and is suitable for both men and women. Of all the supplements that help you get jacked, this is the one we highly recommend!
Which supplements would you recommend when hitting the gym? Let us know in the comments below.
4 Gauge
Our #1 Recommendation
5 calories per serving
Numerous health benefits
Effective bodybuilding supplementation
Natural ingredients
Get the BEST PRICE until end of May
Click For Best Price
About the author