I'd be lying if I say I don't get tired of people asking me where I get my protein.
I get that they're probably curious or maybe genuinely concerned if I'm getting enough protein because I'm vegan.
If only I have the time to give them a lecture on vegan protein, I probably would have done it already, just so they'd stop asking.
And I guess they'd be surprised if they found out that Nestle, of all brands, actually manufactures a vegan-friendly protein powder -- the Garden of Life Raw Organic Protein Powder.
There are lots of good reviews about this product, so I took the time to try and write a Garden of Life Raw Protein review myself.
*Keep reading to find out which protein powder we recommend over Garden of Life.*
What is Garden of Life Protein Powder?
Garden of Life Protein Powder is a plant-based protein powder formulated to help with muscle recovery after workouts.
Similar to other raw organic protein powders, Garden of Life is taken after strenuous activity for maximum effect. It is unique in that it is vegan gluten-free, and is Non-GMO Project verified.
In 2017, the brand teamed up with Nestle to, according to their website, "have a seat at the world's largest tables".
It has indeed reached a larger vegan market, as it's become one of the most popular raw organic protein powders on the market that is packed with vitamins and other minerals.
Products similar to Garden of Life
Is Garden of Life Protein Powder Healthy?
Garden of Life Protein Powder may be a healthy addition to your daily routine with 22 grams of protein, no sugar, and only 100 calories, no matter if you have it in the morning to start your day or after your evening workout.
It has fat-soluble vitamins A, D, E, and K, meaning that they stay in your body much longer [1].
Garden of Life also contains no genetically modified organisms (GMOs), which includes plants that have been altered in a laboratory setting.
If you're cognizant about what you're putting into your body, this raw organic protein powder may be a good choice for you. Aside from this, it also provides protein-digesting enzymes that keep your tummy healthy.
What Flavors of Garden of Life Protein Powder Are There?
Garden of Life Protein Powder comes in four distinct varieties:
Vanilla chai
Chocolate
Vanilla
Unflavored version without stevia
However, all four flavor profiles are made the same way and contain the same organically-made health benefits. No matter which one you buy, you're building muscle.
But of course, it's always better if it's chocolate.
How Does Garden of Life Protein Powder Taste?
Customers who have bought Garden of Life Protein Powder have remarked that it has a smooth taste that's easy on the taste buds. I personally think it tastes good when mixed with almond milk.
Others have mentioned that the flavor is a bit underwhelming especially in the sweetness category. Depending on whether you purchase the flavored or unflavored varieties, the sweetness you experience will vary.
You can adjust the powder's texture by including fruits for an added body, water to thin it out, or using a blender for better consistency. You can mix in any liquid and see the difference for yourself.
While I like it with soy or almond milk, it's a little difficult to perfect the texture. It's a little chalky.
What Is In Garden of Life Protein Powder?
This plant-based protein powder mixture has 20 servings of 31g scoops. Per serving, there are:
2.5g total fat
No cholesterol
180mg sodium
2g total carbohydrates
22g protein
Garden of Life Protein Powder is filled with various organic ingredients that contain essential vitamins and minerals, such as:
Pea Protein
Organic Sprouted Brown Rice Protein
Amaranth Sprout
Buckwheat Sprout
Millet Sprout
Cracked Wall Chlorella
Quinoa Sprout
Chia Seed Sprout
Garbanzo Bean Sprout
Lentil Sprout
Adzuki Bean Sprout
Flax Seed Sprout
Sun‑ower Seed Sprout
Pumpkin Seed Sprout
Sesame Seed Sprout
An organic flavor blend
Raw Probiotic & Enzyme Blend
What Are The Health Benefits?
Adding Garden of Life Raw Organic Protein Powder to your diet may help with muscle recovery after strenuous activity.
Protein powders such as this can limit muscle damage that occurs during exercise while boosting muscle performance over time.
It doesn't just have to be used by athletes or fitness experts [2].
The pea protein and brown rice mix may be useful to supplement your diet, especially if you are taking part in a vegan-based diet or a weight loss plan that limits your daily intake.
Moreover, if you want to speed up your weight loss process, I recommend adding Macro Greens superfood drink.
Are There Any Side Effects?
This raw organic protein powder contains a vegan probiotic and enzyme blend. Probiotics are bacteria that are used to good effect whenever you have digestive issues, especially those brought on by using antibiotics [3].
However, some people may have a sensitivity to the blend and may experience discomfort in their stomach.
Some users have also reported having nausea, but that does not appear to be a consistent issue among most users.
Aside from those two side effects, the Garden of Life Protein Powder ingredients appear to be consumer-friendly for the vast majority of users.
Other Green Powder Juice You Can Try:
How Much Does Garden Of Life Protein Powder Cost?
The price is very affordable when compared to other vegan protein powders out on the market. However, since prices are constantly changing, we cannot provide you the exact price as it can change anytime. You can check current price of the product here.
If you're looking for other vegan protein powder options, see this page where we recommend the products tailored specifically to your needs.
Customer Reviews
Here is just a sample of what people are saying after having Garden of Life Raw Organic Protein Powder:
"Starting each day with a healthy shake helped me to lose weight, sustain focus, get complete nutrition, and save time on breakfast!"
(Phenominal, Vitacost Review)
"Avoiding animal products doesn't have to mean missing out on protein."
(Marsha McCulloch, Registered Dietician)
Here's also a video review that you can watch to learn more about this supplement.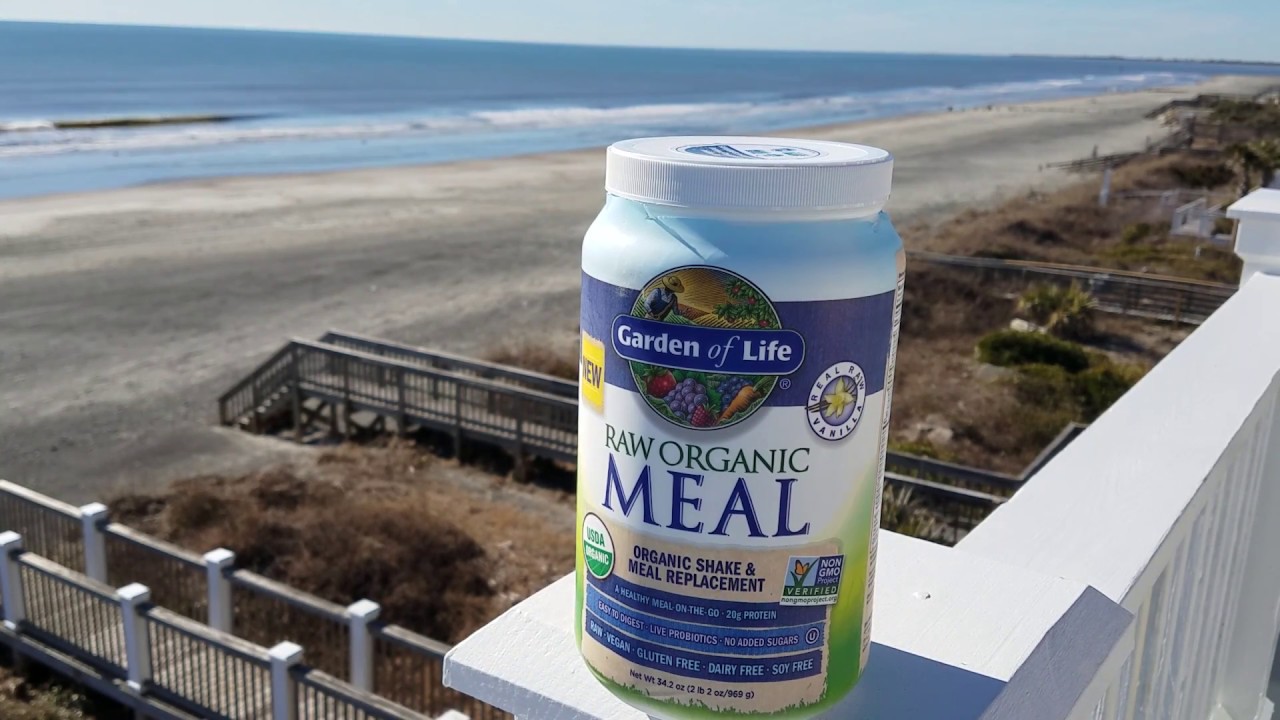 PROS
Comes in four distinct flavors
Helps with muscle recovery and
performance after strenuous activity
Easy to mix formula
Gluten-free, vegan, and contains no
GMOs
Certified USDA organic
CONS
Contains a probiotic and enzyme
strand blend that may upset some users
Taste and texture can be somewhat chalky
FAQs
Is Garden Of Life Good For Weight Loss?
Garden of Life Protein Powder may work for weight loss. With 2.5g of total fat, no sugar, and only 100 calories per serving, this protein powder can be a good supplement whenever you're hungry or need a quick source of protein without sacrificing vital nutrients. Various customers have reported losing weight within weeks of using Garden of Life Protein Powder, though it should not be used exclusively in place of a well-balanced diet.
Can You Use Garden Of Life As A Meal Replacement?
Garden of Life Protein Powder should not be used as a meal replacement. Regardless of your health goals, this protein powder contains only 100 calories. The average daily consumption for calories should range between 300 to 700 calories for each meal, so the protein powder's calorie amount is below what's considered healthy. However, Garden of Life does offer an organic meal replacement that contains a few more calories to work towards the daily minimum.
Is Garden Of Life Protein Powder A Complete Protein?
Garden of Life Protein Powder is a complete protein. A complete protein is a protein that contains all nine of the following amino acids: histidine, isoleucine, leucine, lysine, methionine, phenylalanine, threonine, tryptophan, and valine. Having all of these amino acids together in a complete protein can help build and repair muscles that have been affected by exercise or activity. With Garden of Life Protein Powder having a complete protein, it fills your body's dietary requirement.
Is Garden Of Life Protein Powder Paleo Friendly?
Garden of Life Protein Powder is Paleo friendly. The Paleo Diet requires consuming whole, unprocessed foods while avoiding high sugar, trans fats, vegetable oils, and is dairy-free. With most of the protein derived from pea and sprouted brown rice, this protein powder is not going against any of the major tenets of the Paleo Diet and might be a suitable choice, regardless if you're an athlete or looking to try something new for your weight loss.
Is Garden Of Life Raw Organic Protein Powder Gluten Free?
Garden of Life Protein Powder is a gluten-free mixture. Gluten is a group of proteins that give some products an elastic texture. Most gluten comes from products containing wheat, barley, rye, or various flours like semolina. Other commercial products or processed dairy sources may also contain gluten. Garden of Life Protein Powder contains none of those ingredients or variations that contain gluten and can be considered suitable for those users who may experience celiac disease.
Is Garden Of Life Owned By Nestle?
As of December 2017, Garden of Life has been part of the Nestle family. Its parent company, Atrium Innovations, sold to the Swiss conglomerate for $2.3 billion. Garden of Life joins a plethora of popular brand names, including the baby food Gerber, the chocolate icons Kit Kat and Toll House, and even distinguished pet food products like Fancy Feast and Purina.
Should You Buy Garden Of Life?
After a ton of glowing reviews, detailed benefits, and some personal experience with post-workout drinks, it's safe to say that Garden of Life Protein Powder may work as a recovery drink if you're vegan.
As a vegan though, I find it quite difficult to support the brand that makes it. I understand that it's all business, but personally, I'd rather back up a brand that makes non-GMO, fully plant-based protein.
With that, a vegan protein powder I recommend is Organic Vegan Protein from Transparent Labs.
It contains more protein than Garden of Life and the brand is known for other high-quality vegan supplements. Additionally, it's reported that side effects are far fewer.
You can read our more in-depth article on Transparent Labs Organic Vegan Protein here.
What are your thoughts on Garden of Life?
Transparent Labs
Our #1 Recommendation
24g of protein per serving
All-natural organic ingredients
USDA Organic Certified
Get the BEST PRICE until end of July
Click For Best Price
About the author