All-in-one daily supplement blends are just incredible! I'm a great fan because you get all of the necessary vitamins, minerals, and antioxidants in one superfoods shake. They're a great start to the day. They boost your energy before a workout and nourish your body post-workout.
Keep reading my PlantRise review to see how this greens powder stacks up!
What is PlantRise Supergreens72?
PlantRise is one of the latest additions to the world of superfoods. It contains 72 ingredients, including vitamins, minerals, greens, probiotics, and adaptogenic herbs. Hence the name Supergreens 72.
The company claims this is the most nutrient-dense superfood powder, but users will be the judges.
The company also promises this greens powder will support your immune system, gut health, and neural function, while promoting digestion and improving exercise recovery.
I have to admit — these guys know good branding. The product definitely stands out in the greens powder pantheon. Most of these powders come in a white tub with some vegetables and fruits on the label, but not this one.
The packaging and color of the product are impressive, but let's see if the rest of it is as good.
Ingredients
As I said, the blend is packed with 72 ingredients. They're divided into five categories, and each category is a proprietary blend. As I don't want to bore you to death with each ingredient individually, I'll do a short analysis of each category.
Before I start, I should note that since each blend is proprietary, we don't know how much of each ingredient. I'm not a massive fan of this, but it's common knowledge that the ingredients are always listed in order of predominance, so let's break down the categories.
1. Superfood Blend — 6.5g
Every ingredient in this blend is organic, and BSCG Certified Drug Free.
The blend contains:
spirulina
apple fiber
fructooligosaccharides
artichoke inulin
wheatgrass
alfalfa grass leaf powder
chlorella powder (cracked cell)
barley grass juice powder
hawthorn berry fruit extract
broccoli sprout powder
papaya fruit juice powder
pineapple juice powder
cocoa powder
rosehips berry fruit extract
green tea powder extract (NLT 90% polyphenols)
licorice root powder
slippery elm bark extract
kelp powder
bilberry fruit powder
spinach leaf powder
beet juice root powder
carrot root powder
ginger root powder
grape seed extract.
These superfood ingredients are packed with vitamins and minerals. High doses of vitamins and minerals will help your body fight diseases and keep you healthier. Barley grass is packed with vitamins A and C. Other ingredients can promote weight loss and improve heart health if incorporated into the diet properly [1].
2. Herb and Antioxidant Activity Blend — 5.3g
The herb and antioxidant blend packs on even more super-healthy ingredients.
It contains pea protein, citrus bioflavonoids fruit powder, vitamin K2, Rhodiola Rosea root powder, eleuthero root extract, rosemary leaf powder, coenzyme Q10, ashwagandha root powder, milk thistle powder extract, dandelion root powder, alpha-lipoic acid, policosanol, beta-glucans, goji fruit powder, Gotu kola whole herb extract.
Antioxidants protect our cells from free radicals, which may have a role in cancer, heart disease, and other severe diseases. Rhodiola Rosea is incredibly excellent at increasing mental and physical endurance.
They also neutralize unstable molecules that can harm your cells [2].
3. Digestion and Wellness — 145mg
This blend brings on even more powdered goodies, including astragalus powder, reishi mushroom whole powder extract, bromelain, burdock root powder, shiitake mushroom powder.
Reishi mushroom is incredibly excellent for boosting the immune system and reducing fatigue and stress [3].
4. Probiotics — 38mg
What I love about this supplement blend is that it includes gut health enhancers, such as Lactobacillus Acidophilus (15 billion CFU/serving), Acidophilus Lactobacillus with Bifidobacterium Bifidum (2.5 billion CFU/serving).
These probiotics will keep your gut healthy, your digestive system working well, and help your body fight off bacteria.
5. Other Ingredients
Other ingredients include sunflower lecithin, natural flavors, stevia leaf extract.
The label also includes vitamin K, but it doesn't indicate how much.
This daily supplement blend is free from soy, GMOs, nuts, corn, and other allergens. They also don't contain pesticides, herbicides, preservatives, animal products, artificial sweeteners, artificial flavors, added sugar, or other harmful chemicals or ingredients.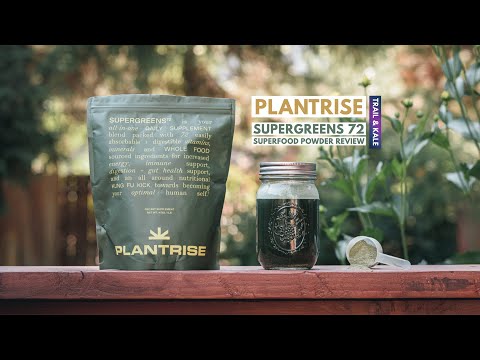 Nutrition Facts
The recommended serving size is one scoop or 15 grams of PlantRise Supergreens72.
The company claims that one serving of their superfood green powder has the antioxidant equivalent of 12 servings of raw vegetables and fruits.
There are 30 servings in a bag, so it should last you about a month.
One serving of PlantRise Supergreens72 contains only 25 calories. It also has 4 grams carbs, 2 grams fiber, 1 gram sugars, and 4 grams protein. All in all — pretty ok.
How and When to Drink It
Generally, you can drink Supergreens72 whenever you want. Still, it's best if you take it on an empty stomach for maximum nutrient absorption. You can take it in the morning before you've had coffee, tea, or breakfast. Or, you can add it to your morning smoothie or mix it in with your oatmeal.
I like mixing these powders with water because it's the most convenient, it's simple and quick. I can drink my PlantRise and get out of the door in less than 10 minutes.
PlantRise Supergreens72 Taste
If you already have some experience with superfood powders, you know that some (or most) of them don't taste the best. That is, given they don't have artificial sweeteners and added flavors.
Supergreens72 powder doesn't taste like a chocolate cake, but it's not bad either. It tastes like natural greens. I like that there's no unnaturally sweet and artificial taste. It has a hint of a peppery taste in the background, but it's generally creamy and ok. The flavor definitely isn't chalky or grassy.
PlantRise Supergreens72 Health Benefits
Now, for the most crucial information — does PlantRise work? But, let's first see the benefits it promises.
Increase energy. The combination of vitamins and minerals should manage blood sugar levels, enhance energy production, increase energy levels, and provide storage.
Boost immunity. The combo also promises to protect and support your immunity and help your nervous system function well.
Increased focus. Another one of the benefits PlantRise72 promises is it'll help boost your focus. Supplements can indeed do this by helping you normalize your sleep patterns and lower mental and physical fatigue.
Promotes digestion and gut health. PlantRise is packed with digestive enzymes like bromelain and wheatgrass. These enzymes should keep your digestive system running smoothly.
Hormone production and neuron growth. The PlantRise formula supports memory, cognition, and the nervous system. The nutrient-rich formula is packed with adaptogenic herbs and green tea extract that boost neuron growth and proliferation, supporting your brain and long-term cognition.
Enhanced skin clarity. The PlantRise formula is packed with antioxidants. Antioxidants fight off free radicals that are damaging the skin and causing untimely aging.
Now, these are all excellent reasons to try the PlantRise formula, but does it actually work? These powdered greens come in a much larger serving size than the typical powders I review. However, there are 72 greens, vitamins, minerals, and antioxidants. It means that there's a minimum dosage of the greens, if so. Many ingredients are probably under-dosed compared to other formulas that have fewer ingredients.
That given, the formula probably works, but I don't believe you can get the maximum nutrition from all the ingredients.
PROS
May enhance the immune system and the health of your gut.
It provides lots of antioxidants that protect your organism.
The blend may improve exercise recovery.
It's convenient to make and drink, and it doesn't taste bad.
CONS
It consists of proprietary blends, and we don't know how much of each ingredient there is.
The formula doesn't put much emphasis on bone health.
It may not be as effective as other formulas with fewer ingredients due to possible under-dosing.
Who Should Buy Supergreens72?
People who need a greens formula that's quick and convenient to make.
People who want to increase their antioxidant intake.
People who want to improve their digestive health.
People who want to improve their overall health.
Who Should Avoid PlantRise Supergreens72?
Anyone who's on a budget, as the formula isn't the most affordable one on the market.
Anyone who values transparency in proprietary blends.
Anyone who needs supplementation focused on bone health.
Anyone who doesn't eat enough greens, as the supplement doesn't have enough magnesium, calcium, vitamin K. Supergreens72 is a good supplement, but it's not a veggie replacement.
User Reviews
Just to compare my review to other people's opinions, I scanned the internet for second thoughts. It seems that people are relatively satisfied with Supergreens72.
"SUPERGREENS72 has the ideal combo of high grade micronutrients, easy absorption and delicious taste. It's the full package."

- Donato Helbling
"This stuff is the truth! Of all the superfoods supplements I've tried, not only does it taste the best, but it has the perfect balance of nutrients and micronutrients to keep me energized all day."

- Jen Silverman
Should You Buy PlantRise SuperGreens72?
Even though it doesn't support bone health, PlantRise is an excellent supplement. It's amazingly quick and easy to make.
It supports the immune system and keeps your gut healthy and running. Not to mention it's jam-packed with antioxidants and helps the post-workout recovery. Taking everything into account, it's a great supplement that offers a lot. You should definitely check it out!
PlantRise SuperGreens72
Our #1 Recommendation
May enhance the immune system and the health of your gut.
It provides lots of antioxidants that protect your organism.
The blend may improve exercise recovery.
It's convenient to make and drink, and it doesn't taste bad.
Get the BEST PRICE until the end of July
Click For Best Price
About the author