My entire childhood, all the way into my 20s, was full of those typical cereals that kids love. You know those Frosted Flakes and Cocoa Krispies, where the packaging is probably healthier than the content.
But my transition to a plant-based diet meant that I had to reinvent my healthy breakfast ideas. This meant looking beyond the boring and bland vegan products like oatmeal.
I wanted to stick with cereals as they are convenient for me when I'm in a rush to get to work in the morning. So I set out and did some research with my dietitian to come up with a list of healthy cereals that are suitable for vegans.
Our Top Vegan Cereals Recommendations
1 - Post Grape-Nuts Cereal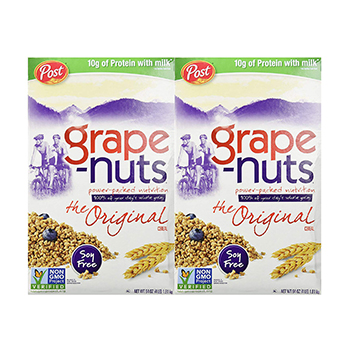 The overall winner on our team here is Post Grape-Nuts, mainly because it's a great option to fill you up whether it's just with some almond milk or a bowl of fresh fruit.
You also get a good serving of protein to kick off your day, which is especially useful for the more active vegans.
Calories: 210 kcal
Protein: 6g
Carbs: 47g
Fats: 1g
Sugar: 5g
PROS
Made with whole grain wheat and barley
Many positive reviews on the flavor
Good source of plant protein to start your day
Soy-free and non-GMO
CONS
A bit high on carbs for some diets
Just keep an eye on your carb count if you're dieting.
2 - Cascadian Farm Organic Granola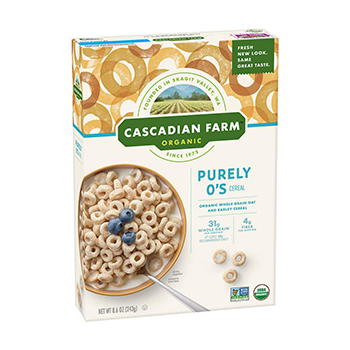 If you generally go for natural and organic foods, then try adding a bowl of this granola to your breakfast routine.
Sean, our graphic designer, says that his kids love it despite it being so low in refined carbs and fats.
Calories: 140 kcal
Protein: 4g
Carbs: 29g
Fats: 1.5g
Sugar: 1g
PROS
Uses organic whole grain oats and barley
Contains 4g of fiber to help digestion
0g cholesterol makes them a heart-healthy option
Many positive reviews on the taste not being too sweet
CONS
Some added vitamins would be great
If they could just make it as a fortified option with more vitamins.
3 - Ezekiel 4:9 Sprouted Whole Grain Cereal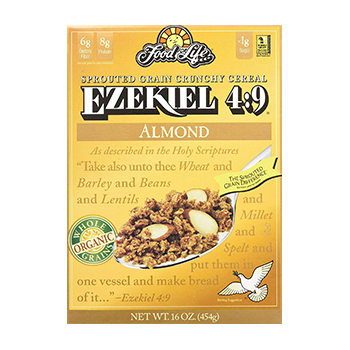 Hey, if the Bible recommends it, then it has to be good, right? With all organic ingredients, you also get a pretty decent amount of protein first thing in the morning, which is great for athletes.
Plus, there's some digestive fiber to help things moving with your digestion.
Calories: 200 kcal
Protein: 8g
Carbs: 38g
Fats: 3g
Sugar: 1g
PROS
Made with organic whole grain wheat and barley
Added almonds for healthy protein
6g of digestive fiber per serving
​Claims to release more nutrients through the use of sprouted grains and seeds
CONS
Not fortified with vitamins or minerals
his one could also just be improved with some added minerals.
4 - Barbara's Bakery Puffins Cereal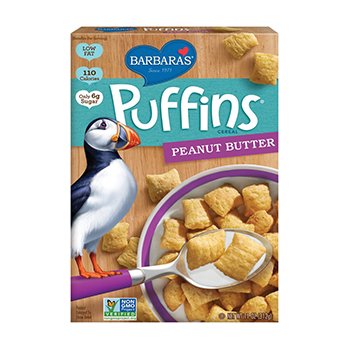 This low-calorie option is excellent if you're eating less food to lose some weight.
Many people comment that it fills you up for several hours, so you might be able to avoid those mid-morning snack cravings.
Calories: 110
Protein: 3g
Carbs: 23g
Fats: 2g
Sugar: 6g
PROS
Made with corn and whole grain oats
Available in tasty flavors including peanut butter, cinnamon, and chocolate
0g cholesterol makes it a health-conscious breakfast and snack
The gluten-free option makes it ideal for people with common food intolerances
CONS
Could be higher in fiber and minerals
The only downside I found was that some more fiber would be great to help your digestive system.
5 - Earnest Eats Hot Cereal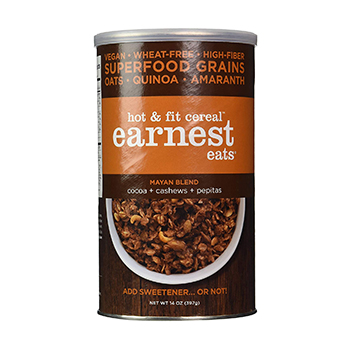 Try eating more superfoods first thing in the morning and see how it can set you up for the day.
I personally like the natural flavor of these grains, and they come with the bonus of having no highly refined carbs.
Calories: 190 kcal
Protein: 7g
Carbs: 25g
Fats: 7g
Sugar: 0g
PROS
One of the few sugar-free products
Made with natural quinoa, oats, and amaranth
Positive reviews on the delicious crunchy texture
Wheat-free and high in fiber to kickstart your day
CONS
Quite expensive despite the quality
The quality is very good, as so many reviewers point out, but this does come at quite a steep price.
6 - Bakery on Main Gluten-Free Granola
If you like eating some seeds and nuts with your breakfast, then this multi-grain option could be a good choice for you.
It has zero cholesterol, which is very positive, but you do need to account for 7g of sugar.
Calories: 140 kcal
Protein: 2g
Carbs: 19g
Fats: 6g
Sugar: 7g
PROS
Multi-grain but gluten-free option
Great source of seeds and nuts
0 cholesterol makes it suitable for anyone with heart issues
Great choice of flavors so you won't get bored
CONS
Slightly on the sweet side
Overall, I found it a little bit sweet, so keep that in mind before you order.
7 - Living Intentions Organic Superfood Cereal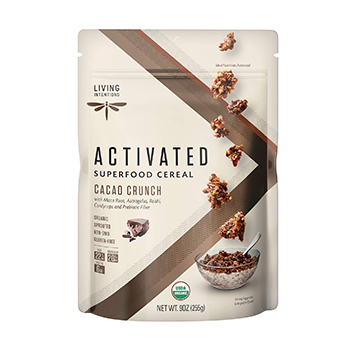 What we liked about this Living Intentions product is that it has some added plant-based digestive enzymes to help with overall gut health.
Plus, it has some dietary fiber to help your digestive processes a bit more.
Calories: 129 kcal
Protein: 3g
Carbs: 18g
Fats: 7g
Sugar: 6g
PROS
Made with sprouted buckwheat and gluten-free oats
Includes digestive enzymes for gut health
Good source of dietary fiber to help your digestion
Great choice of flavors, cocoa crunch seems to be the favorite
CONS
It's a bit on the sweet side
While the flavor options are quite tasty, they are a little bit on the sweet side.
8 - Kashi Organic Cinnamon Harvest Breakfast Cereal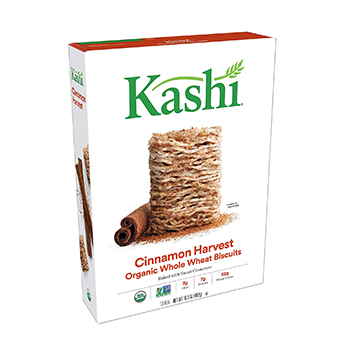 I personally love cinnamon with my cereal, so this was going to be a favored one for me.
But the main reason this was chosen for our list is that it's reasonably priced for an organic product.
Calories: 200 kcal
Protein:7g
Carbs: 43g
Fats: 1g
Sugar: 9g
PROS
Made with organic whole wheat grain
Many positive reports that it's very filling to keep you going all morning
Very low-fat option
A tasty selection of flavors including cinnamon, strawberry, and vanilla
CONS
Quite high in carbs and sugar
The main downside to mention is that it's quite high in carbs and sugar.
9 - Lark Ellen Farm Grain Free Granola Bites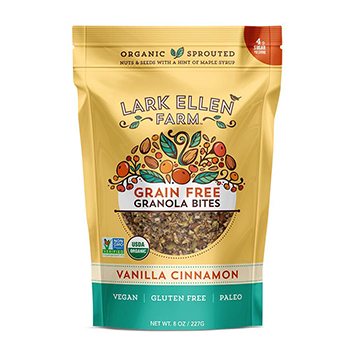 Yes, you read that correctly, this is a grain-free granola based entirely on seeds and nuts.
It was a completely new one for me, but I actually really enjoy the crunch and natural flavors.
Calories: 150 kcal
Protein: 5g
Carbs: 8g
Fats: 12g
Sugar: 4g
PROS
Grain-free option based on seeds and nuts
Very low in carbs makes it ideal for many different diets
Many positive reviews about the delicious natural flavor
Certified GMO, gluten-free and vegan
CONS
It's quite expensive due to the chosen ingredients
Because it's based on more expensive ingredients, you're going to have to spend a bit more.
10 - Bob's Red Mill Gluten-Free 8 Grain Hot Cereal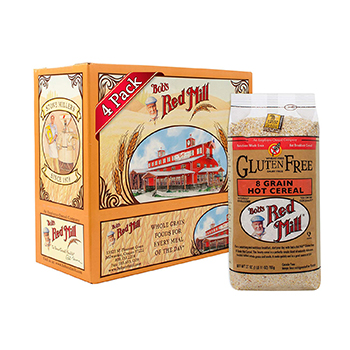 Our final recommendation is Bob's Red Mill, and what we liked about it was that it contains absolutely no sugar.
And because it's made with 9 different grains, you get a good range of different carb sources.
Calories: 150 kcal
Protein: 5g
Carbs: 29g
Fats: 2.5g
Sugar: 0g
PROS
9 different Ingredients including oats, bran, corn, and rice
Casein-free to ensure it's vegan-friendly
One of the few products with no sugar
Great value with bulk-buy packages
CONS
The only thing missing is an organic label
One thing I would like to see, though, is an organic label.
Common Ingredients To Avoid?

The obvious thing is that you want to avoid any trace of animal products. The good news is that most cereals are entirely plant-based. However, that doesn't mean they are all healthy and good for your diet efforts.
Here are some things to avoid.
Artificial Flavors - If you look at a label and you see chemical names listed under the ingredients, then it's generally good advice to stay clear. These are often artificial flavor additives, and there are good reasons to be concerned over what they can do to your overall health. Plus, fake taste is always worse than the real natural one.
Chemical Sweeteners - These have become very popular in all sorts of foods, candies (even in vegan jelly belly beans!) and some studies suggest they might cause considerable disruptions to your gut flora [1] . I personally recommend adding some fresh fruit to your breakfast if you need that little blood glucose rush.
Dried Fruit - You'll notice that none of the above products have any dried fruit in them. These are highly processed that are full of sugar. All the benefits of the vitamins are mostly gone, so you're only feeding blood glucose spikes [2]. It's a much better option to add some fresh fruit, and I have some specific suggestions below.
You should be also wary of cereals containing vitamin D (like Kellogg's Raisin Bran or Reese's Puffs) since it's derived from lanolin, which is oil from sheep wool.
Excess fructose gets quickly converted by the liver into VLDL, a form of cholesterol that's high in triglycerides, which leads to fat storage. It's also the type of sugar that creates insulin resistance, heart disease, obesity, and more.

- Molly Gallaher,writer at WellAndGood.com
Benefits Of Fortified Vegan Options
Some vegans take advantage of fortified foods to get a boost of iron and B12 (this article). This is definitely a good way to keep these nutrient levels up, but at the same time, there are some excellent supplements available that give you a lot more control over the exact amounts.
That's why we have not listed fortified products on the above list.
People have completely different needs when it comes to these nutrients, which means you would have to always rely on an exact amount of cereal to make sure you don't become deficient. 
And that's just a bit inconvenient if you like changing things around a bit.
How To Make Your Vegan Breakfast More Wholesome

Over the last few years, I've managed to collect a few tips that work well for my morning routine. I like changing things around regularly, and these tips can help you get that energy boost.
Create A More Filling Smoothie - On several mornings when I go for an early run, I prefer a smoothie to my regular cereal. But you can really make a smoothie feel like that bit more of a wholesome and filling experience by adding some granola into the blender as well.
Add Berries - Before you just go for a boring bowl of oats with milk, try adding some berries, especially blueberries, into the mix. You can get a considerable vitamin boost as well as antioxidants that can remove free radicals [3].
Try A Spoon Of Peanut Butter - If your favored breakfast doesn't already come with nuts, then try mixing in some peanut butter. Nuts are an excellent way to fill you up, and they are slowly digested, so you feel full for longer.
FAQs

No, not all cereals are vegan, as they can often contain dairy-based ingredients. Most of the time, they will be suitable, but it's always best to take a close look for anything that could be sourced from milk.
Do Vegan Cereals Have b12?
Yes, some vegan cereals have B12, but these are quite rare. Generally, it's best to get a separate supplement so that you have more control over the supply of B12 that you're getting.
What Is the Best Non-Dairy Milk to Pair With Vegan Cereals?
The best non-dairy milk to pair with vegan cereals is either soy, coconut, or almond milk. In recent years, almond milk has become more popular, and you can get some delicious tasting and unsweetened options.
Which Cereal Should You Start Your Day With?
As you will have noticed, the above list doesn't have the usual cereal brands you see advertised on TV. And there are very good reasons for that. We mainly found that they simply didn't live up to the promise of providing both vegan and healthy nutrition.
The favorite product on our team here is Post Grape-Nuts, as we're all very active people and like getting some extra natural protein. Between the taste and nutritional value it provides, it really sets us up for the day, and you'll do yourself a big favor to try them out.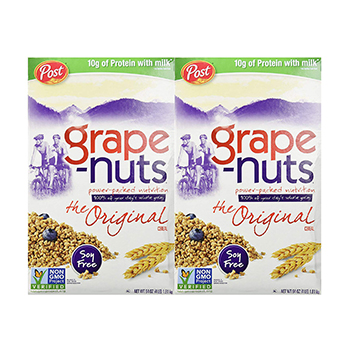 Post Grape-Nuts Cereal
Best Vegan Cereals
Made with whole grain wheat and barley
Many positive reviews on the flavor
Good source of plant protein to start your day
Soy-free and non-GMO
Get the BEST PRICE until the end of January
Check Current Price
About the author