I've had clients ask me about meal delivery orders to help them make meals at home. I did some research into some of the best options out there, and the name Sun Basket popped up. I was intrigued by their carb-conscious and oven-ready meals.
So I tried their meal kit delivery service, and I have to say, I was impressed by the variety of choices and the fresh and creative recipes. It felt like I had hired a live-in chef.
​In this review, let me share with you ​what I learned about ​this meal delivery service.
What Makes Sun Basket Different From Its Competitors?
Sun Basket's meal delivery service has a strict commitment to giving you ingredients that are organic, dairy-free, and ethically-sourced.
They offer a wide variety of meal kit choices, and one of them is a vegan option. The classic menu is personalized for your own taste or you can opt to have them choose oven-ready meals for you.
The classic menu plans also change weekly to ensure that you get a variety of meals based on seasonal produce.
​One great bonus is that they offer gluten-free and soy-free snack choices. Most meal deliveries focus only on oven-ready meals (which is great), but healthy snacks are also essential, especially if you are regularly on the go.
Their dairy-free recipes are developed by the Founder and Executive Chef, Justine Kelly.
I believe food should be real, healthy, and always delicious. We work with the best farmers, ranchers, and fishermen, who care deeply about the environment.

- Justine Kelly, James Beard award-winning chef
Other food order services we recommend:
Are Sun Basket Meals Actually Healthy?
Sun Basket meal delivery service certainly does offer healthy and well-balanced meal kit options. Let's start with their ingredients. They use seasonal ingredients available from some of the best farmers in the country.
Sun Basket's ​contents are fresher than those at the grocery store because of their careful screening. You only get the highest quality of produce possible.
Their produce is organic, and they are proud of it. However, they admit that they can't always find organic ingredients due to weather, seasonality, or it's not something that can be labeled as organic (like sea salt).
If it's not organic, they make a point of labeling it clearly on their meal kits. Almost all of the time though, ​their foods are all organic.
When it comes to their meals, they take providing a balanced meal seriously. All recipes available are approved by their in-house dietitian and are typically between 500-800 calories per serving.
Sun Basket ensures that their meals meet the latest USDA dietary guidelines and nutritional recommendations. ​This is one way to ensure that their food is nutrient-dense and also contains whole grains, good fats, and high-quality protein. They even bother to minimize added sugar and processed ​content.
How Does ​It Work?
Sun Basket makes it easy to order your meals. You can either choose your own recipes every week or you can choose a meal plan where they pick the meals for you.
You get a​ per week delivery​ of pre-measured ingredients accompanied by easy and delicious recipes for you to make.
The shipping uses packaging that supports freshness from the shipping point to your home.
It's a great option for ​people who don't have the time to meal plan and go grocery shopping but still want healthy meals. Every week, you get a box of ready-to-cook​ ingredients for your easy-to-follow meal plan.
What's Inside The Sun Basket Box?
​Your ​meal kit is delivered every week with 3 new recipes and ingredients to make those recipes. The farm-to-table food commitment is evident once you receive the box and see how great the quality of the ingredients are.
Let's talk about the food itself. The three meals per week are custom and designed to fit your busy and healthy lifestyle. It's almost like having a home chef. The product is packaged with a gel and insulation to keep it fresh.
The eco-friendly packaging is another great bonus, but we discuss this in more detail later. According to a study, packaging is ​one of the most essential elements of response to address key challenges of sustainable food consumption on the international scene, which is clearly about minimizing the environmental footprint of packed food while keeping it fresh (1).
Check this short review and unboxing video to see the products inside the Sun Basket Box.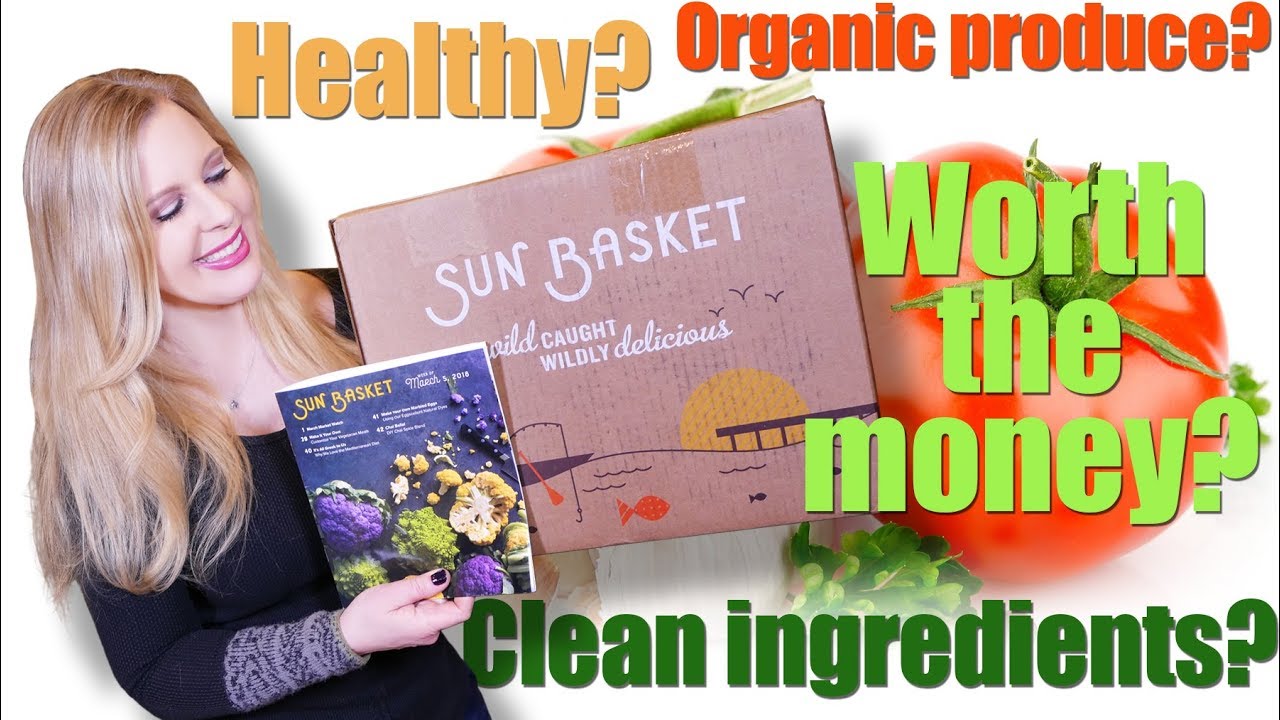 What Vegan Meals Do​ They Offer?
You can expect fresh and high-quality meal kits with the Sun Basket service. They have gluten-free meals for every time of the day as well as snacks to choose from every week.
Here's a quick look at what you could possibly make in one day from the vegan menu:
Toasted coconut and cassia cinnamon oatmeal cup
Organic protein crunch salad
Organic baby rainbow carrots
Smoky tempeh salad with charred bok choy and plum
I'm already drooling thinking about how good these meals taste.
Sun Basket has lots of new choices to choose from every week, so you don't have to be concerned that you are getting the same meals in every order.
Get $35 off plus 4 FREE gifts until the end of August
What Are Sun Basket's Different Meal Plans?
Sun Basket offers weekly meal plans that also mention calorie intake per serving - useful stuff to know, especially when planning to lose a little weight. They have vegan meal plan options for bulking and cutting, but if you are more flexible with what you eat then they have a few other options that meet other vegetarian lifestyles.
Let's take a quick look:
Lean & Clean: This option focuses on reducing calorie intake. It has around 550 calories per serving. It helps manage your weight, but it still has delicious meals that are high in protein and fiber. An added bonus is that there is no gluten, dairy, or added sugars.
Vegan: This is obviously the best-seller for me. It contains organic produce & plant-based nutrition per serving. They get creative with their meatless recipes. They also include seasonal organic produce, plant-based proteins, and delicious sauces.
Vegetarian: If you still include dairy and other animal-based products, then you can still get balanced dinners full of organic nutrients. They have colorful recipes that ensure that their produce is the star of the show.
Pescatarian: I was impressed looking at this option because even though it contains seafood, they still make plants the priority in their meals. One pescatarian review I read talked about how ​the seafood is wild-caught and sustainably sourced, which makes it another great bonus.
Quick & Easy: For those who really hate cooking, then this easy-to-follow option is meant to help you make food in the least time possible. Don't worry though. They don't compromise on taste or quality.
Regardless of which meal kit option you choose, you can still choose different meals every week. If you aren't part of the vegan or vegetarian lifestyle, then you can also choose from Chef's Choice, Paleo, Gluten Free, Diabetes-Friendly, and Mediterranian that do include meat and other animal products.
Unfortunately, their family menu doesn't include vegan meals, but you can get vegetarian meals if you are meat-free.
Is Sun Basket Environmentally-friendly?
Sun Basket's packaging is as environmentally responsible as possible.
They use materials that are either recyclable or compostable.
Even the insulation doesn't hurt the environment.
You may have to check your local recycling center if they process some materials.
Let's take a look at what is shipping to you and some tips on how you can recycle it for free.
Box: Made from kraft paper and can be put in the curbside recycling bin.
Insulation: Made from recycled paper and recyclable kraft paper and can be put in the curbside recycling bin.
High Heat Zone Insulation: Made from reclaimed denim and polyethylene. The reclaimed denim can be recycled but is also biodegradable. The polyethylene is recyclable with participating retailers.
Ice Packs: The gel can be put in your trash or compost bin. (Hint: Don't put it down the drain if you care about your plumbing.) The liner can be recycled with participating retailers.
Plastic Bags:  It's also made from recyclable polyethylene.
Containers & Jars: These are made from recyclable plastic, polystyrene, or polypropylene. They are all recyclable, but you want to make sure your local recycling center can process them.
Do ​The Meals Taste Good?
I was surprised by how good the meals were. Since ​they don't specifically focus on vegan-only meals, I was worried it would compromise the quality. However, their organic ingredients were top-notch. I was also satisfied with their creative recipes. It certainly wasn't the same meals over and over again.
How Long Does It Take To Cook A Sun Basket Meal?
Most of the meals take around 30 minutes to prepare. The meals come with simple instructions on how to make the recipes, there's still some effort involved with using Sun Basket delivery service.
However, it does save you time on meal planning and grocery shopping. You also don't have to worry about buying too little or too much of the ingredients you need since they come pre-measured. ​The service creates less food waste for you to worry about.
Do I Need Anything Else Before Cooking A Sun Basket Meal?
Sun Basket does make some tips on what you should already have in your pantry when you order meals from them.
It's mostly just the basics that anyone would have on hand.
Olive, grapeseed, or sunflower oil (whichever you prefer)
Salt
Black pepper
Occasionally wine or butter
They also recommend having basic pots and pans, knives, peelers, grater, zester, cooking spoon, spatula, ladle, and measuring cups.
Does Sun Basket Have A Bad Side?
It's worth noting that their food is packaged in a facility that handles gluten, milk, eggs, fish, crustacean shellfish, tree nuts, peanuts, wheat, and soybeans.
So if you have any of those common allergies, then Sun Basket actually recommend not ordering from them. They can't guarantee that their food will be free from potential food allergies. For example, fatal reactions to egg are rare as cited by some studies, but have been reported, but you should still be careful (2).
How Much Does Sun Basket Cost?
If you're wondering "How much is Sun Basket?" the answer is that Sun Basket prices vary from plan to plan.
Sun Basket meal kit delivery is an extra cost compared to meal planning and grocery shopping on your own, but the overall value and time you save are priceless. Don't let the cost of Sun Basket deter you from trying it out.
What Do Other People Say About Sun Basket?
As quite obvious in this Sun Basket review, I personally enjoyed this meal kits delivery. I checked other Sun Basket reviews online, and it wins points with many other people, too. Some highlights include their commitment to clean and sustainable food. You don't have to worry about getting poor quality ingredients that are bad for your body with these meals.
Sun Basket is a top-notch meal delivery service. From their website to recipes, to the quality of ingredients, to the care they take in packaging it's clear they believe and stand by their goal to make healthy food easy.

- Tammy, Organize Yourself Skinny
​For more subscription boxes, check out our list here.
Is Sun Basket Worth Subscribing?
If you don't like visiting grocery stores (coronavirus quarantine and all), Sun Basket is a good solution for people who are looking for a healthy meal delivery service that caters to vegans. They use fresh ingredients that are natural and ethically sourced.
But because Sun Basket's meals are prepped in a non-vegan facility, I find it difficult to recommend to fellow vegans. As someone who advocates veganism by heart, this is something I personally cannot support.
Among all the vegan meal delivery services I have personally tried, I prefer Trifecta over the other brands.
Trifecta's recipes are delicious, exciting, oven-ready, and easy to prepare - ideal if you're not a fan of spending time in the kitchen, or you simply don't have the time. The company is committed to providing the best quality and sustainably sourced produce from suppliers they trust.
You should try Trifecta out for yourself and become part of their healthy and happy community. I'm sure you'll love the meal choices. Or if you've tried it, share your review and experience in the comments.
>> Click here to pick out a weekly meal kit option customized for you.
​TRIFECTA
Our #1 Meal ​Delivery Service
​Offers large meal plan varieties - Keto, Paleo, Vegetarian, Vegan, and Classic
​Organic ingredients
​Utilizes low carbon footprint
​Delivers fully-cooked meals at your doorstep
Get the BEST PRICE until end of August
Click For Best Price
About the author