As far as lifestyle choices go, becoming vegan isn't hard. It's good for you. It's good for the planet. It's a no-brainer for a health and environmentally-conscious soul.
STAYING a vegan, on the other hand, poses some challenges, and I'll be honest with you, most of them are cheese-related.
Fortunately, it's not hard to find a meal delivery service that caters to vegan lifestyles. And neither is finding a review of these services. In this article, I'm going to give you my opinion on Splendid Spoon - a meal delivery service that makes healthy, ethical eating as easy as a couple of clicks on your web browser.
Let's dive in.
What is Splendid Spoon?
Like many meal delivery services, Splendid Spoon offers its subscribers a convenient alternative to traditional food preparation. No shopping. No planning. No cooking. And they do so with a particular lifestyle in mind.
Splendid Spoon aims squarely for the plant-based, earth-first crowd. My kinda people. Everything about their marketing material screams health, ethics, and sustainability.
Their target market includes people who want to create new, healthier eating habits.
Unlike many of their competitors, Splendid Spoon doesn't offer different eating plans. All of their meals are 100% vegan, gluten-free, organic, and contain no added sugars.
Splendid Spoon's packaging is fully recyclable, and they claim to be more "environmentally efficient" than traditional grocery shopping.
If you're looking for other meal order services, here are our  top recommendations:
Subscription Options
Signing up is relatively simple and kicks off with your email address and zip code. Registration is easy and pain-free.
Ordering your week's meals from Splendid Spoon is a little bit simpler than with other meal delivery services I've reviewed. There are only four subscription options:
Breakfast: 5 smoothies.
Breakfast and lunch: 5 smoothies and 5 bowls of ready-to-eat meals (Grain bowls).
Breakfast, lunch & 1-day "soup reset": 5 smoothies, 5 bowls, and 5 light soups.
Breakfast, lunch, dinner & 1-day "soup reset": As above, with the addition of five noodle bowls for dinner.
There are no options for multiple people. You subscribe for yourself only. There are also only two options for how many days per week you want covered in your delivery: five or six.
Once you've selected your plan and delivery frequency, it's time to choose your meals. Splendid Spoon offers you full control here. Select your smoothies, grain bowls, noodles, or soup for the upcoming week from a wide variety of genuinely delicious, healthy options.
The ingredients and nutritional value of all Splendid Spoon meals are easily accessed during the selection process.
You have the option to skip a future week's delivery, provided you do so six days before delivery is scheduled.
5 Benefits And Highlights Of Splendid Spoon
1. Full-Day, (Almost) Full Week Meal Coverage
The "breakfast, lunch, dinner & 1-day soup reset" option offers something very few meal delivery services do: almost every meal you need for an entire week, pre-cooked, ready to eat.
If you opt for the particular plan, there'll be one day per week where you'll have to fend for yourself. This worked out really well since there's very seldom a week where I don't eat at a restaurant or friend's house.
If you have a grain bowl at the end of the week, use it as a snack for the following week. I did that with my red lentil dal and brown rice taco bowls. Neither's taste suffered from spending an extra day in the fridge. The same goes for the mint chip with almond butter smoothie, which I also carried into the following week's menu.
2. Wide Variety of Delicious Plant-Based Meals
While the smoothie options lacked a little in the taste department, the grain bowls, noodles, and soups were genuinely excellent. The variety of flavors was exceptional, with a lot of thought clearly having gone into the recipes. I feel like I have to mention the brown rice taco bowl again. Whoever came up with that recipe as a "grab and go" meal deserves some recognition.
3. Soup Reset Day Offers Extra Value and Flexibility
A quick word on the "full day reset" soup bowls: These can be used in two ways. Splendid Spoon recommends that these five soups all be eaten on a sixth "reset" day. A whole day of eating only light soups has many nutritional benefits that Splendid Spoon discusses in this blog post [1].
Essentially, choosing one of the "reset day" plans covers you for an extra, sixth day per week. The alternative is to stick to a five-day plan and use the soups as healthy snacks throughout the day if you find yourself a little peckish.
4. Free Shipping to 48 States
Splendid Spoon's meal delivery service is available anywhere outside of Hawaii and Alaska. Obviously, this isn't ideal for people living outside of the continental US, but it does mean that they can offer shipping for free.
Many of Splendid Spoon's competitors charge a fee for shipping, which may not be particularly high, but adds up over weeks, months, and years.
5. Portion Sizes are Well Measured
While it may be a little optimistic to expect two servings out of a single Splendid Spoon meal, I can comfortably say that each one was perfectly portioned for a hungry, active person.
I also tend to overeat if a large enough portion has been put in front of me and I often regret not holding back on a meal that's too big. I didn't once have this feeling with Splendid Spoon's food.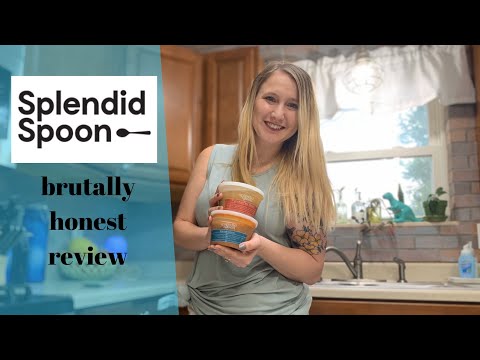 4 Splendid Spoon Shortfalls
1. The Smoothie Recipes Can Be Improved
As I mentioned earlier in this review, Splendid Spoon meals are genuinely tasty and creative. Their smoothies, on the other hand, can do with a bit of improvement. Aside from the mint chip with almond butter offering, which I really loved, I found that the other four were a little unnecessarily "complex."
A lot of time and effort has obviously gone into making each Splendid Spoon Smoothie unique. They're clearly crafted with love, but the ones I had could do with some simplification in both flavor and texture.
2. Only Vegan Meal Options
This will be a dealbreaker for many potential customers. It's one thing to be comfortable with a plant-based meal, but an entirely different thing to eat that way exclusively for a long period of time.
For me, personally, signing up for a meal delivery service is a commitment. I don't want to be switching between different companies every couple of weeks because I want a bit of fish or cheese in my diet.
Splendid Spoon is comfortable with limiting their customer base in this way, but it's a big problem for me. There are similarly-priced food delivery services that offer the same level of convenience and cater to more varied diets.
3. The High Price Per Smoothie
The price per item in your Splendid Spoon delivery is determined by the meal plan you select. Regardless of which one you choose, however, the cost of Splendid Food's pre-made, bottled smoothie is on the high side. In fact, it's expensive even for a fresh smoothie bought from a cafe or restaurant.
On top of that, smoothies aren't what Splendid Spoon does best, making this problem a bit of a double-whammy. Knowing what I was spending on each drink, I couldn't help but wonder whether I saw equivalent value with every sip.
4. Reported Issues with Cancellations and Support
I can't say that I had this experience since I only used Splendid Spoon for two weeks. However, when looking at another Splendid Spoon review, I noticed that the cancellation process was a little flawed and did some more research.
Almost every page containing a customer review had at least one reference to an awkward, somewhat inconsistent, cancellation process that's backed up by poor customer service.
I'm not going to make too big a deal out of this because I didn't experience it myself, but if you're interested in Splendid Spoon's meal delivery service, I'd bear this in mind and do some additional research.
I should also mention that many of these review pages also contained customer feedback that contradicted the complaints.
Customer Reviews
This article wouldn't be complete if I didn't cast my eye over some other customers' Splendid Spoon reviews. Here's a quick selection that I feel is a fair reflection of my experience.
"They use microwave safe containers. Just 2-4 minutes, a healthy meal is ready! Most important no dish washing needed - yeah!!"

- JaniceHaggle
"Splendid Spoon is AMAZING! I signed up because my work schedule is too busy to allow time to cook healthy meals. SS solved that for me. The smoothies and bowls are delicious and convenient."

- SillWmith
"Soups were delicious. Smoothies were OK. My biggest complaint is the price and lack of options. I loved the soups and would love to buy them a la carte however this is not an option."

- Benny987
"I am not very happy because the window to cancel your order is absurd!!! By the time you receive your weeks order you basically already have to know if you want next weeks order or not."

- filmorecruz6
FAQs
Are Splendid Spoon's Meals Gluten-Free?
Splendid Spoon produces only 100% gluten-free meals. Also, each meal is fully organic and GMO-free.
How Many Meal Plans Do Splendid Spoon Offer?
Splendid Spoon currently offers only a vegan meal plan. All meals are 100% plant-based and contain no animal products.
How Many Many Smoothies Ship with Each Splendid Spoon Order
Splendid Spoon includes five smoothies in each week's delivery. The customer gets to select which flavors they want their five smoothies to consist of during the ordering process.
What is Splendid Spoon's Breakfast Lunch Reset?
A Splendid Food "reset" is a day where all meals consist entirely of soups. The main purpose of a soup reset is to improve your digestive system by injecting an additional batch of fiber in your diet.
Would We Recommend Splendid Spoon?
Surprisingly, despite all the things there is to love about Splendid Spoon, this is a "no" from me. Call me entitled, but I just expect more variety from my meal delivery service.
Sure, the convenience of having delicious, healthy meals ready to eat is often worth the extra expense, but some people need more variation in their diets. Fortunately, there's a meal delivery service that ticks all of Splendid Spoon's boxes, while also catering to a wider variety of eating plans.
Trifecta Nutrition has all of the convenience of a pre-cooked "heat and eat" meal delivery service, while at the same time covering a much wider spectrum of dietary requirements. 
No matter if you're keto, paleo, vegetarian, vegan, or simply someone who wants to eat more healthy, balanced meals without adhering to a specific diet, Trifecta's got your back. They even offer an "a la carte" option allowing you to compile your own weekly menu from any of their meal plans.
On top of this, their food is also 100% organic, and they ship to all 50 states free of charge.
If you're after healthy convenience without being restricted to one particular way of eating, you're not going to find a better solution than Trifecta.
Trifecta Nutrition Meal Delivery
Our #1 Recommendation
Offers large meal plan varieties - Keto, Paleo, Vegetarian, Vegan, and Classic
​Organic ingredients
​Utilizes low carbon footprint
​Delivers fully-cooked meals at your doorstep
Get the BEST PRICE until the end of June
Click For Best Price
About the author