Who has time for cooking every day?
I'm not being rhetorical here. I'm genuinely asking you guys this question.
Between my job, working out, socializing, sleeping, and other domestic duties, I have literally no time to prepare every meal of food for 7 days. Fortunately, with a great selection of meal delivery services available nowadays, I don't have to.
In this article, we review Trifecta Nutrition - a meal delivery service that caters specifically for the health-conscious eater.
Let's review Trifecta in greater detail.
What is Trifecta Nutrition?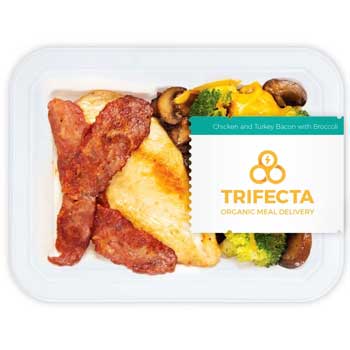 Simply put, Trifecta Nutrition prepares and delivers high-quality, diet-specific meals directly to your front door.
All you have to do is sign up for a specific meal plan, or "go a-la-carte" as they say on their site. They take care of the rest, except the part where you open the packaging. Or put the food on your plate. Or chew and swallow. You still have to do these things yourself.
Trifecta Nutrition is so much more than a meal delivery suited for bodybuilding or a personal trainer.
While it's true that a large portion of Trifecta's customer-base is actively working to develop their physiques, it would be unfair to categorize them as purely aiming for this market.
They position themselves as a delivery service specializing in meal plans that cater to physically active eaters who follow specific diets. Their target audience is people who take nutrition, eating clean, and fitness seriously.
However, this doesn't mean that folks who are simply looking for a healthy, convenient alternative to cooking at home won't find value in this excellent meal delivery service.
Benefits And Highlights Of Trifecta Nutrition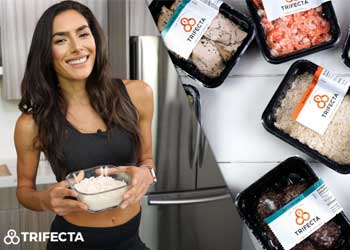 There's a lot to like about Trifecta Nutrition, and all of them relate directly to their core product. I didn't have to scratch my head when searching for something to compliment them about.
Trifecta offers pretty much everything you'd expect from a high-end nutrition-focused meal delivery service because of these facts:
1. No Preparation. Ever. Trifecta meal services delivers their pre-prepared meals directly to you. No chopping, boiling, grilling, rubbing, frying, smearing, or crying. Open the package and eat. That's it. Maybe do the washing up directly after. That's not too much to ask.
2. You choose the number of meals per order. Trifecta understands that some people have flexible eating needs. Not everyone eats three meals a day. That's why they offer customers the option to place a weekly order consisting of either one, two, or three meals per day.
3. Delicious taste. The meals are delicious, and Trifecta doesn't mess around when it comes to ingredient quality like their sweet potatoes. These people know who their target audience is, and they're super aware that slipping up in this area would cost their reputation dearly.
4. Meals are delivered weekly. So you won't have to worry about a month's worth of food spoiling in your fridge.
5. Trifecta Nutrition uses only organic ingredients. That's right; there are no GMOs in their meals. They're also gluten-free.
6. Meals are vacuum sealed and stored in an insulated container. Meals stay fresh for three days, so no need to panic if you can't transfer your order into the fridge immediately. Refrigerated vacuum sealed food remains fresh for 1 to 2 weeks.
7. Switch between meal plans whenever you want. All you have to do is log the change on their site a week before delivery.
8. Full bodybuilding meal prep delivery service.
9. Caters for all types of customers who want the convenience of a meal delivery service.
10. Wide choice of meal plans offering a variety of diets and eating plans.
11. "Build-your-own" a la carte option for customers who want to customize their meals.
12. Each delivery contains gluten free, fully organic meals.
13. Meals delivered straight to your front door - no matter where you live in the US.
What Meal Plans do Trifecta Offer?

Their meal plan choices are more than adequate. Trifecta Nutrition meals cover a very wide variety of eating plans.
Keto Meal Plan: Their low carb, high fat meal plan.
Vegan Meal Plan: All organic ingredients are guaranteed to be plant-based or grass fed for an organic meal.
Clean Meal: Healthy meals for those not on a particular diet.
Paleo Meal Plan: Sugar- and grain-free paleo meals. Just like our prehistoric ancestors used to make.
Classic: Meals for macro-counters. There's 40 oz of lean proteins, carbs, and veg per meal.
Vegetarian Meal Plan: As you'd expect. Delicious vegetarian meals with every delivery perfect for every vegetarian and vegan.
A La Carte: Customize your Trifecta nutrition meal plan. No need to stick to the ones above.
How are Meals Packaged?
Trifecta's meals are attractively packaged in recyclable materials. I was slightly disappointed that they use plastic and styrofoam, but their website claims that they'll be moving away from the latter at some point in the future.
Shipping and Delivery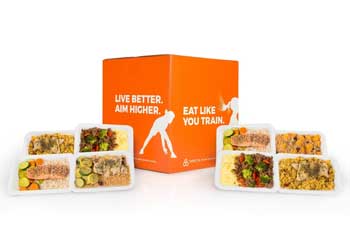 One of the main reasons for choosing a meal delivery service is the "delivery" part. Just because I'm fit and strong doesn't mean I'm willing to sprint between Whole Foods and my kitchen seven times per week with shopping bags in hand.
This is an area where Trifecta Nutrition shines with their diet trifecta. They deliver everywhere in all 50 states in the US for free. You read that correctly, friends. Their prices include free shipping to wherever you live, even Hawaii and Alaska.
Pricing
Pricewise, Trifecta meal service is at the higher-end of the spectrum. However, they're no more expensive than any of their competitors in this niche. What separates them from their competitors, though, is their "free shipping" benefit for the many meals they offer.
Receiving your meal delivery at your front door - at no extra charge - is the epitome of convenience. Subtract what you'd pay for delivery at one of Trifecta's competitors, and you're dealing with a service that's more affordable than initially meets the eye.
3 Trifecta Shortfalls
It wouldn't be an unbiased review without discussing their shortfalls. I won't lie; there were a few, although none of them were even remotely deal breakers for me.
I also found a review or two, where some unhappy customers raised their concerns. Just to balance things out.
1. Trifecta Make it Somewhat Difficult to Cancel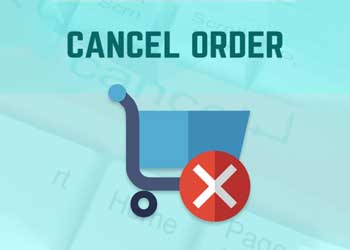 While I wouldn't be canceling my orders anytime soon, it saddens me that Trifecta makes it difficult to do so. My feeling has always been that if you can subscribe online, you should cancel online.
Sadly, the company requires you to call them on the phone at their California head office. This seems like an underhanded strategy to prevent cancellations. In my view, an ethical company should reconsider this approach.
Customer service is important, even when a customer doesn't require the service anymore.
Thus, if you find their cancellation policy as a pain point, I recommend you to consider other vegan subscription boxes.
2. There's No Way To Select The Meal You Want
Aside from selecting meal plans, the customer service doesn't allow users to specify exactly what they want in their order. Trifecta has full control over the low carb, healthy meals they send you in your order. In short, you have no say in the actual meal options that get delivered.
This lack of specificity isn't ideal for people with very fussy tastes. If you don't eat common foods like fish, chicken, rice, or carrots, you're probably not going to love some of the dairy-free, pre-cooked meals you get sent.
There was one specific online review that called this out as a major problem. Personally, as someone who eats pretty much anything healthy, this has never been a concern for me
3. Meals Can Sometimes be Over- or Under-Salted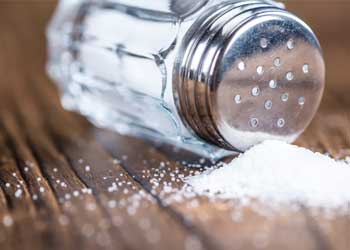 This is something I discovered for myself and read in an online review.
Getting the seasoning right is critical if you're going to be running any kind of catering company to individuals who are eating healthy.
Sometimes, Trifecta can fall down in this area.
Again, this isn't a deal-breaker for me, personally, since I'm happy to add a little salt when necessary.
Or to power my way through the occasionally over-salted meal.
Trifecta Nutrition Reviews From Customers

Our own review wouldn't be complete without hearing with the greater fitness and nutrition community has to say.
Trifecta Nutrition offers a really solid food prep and delivery service. Don't just take tour word. Here's what other customers had to say:
"Love that trifecta doesn't offer frozen food. They can still be put in the refrigerator and be good for around 10 days which is awesome and you get instructions on how to heat and prepare your meals on the box."
"I get the Paleo meal plan and love it. So far everything has been as promised. I highly recommend this company, even if you aren't that into paleo diet."
"Food is lovely, organic, wild caught, etc. Lightly seasoned really does mean lightly, so I add a lot of seasoning if I can figure out what they're using. I think it's a good value for what you pay."
"I just started ordering from Trifecta, and so far I LOVE it. I've managed to eat healthier this week than I have in a long time, and I know if I continue on this path I'll definitely be seeing some weight loss results."
I also had a good chat with two friends who also use Trifecta Nutrition. Both of them agree that the quotes above are a good representation of their experiences with the company.
All-in-all, I've struggled to find credible bad reviews of Trifecta. The people of the internet seem to like them, which is great. It's nice to have your own experiences with a company validated; it reminds me that I have decent standards.
Trifecta Endorsements
If you are looking for some more social proof, we've got you covered. Further proving Trifecta's synergy with the fitness community, here's a story about California CrossFit owner's experience with their service.
Trifecta allows allows me to stay on the move even during my busiest days. Without Trifecta, I doubt I'd be nearly as successful."

- James Kimball, UFC Vice President of Operations – Performance Institute
Trifecta Nutrition has been featured in several credible media outlets recently.
Muscle and Fitness praised them for their efforts in "fighting obesity."
Men's Journal highlighted Trifecta's "relative affordability."
The UFC and Trifecta have joined forces to launch a nutritional support program for fighters.
"Trifecta's new fight prep program is an absolute game-changer for UFC athletes,"

- James Kimball, UFC Vice President of Operations – Performance Institute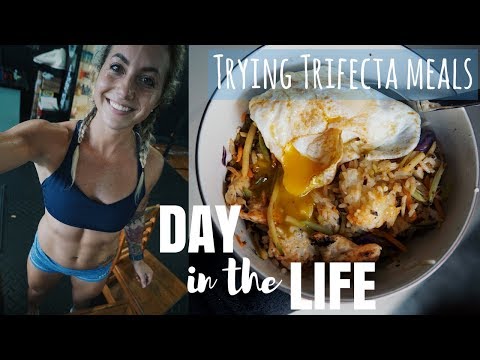 FAQs
How Does Trifecta Nutrition Work?
Meals are delivered once a week to any address you specify. You choose the number of meals you want to eat per day, the eating plan or diet you're on, and Trifecta does the rest.
Do Trifecta Freeze Their Food?
No, Trifecta never freezes their meals. All meals are prepared from fresh ingredients. Meals are shipped inside a sealed container, ensuring freshness for up to 72 hours.
How Long Do Trifecta Meals Last?
Once unpacked and refrigerated, each prepared meal lasts between six and ten days.
Can Trifecta Meals be Frozen?
Yes, once a meal has been unpacked from the shipping container, they can be frozen, although this will compromise the meal's taste. Trifecta prepares their well-balanced meals to be eaten while still fresh.
How Do You Cook a Trifecta Meal?
Place it in the microwave for two to three minutes.
Would I Use Trifecta Nutrition Again?
The question should rather be: "Is Trifecta still my personal choice as one of the best meal delivery services?"
The answer is an emphatic "YES."
Out of necessity (okay, laziness), I have tested many food delivery services in my time. There have been some good ones and some bad ones, and some in the middle. However, I can comfortably say that when I tried trifecta, Trifecta is undoubtedly the best of the half-dozen options I've tried.
I'm not going to pretend that Trifecta Nutrition is without flaws. I don't even want to think about the logistics involved in preparing and delivering fresh, organic food throughout the country every week. I can forgive them the occasional delivery issue.
All I can say is that I've never had any problems that have made me reconsider my commitment to Trifecta - specifically their awesome "a la carte" meal plan.
The main reasons are convenience and health. I'm obsessed with both of these things. I want good, nutritious food that compliments my physical goals, and I want to get it onto my plate with as little effort as possible.
Trifecta solves both of these issues beautifully.
For those of you who are on specific healthy eating plans, the company probably has you covered. Choose from seven different low carb, dairy-free, and gluten-free meal plans, covering all the diets popular in the health and fitness community.
What do you think? What are some of the best vegan meal delivery services today?
Let us know in the comments below.
Trifecta Nutrition Meal Delivery
Our #1 Recommendation
Full bodybuilding meal prep delivery service.
Caters for all types of customers who want the convenience of a meal delivery service
Wide choice of meal plans
"Build-your-own" a la carte option for customers
Click For Best Price
About the author