I'll admit to being skeptical about any product with the word "Green" in its name. Except if it refers to the color. The Green Mile? Great novella, excellent movie.
Call me cynical, but I've just been into the "green" lifestyle long enough to get a little tired of how often the term is used to describe something with even the vaguest of "nutritional" or "environmental" angles.
However, I do realize that a hastily chosen name doesn't necessarily mean a substandard product. So, I went into this Green Chef review with a truly open mind, fully prepared to have it blown by an amazing, healthy, organic meal delivery service.
Spoiler: they came pretty close.
What is Green Chef?
I love eating way more than I love cooking. And I love cooking way more than I care about prepping my food.
Green Chef is a service that caters to people like me - people who want the satisfaction of eating and cooking while avoiding the tedium of shopping, measuring, chopping… you get the idea.
Each Green Chef meal kit comes with all the ingredients and instructions you need to cook a delicious, nutritious dinner for yourself and your family.
What sets Green Chef apart from other meal kit delivery services is their meal plans. Unlike some of their competitors, Green Chef caters to eaters who follow very specific nutritional lifestyles.
Other food delivery companies we recommend:
What Meal Plans Does Green Chef Offer?
You have the option of selecting one of four dietary "plans" when you sign up:
Keto: Very low on carbs, totally gluten-free.
Plant-Powered: Vegan and vegetarian recipes.
Carb-conscious: Grain-free, gluten-free, with paleo and keto recipe options.
Balanced Living: Nutritious, organic ingredients that don't cater to any specific diet.
After selecting your meal plan, customize your meal kit delivery sizes. Green Chef caters to either two or four people and offers them two, three, or four meals per week. This means a specific shipment can consist of six, eight, twelve, or sixteen individual meals.
Green Chef makes no bones about its focus on sustainability—not only in their food production and preparation, but also their packaging. The sustainability page on their website contains heaps of information on reducing their carbon footprint, promoting animal welfare, and limiting plastic waste [1].
Benefits And Highlights Of This Meal Delivery Service
For the ethically-minded, home cook who takes nutrition very seriously, there's a lot to like about this meal delivery service. Let's continue this Green Chef review with a deep dive into what they get right:
1. Quality Ingredients
Green Chef is a meal kit delivery service that knows who their target market is - people who like spending a little time in the kitchen but prioritize nutrition over convenience.
In catering to customers who follow very specific eating guidelines and lifestyles, they win a lot of points - not only in my book but also amongst many other food bloggers.
2. Diverse, Thoughtful Meal Kits
What I loved about Green Chef was that I still got to select my weekly meals within the plan I chose. That's a massive bonus for me.
Just because I follow a plant-based or gluten-free diet doesn't mean I'm happy to eat anything that fits within those parameters.
I still have my own preferences! I'm an individual with my own likes and dislikes! Thank you for recognizing that, Green Chef! Rest assured that there's a ton of options within each meal plan every week.
Meal kits also have no shortage of flavor per serving. Looking through the recipe cards that accompany each meal kit, it's obvious that a lot of thought goes into each week's menu. Rest assured that you're not going to get bored with what they have on offer.
3. A Commitment to Sustainability.
Green Chef makes many claims on their site about their focus on sustainability. In fact, they go so far as to call themselves "the #1 Sustainable Meal Kit."
This bold statement, amongst others, is backed mainly by their official association with sustainability partners like Plastic Bank, the Sustainable Packaging Coalition, Spoiler Alert, and TerraPass.
Here's a summary of Green Chef's claims when it comes to their sustainability efforts:
They guarantee 100% carbon and plastic offset.
All packaging is made from recyclable material.
A 25% lower carbon footprint than store-bought groceries.
Proteins are sourced from suppliers who maintain "high animal welfare standards."
Less food wastage than traditional retail grocery shopping
Personally, I'd have liked to see a little bit more media or material to support these claims, but there's nothing to make me believe they're not telling the truth. I'm more than willing to trust them here - there's no doubt they'll know what the fallout would be if these claims are exposed as less-than-true.
4. High Level of Convenience
Pre-prepared meal kits that really focus on giving you exactly what you need (and the right amount of it) means that cooking is a breeze.
Forget about all that chopping and measuring malarkey! With Green Chef, all you need are the basic kitchen utensils like knives, pots, and pans.
Also, recipes were incredibly easy to follow. Not only because they were designed to cater to people like me who only THINK we can cook because we've watched every season of Top Chef, but also because of the recipe cards themselves.
These are perfectly laid out. Instructions are clear and are even accompanied by photos illustrating certain techniques.
None of the meals I made took me longer than 30 minutes to cook. I dunno about your history in the kitchen, but that's about less than half the time it takes me to prepare a meal in the traditional way.
This adds up to about two extra hours hanging with friends or working out every week.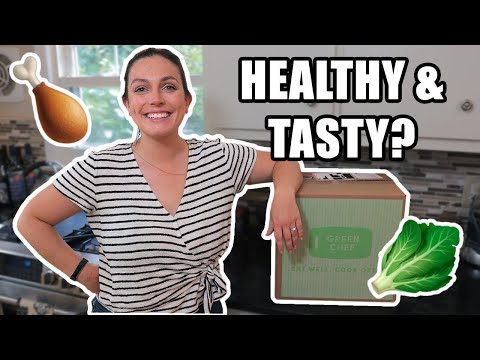 5 Green Chef Shortfalls
Right, my review has been singing their praises for long enough. Time to do what's necessary and point out aspects that customers may take issue with.
1. Small Portion Sizes.
This was a big deal for me. A meal delivery service that doesn't specifically position itself as catering for customers looking to lose weight needs more sustenance per serving.
While each meal was genuinely delicious and easy to prepare, I was left feeling somewhat unfulfilled (literally) whenever I put my utensils down. If you're deliberately looking to get in the habit of eating smaller portions, this won't be a drawback for you at all.
We all know that portion control is a big part of losing weight, and I don't feel that portion sizes are unhealthily small. They were simply not enough for someone like me, who is very active and wants to maintain my current weight.
2. You Have to Stick to Your Meal Plan.
Given the number of options within each plan, this isn't a huge issue for me, but I would have liked the opportunity to peek over into the plant-powered plan and grab one of its meal kits.
Sadly, once you've chosen a specific meal plan for the week, you have to select a kit from its limited, albeit large enough, selection.
This might just be a case of me feeling a little entitled, though. Green Chef isn't the cheapest of meal delivery services out there, and for what I was paying, it would have been nice to veer out of my chosen plan for a bit.
3. There's a Lot of Plastic to Deal With.
Pre-portioned ingredients in each meal kit mean maximum convenience. But if you're environmentally conscious, you'll be doing a lot of recycling with Green Chef's meal delivery service.
While the meal kit delivery container itself is free of plastic, there's more than enough of it inside to make you feel a little overwhelmed.
As they claim on their website, all of the plastic is recyclable, and to be fair, there's probably no way to avoid using this much plastic if you offer a service like theirs. So I can be forgiving about this issue.
4. Shipping isn't Free.
Green Chef is already on the steep side of the meal delivery service cost spectrum.
On top of the cost per serving, they also bill a fixed amount for each weekly shipment. While it's not an astronomical amount, it does add up over a month.
If you're budget-conscious, be aware that a trip to the grocery store, or a cheaper meal delivery service, may be a better option than Green Chef.
It's also worth mentioning that Green Chef doesn't deliver to Alaska, Hawaii, and parts of Louisiana.
5. Customer Service May Leave a Lot to be Desired (Apparently).
I'm putting this one last because I didn't experience any issues that necessitated interaction with Green Chef's customer service department.
However, while comparing my experiences against customer reviews on various sites, I found this one of the most common complaints.
I won't elaborate too much since like I say, I can't verify any of these claims.
Let's just say there was no shortage of people accusing Green Chef of neglecting customers' attempts to get in touch with them. On one major site that reviews Green Chef found almost a dozen complaints about this.
Like someone once said, where there's smoke, there's fire, and I feel like this Green Chef review of mine wouldn't be complete if I didn't make you guys aware of this potential issue.
Customer Reviews
Green Chef has no shortage of customer reviews online. I've taken the liberty of grabbing a few that were close to my experience with their service. You know… just to show I'm not the only voice with a particular opinion.
"Green chef lets me just cook...and the results are incredible! We are in our 5th week and have made plans for the next 3 weeks." -GulieJulie
"The diet restriction menus are excellent. Customer Service is prompt and professional." - Bertrand85
"They have the best options for vegetarians out of any meal delivery service. I don't like how the sauces come pre-made or that we can only get 3 recipes/week." - StanW94
"The meals are good, easy to prepare, and healthy. I would have given them a 5 star rating, but customer service stinks." - miomir9831
FAQs
Do Green Chef Freeze Their Meals?
No, all of the ingredients used in Green Chef meal delivery are fresh. Meals are delivered in a sealed, icepack-cooled container to ensure that they remain fresh during transit.
What Meal Plans Does Green Chef Offer?
Green Chef offers keto, paleo, vegan, vegetarian, and low carb options for every weekly meal order.
Is Green Chef Certified Organic?
Yes. Every meal prepared and delivered by Green Chef is 100% USDA-certified organic.
Does Green Chef offer a Family Plan?
Green Chef offers two plans: one for two people and one for a family of four. The family plan allows customers to select two, three, or four meals per week.
Are Green Chef Meals Easy To Make?
Each Green Chef meal kit comes with a recipe card showing step-by-step instructions on preparing and cooking the meal. The card also includes photographs to make the cooking process even easier.
Would We Recommend Green Chef?
Compared to other meal kit delivery services - those that offer meal options as pre-prepared ingredients that you cook yourself - Green Chef is one of the best I've tested.
Compared to other meal kit delivery services, Green Chef is awesome because meal options are plentiful. Each meal I had was delicious; delivery happened without any snags, and meal plans that suit most diets.
Ultimately, however, my answer here would be a "no." For one reason. With Trifecta Nutrition, I can get all of these benefits WITHOUT having to spend more than five minutes in the kitchen.
I feel so strongly about this decision that I'm going to resort to a bullet-pointed list. That's right. I'm taking it THAT seriously.
Trifecta offers free delivery to literally anywhere in the United States.
Customer service is on-point.
All Trifecta meals are pre-cooked and only need to be heated.
Their meal plans cover all the major eating plans: Keto, vegan, paleo, macro-counting, and vegetarian. They also offer an a-la-carte option allowing customers to mix-and-match their weekly meal orders.
There's even less plastic and wastage since ingredients aren't individually packaged.
For what it is, Green Chef is a terrific service. One of the best I've tested. But they don't beat the ultimate convenience Trifecta offers.
Trifecta Nutrition Meal Delivery
Our #1 Recommendation
Offers large meal plan varieties - Keto, Paleo, Vegetarian, Vegan, and Classic
​Organic ingredients
​Utilizes low carbon footprint
​Delivers fully-cooked meals at your doorstep
Get the BEST PRICE until the end of July
Click For Best Price
About the author