In the modern world, it is a well-known fact that lots of us struggle to find time to cook. Most of us often wind up choosing to buy microwave meals, or feasting on unhealthy takeaways.
Fortunately, Hello Fresh might help us get on track. They promise to deliver a minimum of three dishes each week along with simple-to-follow cooking instructions.
So in our Hello Fresh review, we will examine more closely what this service has to offer, how it tastes, their customer service, customer reviews, and whether it truly is as healthy as one would hope.
What Is Hello Fresh?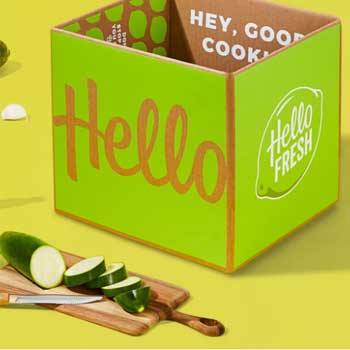 Hello Fresh is a service that delivers fresh ingredients straight to your door, ensuring that you have everything you need to prepare healthy meals for you and your family.
Founded in November 2011 by Dominik Richter, Thomas Griesel, and Jessica Nilsson in Berlin, Germany, it was one of the first companies to emerge in the meal-kit industry.
They first started delivering meal kits to paying customers in early 2012, and expanded to the Netherlands, UK, US and Australia the same year. By 2014, the company claimed to be delivering a whopping 1 million meals per month.
So if you are fed up with visiting grocery stores every now and then, or just need assistance with menu planning or creating a family plan, Hello Fresh might just be what you are looking for.
After all, the convenience of having healthy ingredients delivered to your porch will likely give you that nudge to cook delicious and healthy homemade foods.
Benefits And Highlights Of Hello Fresh

First of all, Hello Fresh will help you save time, as you won't need to plan your dinner, meal prep, or actually go grocery shopping. Their menu is packed with easy to follow vegan recipes - ideal for people lacking in cooking skills.
With each recipe card, you will be making a home-cooked dinner within 30 minutes to 40 minutes. Hello Fresh menus are family-friendly and provide convenient dinner options with little to no food waste.
Ingredients are well-packed, delivered in an insulated styrofoam cooler box, with ice packs to keep the food refrigerated but not frozen. You also get detailed information about the prep work steps, nutrition facts, and allergen information.
Besides receiving recipe cards containing the Hello Fresh menu, the company also provides friendly information customer service in case you need extra assistance. Interestingly enough, free shipping is available for UK residents nationwide.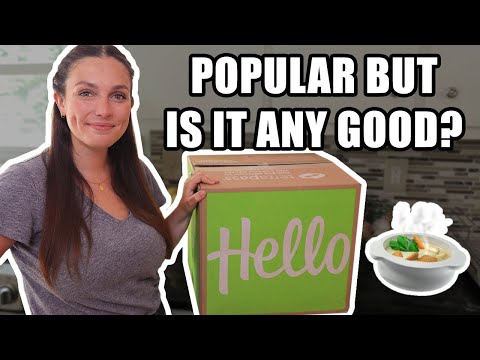 Hello Fresh Shortfalls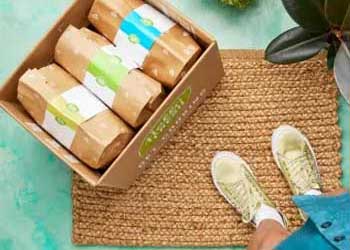 There are also a few shortfalls that you may want to consider before signing up to the Hello Fresh meal plan:
The meal-kit can be expensive compared to the prices at your local grocery store
Ingredients are not organic, although they do prioritize fresh food
Options are suitable only for 2 or 4 people with only 3-4 recipes provided per week
Not the best option when it comes to specific dietary restrictions
Very little room for customization making it a pain for those fussy with their food
Customer Reviews

Overall, customers seem to be quite impressed with the quality of ingredients received and the ease of the recipes.
"The recipes are well organized and easy to follow. The quality of ingredients is at least on par with our grocery shopping. Meals so far have passed muster with flying colors."

- Charles of Jacksonville, FL, Verified Review found on ConsumerAffairs.com
"Really pleased with the quality and different types of cuisines this meal delivery service offers. I enjoy the ease and the perfect portion control for the meals."

- Christina of Jersey City, NJ, Verified Review found on ConsumerAffairs.com
Despite the positive reviews, there are a few customers who were less than impressed with the service provided.
Unfortunately, there seems to be a shipping problem considering that some customers have complained about receiving rotten vegetables in their ice packs. While this may not seem like a problem directly associated with Hello Fresh, failing to deliver food on time via the chosen courier will most likely leave a sour taste in the mouth of customers.
"About 2 months ago, I noticed that my produce was way past its sell-by date. The problem was the vegetables. Carrots were flaccid. Zucchini split. Basil leaves black. And, finally, an ear of corn completely rotten. I have never seen a black ear of corn in my life!"

- Linda of Phoenix, AZ, Verified Review found on ConsumerAffairs.com
"Twice in a row, my meal kits have failed to arrive. I otherwise like their meal kits, but it's really bad when I don't have food."

- Carolyn of Woodland Hills, CA, Verified Review found on ConsumerAffairs.com
How Much Does It Cost?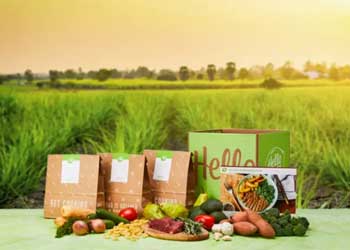 Hello Fresh is available in four different plans, these are:
Meat & Vegetables
Veggie
Family Friendly
Calorie Smart
Each plan can be customized by increasing the number of people in the plan, and by the number of recipes per week. You can increase the number of people from two to four, and the recipe number from two to five (depending on the number of people in the plan).
The price per serving will range from $7.49 to $8.99, with an $8.99 shipping charge for American customers.
Get $80 Off, Including Free Shipping
There is more customization available for UK customers. They also have four different low calorie plans, or boxes to choose from:
Family Box
Classic Box
Rapid Box
Veggie Box
You can change the number of people in each box, and the number of recipes. Going from 2-3 people, and 3-5 recipes per week.
The price range for these boxes is between £1.70 to £2.50 per meal. FREE shipping is available in the UK.
First-time customers can also get a FREE box if they are able to find a coupon code. Failing that they could sign up for a trial, which will allow them 50% off the first box, then 20% off the next three deliveries.
Another way to save money would be to sign up for their email mailing list. You can get 15% off your order and get fresh dinner recipes sent to you when you subscribe.
Is It a Flexible Meal Delivery Service?
Once you sign up for this meal delivery service you have control over when you receive your meals.
You can choose to have a food box delivered every week, or if you wish to pause your deliveries this is possible too by accessing your account on your computer, tablet, or through the dedicated HelloFresh app for your smartphone.
How Does It Taste?

The majority of reviews state that the HelloFresh menu is tasty, although there are some that would say that it is a little bland and perhaps not as exciting as it could be.
One issue with taste and flavor is that it is very subjective, and opinions can vary greatly between people. Some may love the flavor of the food, while others will detest it.
What you need to remember is that you are cooking the meals for yourself. If you wish to add an additional ingredient or remove one to improve the recipe, you are more than able to do so.
For those who want to check out how meals from other delivery services taste, read these:
Is There Much Variety With Hello Fresh?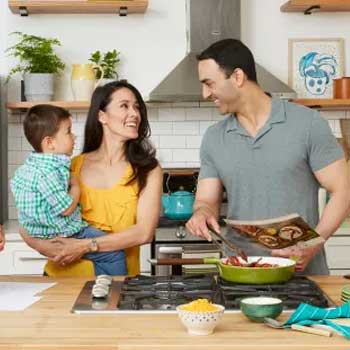 If you are worried that you are going to be receiving the same meals every week then fear not, as there are currently over 2,500 meal options available.
Whether you want to make American classics like cheeseburgers or mac 'n' cheese, or if you fancy something with a little extra kick, such as a Mexican taco or something from Asia or Africa you will have plenty of options available.
The best thing is that you don't need to be an experienced cook to be able to make these meals. With the easy to follow instructions, the cooking process will be a walk in the park.
For extra variety, you can also add extras to your box, with ready-made desserts, quality wines, and bread all available. You can add these to your order by logging into your account and making the necessary changes to your plan.
The Perks Of Meal Kit Delivery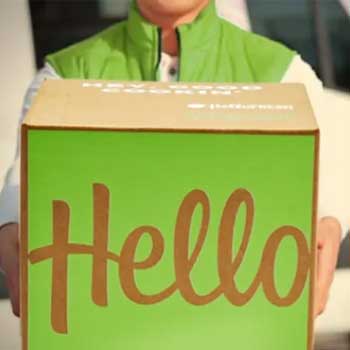 If you find yourself struggling for time during the week then a service like this will help free up a little bit of free time.
Not only will you not have to visit the grocery store, but the time spent on meal prepping will also be greatly reduced. This will allow you time to spend on what is important in your life.
Also, as these recipes are made with fresh and healthy ingredients you will likely notice health improvements too.
Eating fewer takeaway meals will probably mean that fewer calories are being consumed each week, plus less sugar and fat.
Research has suggested that you should only consume around 100-150 calories of added sugar daily [1], this is around 6-9 teaspoons daily. Unfortunately, most drinks found in fast food joints will contain at least 8 teaspoons of sugar [2].
Get $80 Off, Including Free Shipping
Without even looking at the nutritional value itself, this is much more than you should consume.
You also need to take into account the amount of trans fats typically found in takeout. With research finding that trans fat can increase LDL (bad) cholesterol, lower HDL (good) cholesterol, plus increase the risk of developing type 2 diabetes [3] and heart disease [4].
What You Can Find In A Hello Fresh Menu?

Once your delivery arrives you will soon discover that you have received a host of fresh, nutritious produce ready to create your own meals from the step-by-step recipe cards that are also enclosed in the packaging.
Each recipe has been created by the HelloFresh chefs who plan them with flavor and seasonality in mind. These are then put into 3 recipe levels:
Level 1 recipes. Think Honey and Ginger Glazed Chicken with Snap Peas and Jasmine Rice. These are designed to be simple and familiar with very little effort needed to create.
Level 2 recipes. These include Vietnamese Marinated Steak with Herb Salad, Quick Pickled Veggies, and Jasmine Rice. These are designed to encourage experimentation with your low calorie cooking by using different ingredients and cooking techniques.
Level 3 recipes. Spring Asparagus and Shrimp Risotto with Meyer Lemon is a great example. These meals take your cooking to another level, which encourage multitasking and more adventurous ingredients and cooking techniques.
Bottom line, the meal plans on offer will be different each week, although they do occasionally bring back "Hall of Fame recipes" that have been rated as favorites by their customers.
FAQs
Will HelloFresh Make You Lose Weight?
HelloFresh can help you lose weight, considering that you are getting healthy quality meals delivered to you.
Of course, if you want to lose weight then you need to make sure you are burning more calories than you consume. To achieve this you should make note of what you are eating, and how many calories it contains.
Luckily each recipe you receive will have the nutritional information so that you can easily keep track of your intake.
Can You Cancel HelloFresh After Free Box?
Yes, you can cancel your subscription to HelloFresh after receiving your free box.
It is important that you cancel after the weekly cut-off date in the week you ordered the box to ensure you receive your free box, and before the cut-off date in the week you receive the box to avoid being charged for a second box.
HelloFresh is owned by international institutional investors after its previous owner Rocket Internet sold its remaining stake in the business in 2019.
Yes, HelloFresh food is safe to eat.
They have strict safety checks in place throughout their food chain to ensure you only receive the best ingredients.
Of course, you should do your own checks to ensure the recipes do not contain any ingredients that you are allergic to.
Does Hello Fresh Charge If You Skip A Week?
No, there is no charge for any skipped weeks.
With their self-managed subscription, you can skip deliveries up to 8 weeks at a time. Simply log into your account and visit the 'My menu' tab on the left of your screen. When you click 'Skip week' you will be taken to a calendar that will show the next 8 weeks, simply select the date you wish to skip and it will turn red.
Is Hello Fresh Easy To Cancel?
It is easy to cancel your Hello Fresh subscription. You will need to do it before midnight Tuesday, the week before your next delivery is sent.
To cancel you should follow these steps:
Log in to your HelloFresh account
Hover over your name at the top right and click 'Account settings'
Make sure you are in 'Plan Settings', scroll down and click on 'Stop my deliveries'
Follow the steps provided and you are unsubscribed from the service
A confirmation of your cancellation will be sent to your email address
Can You Freeze Hello Fresh Meat?
It is perfectly safe to freeze any meat received from HelloFresh. This is because it has not been frozen previously.
How Long Do HelloFresh Meals Last In Box?
The ingredients provided in each HelloFresh box are provided fresh from their suppliers and should remain fresh for the week.
There are certain ingredients that you may want to use sooner rather than later, such as the leafy greens like baby spinach, coriander, watercress, and parsley. This is because they are more fragile than many of the ingredients.
Where Is HelloFresh Shipped From?
HelloFresh has distribution centers in various countries across the globe where its meal kits are packed and shipped to its customers.
Is HelloFresh High In Calories?
Each HelloFresh meal once prepared will contain between 600-900 calories.
Of course, this calorie count will depend on your particular subscription. You can make your own selections, and add specialty additions to your boxes if you wish.
Is HelloFresh Cheaper Than Grocery Shopping?
HelloFresh is more expensive than going grocery shopping.
You need to understand that an offer like this is designed to save you time and hassle from having to go shop for your groceries every week.
Can You Reheat Hello Fresh Meals?
Certain Hello Fresh meals can be reheated, however, there are certain foods that you should not reheat:
Potatoes - bacteria may form that may not be killed during reheating.
Mushrooms - they contain proteins that can be damaged by enzymes and bacteria. Reheating them may cause stomach ache.
Chicken - if you want to reheat chicken you must ensure every part reaches 175 degrees Fahrenheit to kill any dangerous bacteria.
Eggs - bacteria such as salmonella can grow rapidly on egg dishes.
Rice - may be contaminated by bacteria that can only be killed by intense heat.
Seafood - bacteria grows rapidly on seafood.
Spinach - reheating spinach can convert the nitrates it contains into nitrosamines that can sometimes be carcinogenic.
How Can I Make HelloFresh Cheaper?
There are a few ways to make HelloFresh cheaper:
Order meals that stretch - with HelloFresh you can choose 3 meals from a selection of 7-8 meals. Choosing a pasta or chicken-based meal will likely result in a larger portion being delivered to you than if you had chosen a steak-option. This larger portion will increase the likelihood of having leftovers.
Use HelloFresh coupon code - if you have recently canceled your account you may occasionally have a coupon code sent to you that will offer you money off your next order.
Refer friends - when you refer your friends and family to this system you will receive a payment.
Does HelloFresh Have Keto?
At the moment HelloFresh does not have any meals specifically aimed at those on the keto diet.
This is despite acquiring the all-organic Green Chef brand in 2018, and announcing that they would be releasing weekly recipes that include keto, paleo, vegan and gluten-free options.
Yes, HelloFresh has low carb meal delivery kits available.
Would We Recommend Hello Fresh?
Although HelloFresh deserves a commendation, we still think some other brands are better.
On one hand, yes, the meals are simple to follow and ideal for those who can't cook. But in our opinion, there is a better option for you: Trifecta Nutrition Meal Delivery.
They offer more variety with healthy meal choices and side dishes, as well as a rotating weekly menu and macro-balanced meals. The brand also boasts a host of endorsements from athletes, such as Rich Froning, Bradley Martyn, and Brooke Ence.
Ordering from Trifecta is a great way to ensure you are eating healthy and minimizing food waste - all that without having to deal with meal planning and trips to the grocery store.
What do you think about our review? Got any experiences with vegan meal delivery services you'd like to share?
Let us know in the comments below.
Trifecta Nutrition Meal Delivery
Our #1 Recommendation
Offers large meal plan varieties - Keto, Paleo, Vegetarian, Vegan, and Classic
​Organic ingredients
​Utilizes low carbon footprint
​Delivers fully-cooked meals at your doorstep
Get the BEST PRICE until the end of May
Click For Best Price
About the author