The vegan diet and lifestyle isn't always easy to maintain. There's nothing worse than accidentally eating something or buying beauty products that aren't vegan-friendly.
That's why we rigorously investigate the ingredients of an item to ensure that they're all indeed non-GMO, vegan and cruelty free. Vegan subscription boxes are a great solution because they save time and energy, and are a great investment into your wellness.
We indulged in a few of those vegan box monthly subscription plans, and there are a wide variety of options available, including:
Vegan meal subscription boxes - you'll get vegan snack boxes and full-size vegan meals.
Vegan and cruelty-free beauty products - you'll get vegan makeup, essential oils, and occassional surprise free products.
Check out our review of our top 10 picks for best vegan subscription boxes:
Our Top Vegan Subscription Boxes (2021 Updated)
1 - Trifecta Nutrition
They are the nation's largest all-organic meal delivery for a reason. World class athletes love Trifecta Nutrition's popular meal delivery service. Meals are macro-balanced and fits every diet including vegan.
People love Trifecta meals because it helps them meet their physical goals from weight loss to muscle gain.
Trifecta recipes are customizable for every person and their dietary needs.
And, if you need any more motivation at all to try Trifecta Nutrition, we should also mention that they ship their meals free in the U.S. including Alaska and Hawaii.
PROS
Simple and organic ingredients with names that you recognize
Meals are not frozen but are vacuum-sealed for freshness
Extremely easy to make
Menus change based on locally-sourced ingredients ensuring that you are getting the freshest food possible
CONS
Lightly seasoned which may be a downer for our spice lovers out there
2 - Vegin Out
Vegin' Out is making waves with their delicious vegan monthly subscription boxes.
We've said it before and we'll say it again, being vegan can be hard. Especially when planning, preparing, and enjoying healthy and delicious meals.
Vegin' Out can take some of that stress away by offering to do the legwork for you, they have a great variety of different subscription boxes available that you can tailor to your specific tastes.
Vegans deserve to eat healthy and balanced meals even if they're busy in their daily lives. (1)
PROS
9 different vegan or vegetarian meal plans to choose from based on your needs
Rotating weekly menus
Nutritional information on their meals is available on their website
CONS
Shipping costs are more expensive outside of the Los Angeles area
Celebrities subscribe to Vegin' Out.
"Even if you're not vegan, give it a try, cause who wouldn't want delicious healthy food all prepared and brought right to your doorstep!"

- Alicia Silverstone
3 - Urthbox
Every on-the-go vegan is interested in finding the best products to eat. Urthbox contains healthy and delicious snacks that are non-GMO, organic, and natural-focused.
People love trying new options every month to discover new favorite vegan snacks that actually taste good.
They also offer Classic, Diet, and Gluten-Free subscription boxes. You can choose how many snacks you get in every box with a range from 7-30 products to try.
You can save up to 30% by buying larger boxes (perfect for teams or the workplace snack bar).
PROS
Full-size products (Good-bye sample size!)
Coupons and discounts are often included in your box
Vegan gift box subscriptions are available
Receive extra surprise items like beverages, personal care, skincare and beauty products
CONS
Can't combine variations of boxes (For example, you can't have a Diet Vegan box)
These yummy healthy snacks can make the difference to your waistline too, if the sweet tooth strikes it's better to have Urthbox by your side than a tub of ice cream.
Oh, and did we mention the vegan gift box subscriptions. It's a great Christmas gift for your vegan friend. Check out our list on other ​awesome vegan gifts you can get your friends on a vegan lifestyle.
4 - Veestro
Busy vegans everywhere know it's difficult to keep up your diet when your day-to-day activities take over.
Veestro ​meal-delivery ​service makes making healthy and delicious vegan meals easy to incorporate into your day.
Choose from over 50 meal options and heat it up in 5 minutes. No chopping or cooking needed. Take your saved time and spend more hours with your friends or family.
Snacks are nice, but services like these can help you stay healthy and on track with all the nutrients and assistance you need.
You can also watch this video review to learn more about Veestro: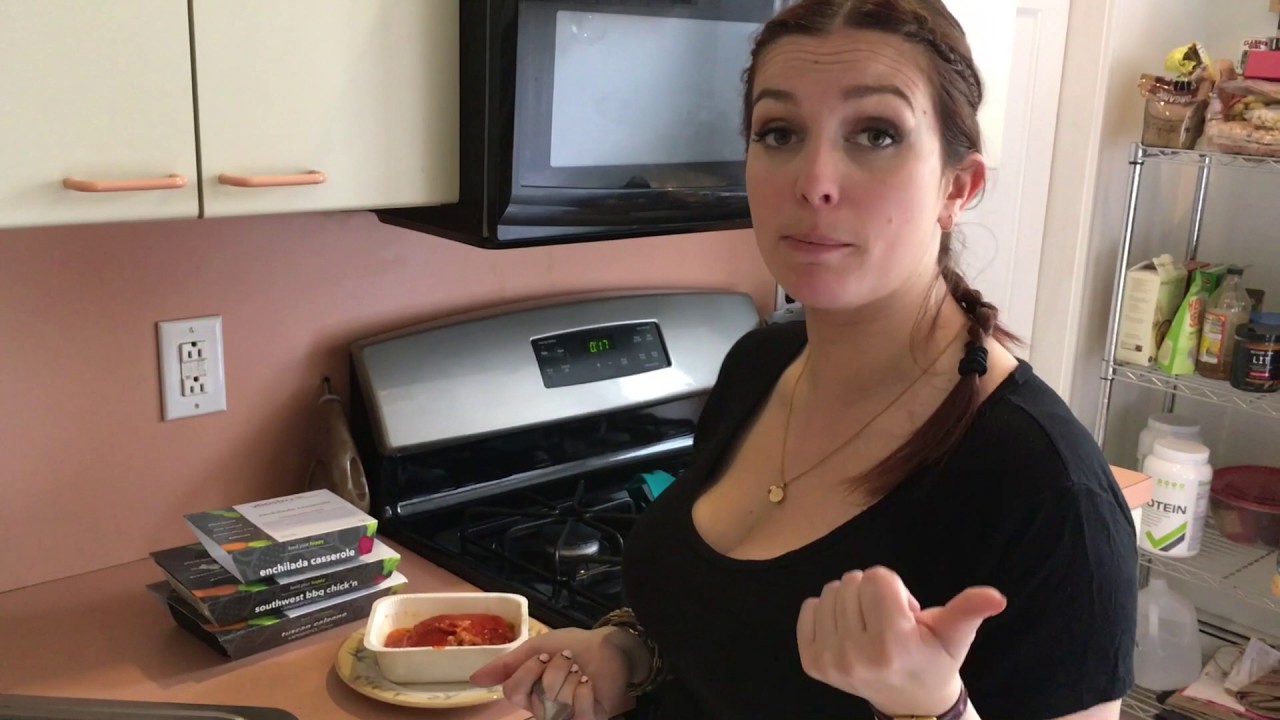 PROS
Organic and plant-based meals that are made fresh and delivered frozen
People have lost weight due to the easiness of eating healthier with Veestro
No ingredient prep or cooking - simply heat up the meals in the microwave or oven
Meal options include gluten-free, soy-free, kosher, nut-free, high-protein, and low calorie
CONS
No fresh products come with the meals
It's perfect for those with a busy lifestyle, or those new to the vegan diet.
5 - Louisville Vegan Jerky Club
A lot of vegan snack boxes claim that you can't notice the difference, but sometimes it's obvious that the taste or texture isn't the same.
Louisville Vegan Jerky is so good that none of your non-vegan friends will notice that they aren't eating actual meat.
It's a cruelty-free option for you to enjoy and not feel like you are missing out at all. The biggest complaint about this product is that you often eat the whole bag in one sitting.
The subscription box service isn't just about getting delicious jerky though, they are constantly trying out new flavors and variations, so every month is something new.
PROS
Incredibly delicious vegan jerky that tastes like real jerky
$1 of every box sold gets donated to an animal sanctuary
The texture may even be better than real jerky
CONS
Some people complain about the salty taste
6 - Quantum Squares
Although it's not your traditional vegan food subscription box, users claim that this is the best vegan energy bar that they have had.
If you need a quick caffeine boost, Quantum Squares are perfect at 100mg of caffeine. It's the same as a cup of coffee except it also has plant-based nutrients.
It's perfect for those who need a quick mental boost to get through a meeting, or need that extra energy before a session at the gym.
It's difficult finding vegan snack bars that pack quite such a punch and taste as good as this at the same time.
PROS
Perfect for multiple occasions like as a pre-workout snack or for jump-starting your morning
People say this works fast and the energy stays consistent instead of having a huge spike
There's usually no caffeine crash
CONS
You may have to pay for shipping costs depending on if you are a member or not
The subscription service offers a lot of variety and means you get them delivered right to your door so you can grab one whenever you need.
7 - Naturebox
Need a vegan monthly snack box filled with healthy snacks delivered to your office? NatureBox has your solution.
Their subscription boxes have some of the best vegan snacks for every diet that your coworkers may have, including gluten-free, with no one feeling like they got the raw deal.
Having have consulted with a client who worked in an office that was catered for by Naturebox I can definitely attest to the morish quality of the snacks themselves.
It's just a shame I can't order them to set up in my kitchen.
PROS
Free kitchen setup with jars, scoops, and trays
Seriously unlimited snacks. Request more once you start running low and they will refill your jars
A wide variety that will leave every diet feeling satisfied
CONS
The bigger your company is, the bigger the price will be for this service
If you have a larger team I'm sure this service could get pricey in a hurry, but can you put a price on happy well fed employees? Actually you probably can.
8 - Vegan Cuts
Vegan Cuts is another monthly vegan snack subscription box. Get cookies, chips, or beverages every month that meet the strict criteria of their vegan standards.
They send out a wide variety of healthy and non-GMO vegan snacks for you to discover and enjoy.
If you're interested, they also offer lifestyle box options that contains cruelty-free makeup, skincare, and beauty products.
It's a great vegan makeup subscription box or beauty box option for the fashionista in your life. ​
PROS
10+ full-size vegan products delivered every month
Discover new products that might not be at your local grocery store
Ships free in the U.S.
CONS
Can't choose how many products to receive every month
9 - Graze
Unlike other vegan delivery subscription boxes, Graze only offers their own vegan products.
With over 100 options though, you won't get bored with trying their products customized for your own tastes and preferences.
There's no worries about getting a product that you don't like since Graze contains the same standard of health with all of their snacks.
With such variety and fantastic quality it's easy to see how they have established themselves at the very top of the subscription service model.
PROS
Choose from multiple delivery options and have your box delivered twice weekly or once every two weeks
Hand-picked products based on your taste and dietary preferences
If you prefer, you can also choose your products every month
CONS
No discovery of new products from other brands
They're often offering introductory deals on their subscription boxes and if you haven't tried them before, you should.
10 - Daily Harvest
Vegan subscription boxes like Daily Harvest are what makes veganism fun. They deliver frozen fruits and vegetables to make smoothies, soups, chia bowls, and more.
It's a hit with popular celebrities garnering investments from Bobby Flay to Gwyneth Paltrow. Meals are frozen into a cup for convenience.
People are loving the ease of getting more fruits and vegetables into their diet in such a convenient and tasty way.
Let's face it, we've all made the promise of having fruit smoothies or juices for breakfast every day in order to get healthier, but in reality stocking, mixing, and preparing can get on top of you.
Feel like subscription boxes are not for you? You can still stick to your vegan lifestyle starting with your groceries. Here's an article on creating your very own vegan grocery list.
PROS
Fruits and vegetables are frozen within hours of harvest ensuring that ripeness stays at its peak
Choose from over 50 vegan-friendly cups every month
People rave about the flavorful cups
Every cup has 1-2 servings which is best for an individual
CONS
Ingredients are not fresh
This great little delivery service take care of all of that for you, so all you have to do is blend it and enjoy.
For those looking for other vegan subscription programs, here are some good choices:
Our Recommended Vegan Subscription Box
Out of all the vegan subscription boxes, we're especially big fans of Trifecta Nutrition. They offer a wide variety of meal plans that are fresh, organic, yet very quick to prepare.
Interestingly enough, their menus change based on locally-sourced ingredients, which is a tell-tale sign that their meals are indeed organic.
I also appreciate that the nutritional information of their food is all detailed on their website, making it easier to track my macros.
Have you tried any of these subscription boxes? Which one is your favorite?
Trifecta Nutrition
Our #1 Vegan Subscription Box
Simple and organic ingredients with names that you recognize
Meals are not frozen but are vacuum-sealed for freshness
Extremely easy to make
Menus change based on locally-sourced ingredients ensuring that you are getting the freshest food possible
Get the BEST PRICE until the end of June
Click For Best Price
About the author