It's hard to balance a busy life with a nutritious diet. Even harder when you only want to eat clean, vegan food.
Meal delivery services have begun to step in to provide even the busiest amongst us exciting and delicious food that nourishes the body and the tastebuds. Whether you're looking for a little weight loss or just trying to eat healthier, it can be a great way to spice up your diet.
In this post, I'm going to give you my take on The Vegan Garden - a food delivery service that delivers vegan meals, juices as well as other plant-based snacks right to your door.
What Is The Vegan Garden?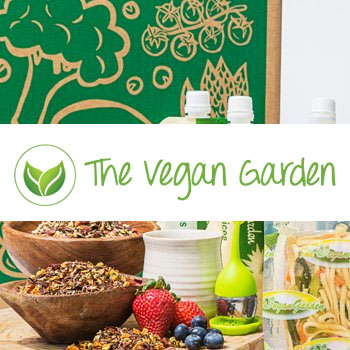 The Vegan Garden is a family-owned meal delivery service based out of San Francisco that delivers nationwide. They offer vegetarian and vegan meal plans that focus on healthy meals using the finest plant-based ingredients.
"Going vegan, or merely taking a few steps in that direction, can deliver important health benefits. Diets built primarily on plants are associated with lower cholesterol levels and reduced risk for type-2 diabetes." - Virginia Messina MPH, RD
As well as their vegan meal plan, they also offer delicious detox smoothies and other plant based snacks and treats. The juice and smoothies can be ordered in addition to the meal plans or as an extra.
Benefits And Highlights
There are quite a few things about The Vegan Garden meal delivery that make it stand out against its competition. It's quality, it's customizable nature, and the outstanding amount of variety and choice.
The Vegan Garden has focused on making a meal plan and food delivery service that you will genuinely look forward to receiving. This starts with the healthy meals and the ingredients they use to make them as nutritious as they are delicious.
On top of this, you can fully customize which meals you want to be delivered from a vast selection of different options.
The Vegan Garden's Shortfalls
There is genuinely very little to pick apart with The Vegan Garden. The only negative I could mark against them is that for a company promoting weight loss and healthy vegan meals, not all of them are wholly organic. A diet rich in organic and whole foods has been shown to positively impact weight loss [1].
You can opt for an organic package and pay a little extra for the privilege, though, so the choice is there should you want it. The biggest takeaway should be that we have to split hairs to find a negative word to say.
In-Depth Review

1. Cost
The cost of services like this can be quite high, with some of the more specific meals to help you lose weight or be gluten-free costing the most. You can tailor the number of meals and your subscription length to try and find a cost that still provides good value.
My recommendation is to order food or meals a la carte first, which is a unique selling point for this meal delivery service.
Once you have a good idea which healthy meal and juice options you like, you can pick out a plan that works best for you.
2. Flexibility
If you sign up for a subscription, there is no way to cancel without incurring half of the next month's package cost. This can be difficult to manage if you might unexpectedly be called away on business or if finances are fluctuating.
The food options themselves are very flexible, and you can sign up for shorter or longer subscriptions, and they even offer discounts if you choose longer subscriptions. Once you have signed up for a plan, you can still make changes like adding juice to it or substituting things you don't like.
The customer service is top-notch.
3. Taste
The best part of any good meal delivery should be the food, and that is certainly true here. If you are looking for a great way to lose weight and get healthy with genuinely delicious food, I recommend trying a few meals and a couple of the juice options.
It can help you taste how good being healthy is and give you some great recipe ideas or introduce you to good eating habits.
I tried the Organic Kick Starter meal plan, and I have been attempting to recreate the incredible taste of the gumbo and Bangkok salads several times since.

Also Read:
4. Variety
The variety of the different meals that come in the packages is truly the best I've tried. This isn't a salad for lunch everyday kind of service. One day you will be eating Mexican and the next trying something new from Mongolia.
In all the reviews I read, people are singing the praises of the fantastic tasting meals and the exciting and exotic new recipes they try day after day.
I couldn't have gotten bored with this package if I'd signed up for months. Even with a seemingly simple juice package, you get to try something new every day.
5. Choice
When it comes to choice, a lot of these meal delivery services really drop the ball. Most will have a set meal plan for the week, and if you don't like it, you're out of luck. That's not how they do it here, though.
Whether you are only ordering one or two meals or putting together a month's supply package, they let you customize it to your own taste at every step. Whether you want it gluten-free or wholly organic, the choice is entirely yours, and the customer service is honest and friendly, helping you if you ever make a mistake or get stuck.
6. Impact
I think the impact of the meals, smoothies, and juice options are enormous. They can help you to cleanse, and they show you how good it can taste to eat healthily. I have tried the smoothies for a cleanse, and I've tried the meals for easy dinners. What they taught me are habits that I've stuck to when I had more free time.
I would love to order again, and one of the most important things it taught me is that you can still have cookies and delicious desserts while maintaining a healthy diet. It can help you build healthy habits that will look after your body and introduce you to a vegan diet.
Is The Vegan Garden Right For You?
There aren't many companies that design a menu for a week or individual days that make me genuinely excited to try them.
That said, however, I wouldn't sign up for a subscription with The Vegan Garden. I'd only order for a dinner or two, or maybe for days when I know I'm going to be busy.
Two main reasons - the cost makes me a little nervous about signing up for more. Also, reading the labels, they use a little too much sugar and salt for my personal liking.
If you are looking for a company that will provide an unparalleled subscription with healthy organic vegan breakfast, lunch, and dinner, I'd still recommend Trifecta.
It provides the same great tasting meals but is a more cost-effective option for the long term, and a little healthier focusing on healthy recipes without the need for added sugar.
Trifecta Nutrition Meal Delivery
Our #1 Recommendation
Offers large meal plan varieties - Keto, Paleo, Vegetarian, Vegan, and Classic
Organic ingredients
​Utilizes low carbon footprint
Delivers fully-cooked meals at your doorstep
Get the BEST PRICE until the end of May
Click For Best Price
About the author