When you need to power your body to perform at its absolute best, it's necessary to find fun and tasty ways to pile on that extra protein.
High fiber protein bars are also a great way to feel fuller for longer and stick to a diet to lose weight.
Raw dogging protein powder isn't for everyone, and if you want something with a little more taste, texture, and fiber, then a protein bar might be the perfect snack.
But how do No Cow bars measure up? Let's take a deep dive and find out.
What Are No Cow Bars?
No cow, no bull, no whey! These playfully named and appropriately consistent protein bars promise to provide you with that protein punch without the reliance on animal products.
They're dairy-free, gluten-free, plant-based, and vegan and vegetarian friendly.
"Being healthy and fit are choices I make, not sacrifices. I'm not chasing some finish line." - Daniel Katz, Founder of No Cow
If you're looking for a pre or post-workout protein boost without animal cruelty, then these non-GMO and high protein bars have all the right ingredients [1].
They have a massive selection of different flavors, but they all stay remarkably well within the same ballpark in terms of their macro profile.
How Does It Taste?
No Cow truly goes above and beyond when it comes to flavor. They have a vast range of dairy-free varieties of flavor that are sure to appeal to any taste.
For this review, we tried a sample to get the lowdown on the taste and texture of as many bars as possible.
Out of all the bars, we tried the Peanut Butter Chocolate Chip, and Chunky Peanut Butter bars came out on top.
I'm a bit of a Reeses (pea)nut case, and since I went plant-based, it's a flavor I've genuinely missed, so I might be biased. That said, the chewy bar's texture is enhanced by the cacao nibs and peanut crunch of the chips in both flavor bars, respectively.
Some complain that the bars have a slightly chalky texture, and I can see what they mean, especially in the more adventurous flavor bars like the Carrot Cake or the Lemon Meringue Pie.
They can feel a little tacky against your teeth, and you might want to wash them down with a glug or two of water.
Other tasty, nutrient-rich plant-based protein bars you can try:
Ingredients

No Cow bars provide very similar macros and nutrition, no matter which flavor you choose. They champion organic and clean ingredients, and you can see from the relatively small list that they're not adding too much artificial.
Let's look at the ingredients list for my favorite flavor, Peanut Butter Chocolate Chip, as an example.
Ingredients: protein blend (brown rice protein, pea protein), isomalto-oligosaccharides*, peanut butter (peanuts, salt, palm oil**), glycerine, cocoa nibs, palm oil**, cocoa butter, peanut flour, natural flavor, water, salt, erythritol, almonds, monk fruit, stevia extract.
Contains peanuts and almonds. Produced on equipment that also processes soy, milk, wheat, egg, and tree nuts. *prebiotic fibers derived from plant sources ** sustainably sourced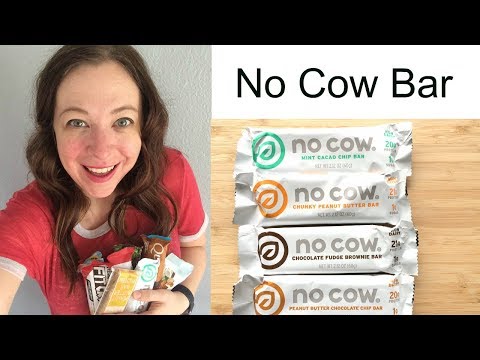 PROS
Truly impressive range of flavor sure to impress and appeal to any taste
A completely non-dairy company that promotes vegan ingredients
No matter the flavor, every bar provides remarkably similar calories, protein, and overall nutrition
CONS
In terms of texture, not all bars are made equal, and it's a little hit and miss
The prebiotic fiber content in the bar can take a little getting used to in terms of digestion
Relies on monk fruit stevia extract for sweetness, which some find intolerable in taste
Where To Buy A No Cow Protein Bar
No Cow is available up and down the country in supplement stores, trusted online retailers, health food shops, and even selected supermarkets.
If you don't have a trusted retailer near you, you can also find them online from the No Cow website.
I'd recommend starting with a variety pack, so you get a taste of all the different flavors available and which ones you like.
No Cow User Reviews
The No Cow review is overwhelmingly positive, with over 75% of customers giving 4 or 5 stars to the product.
The positive reviews tend to focus on the ample nutrition that the No Cow bars provide and there being next to no sugar or soy.
"Having had my fair share of protein bars over the years, this is one of the best I have tried in terms of the ratio of carbs, fats, protein, and fiber. I bought the variety box and have really been enjoying tasting all the different flavors."

- Lorraine, 5-Star Reviewer
On the other hand, the negative reviews tend to be focused on the chalky texture and the potential digestive discomfort caused by the prebiotic fibers.
"Really disappointed. Every bar looks the same once the wrapper comes off and they taste as bad as they look. They wreaked havoc on my digestive system and left me feeling super bloated."

- April, 1-Star Reviewer
FAQs
Is No Cow protein bar vegan?
Yes, every No Cow protein bar is vegan, and the company as a whole is dairy-free.
The then 18-year-old Daniel Katz founded no Cow bars under the name D's Naturals. Since then, they received an investment from General Mills and rebranded as No Cow but remain independent and owned by Katz himself.
Yes, a No Cow bar could easily be incorporated into a healthy and balanced diet. Due to their high protein and fiber content and relatively low-calorie count, and basically non-existent sugars, they are an excellent snack that can help stave off hunger.
How many calories in a No Cow protein bar?
It depends on the flavor, but the calories in a Now Cow protein bar usually amount around the 200-210 mark.
Is No Cow The Best Vegan Protein Bar?
Although No Cow is a great option as a vegan protein bar, my go-to is Orgain Organic Protein Bar. It is cheaper and the taste is hard to beat.
The Organic Protein Bar offers a good source of both protein and carbohydrates, essential to any athlete's post-workout meal.
A lot of the ingredients are all-natural and are non-GMO. They are also USDA Organic which is no easy thing to be labeled as since the USDA ensures all products they label as Organic are factual.
For the price, nutritional value, and the amount you get, you can't beat these protein bars.
Orgain Organic Protein Bar
Our #1 Recommendation
100% Plant-Based
10g of protein, 3-5g of fiber, and 140-160 calories per bar
USDA Certified Organic
Get the BEST PRICE until the end of June
Click For Best Price
About the author