Achieving the RDA guidelines for the correct amount of fruits and vegetables we should be eating is hard, especially for us vegans.
Giving ourselves a leg up on the competition with some super greens powder products in the morning or alongside meals can be a great way to ensure we're getting the correct amounts of nutrients and antioxidants that we need.
So, with that in mind, what are the best green superfood powder products on the market?
We compiled a list of our recommended superfood greens powders in this article, so let's dive in.
Our Top Green Powders (2021 Updated)
1 - Organifi Green Juice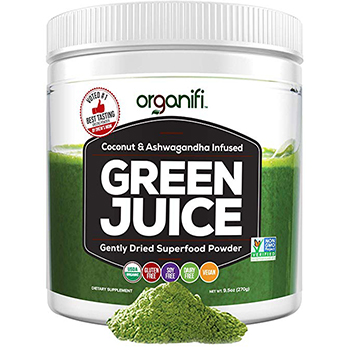 This green superfood powder contains a blend of 12 high-quality superfoods, including wheatgrass and spirulina together with coconut water, turmeric, lemon, mint, matcha green tea, and more.
This verdant green juice is rich in antioxidants, and the manufacturers recommend that you take the product in the morning to maximize its benefits.
Drinking this green powder is a sure way to get a good level of nutrition per serving. Each tub contains 30 servings.
The greens superfood powder mixes well in any liquid, and I have found it to be effective for weight loss and general health benefits as part of a healthy vegan diet.
Here's everything you need to know about the Organifi green juice:
Calories: 25
Protein: 2g
Carbs: 4g
Sugars: < 1g
Dietary Fibers: 4g
PROS
Packed with 12 organic, high-quality greens & superfoods
Helps enriches the body with complete nutrients for an improved overall well-being
Helps detox your body and remove all toxins
Great tasting, mixes well in shakes and smoothies
Due to its green tea flavor, this greens powder tastes great when mixed with drinks and smoothies. Use a blender bottle, make sure to mix it well, and you'll have great supplement to start your day with. Some people use a blender to get the best consistency.
2 - Organixx OrganiGreens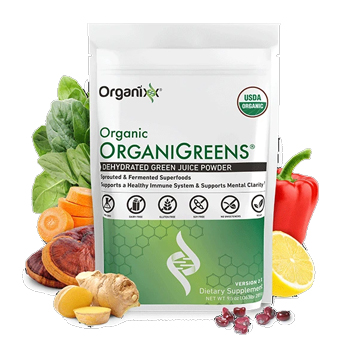 With the combination of 14 sprouted & fermented green plants, fruits, vegetables, mushrooms, seeds, and spices, OrganiGreens is one of those green powders that is packed with tons of essential superfood nutrition for the body.
And with its USDA Organic certification, you know you're getting quality organic greens ingredients while providing a significant nutritional value. It guarantees no artificial sweeteners, GMOs, chemicals, and preservatives or anything of that sort.
I also appreciate that this super greens powder contains digestive enzymes and vegan probiotics and uses "juice drying" (instead of "pulp drying") to provide up to 6 TIMES as much produce in each ounce of powder.
Apart from promoting better digestive health, it also makes sure that the body quickly and efficiently absorbs and utilizes all the good stuff.
Calories: 24
Protein: 1g
Carbs: 6g
Dietary Fibers: 3g
PROS
USDA Certified Organic
Contains a lot of healthy greens mix
Has probiotics and essential enzymes
Nutrients are readily available for absorption
CONS
Does not mix easily especially with light liquids (water or tea)
The texture of the superfood powder could be better as it ends up with a heavy consistency even after blending. Most people, as reviews online say, feel and taste the "green", which I don't mind most of the time.
If it really bothers you, you can mix it with vegan yogurt or any thicker liquid for a more bearable taste. Another way to make sure you get a better consistency is to use an electric blender for several seconds more.
3 - Plantrise Supergreens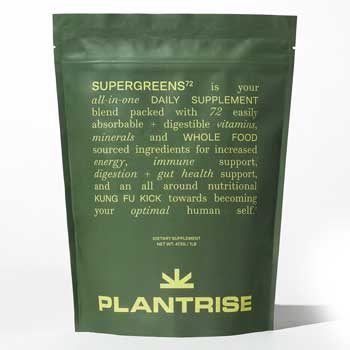 Every single scoop of Plantrise Supergreens contains the daily antioxidant equivalent of 12 servings of raw vegetables and fruits. Not only that, this all-in-one daily supplement blend is jam-packed with 72 nutrient-rich superfood ingredients.
Lots of customers praise its taste and easy absorption, claiming that "it's the stuff of truth." Honestly, supergreens aren't really known for being delicious, but Plantrise seems to keep the entire experience as painless as possible. That's a big plus.
Another interesting thing is that you get 30 servings in a 1 lb resealable pouch, which should always be refrigerated after opening.
Calories: 25
Protein: 4g
Carbs: 4g
Sugars: < 1g
Dietary Fibers: 2g
PROS
Increases energy and focus
Comes in a resealable eco-friendly packaging
Suitable for keto, paleo, vegan, and other diets
Free shipping
4 - LiveWell Beyond Greens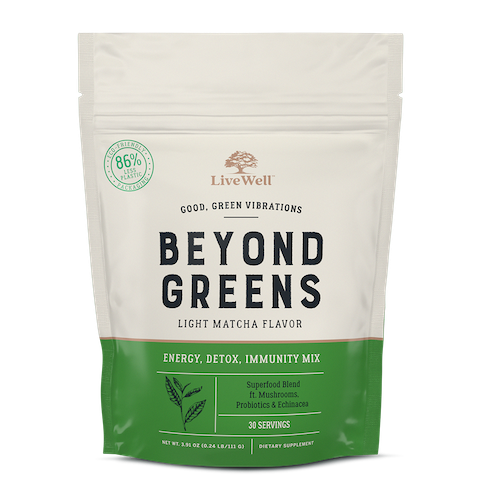 If you want to get your energy boosted without any caffeine, you can also try Beyond Greens by LiveWell.
The product is said to contain a mix of echinacea, Rhodiola, milk thistle, probiotics, and four varieties of powerful mushrooms - all of which help support in maintaining a healthy immune system.
You can also feel improvement in your gut health, whole-body detoxification, and a boost of energy.
LiveWell's products have always been free of gluten and soy and friendly for vegans. And I personally like the light matcha flavor this drink has.
Calories: 5
Rhodiola Rosea: 50mg
Chlorella: 500mg
PROS
Contains a mix of mushrooms, probiotics, and echinacea
Gluten-free and soy-free; vegan friendly
Can mix up to 30 servings (good for one month)
Support whole body detoxification
CONS
May be quite expensive for some
5 - Athletic Greens Ultimate Daily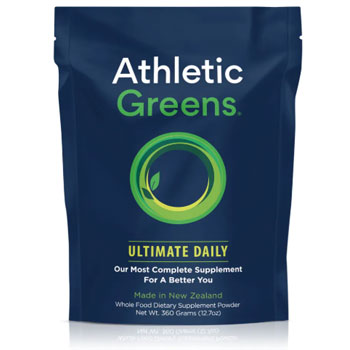 This Athletic Greens green superfood supplement contains a total of 75 nutritious vitamins, minerals, antioxidants, and other organic plant-based ingredients sourced from whole foods.
Out of all their products, the brand describes this greens powder as "obsessively researched".
It would take ages to list all the ingredients in this greens powder product, but some of the most noteworthy components include vitamins A, E, and B12, in addition to protein, biotin, and calcium. It also contains a good amount of vitamin C.
It is an all-in-one superfood powder for all plant-based nutritional needs.
Calories: 50
Protein: 2g
Carbs: 6g
Sugars: < 1g
Dietary Fibers: 2g
PROS
Contains 75 healthy ingredients made from whole foods
Has Vitamins A, C, E, and B12, to protein, biotin, and calcium
Plant-based, non-GMO, and vegan-friendly
Also contains probiotics for a healthier gut
CONS
A price tag to match the professional athlete's needs
Despite the more expensive cost, lots of people rave about how helpful the probiotics are in addressing chronic digestive issues.
6 - Amazing Grass Green Superfood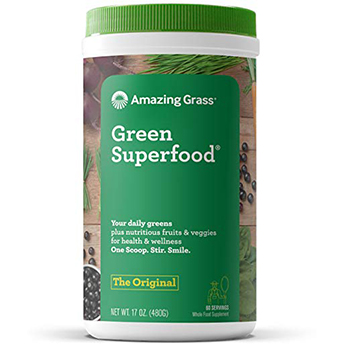 According to the manufacturer of Amazing Grass green superfood product, 1 scoop is equal to two scoops of veggies, which is a little bit vague for my liking.
They then go on to confusingly describe the product as giving you "3+ servings of greens, fruits, and veggies"… is it 2 or 3?
Nonetheless, there's lots of good stuff packed into this little bottle of greens (precisely how much leaves room for debate).
In addition, the variety of different flavors in Amazing Grass super greens powder is ideal for people who like to entertain their taste buds a little.
Calories: 30
Protein: 2g
Carbs: 5g
Sugars: < 1g
Dietary Fibers: 3g
PROS
Contains farm fresh greens, fruits, and veggies
All flavors taste great
No gluten, sugar, non-GMO
CONS
A little less focused on formula than flavor
You can choose from berry, chocolate, holiday cookie, "original" (whatever that means) and even pumpkin spice flavor, so it's ideal for throwing into your next frappa-lappa-whatever from Starbucks. #PSL
7 - Equilibrium Daily Fruit and Vegetable Blend
The Daily Fruit and Vegetable Blend from the brand equilibrium contains 22 fruits and vegetables that are all naturally sourced, including spirulina, barley grass, beetroot, and spinach, among others.
It claims to boost the body's energy levels, maintain skin elasticity, and improve overall health, especially if you're not keen on veggies in your diet. It boasts of its paleo profile -- all organic and no-nonsense.
It comes in two flavors, unflavored and crisp apple. When it comes to my green powders, I typically gravitate towards unflavored ones, but Equilibrium's an exception.
Calories: 25
Protein: 1g
Carbs: 5g
Sugars: < 1g
Dietary Fibers: 1g
PROS
Packed with 22 organic fruits and vegetables
Gluten-free, non-GMO, and without any artificial ingredients
Mixes and tastes good with plain water or smoothie
Claims to provide an energy boost to the body
CONS
The unflavored variant tastes like crap
I enjoyed the crisp apple variant more than the unflavored, and surprisingly, it tasted even better when I mixed it with my morning smoothie.
8 - Prebiotic Greens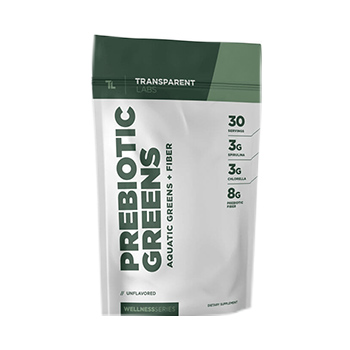 This prebiotic greens powder is specifically formulated to help improve your digestive health and gut flora in mind.
Rather than your run-of-the-mill ingredients list (spinach, kale, etc.), the label guarantees each serving of this powder to contain 3g of spirulina and 3g of chlorella, in addition to 8g of prebiotic fiber.
Simply mix one scoop into a glass of water on a daily basis in order to start your day healthily and with a well-cared-for microbiome blossoming inside you.
The product is described as "naturally flavored", which makes sense because it sort-of tastes like an obscure mixture of vegetables, fish, and potatoes.
Calories: 57.8
Protein: 3.3g
Carbs: 11g
Sugars: < 1g
Dietary Fibers: 4g
PROS
Made with ingredients that focus on digestive and gut health
Contains prebiotics and algae greens
No hidden ingredients on the label
In other words, just like what many people say on their reviews, it's not that tasty.
9 - Ora Organic Superfood Green Powder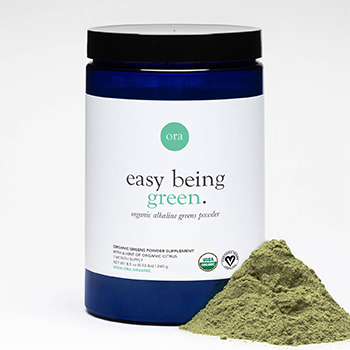 Ora Organic loves to have witty little references on their supplement bottles, and this one is no exception, reading "easy being green" in huge font across the top.
This organic-certified product is made from 20+ veggies, grasses, herbs, and algae, including barley grass and monk fruit extract.
I noticed a real energy boost from this product, and the affordable price means that buying it in bulk can save you a lot of money in the long run.
Definitely give this one a try and don't forget to let us know of your feedback about this supplement!
Calories: 25
Protein: 2g
Carbs: 5g
Sugars: 1g
Dietary Fibers: 2g
PROS
Packed with 20+ organic ingredients
Helps boosts energy at an affordable price
Dairy free, gluten free, non-GMO
10 - Green Surge Greens Powder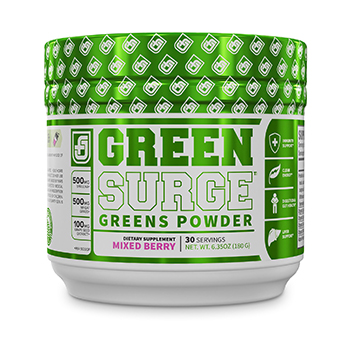 Boasting 500mg of spirulina, 500mg of wheatgrass, and 100mg of grape seed extract per serving, Green Surge is a tasty berry-flavored green powder that also contains probiotics and a good amount of fiber, which is great for your digestive system and gut flora.
This one is designed to provide you with a unique formula of powdered fruits and vegetables, helping to support your immune system and provide your body with lovely clean energy throughout the day.
It can also be mixed easily with water.
Organic Spirulina Powder: 500mg
Digestive Enzyme Blend: 150mg
Organic Spinach Leaf Powder: 500mg
PROS
Packed with 500mg spirulina, 500mg wheatgrass, and 100mg grape seed extract
This blend contains digestive enzymes to help improve the immune system
Great tasting and mixes well in water
No artificial sweeteners, preservative-free, non-GMO & sugar-free
CONS
Currently only 1 flavor available
Some people recommend that you try adding this one to your regular shakes and smoothies for a healthier drink. I like to mix mine with my morning smoothie.
It's also one of the most cost effective green powders on this list.
11 - PaleoPro Greens Powder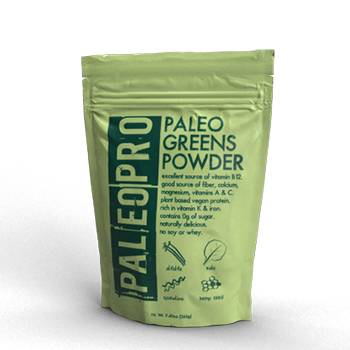 I've been experimenting with a vegan paleo diet recently, and this paleo-friendly greens powder has been instrumental in keeping me healthy.
This one sources all of its nutrition from natural whole food sources such as alfalfa (which is rich in protein), spirulina, kale, and hemp seed, all of which are obviously plant-based and all vegan.
This supplement is particularly rich in vitamin K and iron, as well as fiber, calcium, magnesium, and more on a per serving basis.
The superfood powder formula is completely sugar and additive-free, so you needn't worry about ruining your paleo kick with a bunch of ingredients that definitely weren't around in caveman times.
Calories: 30
Protein: 25g
Carbs: 3g
Sugars: 0g
Dietary Fibers: 3g
PROS
Contains all-vegan ingredients: alfalfa, spirulina, kale, and hemp seed
Aids in digestion - rich in fiber
Paleo and vegan-friendly
What Are Green Superfood Powders?
A green superfood powder is a health supplement powder that can be mixed into water and other drinks. They are filled with various "greens" (i.e. vegetables, grasses, fruits) that have "superfood qualities".
"Superfoods" or "super greens" is somewhat of a marketing term, but it essentially refers to various foods that are known to have health benefits due to their vegan vitamins, protein, nutrients, and antioxidants, as proven by several research studies [1].
Green powders and other superfood supplements can thus support your health, aid digestion, relieve stress, improve immunity, and potentially ward off cancers and illnesses. However, they should not replace normal vegetable consumption, as with any other supplements.
Greens powders should only be used in addition to a diet that's still rich in whole plant foods, including fruits and vegetables. Greens powders do not give the 'green light' to not eat your vegetables.

- Lori Zanini, Creator of For the Love of Diabetes Online Program
How To Choose A Good Greens Powder?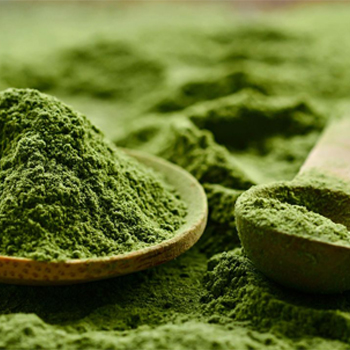 There are tons of green powders and other products on the market that promise a lot of health benefits, but ultimately, choosing the right greens powder depends on your health, fitness, and what you're looking for in a supplement.
There are some key ingredients in greens powders that benefit certain parts of your body.
For example, digestive enzymes and probiotics help to break down nutrients in your body, while fiber powders maintain strong gut health and antioxidants help safeguard your immune system [2].
Generally speaking, spirulina and chlorella (forms of algae) should be present, as well as a nice mix of greens (spinach, kale, etc.) and grasses (wheatgrass, barley, alfalfa, etc.).
Ingredients To Watch Out For
To make your superfood powder taste nicer, some manufacturers might sneak artificial sweeteners, flavorings, and colors into the formula of their products, so watch out for that, as well as animal products, obviously.
There are also some ingredients in these greens powders that sound high in nutrition but don't do much for you, such as hemp powder, carrot, and lettuce, so don't take everything at face value.
Organic greens powders are always the better choice, so check the content and ingredients on your greens powder to make sure you're getting all the good stuff.
Remember that, unless you're fine with eating dehydrated kitchen scraps, there should be at least one thing in the product that's backed by good science.

- Kurtis Frank, Health Writer
Different Types Of Greens And Their Benefits

There are many different types of greens with various health benefits.
"Greens" is a bit of an umbrella term which basically refers to "green stuff that is good for you in one way or another".
Typically, "greens" refers to leafy vegetables such as kale, spinach, cabbage, and bok choy. These greens are rich in different vitamins and minerals, including vitamin C and K.
However, when it comes to choosing the best greens powders, we're talking about algae, seaweed, grasses, and fermented greens too.
Let's take a closer look at these different "greens" and what all the fuss is about.
1. Marine Sources
This usually refers to spirulina and chlorella, two types of algae that are renowned for their health benefits. For instance, chlorella is 50-60% protein, and a complete protein too, meaning it contains all 9 of the essential amino acids.
Studies suggest that spirulina can prevent heart disease and reduce high blood pressure. This one ingredient is also a good source of antioxidants, so a greens powder is easily the better choice when it contains spirulina compared to other products.
2. Moringa Leaf
Moringa leaf is known for its antiviral, antidepressant, antifungal, and anti-inflammatory properties. Basically its anti-everything that's bad for us [3].
The leaf is not only known to treat and help prevent serious illnesses like edema, cancer, and arthritis, but it also has nourishing properties for our hair and skin too.
3. Grasses
Grasses such as wheatgrass and barley are renowned for their strong nutrition. For example, wheatgrass is packed full of iron and amino acids, as well as vitamins A, C, and E and other essential minerals.
On the other hand, barley grass is rich in natural organic sodium, helping our digestive system to work properly.
4. Fermented Greens
Fermented foods are known for their probiotics and "good bacteria" which help to improve our gut flora and keep our microbiome in good shape.
There are also other benefits to fermentation. For example, fermenting cabbage so it becomes kimchi or sauerkraut boosts glucosinolate compounds are thought to fight cancer.
5. Green Superfood Powder Blends
"Superfoods" is not really a science term, but it basically refers to natural ingredients (usually plants) which are known for being "super" healthy and nutritious.
Some green superfood powders are made with these superfoods, such as alfalfa, chlorella (which is also very rich in protein), spirulina, broccoli, kale, ginseng, spinach, barley grass and more, which work for weight loss and overall health improvement. Many greens powders on the market today contain these a blend of some of these superfoods.
FAQs
Do Super Greens Help You Lose Weight?
Superfood powders and greens can help you to lose weight if they are combined with a healthy diet and fitness regime. If taken before a meal, studies find that super greens can improve your probiotics, digestion and also increase satiety, helping you to feel fuller.
What Vegetables Are Super Greens?
Vegetables are generally regarded as "super greens", which includes kale, spinach, cabbage, collard greens, beet greens, watercress, romaine lettuce, arugula, turnip greens, and bok choy. There is no strict definition of "superfood" or "super greens", however, opinions may vary.
Are Powdered Greens as Good as Fresh?
Superfood powders or powdered greens are not as good as fresh; generally speaking. Although, organic greens powders are indeed healthy and packed full of beneficial nutrients and protein. The consensus is that they should not replace fresh fruits and vegetables in your diet entirely. Ideally, our nutrition should include a mix of fresh greens with powdered greens, too.
Do Powdered Greens Expire?
Most powdered greens, just like any other food supplements or products, have an expiry date. Typically, they have a shelf life of around two years. After this time, they do not usually "go bad", but they will become less potent and beneficial over time. Nonetheless, always read the advice given on the packaging of your organic greens powders.
Should I Take Super Greens?
We should take greens powder if we want to improve our overall health, nutrition, and ensure that we're getting all the vitamins, minerals, antioxidants, and nutrition that our bodies need. However, super greens supplements should be taken as part of a healthy diet which includes fresh veggies and fruits too.
Can a Green Supplement Boost My Immunity?
Yes, a greens superfood supplement may boost immunity. It's just one of the many benefits of a greens powder. However, results may vary greatly depending on the ingredients of your organic supplement and your body's digestion. Even when you're taking a green superfood supplement, it is still highly recommended to eat plenty of fresh fruits and vegetables for a strong and healthy immune system.
Our #1 Recommended Green Powder
If you're looking for a healthy vegan greens powder that encourages more vibrant health and fitness, I personally think that the best green superfood powder is the Organifi Green Juice.
I consider this as the best greens superfood powder because you get a product that has a high organic superfood content that will build your body up and detox toxins at the same time. It also contains a good amount of greens nutrition with its nutritional content per serving.
It's easy to mix, making it a convenient option. If it does not mix well, you can just use a blender to get your desired consistency.
In your opinion, what are some of the best greens powders on the market? Let us know in the comments below.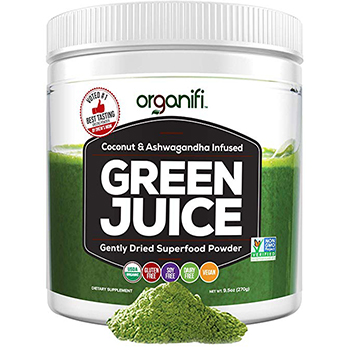 Organifi Green Juice
The Best Green Powder
Packed with 12 organic, high-quality greens & superfoods
Helps enriches the body with complete nutrients for an improved overall well-being
Helps detox your body and remove all toxins
Great tasting, mixes well in shakes and smoothies
Get the BEST PRICE until the end of May
Click For Best Price
About the author