More and more people are shaping up and getting fit as the health and fitness bug continues to sweep the globe. Isn't it about time we started combining our various tonics, tinctures, vitamins, and minerals into more convenient and streamlined packages?
Say hello to Vega Organic Protein & Greens, which claims it can replace your regular plant-based protein powder shake while also offering an ample dose of various vitamins and minerals in one easy to swallow portion.
But does it work?
Let's take a closer look and see how it measures up.
What is Vega Protein & Greens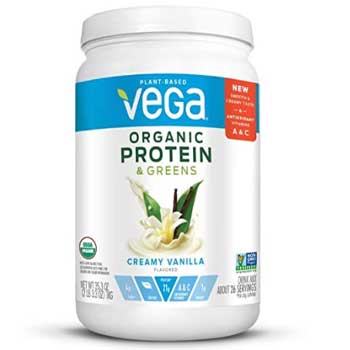 Vega Protein & Greens contains a healthy 20 grams of protein alongside a long list of other vitamins and minerals.
It's a great source of plant-based protein that mixes well with water, almond milk, or your favorite dairy-free milk alternative.
They take great pride in the fact that the product is all-natural and organic, using whole-food ingredients to create the blend and using stevia as low sugar, low-calorie sweetener.
Vega, as a brand, supports this ethic as a core value, and you'll see similar care and attention to ingredients in all their products. It's a vegan brand and non-GMO certified.
Other protein powders we recommend:
Ingredient Breakdown

Vega takes pride in only using ingredients sourced from whole-food sources. They use natural vitamins and minerals with documented and researched effects. Let's take a closer look at the formula for their Protein & Greens.
Pea Protein. Aids with weight loss, and muscle recovery after workouts, promotes a healthy heart, and can also help regulate blood sugar levels [1] Here is the how-to guide for creating a workout routine.
Pea Starch. Very high in vitamins K and C and also in B vitamins, copper, phosphorous folate, zinc, manganese, and protein. It has a good digestibility for starch and provides a great method to absorb these vitamins [2].
Organic Alfalfa Grass Powder. Has a great selection of hard to obtain micronutrients, such as chlorophyll, calcium, iron, zinc, potassium, and vitamins A, E, and K. It also provides a decent dose of the B vitamins [3].
Brown Rice Protein. Helps to add additional amino acids as a protein source and is also high in fiber to aid digestion [4].
Hemp Protein. Another complete protein source containing decent amounts of all nine essential amino acids. No one protein source is perfect or pure, but providing a blend like this has numerous benefits by strengthening the BCAA's present [5]. If your goal is to pack lean muscle, add one of the best vegan BCAAs to your supplement stack.
Sacha Inchi Protein. A great source of protein, vitamin E for hair and skin, and fiber for digestion. It's growing in popularity as a viable soy alternative due to soy being a known common allergen [6].
Spinach Powder. A great source for protein, selenium, fiber, folic acid, calcium, niacin, riboflavin, potassium, vitamins C, A, and K. There's a reason Popeye eats so much of this stuff, and it's mainly for the high concentration of antioxidants and their numerous health benefits [7].
Broccoli Powder. High in lots of healthy micronutrients and is especially good for the digestive system. Recent studies show that broccoli can have varying health benefits depending on the season harvested [8].
Stevia Leaf Extract. Used as a plant-based and all-natural sweetener that gives Vega Protein & Greens its sweet flavor.
Papain Powder. Found in papaya fruit, this compound is essential for breaking down protein fibers that are tough and works to further the effect of the various proteins found in the blend.
Organic Kale Powder. An essential source of vitamins A and C and, in recent studies, has also been shown to help regulate blood sugar levels [9].
If you want to additionally boost your immune system, make sure you're regularly consuming the foods from the list below:
How Does It Taste?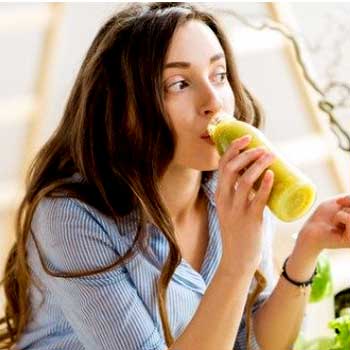 Vega offers a selection of different flavors from chocolate, salted caramel, berry, coconut almond, tropical, vanilla, or plain.
Taking a lot of its nutrition from leafy greens, you would expect it to have a very green or earthy taste, but it is well mixed and flavored with stevia to give it an unexpected sweetness.
Some users claim that they find it hard to mix, though, saying that it is a little chalky or clumpy.
When using the recommended amount of liquid, I did find it was a little too thick compared to how I usually have my shakes. I often add a bit more liquid than instructed on the nutrition label.
For more great-tasting vegan superfoods, check out our review of the best greens powders.
PROS
Has a wealth of ingredients with a whole heap of health benefits attached to them.
Provides the health benefits of a greens powder with protein powder in one serving
All-natural, all-vegan, and allergen and GMO-free.
CONS
Expensive ingredients make for an expensive product, and this protein powder costs more per scoop than most others.
Stevia is an incredibly powerful sweetener, and many find the saccharine sweetness too much to handle.
The protein powder is also very thick when mixed as per recommendation, and many users find they need to add more milk or water to get a blend that isn't the consistency of cake batter.
Other greens powder products we recommend:
Where To Buy Vega Protein & Greens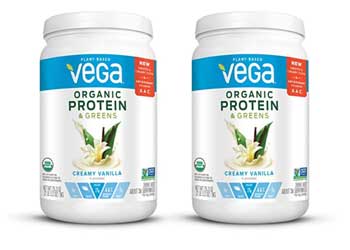 The product is available via the Vega website alongside all their other products or you can buy it from other 3rd party retailers.
It is recommended you purchase it directly from them as you will get the best price and the potential for bulk buy savings.
By purchasing directly from the company, you also ensure you have a better line of contact for any potential returns or problems that may arise.
They do offer a 30-day satisfaction guarantee.
FAQs
Is Vega Protein & Greens A Meal Replacement?
You are recommended to take Vega Proteins & Greens alongside a meal to bolster your vitamin and mineral intake. However, many users use it as a meal replacement and owing to the caloric count and whole-food sources of the formula, it can be used that way.
Read our full article on the best vegan meal replacements on the market. If you're short on time, then check out our #1 recommended meal replacement: Ample Meal V
What Does Vega Protein & Greens Powder Do?
Vega Protein & Greens provides 20g of protein with a healthy dose of whole food nutrition on the side. You can use it to help you down the gym, shed some extra pounds, or bolster your body's general health.
For more protein powder recommendations, see our main article on the best vegan protein powder on the market.
Is Vega Protein & Greens Good For Building Muscle?
Vega Proteins & Greens is an excellent protein source for building muscle. Vegan protein has proven itself as good as animal-based protein, and Vega uses a blend of different plant-based protein powder sources to serve up a great combination of BCAA's in their powder.
Other good options for muscle building are One Shake by Vega and Raw Organic protein powder by Garden of Life.
Should You Buy Vega Protein & Greens?
I think Vega is a great product, but it's not the best there is. Unfortunately, both the price and the overly sweet stevia aftertaste make this protein powder a bit hard to afford, let alone enjoy.
Our suggestion would be ProteinSeries Organic Vegan rice and pea protein from Transparent Labs, which is 100% vegan and free of artificial flavoring and sweeteners. Bye-bye stevia.
Another good thing about their products, in general, is that they are USDA Organic Certified.
ProteinSeries Organic Vegan packs a protein base of 2:1 rice to pea protein ratio, ensuring the protein shake has that reduced grit texture which can have a positive effect on the digestive system.
In addition to providing an ample dose of protein (at 24 grams per serving), Organic Vegan also contains 4 grams of fiber per serving.
See for yourself, and let us know if you've made the right decision!
Transparent Labs ProteinSeries Organic Vegan
Our #1 Recommendation
24 g of protein per serving
120 calories and 2g of fat per serving
Premium all-natural ingredients
USDA Organic Certified
No artificial sweeteners or flavoring
Get the BEST PRICE until the end of June
Click For Best Price
About the author