For vegans, office lunch orders and grabbing fast food for the family require thought and calculation. It has only been recently that chains seem to finally be trying to meet the needs of vegetarians and vegans.
McDonald's continues to make changes and additions to its menu to appeal to a broader and more conscious audience.
Let's look at Mickey D's menu and see what sparks your tastebuds.
McDonald's introduced the McPlant in November 2020. The fast-food chain paired up with Beyond Meat® to develop a plant-based patty that appeals to vegetarians and vegans.
McDonalds Vegan Breakfast
When you think about a vegan breakfast, McDonald's is likely not the first place that comes to mind. But, their overall vegan offerings are growing slowly, but at least it is growing.
Are McDonalds pancakes vegan?
As much as we wish it were true, McDonald's pancakes have eggs and milk. But nothing says you can't make your own. The super sweet maple syrup is vegan friendly and can sweeten up other fast food treats.
Is McDonalds oatmeal vegan?
The McDonald's Fruit & Maple Oatmeal has light cream if you order it straight from the menu. But, you can ask for it without cream. It is well worth a try if you're looking for a nutrition-filled breakfast than fills you up and keeps you going until at least lunch.
McDonalds Vegetarian Options
Vegetarian options are far easier to find than vegan. McDonald's breakfast menu is an excellent example of that fact.
Biscuits and batter at McDonald's are non-vegan. But are entirely safe and acceptable for those on a vegetarian diet.
Pancakes
Vegetarian McMuffin
Egg and cheese biscuit
Egg and cheese McGriddle
Smoothies
Are McDonalds Burgers Vegan?
It may feel like a weird question, but the answer is yes. McDonald's introduced the McPlant in November 2020. The fast-food chain paired up with Beyond Meat® to develop a plant-based patty that appeals to vegetarians and vegans.
McDonald's still doesn't have vegan-friendly cheese, but we can still hope.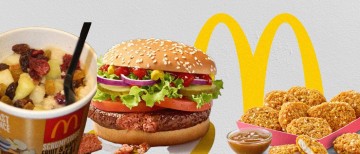 What is vegan at McDonalds?
The McDonald's breakfast menu for a vegan is nowhere near as broad as for vegetarians. But, you will have options.
Fruit & Maple Oatmeal (remember to request without cream)
Apple Slices
Maple Syrup
Filter Black Coffee
Americano Coffee
Minute Maid Orange Juice
English Muffin (plain)
Jelly
Are McDonalds cookies vegan?
The McDonald's sweets menu is lacking when it comes to vegan options. The chocolate chip cookies contain dairy and eggs.
Are McDonald's McFlurries vegan?
All of the frozen goodies McDonald's offer has dairy. The shakes have milk, and the smoothies have yogurt. With that said, there are whispers that McDonald's in Germany has added a vegan Kit Kat McFlurry to the menu.
Vegan Pancake Recipe
McDonald's pancakes might not be vegan-friendly, but you can whip some up in the kitchen super quick.
1 cup of all-purpose flour (or gluten-free flour)
1 1/2 tablespoons of sugar
Two teaspoons of baking powder
1/4 teaspoon of sea salt
1 cup of your choice of dairy-free milk
Three tablespoons of olive oil
(optional) Pure vanilla extract
Mix the flour, sugar, baking powder, and sea salt together in a medium-sized bowl.
Whisk together the milk, oil, and extract until they blend together and combine.
Carefully form a well in the middle of the flour mixture with your fingers.
Pour the milk mixture into the center and stir with a fork until you do not see clumps. If it has a few, that's fine. You don't want to overmix the blend, either.
Use medium heat to warm the skillet.
Brush the pan lightly with oil.
Pour in batter until you reach the wanted pancake size.
It takes about 2 minutes to cook each side.
FAQs
Are McDonald's hashbrowns vegan?
For whatever reason, McDonald's hashbrowns are fried using beef fat, and they contain milk as a binder.
Are McDonald's french fries vegan?
Just like hashbrowns, McDonald's french fries are fried in beef fat. They also contain natural beef flavoring, a wheat and milk derivative.
What are vegan lunch and dinner options at McDonald's?
Lunch and dinner opinions at Micky D's are slim pickings, but we know with the introduction of the McPlant, at least they are attempting.
Baked Apple Pie
Apple Slices
Side Salad
Southwest Chicken Salad (Specify no chicken)
Create Your Own Vegan Sandwich (customize any sandwich by specifying no meat or cheese, and add tons of veggies.
Which salad dressings and dipping sauces are vegan at McDonald's?
Different regions have different sauces and dressings. But, you should not have any issue finding a vegan-friendly one for your McDonald's side salad.
Balsamic Vinaigrette Dressing
Newman's Own Classic Oil & Vinegar Dressing
Zesty Italian Salad Dressing
Tangy BBQ Sauce
Spicy Buffalo Sauce
Sweet and Sour Sauce
About the author