Powher is a nitrate-rich supplementation designed with women in mind, hence its hideous pink branding, because girls just can't resist right?.
Powher is formulated to help women increase focus and energy while doing strength training and resistance exercises in the gym.
This is good news, as most exercise pill products are designed for men. However, most women don't want muscles like Arnie, so they require female-focused performance products.
What is Powher?
Powher is a pre workout for women which is developed for women's bodies and muscles.
Its caffeine content can help ladies maintain their mental acuity and powerful energy levels whilst going about their lives.
The manufacturers also claim that Powher can "support more intense workouts for faster fat loss" and "promote strength in the gym to help you create a more toned body."
The supplement company uses some rather emotive language to describe for those taking powhr, saying that it has "zero" side effects and that it can give users the body of a Victoria's Secret model. So we set out to discover if all this is true with this powher pre workout review.
Other pre workout supplements for your stronger half: 
Powher Ingredients
Here's a quick rundown of the Powher pre workout natural ingredients and their effects:
Enextra –This combines many extracts (including alpinia galanga) that are natural stimulants and mental boosters.
Oxyjun – No, that wasn't a typo. Oxyjun is known to improve cardio performance and endurance by giving your muscles the oxygen they need in a faster way (1).
Rednite – If you're looking to increase your neuromuscular efficiency when exercising, this nitrate-ridden type of beetroot contains 100% of the antioxidants of normal beetroot.
Coconut Water Powder – Coconut water powder is loaded with many vitamins and minerals (calcium, sodium, magnesium, potassium etc.) as well as electrolytes too.
L-Tyrosine – This amino acid helps produce dopamine, norepinephrine and epinephrine naturally in the body.
L-Citrulline Malate – l citrulline is an amino acid known for its links to increased power and performance results in the gym (2).
Naturally-sourced caffeine – Natural caffeine is known to improve energy, alertness and sustained attention, especially if you're not getting enough sleep before a workout. Check out this article for more natural sleep supplements.
Beta Alanine Carnosyn – Beta alanine carnosyn is a nutrient which is known for preventing neuromuscular fatigue during an intense gym session, making it easier to last longer with more energy. If you need extra of this nutrient in your system, you can take some beta-alanine supplements too.
There are more active ingredients and natural ingredents in Powher, including turmeric, cayenne pepper, piperine, and raspberry ketones.
PROS
Gentle muscle building for women which leads to a gradual increase in power
Sustained energy and focus throughout the day which leads to better performance
No "caffeine crashes" like some other stimulants
Our testing showed good results
CONS
Embarrassingly pink powder and packaging
Does contain at least 1 artificial ingredient per scoop
Powher Benefits
Powher pre workout ingredients aim to help women lose weight, reduce fatigue, burn fat, build muscle, and increase their energy without skyrocketing their blood pressure and ending up looking like Johnny Bravo.
The last part is the problem with many gym pills – they have a bias toward male customers who generally want to pump iron and wolf down caffeine for energy.
Women, on the other hand, tend to do more cardio than strength training in the gym, being more concerned with staying slim and toning their bodies.
This is the power of Powher (get it?) – it is designed for women, allowing them to slowly release caffeine in their body over the day, whether they're in the gym or in the office.
According to the manufacturer, Powher is formulated so that they don't get the "caffeine crash" they get with other caffeine-loaded alternatives.
For supplements that focuses more on brain boost, you can also check out some vegan-friendly nootropics here.
Powher Side Effects
There's an air of mystery surrounding the potential downside of Powher, as many of the ingredients appear to have limited evidence backing them up.
For example, it's hard to find scientific evidence about the effects of ingredients like enextra, rednite, and oxyjun, leading me to believe that they may just be hyped-up marketing gimmicks.
I also noted that the product ingredients list contained an artificial sweetener, which may explain the unusual "Pink Lemonade" flavoring. As mentioned earlier, the product itself as well as the branding is aggressively pink, which doesn't fill me with confidence on precisely how natural the ingredients are.
Lastly, I felt that the product could contain more citrulline, as it is low in this when compared to some of its competitors on the market.
Also, dare I say that the product's marketing is a bit over the top feminine and… pink, it's a little reductive. Oh, and there's a fair amount of caffeine too, maybe even too much and certainly an amount that those with a sensitivity will want to avoid.
How Much Does Powher Cost?
A 1-month supply of Powher costs $49.99, while a 2-month supply costs $90.00, giving you a slight saving. The 3-month option will cost you $135.00, allowing you to save $15.00, and on top of that you also get an extra bottle for completely free. The 3-month option is a no-brainer.
FAQs
Powher is safe if used according to the instructions. It is manufactured according to GMP standards.
Powher is meticulously quality controlled and checked in its US factories and fda registered facilities, all of which are approved by the FDA and related authorities. You can be rest assured that Powher is safe to use.
What Does Powher Taste Like?
Powher tastes like high quality Pink Lemonade, thought it also features notes of raspberry and watermelon. Many fitness enthusiasts prefer this sweet flavor to the unexciting flavors used by many other brands, although Powher does use an artificial sweetener in order to attain its Pink Lemonade taste.
Will Powher Help With Weight Loss?
Powher will help with weight loss, if that's what you're working towards. In addition to fat loss, the makers claim that Powher increases women's endurance, physical performance, focus and energy when they exercise, helping them to fulfill their fitness goals. However, it is not a plant-based fat burner.
You can also check out this article about Powher vs Leanbean if you need a good alternative for a fat burner.
Can I Stack Powher With Other Supplements?
Powher can be stacked with other supplements, though I would personally recommend taking the product by itself. Powher contains many healthy ingredients, but stacking complex products together can lead to unwanted physical side effects in your body, especially if the products contain caffeine and similar compounds.
Any Other Alternatives to Powher?
When Should I Take Preworkout
When it comes to taking the best pre or a scoop of powher, take it 1 scoop of powher 30 minutes before your workout.
What Other People Think
Rachel
To learn more about this pre workout supplement, you can watch this video review by Youtuber Rachel Vrabel.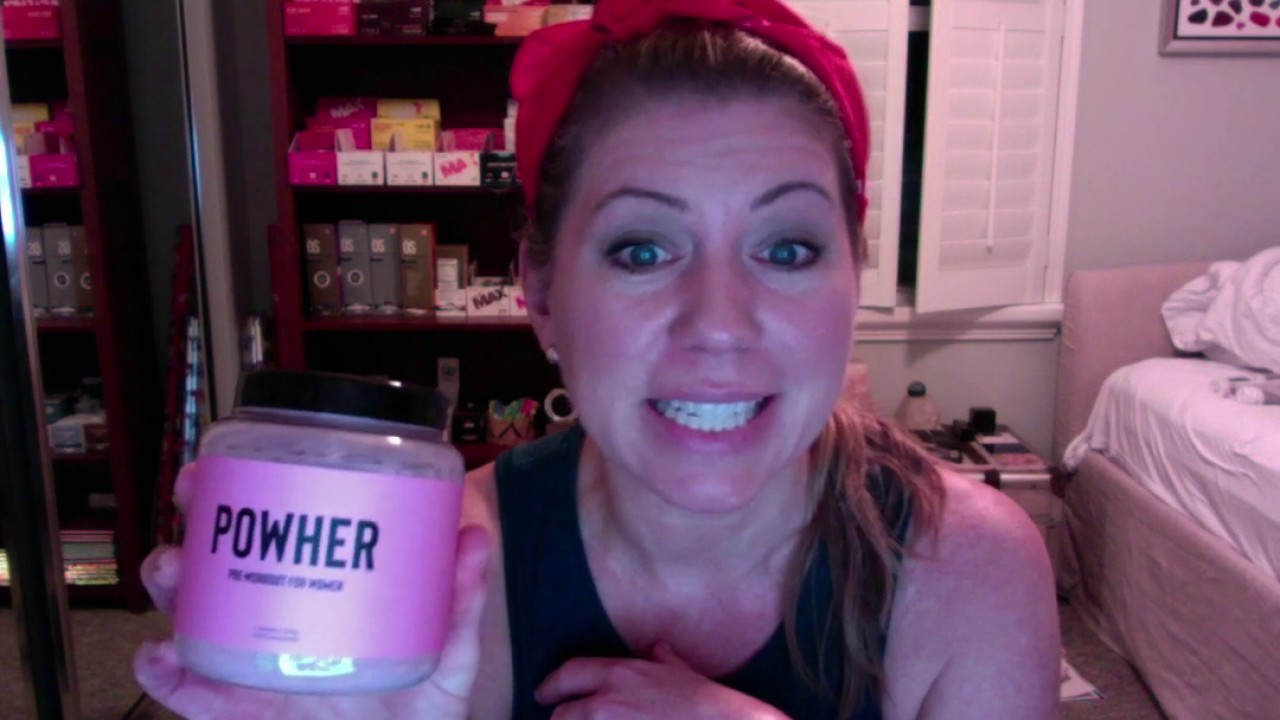 Mary
Powher was a complete godsend!! Not only are all the ingredients natural, but there are no harmful stimulants either.
In terms of my training, I've never felt so motivated and fit during my workouts. And the extra strength really showed during the last 10-15 minutes of a session when I'd usually be starting to struggle.
The taste was also delicious and fresh, way better than the fake tasting energy drinks I've had before. And it's also super low calories too which is good to know.
All in all, I would really recommend Powher if you are finding it difficult to get results in the gym. My exercise routine befitted massively mainly due to the fact that I was way more myself more motivated to workout in the first place. The results speak for themselves!
Does Powher Really Work?
According to one review of Powher which isn't listed on their official website, Powher could potentially be a good energy-boosting pre workout supplement for both men and women, depending on their fitness goals.
From my research, some reviewers share concern that a few of the ingredients have little research to back up the claims made by Powher.
Having tried this pre workout for 30 days, and based on my results, I can for sure say that it does really work for increasing stamina and energy at the gym.
I liked it mainly for the fact that I didn't get that jittery feeling and that there were no pre workout "crash" afterwards like other pre-workouts out there.
Despite an artificial sweetener and some ingredients which seem to be in there just for funsies, I feel that Powher is a good all-around gym supplement for women who want to up their fitness game.
We Recommend
Powher
Gentle muscle building for women which leads to a gradual increase in power
Sustained energy and focus throughout the day which leads to better performance
No "caffeine crashes" like some other stimulants
Our testing showed good results
Get the BEST PRICE until the end of June
Click For Best Price
About the author