There are so many green tea extract supplements to choose from and it's hard to determine which is best in terms of quality and value. I have been on the hunt for the best green tea extract supplement looking at ingredients, quality, and effectiveness. I've tried several brands that not only meet the needs of the vegan diet but also help boost my energy and metabolism.
I looked at everything from the best green tea supplements for weight loss to the best EGCG green tea extracts. I only want the best, and I'm sure you want that too.
Here's our top picks:
Our Top Green Tea Supplements (2021 Updated)
1 - VitaMonk MatchaMax
MatchMax is one of the best-rated green tea extracts because they use matcha instead of regular green tea leaves. Matcha is made from the same leaves as green tea, but the bushes are kept in the shade to increase chlorophyll and amino acid levels. It's why I think this is the perfect product to get energized during a mid-afternoon slump.
If it's too late in the day for coffee, but I still need something to wake me up and focus, this is what I reach for. MatchaMax is a great option for me because it helps me reduce the cups of coffee I drink while still getting energy.
There are no coffee jitters and no caffeinated-fueled sleeplessness. It accomplishes this with an amino acid called L-Theanine which slowly provides a stable energy increase without leading to a caffeine crash.
PROS
Increase energy without interrupting your sleep cycle
Most beneficial for overall well-being
Uses matcha instead of regular green tea leaves
Organic and best quality green tea extract from Japan
CONS
It's not green tea, but matcha
The company claims it's the best green tea supplement for weight loss because it doesn't raise your blood pressure. They also say that this will help with enhanced energy, management of DNA damage as well as help with mental focus, calmness, and relaxation.
It's fairly affordable, and you can get even more value when you subscribe and get a discount. It even comes with a 100% satisfaction guarantee or you will get your money back.
2 - BulkSupplements
If you are looking to boost your drinks, then this is a great green tea extract supplement. Take a scoop of it and add it to your smoothies, juice, or water to consume.
I like to mix the powder with a smoothie for breakfast because it adds a great taste and also helps me start the day with energy.
There are a lot of green tea benefits, but the company suggests taking this product with ginger to help with inflammation from seasonal allergies.
Aside from that, many users have noticed a decrease in their snacking time between meals. Sounds great, right?
PROS
Can adjust serving size to your own needs
Good value when purchased in bulk
Users have reported a decrease in snacking between meals
Powder form makes it easy to mix with your drink
CONS
Not as tasty as average green tea
This green tea extract supplement is cost-effective when bought in bulk, but you should also consider the additional cost of the smoothie or juice that you might put it in.
3 - Natures Wellness
Natures Wellness is a green tea extract product made in the USA. You can rest assured that quality went into the facility that creates these pills. The facility is Good Manufacturing Practice (GMP) compliant.
Not only was there thought about the standards of the facility, but there was also a lot of thought put into making a powerful antioxidant green tea extract, it's a company that feels good to invest in.
The company claims that its product has natural fat-burning nutrients and is a metabolism booster.
PROS
Every purchase helps with malnutrition in women and children around the world
3rd party-verified for purity and potency
Users report this product helped them lose weight
15mg of caffeine content
CONS
Contains other ingredients besides green tea extract
Based on my research, a few people have claimed that this product did help them lose weight. It's worth looking into because green tea has catechins that help your body burn calories.
4 - Primaforce
Primaforce is a company that is committed to providing products that are high-quality and research-proven. This is a newer brand, but users have positive things to say about it.
With 500mg of green tea extract in each capsule, it contains a lot of potential energy and weight management.
It's been reported that these supplements help with increasing metabolism, curb cravings, and suppress appetite. This may be a great option if you are looking for a green tea extract that helps with weight management.
PROS
Specifically created for weight management
Promotes fat loss
Only pharmaceutical-grade and clinically-tested ingredients
Tested for purity and potency
CONS
Need to take two pills at different times of the day for maximum efficiency
However, I think it's a nuisance to have to take it twice a day compared to only taking it once a day.
5 - Now Supplements
This supplement only has 400mg per capsule, and they only recommend taking one a day. It has up to 32g of caffeine in one serving. It will definitely give you more energy, and you should probably be careful about taking it later in the day. Otherwise, you may end up a little restless at night.
Now Supplements is more affordable than other supplements. This container has 250 capsules at an already low price which makes the per capsule cost pretty low.
If you also take into consideration that you only need to take one pill a day, then this is one of the best green tea supplements in terms of value and longevity.
PROS
Small capsules for easy swallowing
Boost of energy for workouts
Very affordable
Has potent free radical scavenger
CONS
Not as much green tea extract at other brands
In terms of ingredients, it contains a potent free radical scavenger which is an antioxidant that can maintain normal function for your cells. There's also a little Vitamin C to give you an added nutritional boost to your diet.
6 - Nature's Bounty
Nature's Bounty is a popular choice among fitness and weight-loss enthusiasts because it's one of the best EGCG supplements with catechins and polyphenols.
It's also a great metabolism booster with naturally occurring caffeine content that ranges from 27-40mg. It also comes loaded with a lot of green tea extract. Taking their recommendation of two pills daily is 630mg of green tea extract.
Based on my research, users find this product helps them with mental clarity and focus. It's a great addition to your daily supplements if you are looking for a kick-in energy.
PROS
Purchasing online has better value than in retail
Capsules can be opened to make a tea
Improvement in mental health
Lots of naturally occurring caffeine
CONS
Need to take 2 pills for best results
I recommend purchasing this online for the best price. Retail locations are slightly more expensive.
7 - Nobi Nutrition
One bottle only has 60 capsules, so you will want to be mindful about how fast this product will go if you use it daily. However, you get a high-quality and non-GMO product that was formulated in the USA in an FDA-approved facility. You're not getting a cheap knock-off here.
It's made with the keto diet in mind and was great when I used it for a keto detox. The company claims that this is the best green tea supplement for weight because increases your metabolism and helps maintain heart health like blood pressure.
This product may also help clear up your skin with some users reporting that their breakouts have gone down and their skin appears more supple.
PROS
Does the job of providing a metabolic boost
Users report clearer skin
Nice pre-workout energy boost
Designed for a keto detox
CONS
Slightly more expensive
Ingredients list apple cider vinegar powder
You can stock up and save online by purchasing more online. They provide discount codes to use ranging from 10-20% off depending on how many you buy. It's great value to buy it in bulk.
If you enjoy the detoxification benefits, you might also like this detox tea list.
8 - Applied Nutrition Green Tea Fat Burner
You may be interested in a green tea fat burner if you are looking for the best green tea extract for weight loss. Combining this with a healthy diet and exercise won't hurt your chances of losing weight.
It definitely helps you feel energized before working out and also as a midday pick-me-up. It contains 160mg of caffeine.
They also have a plant-based "Essential Vitality Boost" formula included that helps promote overall health. This is great if you are looking for more nutrition to add to your diet compared to a supplement with only green tea extract.
PROS
400 mg of EGCG per dose
Claims to increase calorie burning
Supply powerful antioxidant protection
Unique formula of ingredients for more nutrition
CONS
Contains other ingredients besides green tea extract
Pricier compared to other brands
This product is also on the higher-end of pricing, and you don't save more if you buy in bulk. However, if it gives you the results that you are looking for, then this is still a great option.
9 - Zenwise Health
If you are looking for the most bang for your buck, Zenwise Health is a supplement that you should consider. 1 capsule contains 725mg of green tea extract which makes it the largest amount per serving on our list.
It also has 60mg of Vitamin C to make this supplement even more nutritional. The company claims that the unique green tea extract and Vitamin C formula helps with weight loss, energy, and brain and heart health. It also provides antioxidants beneficial for the immune system.
You will want to take the pill with your breakfast or another meal. If you don't then you will experience nausea. Save yourself the trouble and enjoy it with your food.
PROS
Highest green tea extract amount in one pill
Contains Vitamin C
Jitter free energy
Users love it for weight loss
CONS
Amount of green tea extract may be too much for some people
You might be worried about this product not being the best fit for you which is understandable. It's not an issue with Zenwise Health though. Their products have a 100% Satisfaction Guarantee with your money back otherwise.
10 - Buddha's Herbs
There are some days when you don't need an energy boost, but you are looking for all of the health benefits that come with green tea extract. I know that there are also people out there who are sensitive to caffeine.
Buddha's Herbs contain less than 1% caffeine per capsule which is less than a cup of decaf green tea.
Thiamine is also included because this vitamin is essential for maintaining healthy brain function and a positive mood.
And who doesn't want that?
PROS
Decaffeinated green tea extract
Contains Thiamine
Clearer memory and more mental focus
Non-GMO and soy-free
CONS
Not great if you are looking for an energy boost
What Are The Benefits Of Green Tea Supplements?
There are many benefits to taking green tea extract, it has a lot of antioxidants including catechins which help reduce high blood pressure and improve heart health.
It could help prevent disease in the body by helping your overall health. (1)
Some other potential health gains from green tea supplements may help include:
Promote brain health
Weight loss
Supports liver function
Improve skin health
Better exercise performance and recovery
Lowers cholesterol
Does Green Tea Help With Cancer?
There haven't been enough studies to prove that green tea can help with cancer risks.
Early studies show that green tea may help prevent the risk of cancer, but there's no reliable evidence.
There are many factors that can affect a study about cancer like lifestyle, amount of green tea taken, and other supplements or treatments that people were using.
Although the studies have been hopeful about preventing cancer risks, green tea is still considered a supplement to promote overall well-being and not cure any disease. Any disease like breast cancer should be treated with the help of medical professionals.
You can also watch this video by Dr. James Meschino to learn more about green tea and cancer.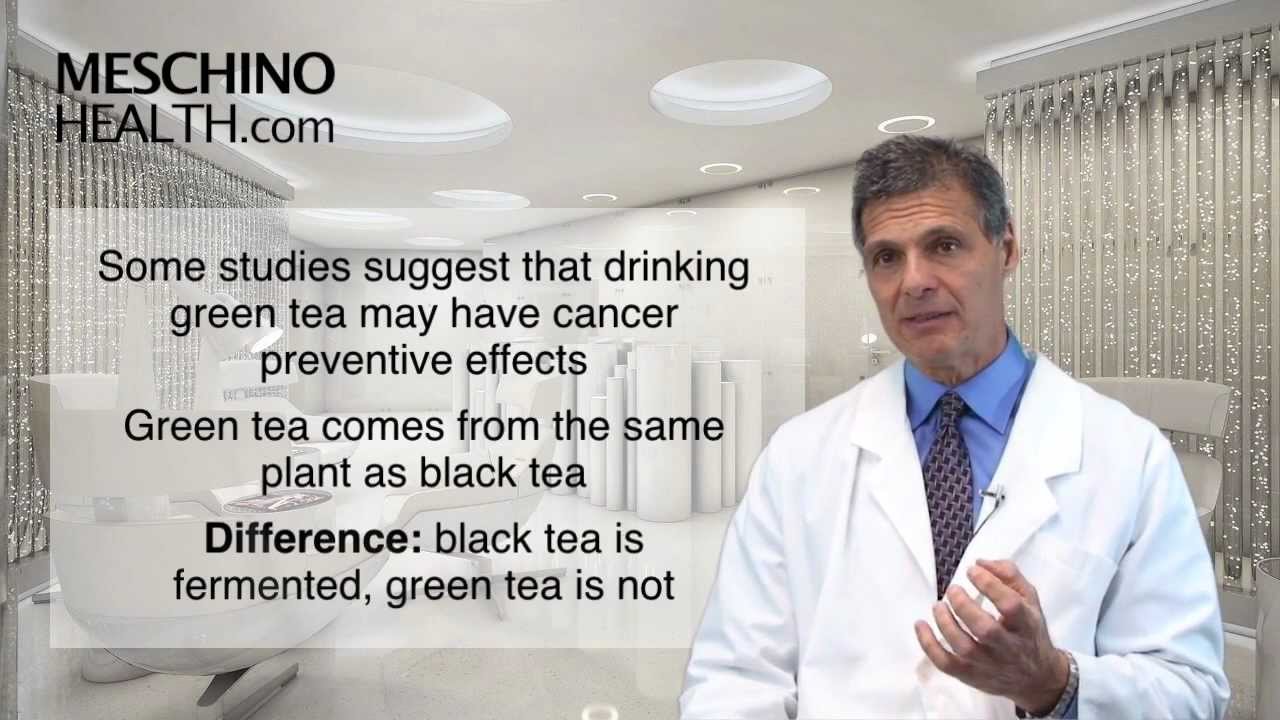 What To Look For When Buying A Green Tea Supplement
You should definitely study the label to determine what is in your green tea extract supplement. Here are some questions to ask yourself:
Is it only green tea extract or are there other ingredients?
How much green tea extract, epigallocatechin gallate (EGCG), catechins, polyphenols am I getting?
How much caffeine is in one serving?
Am I sensitive to caffeine or any of the ingredients?
Are there any risks of green tea extract having a bad reaction to the medication I'm taking?
My #1 Recommended Product Is..
My personal recommendation is VitaMonk MatchaMax. I believe it's the best green tea supplement because of the organic green tea extract. It's different from others on the list as it uses matcha to ensure that you are getting above the average nutritional needs.
It also provides other health benefits besides the typical increase in energy and metabolism. I've noticed that it gives me mental clarity and focus while going through my day. (If you also like how this gives you mental focus, you can also check out some vegan nootropics here).
Green tea extract reviews agree with me that the results and quality are unbeatable.
One customer wrote "Great way to get all the wonderful benefits of matcha instantly. Pure, clean, excellent product." It's worked wonders for me and I'm sure it will for you too.
All the products on this list are an excellent starting point if you're looking for a great green tea extract, but as always experiment and see which works best for you.
For more green tea products, you can also ​read our articles on ​green tea fat burners and how they work.
VitaMonk MatchaMax
Best Green Tea Supplement
Increase energy without interrupting your sleep cycle
Most beneficial for overall well-being
Uses matcha instead of regular green tea leaves
Organic and best quality green tea extract from Japan
Get the BEST PRICE until the end of June
Click For Best Price
About the author