Apple cider vinegar is supposed to be a cure-all product. It claims to support the immune system, improve digestion and metabolism, control blood pressure, and aid in weight loss, among many others.
But the real question is, do apple cider vinegar products actually work? And with tons of brands in the market, which one should you pick?
After speaking to people who use apple cider vinegar daily and trying some out myself for research, I've compiled a list of what I think to be the best apple cider vinegar supplements on the market.
Our Top Apple Cider Vinegar Recommendations
1 - Snap's Apple Cider Vinegar Gummies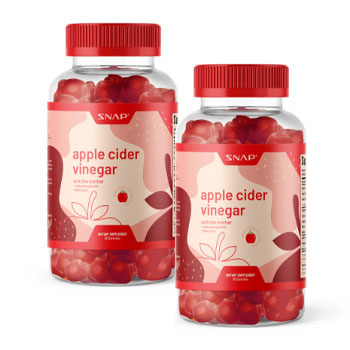 Although ACV has been used in traditional medicine practices for centuries, drinking vinegar is no easy task. This prompted Snap to create Apple Cider Vinegar Gummies that not only provide the holistic health benefits for the whole family but are also convenient.
Besides ACV, this product combines other ingredients, including pomegranate and beetroot juice powder, B-Vitamins, and folic acid to boost your energy levels and promote heart health.
But what do customer reviews say about Snap's Apple Cider Vinegar Gummies? Interestingly enough, most of the reviews are quite positive, stating that the gummies helped them feel satiated for longer periods of time, which indirectly helped them lose weight further down the line.
Apple Cider Vinegar: 500 mg
Vitamin B12: 4.8 mcg
PROS
Supports gut health
Easy-to-use, 2 capsules per day minimum
Contains Iodine, which is good for thyroid health
May act as an appetite suppressant
2 - Yours Nutrition Apple Cider Vinegar Gummies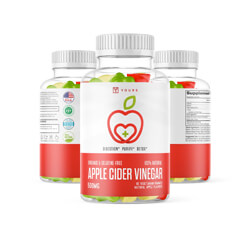 The best thing about the Apple Cider Vinegar Gummies by Yours is the fact that this is easier to consume. It contains all the essential nutrients you can get from drinking Apple Cider, but this time, it's packed in a gummy.
One gummy also contains a great blend of superfoods such as apples and beetroots which helps in enhancing the effects of every intake.
It may not look like it, but this product helps in keeping your body in check and energized all day.
Apple Cider Vinegar
Ginger Dry Extract
PROS
No more unpleasant feeling of drinking apple cider vinegar
Enjoy the blend of superfoods
Vegan-friendly
100% Natural; Gelatin-free
CONS
Some users reported experiencing acid reflux
3 - Zhou Cider Detox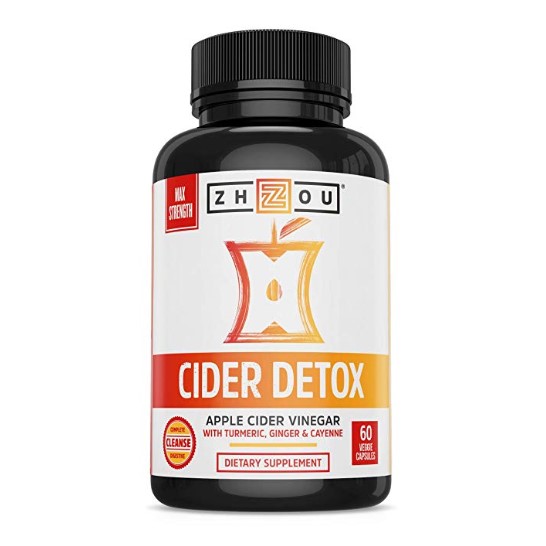 The good thing about Zhou Cider Detox is that it comes in capsules, so you don't have to take the apple cider vinegar in its liquid form.
While a lot of people (including myself) don't dislike apple cider vinegar's acidic taste, it is definitely not everyone's cup of tea and it has been reported to cause damage to the throat and teeth of long term, large dose users.
Zhou Cider Detox comes in easy-to-swallow capsules which are said to be packed with probiotics and enzymes that will help boost your metabolism and support the body to naturally detoxify from harmful toxins.
Apple Cider Vinegar: 650 mg
Organic Turmeric: 35 mcg
Organic Ginger: 35 mcg
PROS
Considered effective in improving your gut and heart health
Helps boost metabolism
Naturally detoxifies the body
Feel better while maintaining overall wellness
Made with vegan-friendly ingredients
These easily consumable apple cider vinegar capsules provide just that and out of all the products I've tried these are definitely my favorite. No wonder why it's become one of my go-to supplements these days. According to the manufacturer, these apple cider vinegar capsules can also improve your digestion, heart health, and overall wellness.
4 - Zeal All Natural Apple Cider Vinegar Pills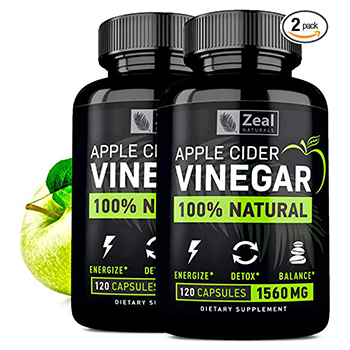 If you're really trying to kickstart your weight loss and you want something stronger, I would recommend these apple cider vinegar pills from Zeal All Natural.
Each pill comes with 1500mg of apple cider vinegar, as well as 60mg of Cayenne Pepper - a good combination when it comes to getting slim.
Cayenne Pepper is used in cuisines from many parts of the world and is thought to reduce high blood pressure, reduce hunger, and naturally boost your metabolism. (1)
Apple Cider Vinegar:1500 mg
Cayenne Pepper: 60 mg
PROS
Made with 100% pure apple cider vinegar and cayenne pepper
Helps in weight loss management and suppresses appetite
Naturally cleanses and detoxes the body
CONS
Not the best taste
Doesn't work for everyone
Zeal All Natural also claim that their apple cider vinegar supplements are able to help lower high cholesterol levels and support general heart health.
This is good news if you're like me and heart problems run in the family. There's a reason this humble pepper is so popular in the vegan fitness community.
5 - Squeeze Dried Apple Cider Vinegar Powder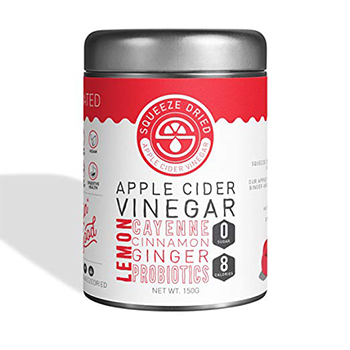 Apple cider vinegar tends to be something that you see in pill or liquid form, but here we have apple cider vinegar supplements in the form of a powder.
This powder contains not just apple cider vinegar, but ginger, cinnamon, lemon, cayenne pepper, and probiotics too.
This cocktail of healthy stuff (that's a technical term) supposedly helps to aid digestion, lower blood sugar, detoxify the body, improve skin health, and encourage weight loss when consumed with good foods and exercise.
Apple Cider Vinegar Powder: 500 mg
Cayenne Fruit Powder: 75 mg
PROS
Aside from apple cider vinegar, it also has cayenne pepper, cinnamon, ginger, lemon & probiotics
Ideal for weight loss, detox, regulating blood sugar, acne, and more!
No preservatives, no hidden ingredients
The only downside to this product is that it contains stevia (an artificial sweetener) in order to mask the acidic vinegar taste.
Research has suggested that some forms of stevia might reduce blood sugar control, which isn't good if you've got diabetes.
Essentially, this apple cider vinegar product is worth trying if you're looking to lose weight/detox your body and you don't mind consuming a fair amount of this powder every day.
6 - Nutricost Apple Cider Vinegar Capsules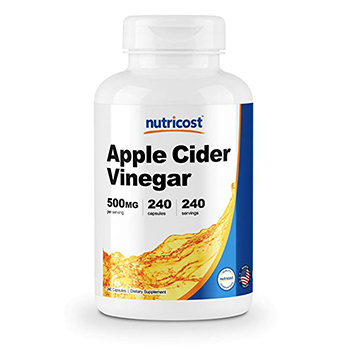 When I'm looking to buyapple cider vinegar supplements in bulk, I often end up finding cheaply-made tablets which are not vegan or vegetarian-friendly due to their gelatin-based ingredients.
Luckily, Nutricost produce a vegan-friendly 500mg apple cider vinegar pills which you can buy in bulk without breaking the bank.
Takingapple cider vinegar supplements will prevent you from having stomach issues, sore throat, and arthritis. Aside from those, it is also known to help detox and cleanse the body from harmful toxins.
Apple Cider Vinegar : 500 mg
PROS
Made from high-quality apple cider vinegar
Helps in weight loss, upset stomachs, arthritis, and more
Affordable and easy to swallow
Try this one out and let us know your results in the comment section. So, they're ideal if you're attempting weight loss on a budget and want all the help that you can get.
7 - Braggs Organic Apple Cider Vinegar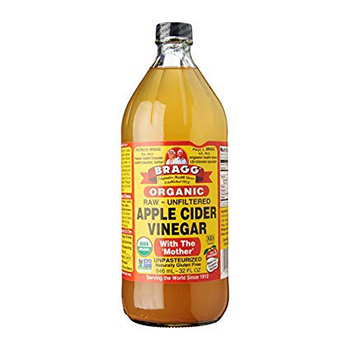 Braggs is a wholesome, no-nonsense, organic brand which has been producing these healthy natural products for years, and their unfiltered apple cider vinegar is no exception.
Their unfiltered formula means that it contains the "mother" of vinegar; a bunch of proteins and enzymes which are thought to have further health benefits. (2)
One of the best ways to incorporate this into your diet is to mix a couple of tablespoons with hot water and honey in the morning – you might even want to use this as a replacement to your morning coffee.
PROS
Certified organic, unfiltered & unpasteurized
Known for its effective weight loss wonders when consumed
Can be mixed with face masks, toners, or food
CONS
Not the cheapest supplement
Ancient Greek medicine was sketchy at best, but it seems like they got some of it right, and we're following in their footsteps once again. As noted by the Braggs team, apple cider vinegar was supposedly used and recommended by Hippocrates back in the day, the Greek guy who the Hippocratic Oath (the medical oath doctors take) is named after.
One article that might interest you: Is Honey Vegan?
Why Should I Take Apple Cider Vinegar?
You should take apple cider vinegar because there are many research studies highlighting the health benefits of apple cider vinegar pills. For example, some research studies show that apple cider vinegar may lower blood sugar levels, helping people with diabetes.
Many forms of vinegar, including apple cider vinegar, may also help people to feel fuller after eating, making weight loss easier to achieve.
A small Swedish study found when individuals consumed vinegar with a meal, they reported feeling a higher level of satiety after eating than those who did not consume vinegar. (3)
Erin Palinski-Wade, RD, CDE, author of Belly Fat Diet For Dummies
The Possible Side Effects Of Apple Cider Vinegar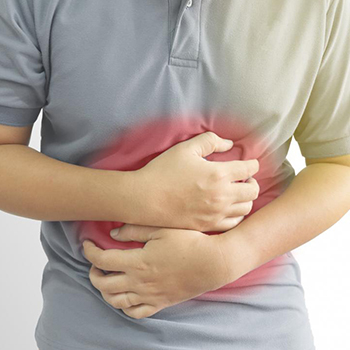 Possible side effects of apple cider vinegar include indigestion, nausea, lowered potassium levels, reduced bone density, and drug interaction with diabetes medication and other prescribed medicines too.
If you're applying it directly to your skin in order to treat acne and spots, you should consider diluting the vinegar with water as the high acidity ofapple cider vinegar can cause skin burns for some users. (4)
Furthermore, if you're taking the liquid form as a shot, you should consider diluting the vinegar with water of taking pill supplements instead. This is because the high acidity can irritate the throat and erode tooth enamel.
Always remember to take any supplement in moderation to avoid any unwanted side effects.
Which Are Better Apple Cider Vinegar Pills Or Liquid?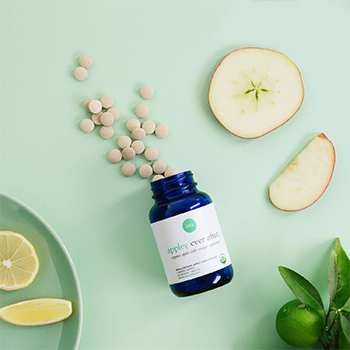 Apple cider vinegar pills are generally the best way to consume apple cider vinegar.
This is because the liquid version of apple cider vinegar can erode your tooth enamel and burn the mucous membranes in your mouth due to its acidity.
However, if you dilute the liquid vinegar with plenty of water at home (I personally like a ratio of 2:3 vinegar to water) then you should be able to avoid/reduce these effects while getting all the same apple cider vinegar pills benefits and no vinegary taste.
Most people online also prefer to take ACV in pills because of its smell.
But there are some instances that you need to use apple cider vinegar in its liquid form like when you're making a face mask.
How Much Apple Cider Vinegar Per Day?
You should generally take 1-2 tablespoons of apple cider vinegar 2 times per day if you're consuming it as a liquid. Make sure that you're diluting the vinegar with water before consumption.
There is no clear recommended daily amount for the pill form, but generally the best apple cider vinegar pills come in 500mg servings and it is suggested that you take them twice a day. 500mg is a similar amount to 2 teaspoons of the liquid alternative.
If you are into detoxification, have a go at this list of best detox tea you can try, which may help a great deal with your weight loss.
FAQs

What's the best way to take apple cider vinegar?
The best way of taking apple cider vinegar is in its pill form, as you get pretty much all the same benefits as the pure liquid form but there is no risk of damage to the enamel of your teeth and you also get to avoid the strong vinegar taste too.
What's the best time of day to take apple cider vinegar?
The best time to take apple cider vinegar depends on your goals. For example, if you're using it to aid weight loss, then you should take it before meals. However, if you're taking it to improve your sleep and general health, then take it in the morning and at bedtime.
Can apple cider vinegar affect kidneys?
Apple cider vinegar can affect your kidneys positively by reducing acidosis and regulating insulin levels, helping your kidneys, lungs, and digestive system to function normally and healthily. Severe acidity in the body can lead to kidney stones, butapple cider vinegar can help to prevent this.
Does apple cider vinegar go bad?
Apple cider vinegar does not "go bad" due to its acidity. However, if the bottle has been opened and not used in a long time, the appearance and flavor of the vinegar will not be brilliant, although it will still be safe. Apple cider vinegar can easily last 5+ years without going bad.
Apple cider vinegar can be incorporated into the diet in a balanced and sustainable way, integrating this valuable substance into your nutrition.

Jaimi Jansen, Personal Trainer & President of Santa Cruz CORE Fitness & Rehab
My #1 Recommended Apple Cider Vinegar Supplement
Out of all the products above, our best choice is the Apple Cider Vinegar Gummies by Snap.
The best part is, the product contains high-quality ingredients and a mixture of other superfoods, such as pomegranates and beetroots.
It truly is more than just a gummy. In fact, consuming Snap's Apple Cider Vinegar provides numerous benefits, including weight loss, detoxification, aids, digestion, lowering blood sugar, energy boost - all that without having to force yourself to chug a serving of apple cider.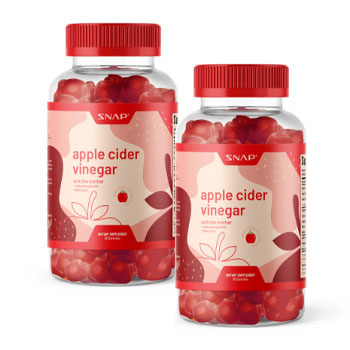 Snap's Apple Cider Vinegar Gummies
Our #1 Recommendation
Supports gut health
Easy-to-use, 2 capsules per day minimum
Contains Iodine, which is good for thyroid health
May act as an appetite suppressant
Get the BEST PRICE until the end of June
Click For Best Price
About the author