Sometimes, muscle soreness can be more of a hindrance rather than a sign of progress. This may explain why amino acids are becoming the hottest thing among gym-goers and bodybuilders.
But are they really able to increase muscle growth and repair muscle damage caused by intense workouts?
Well, Battle Ready Fuel BCAA claims so.
In our Battle Ready Fuel review, we will look more closely at this supplement to gauge the efficacy of this product, the quality of ingredients used and see what do the customers think about their results.
What Is Battle Ready Fuel?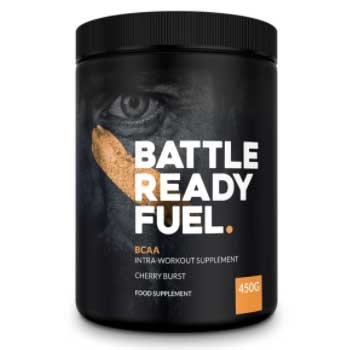 Essentially, this is a branched-chain amino acid supplement coming from Battle Ready Fuel, a sports supplement company created by former SAS (special air service) veteran Ollie Ollerton and his team of scientists.
Mathew 'Ollie' Ollerton is best known as one of the instructors on Channel 4's tough military series, SAS: Who Dares Wins.
Prior to his appearance on this television show, Ollie had an illustrious military career, starting with the Royal Marines, which he joined in 1990 at the age of 18.
By 1994 he had become a member of the Special Boat Service - the naval equivalent of the SAS.
The brand mission of Battle Ready Fuel is to help you "dream big and aim high".
They know that choosing sports nutrition can be difficult, with brands making outlandish statements, unsubstantiated claims, proprietary blends, and a long list of ingredients.
The products for sale from Battle Ready Fuel, such as the pre workout fat burner, vegan protein, sleep aid, super greens, liquid collagen, and fish oil (omega 3) supplement are of quality make and do not make any of those unsubstantiated claims other supplement companies usually make.
Whatever they claim can be backed up with science, and with only the best quality ingredients used, with no cheap fillers used. You know that when you buy any of their products you are getting a top-quality product.
Key benefits on offer include:
5 grams of BCAAs with every serving
4:1:1 blend of leucine, isoleucine and valine
Help reduce muscle soreness
Improves muscle glycogen recovery
Battle Ready Fuel amino acid supplement is free from any animal products so is safe for both vegetarians and vegans to use.
Main Ingredients

There are 3 types of BCAAs - these are leucine, isoleucine and valine. They are considered essential because they cannot be produced by your body. You can only get them through the foods you eat, or through supplementation.
For those looking for maximizing amino acids intake, add organic protein powder by Transparent Labs to a post-workout shake.
There are a number of reasons why you need them, especially if you want to be able to get the best results possible from your training.
Some people will struggle to build muscle, but with the right ratio of BCAAs, it can become a possibility thanks to something called mTOR (mammalian target of rapamycin), which can trigger muscle protein synthesis.
With mTOR activated your body will know that you have enough dietary protein available for muscle building. Research has found this to be the key regulator in maintaining skeletal muscle mass [1].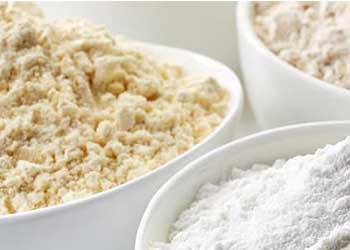 When used alongside other workout supplements on your workout days, such as a whey protein supplement or a pre workout fat burner, it will help you achieve an increase in lean muscle mass. This will help you achieve both your health goals and fitness goals.
If health is your main concern, consider taking vegan multivitamins and plant based immune-boosting supplements.
The issue is that most supplements lack the right ratio of amino acids, with most having a ratio of 2:1:1. A study by the US Army found that you need a ratio of 4:1:1 [2].
Luckily for you, Battle Ready Fuel's BCAA contains this ratio, with 3.3 grams of leucine and 825 milligrams of both valine and isoleucine found in the formula.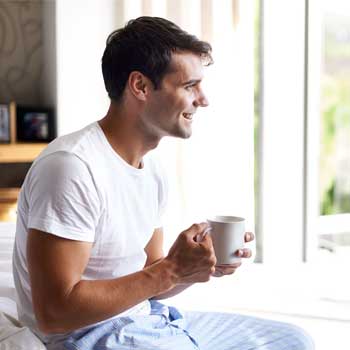 Other ways that this supplement can boost your training is by:
Suppressing muscle damage and delayed onset muscle damage (DOMS) [3]
Reduce fatigue during exercise [4]
Enhance overall exercise performance [5]
Other health benefits on offer when supplementing with this product include:
Apart from sucralose, which is a zero-calorie artificial sweetener, coloring and an acidity regulator, this workout supplement does not contain many other ingredients.
There are no animal products used to create this supplement so it is suitable for use by both vegetarians and vegans.
How Does Battle Ready Fuel BCAA Taste?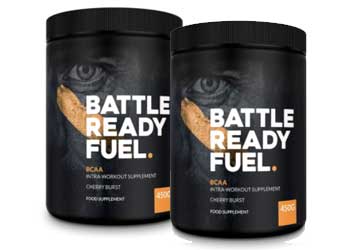 BCAAs are typically bitter to taste, and having tasted this supplement I can say that this bitterness remains even with the cherry burst flavor added.
While this is not horrendous to taste, it is certainly not the most savory product either.
Unlike other brands, there is currently only one flavor available.
This is still a relatively new brand, so perhaps more variation will be introduced in the future.
PROS
Proven health and performance increase
Reduces muscle fatigue
Helps with weight training and will ensure you gain muscle
Contains natural ingredients with no animal products. This makes it suitable for both vegans and vegetarians
60-day guarantee
CONS
There is a small risk of side effects
Only the single flavor, which is not too nice either
Very few reviews from customers
Potential Side Effects

Using BCAAs is likely to be safe for up to 2 years if taken orally. However, although it is incredibly rare to encounter any problems - that doesn't make them non existent.
To reduce the risk of encountering any problem you should stick to the recommended dose provided on the packaging. Failure to heed this advice, and regularly taking more than the recommended dosage could result in the following issues:
Fatigue/tiredness
Loss of concentration
Stomach problems that may include nausea, vomiting, diarrhea, and bloating
Raised blood pressure
Headaches
Skin whitening
If you are pregnant or breastfeeding it is advised that you avoid supplementing with BCAAs. At present, there is not enough information available to say whether it is safe to use or not.
Those with amyotrophic lateral sclerosis (ALS or Lou Gehrig's disease) are advised not to use BCAAs either. This is because their use has been linked with lung failure and higher death rates in those with this condition [9].
If you suffer from alcoholism you should avoid supplementing with BCAAs because its use has been linked to liver disease, which might also lead to brain damage.
Finally, if you are going to have any scheduled surgery, it's probably for the best to stop using a product like this. This is because they can affect blood sugar levels, which may interfere with any blood sugar control administered both during and after surgery.
If you do encounter any issues while using Battle Ready Fuel BCAA then you should consider postponing or ceasing use altogether. I would also suggest making an appointment to speak to your doctor.
Where To Buy This Product?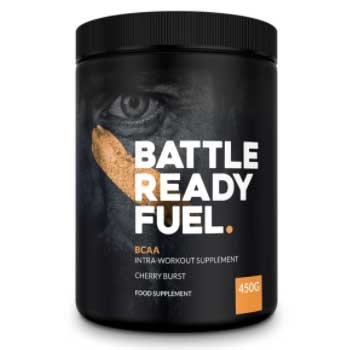 The best place to buy this supplement is directly from Battle Ready Fuel themselves, although you may find it available as a bundle on e-commerce sites. This bundle includes the popular pre-workout fat burner among other products.
Ordering is simple and fast with several payment options available. All payments are secure with a 256-bit encrypted checkout.
They offer FREE next day delivery on all UK orders, plus FREE standard delivery to anywhere in the world.
If you are not happy with your order then you can get a full refund. They offer a full 60-day guarantee for every supplement in their range. All you have to do is send back the unused portion in its original packaging within 60 days of receiving the order for a full refund, excluding the cost of shipping.
If you don't want to pay, or cannot pay the cost of this supplement in one go there is an option to split the cost into 4 interest-free installments.
User Reviews Of Battle Ready Fuel

As a relatively new player in the supplement industry, there are very few user reviews available for the brand itself, let alone for this particular supplement.
Looking at reviews on e-commerce sites, there are only a few reviews submitted, and they are not overly impressive. With around 50% of customers only rating it 4 stars.
"This is a high quality supplement with premium quality whey protein. Being whey isolate the protein content is remarkably high at 28g per 30g serving (90% content) with negligible carbs and fat." - The Fault
"The shake was very easy to mix but more watery than some shakes I usually have. The chocolate taste was pleasant though and not too sweet." - Love Reviewing
I guess time will tell once more reviews have been submitted to see what the general public thinks about BRF.
FAQs
How To Take Battle Ready Fuel BCAA?
On training days you can use Battle Ready Fuel BCAA by adding 5 grams of powder (one and a half scoops) to 300ml of water in your shaker bottle.
Shake well until the powder has dissolved and consume when needed during your workout.
What Is The Recommended Dosage For Battle Ready Fuel BCAA?
The recommended dosage for Battle Ready Fuel BCAA is one and a half 5ml scoops (5 grams) on training days.
How Do You Store Battle Ready Fuel BCAA?
You should store Battle Ready Fuel BCAA in a cool, dry place away from direct sunlight. It should be stored out of the reach of children.
Are There Any Discount Codes Available For Battle Ready Fuel BCAA?
There are discount codes, promotions, and special offers made available throughout the year. You can be sent these by signing up to receive their marketing emails.
Would We Recommend Battle Ready Fuel BCAA?
This product certainly has a number of proven health and performance benefits, with scientific proof to back up any claims made. The fact it is endorsed by an Ex SAS operative is also a major benefit.
But would we recommend it? Well, no.
Our alternative suggestion would be Transparent Labs BCAA Glutamine. It has proven benefits, plus the addition of glutamine, which offers even more bang for your buck. Plus a host of delicious flavors to choose from.
It is made from natural ingredients, which makes it suitable for use by both vegans and vegetarians and comes with a 60-day guarantee. So if you are not happy with your purchase, then for whatever reason you can get your money back in full.
What do you think about our review? Got any experiences with vegan BCAA supplements you'd like to share?
Let us know in the comments below.
Transparent Labs BCAA Glutamine
Our #1 Recommendation
Pleasant and unique flavors
No artificial colors, sweeteners, or preservatives
Reputable company
Get the BEST PRICE until the end of May
Click For Best Price
About the author