In my never-ending quest to find the best protein bar that money can buy, I got my hands on the full range of Pure Protein bars.
These are extremely popular and very easy to find, so don't give me too much credit here. I just walked into the nearest Costco and bought one of each flavor.
What are Pure Protein Bars?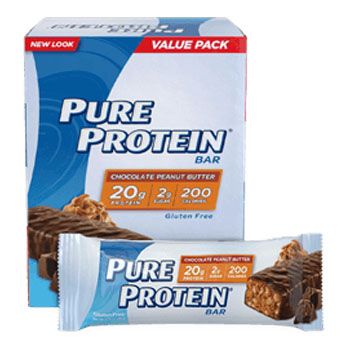 Surprisingly, the company's website was rather short on marketing information. No hard-selling for these guys; they clearly rely heavily on the quality of their product and word-of-mouth to do the selling for them.
Which isn't necessarily something I have an issue with.
Their online store, however, had a little more info. The first promise they bake is that each bar is "DELICIOUS." We'll get to that in a minute.
But it's interesting to note that this is the info they decided to lead with.
Further claims include sustained energy and that they are ideal as snack bookends for a hard workout.
What's Inside a Pure Protein Bar?
Ingredients
Protein Blend (Milk Protein Isolate, Whey Protein Isolate, Whey Protein Concentrate)
Chocolate Flavored Coating (Maltitol, Fractionated Palm Kernel Oil, Whey Protein Concentrate, Cocoa, Calcium Carbonate, Natural Flavors, Soy Lecithin, Sucralose)
Hydrolyzed Collagen
Glycerin
Cocoa Powder
Water
Milk Chocolate Drops (Sugar, Whole Milk Powder, Chocolate Liquor, Vegan Cocoa Butter, Milk Fat, Soy Lecithin, Natural Vanilla Flavor)
Maltitol Syrup
Peanut Flour
Natural Flavors
Sucralose
Almond Butter
Soy Lecithin
Nutritional Information
Each 50-gram bar contains:
20 grams of protein
200 calories
45 calories from fat
5g total fat (0% trans fat)
10 ml of cholesterol
160 mg sodium
18 g total carbohydrate
0 g dietary fiber
3g sugars
13 sugar alcohol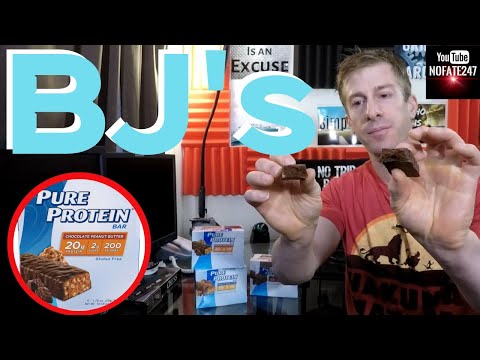 How do Pure Protein Bars Taste?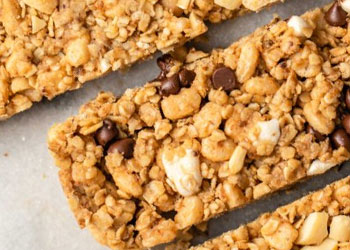 I'm gonna go ahead and say straight up that the chocolate peanut butter flavor was one of the highlights of my day. Pure protein chocolate is a great combo.
Well done, guys. Chocolate Deluxe and Chocolate Chip were close seconds.
Honestly, if you have a sweet tooth, none of these bars are going to disappoint you. The textures were fine, considering you're eating a protein bar.
I'll keep it simple if your tastes lean towards candy; this is the protein bar for you.
Just bear in mind that, like many protein bars, weight loss isn't likely unless you're eating these as part of a balanced diet and exercise regime.
Pros and Cons
Right, herewith a summary of this entire review in handy bullet-form.
PROS
Offers a higher amount of protein than many other bars on the market. 200 calories is also a very reasonable amount.
Wide variety of delicious flavors, provided you have a sweet tooth.
Extremely easy to find in stores, and purchasing from their website has free shipping (provided your order is over $85).
CONS
The high amount of dairy and chocolate means that a bar is very prone to melting in a warm environment like a gym bag or even while being delivered to your house.
Sugar alcohols can act as a laxative if you eat more than two bars in a day.
These bars contain quite a bit of artificial ingredients. They're also not 100% organic.
Pure Protein Bar Side Effects
The most frequently reported side effect reported is some intestinal discomfort (a diplomatic term for diarrhea) due to the relatively high content of sugar alcohols.
I, myself, didn't experience much of this, but I only ate one bar per day. Several other customers who indulged a little more liberally reported this as a common side effect.
Where Can I Buy Them?
You can buy Pure Protein bars from third party retailers or directly from their website. One of the benefits of ordering from here is the free shipping you'll get for an order exceeding $85. Alternatively, you can head over to the company's store in other online retailers.
If you want to buy a single bar to see if you enjoy the taste, head over to Walgreens, CVS, Costco, or Target.
Customers' Reviews

No unbiased review is complete without taking a good, balanced look at what other customers have to say about their experience buying and eating  Pure Protein bars.
"Love this flavor! These are the only protein bars that actually taste good and I'm willing to eat. Super fast shipping too. Literally came next day!"

- Nicole
"I am a gym rat and I need my protein! This protein bar decent sugar, enough protein to maintain my daily protein intake and is also very affordable. The taste is also good enough and I have no complaints"

- Gabriel
"I love this brand of protein bars, and this seller sells them for the cheapest price online. However, I received them on a hot day, and all of them were completely melted in the bags."

- Stephanie
"It really does take a bottle of water to help get this bar down. Don't get me wrong, the bar is ok, but not one of my favorites."

- Erin.
FAQs
Are Pure Protein bars vegan?
Pure Protein Bars contain numerous ingredients that are not plant-based. Neither dairy nor gelatin is vegan-friendly products. They are, however, 100% gluten-free.
Where do Pure Protein bars get their protein from?
Pure Protein bars obtain their protein from whey protein isolate and concentrate, milk protein isolate, casein, soy protein isolate, and hydrolyzed gelatin.
When is the best time to eat a Pure Protein Bar?
Due to its high protein and calorie content, it's best to eat this bar before or after a hard workout - helping with an energy boost or muscle recovery.
Can I eat Pure Protein Bars as a meal replacement?
Pure Protein bars are great snacks before and after a gym session and are not meant to be eaten as a meal replacement.
Should you buy Pure Protein Bars?
Pure Protein Bars have a variety of flavors and offer a good amount of protein in them, but my top pick for a protein bar with great natural ingredients is the Orgain Organic Protein Bars.
These bars are made without soy, dairy, and lactose ingredients offering a good macronutrient: protein. Being low in sugar, the taste is really good and hard to beat.
These bars also offer a variety of flavors, but the great thing about it is that the flavors can tailor to your needs.
For instance, the Peanut Butter flavor is not made with almonds while the Chocolate Chip Cookie Dough is made without peanuts.
Orgain Organic Protein Bars offer a great taste for a good price. Let us know what you think if you give them a try!
Orgain Organic Protein Bar
Our #1 Recommendation
100% Plant-Based
10g of protein, 3-5g of fiber, and 140-160 calories per bar
USDA Certified Organic
Get the BEST PRICE until the end of May
Click For Best Price
About the author