Testosterone boosters tend to be a dodgy subject. Not that many t-boosting supplements provide the expected results, plus some also tend to cause severe hormonal imbalance. Yikes!
So let's get straight down to business: in my humble opinion, Military Muscle might tell a different story. Can it bring low testosterone levels to an ideal figure? And besides muscles - does it also effectively boost confidence and libido?
In this Muscle Military review, we will answer all these burning questions. Let's see if this t-booster is suited for the military only, or perhaps regular working guys like you and me can benefit from it as well.
What Is Military Muscle?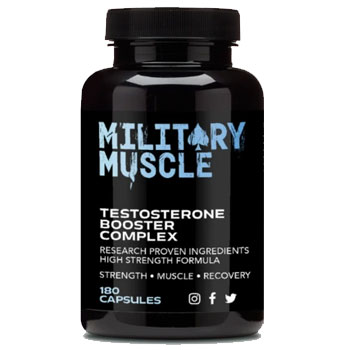 Military Muscle testosterone booster is a relatively new product on the market.
It is intended for people who want to increase muscle mass, athletic performance, and in some cases performance under the sheets. That's some stud muffin stuff right there.
This testosterone booster contains unique, safe and natural nutrient ingredients without any of the banned substances featured on the WADA prohibited list [1].
Likewise, it has no ingredients that the Department of defence would find illegal [2], so to answer one of the first probable questions: yes, it can be used by the military personnel.
Our top plant-based testosterone booster recommendations:
Military Muscle testosterone booster is produced in a facility that is certified by all key players when it comes to health and safety:
FDA
HACCP
Global Standards for Food Safety
BCMPA
To be precise, this t-booster is made in the United Kingdom, a country where all supplements are regulated under a rigorous food law. In other words, all ingredients must be safe and the labels can not be misleading.
There are no known allergens, nor do they color the capsules. And if you are wondering, Military Muscle testosterone booster does not include any animal products, making it vegan-friendly.
Why Is Testosterone Important?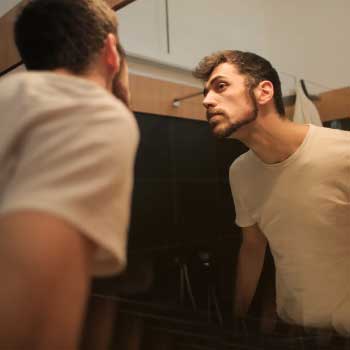 Testosterone is a hormone that, well, makes you a man. When we reach puberty, our testosterone levels spike for a relative short period of time compared to an average lifespan of men.
As soon when we hit 30 (or 40 if we are lucky) that number starts to decline. Don't worry, that is perfectly normal and natural.
What can pose a problem is hypogonadism, or unhealthy low testosterone, which is a very serious health issue.
Testosterone gives us muscle mass, a voice deeper than females', facial hair and our specific constitution, such as narrow hips and broad shoulders. It is responsible for our athletic capability and libido, but you probably already knew all this.
What you might not know is how these proven ingredients can help you achieve desired body mass and overall health. Note that Military Muscle does not contain testosterone itself, but other substances that initiate testosterone production.
Ingredients List

1. Vitamin A (257mcg) - It's benefits to humans are numerous. Vitamin A is good for our reproduction, bones, eyesight and immunity.
2. Vitamin D3 (99.96mcg) - Very important for all humans and commonly the one vitamin that many people lack. There is a study in Hormone and Metabolic Research that shows how Vitamin D3 supplementation led to a moderate increase of testosterone levels in tested men [3].
3. Vitamin K2 (45mcg) - It has many benefits, from strengthening the immune system to coronary heart disease protection. Injection of Vitamin K2 is also shown to alleviate the reduction in testosterone production in rats [4]. Goes without saying, Vitamin K2 is crucial for a healthy life.
4. Iron (12mg) - Essential for oxygen transport and metabolic processes. There seems to be a connection between low iron levels found in older men who also suffer from low testosterone [5].
5. Zinc (20mg) - There is likely a connection between lack of zinc and testosterone deficiency. There is a study that supports a claim that supplementation of zinc in men can lead to testosterone increase [6].
6. Ashwagandha (600mg) - Ayurvedic herbs are in close connection with anxiety and stress relief. It was found to be helpful for overweight, older men in an article published in the American Journal of Men's Health [7].
7. D-Aspartic Acid (2300mg) - Some speculate that this amino acid found in the central nervous system can increase testosterone levels, but those claims lack hard evidence. In a research published in PLoS 1, this acid was found ineffective when it comes to raising testosterone levels [8].
8. Boron (10mg) - Like the D-Aspartic Acid, claims that boron is good for muscle build and testosterone levels increase are not backed up by researchers.
9. Mucuna Pruriens (56mg) - This plant has seeds favourable for male reproduction. A research in Fertility and Sterility showed that Mucuna Pruriens improves male fertility via hypothalamus [9].
10. Urtica Dioica (360mg) - Relatively powerful anti-inflammatory used to treat arthritis and other, related problems. There is a publication on rats in Andrologia which pointed out some beneficial effects of Urtica Dioica when it comes to raising testosterone levels and keeping our prostate healthy [10].
11. Fenugreek (500mg) - A herb common in the Mediterranean region. There is a research published in the Journal of Sport and Health Science confirmed that consuming Fenugreek can reduce body fat without reducing muscle strength [11].
Military Muscle Side Effects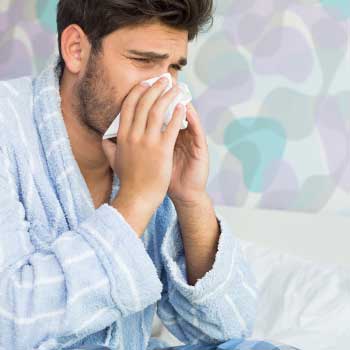 The manufacturer claims that Military Muscle testosterone booster has no known side effects. If you do have allergies, it would be wise for you to check the ingredients list and make sure that there are no substances that can cause you problems.
Military Muscle claims to contain high quality, tested and safe premium ingredients. It has been developed by fitness professionals trying to make the best supplements on the market.
However, I have searched the web and found that Ashwagandha can potentially cause headache, sleepiness and stomach pain. Personally, though, I had no problems whatsoever.
Fenugreek, on the other hand, may lead to lower blood sugar, coughing, wheezing, facial swelling and possibly allergic reactions.
Military Muscle's side effects listed above are considered by doctors to be of a mild sorte.
PROS
It can help you get bigger muscles
Improves exercise recovery
Helps of you want to lose weight
It may increase your physical strength
Can enhance sexual drive
It can affect your mood in a pleasant way
CONS
Capsules are large and can be hard to swallow for some
Costs a bit more than the competition
New product that is available only on company's website
Where Can I Buy Military Muscle?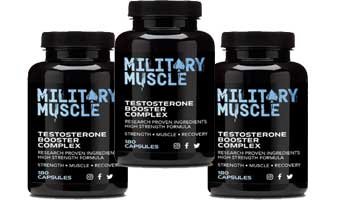 A bottle of Military Muscle is not something you will find in your next door supplement shop.
It is a brand new product available only on the manufacturer's website. The great news is that they offer 90 day money back guarantee and discounts for bulk orders.
Customer Reviews

Since this is a new product, it is hard to find a decent, honest Military Muscle review. Most of the men I have talked to are totally unaware of this booster, but the ones who have tried it seem really pleased.
"Military Muscle seems to have a great effect on my body, especially muscles, stamina and immunity." - Verified Buyer
"I like it because it really comes in handy when it is time for sex. Plus the 90 day money back guarantee makes me put more trust in the brand itself. Recommend!" - Verified Buyer.
However, there have been some complaints, but they are mainly administrative in nature:
"I don't like that fact that I can buy it only via the manufacturer's website. It kind of limits my possibility to check its effects with professionals as well as to gauge customers' experiences with the product." - Verified Buyer 
"The price is a bit on the higher side. Although free global shipping is a big plus, I wasn't entirely happy when writing this testosterone booster review. The supplement doesn't deserve 5 stars." - Verified Buyer
Military or civilian, these bottles will most likely do you good. I have yet to find a review with serious complaints and side effects.
FAQs
How Should I Consume Military Muscle?
The label says you should consume 2 capsules 3 times per day. Best used 30 minutes before meal. Consequently, the maximum daily dose is exactly 6 capsules per day.
Do not exceed suggested dosage under no circumstances. Before you start taking the Military Muscle testosterone booster, go visit your doctor and ask him or her if it is good for your health.
How Long Should I Use Military Muscle Testosterone Booster?
This is not a steroid, so results will need more time if you want to go natural. Usually it takes around 3 months, after which most of the ingredients will start to give noticeable results.
Can I Use Them if I Am in the Military?
Of course you can. The founder of the company is in the military and Military Muscle has proven ingredients and is safe to use by the army personnel.
Is It Safe to Stack Military Muscle With Other Supplements?
Yes, Military Muscle only contains natural ingredients so you can stack it with your other natural supplements: protein, creatine and the rest.
What you should not do is to increase dosage Military Muscle because this testosterone booster has been formulated with the exact amount of nutrients required. Taking more than prescribed will lose you both money and effectiveness of ingredients.
Can Vegans Use This Testosterone Booster?
Yes, the capsule itself is what they call 'plant-caps'. Everything in the bottle is free of animal-sources and it is suitable for those who follow a meat free diet, making Military Muscle one of the few vegan friendly testosterone booster supplements on the market.
Can Women Use Military Muscle Testosterone Booster?
Yes, women can use Military Muscle testosterone booster. They can too benefit from using this booster complex, whether to increase testosterone, improve a cognitive function, take care of red blood cells or other health benefits, but it is a fair guess that they will most likely use it to improve body composition.
Manufacturer claims that there should not be any ill side effects but they still strongly recommend that all women talk to their doctor first before consuming this or any other booster.
Should You Buy Military Muscle Testosterone Booster?
Yes, we would recommend it. Military Muscle is an excellent, safe and effective product that can be used by a wide array of people.
It does the job in increasing testosterone levels and overall performance at the gym, workplace or home.
This is the right supplement if you need bigger muscles, more strength and vigor. It is eco- and vegan-friendly, plus has a great potential on so many levels due to superb ingredients made according to strict laws.
I am more than satisfied with my new performance level in the gym. I feel great and judging from my last blood check. Both iron and zinc levels, which were a bit low, are now perfect.
This might be the boost you are looking for, no matter if you are a powerlifter, business executive, or perhaps artist. We all need strength, peace of mind spared from anxiety and physical prowess.
Got a review to share? Which do you think is the best vegan testosterone booster?
Let us know in the comments below.
Military Muscle
Our #1 Recommendation
It can help you get bigger muscles
Improves exercise recovery
Helps of you want to lose weight
It may increase your physical strength
Get the BEST PRICE until the end of May
Click For Best Price
About the author