Today, there are plenty of mouthwatering and nutritious vegetarian salad recipes with the potential of appealing to both the daily vegan and die-hard meat-eaters.
Creativity is key with most vegan salads on this list. You can add as much or as little of the ingredients to personalize each recipe. The best thing, you don't have to be a top chef to enjoy eating these super-healthy and nutritious, high protein vegan salads.
1. Avocado Chickpea Salad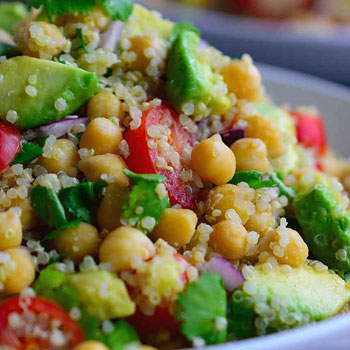 This high-protein easy to make vegan and vegetarian-friendly recipe is an excellent choice for healthy eaters on the go. It works great as a side dish or lunch on its own.
Grams of protein per serving: 25g
Prep time: 20 minutes

Servings: 4
Ingredients:
One medium avocado
200 grams quinoa
735 grams cooked chickpeas
80 ml water
Two tablespoons lemon juice
1 ½ tablespoon tahini
1 ½ tablespoon Dijon mustard
1/2 medium red onion diced
About 20 sliced cherry tomatoes
25 grams cilantro
Salt and pepper to taste
Instructions:
Rinse or cook quinoa for about 20 minutes.
Dressing: Combine 55 grams of the chickpeas with lemon juice, tahini, water, salt, and pepper in a food processor and blend until smooth.
Mix the remaining chickpeas, quinoa, red onion, cherry tomatoes, sliced avocado, and cilantro.
Drizzle with the dressing and gently fold everything together.
Don't you love how effortless and easy this vegan salad is? Whether you serve it with some toast or roll it up in tortillas, this well-balanced gluten-free vegan salad will keep you full and provide you with loads of vegan protein and other nutrients.
[thrive_leads id='11437']
---
2. Black Bean and Roasted Sweet Potato Salad
Grams of protein per serving: 8.5 g
Prep time: 50 minutes
Although it takes a bit more time to prepare, this high protein vegan salad is so indulgent and filling that it's definitely worth the extra time and effort.
Ingredients:
One cup cooked black beans, drained and rinsed
One lb sweet potatoes
One small red onion
One lime - juice and zest
One clove minced garlic
¼ tablespoon salt
½ cup cilantro
¼ cup pepitas
Instructions:
Slice sweet potatoes into about ¼ inch cubes, cut the red onion and place them on a baking sheet. Drizzle with olive oil and salt. Then, toss until the potatoes are nicely coated.
Spread the potatoes evenly, place the tray in the preheated oven, and roast until the potatoes start to brown.
When the potatoes are cooked, combine them with all of the ingredients in a large bowl. Add pepitas, cilantro, and black beans to the bowl and mix well.
Dressing: combine two tablespoons of olive oil with minced garlic, lime juice and zest, and chili powder and give it a good shake.
You can use this rich vegan Mexican-inspired high-protein salad to jazz up nachos, tacos, and enchiladas.
3. High Protein Vegan Salad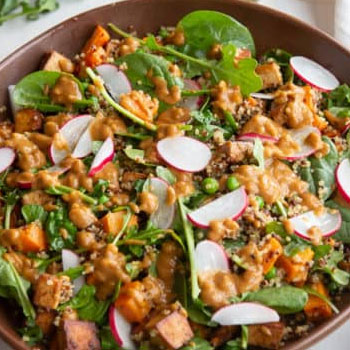 Grams of protein per serving: 3.4g

Total prep and cook time: 10 minutes
This zingy and flavorful high-protein vegan salad is a must-try for vegans and vegetarians who are after an extra dose of healthy plant-based protein.
It features protein superstars - lentils and beans, so just a single serving of this salad will keep you satiated and provide you with your daily protein kick.
Another great thing about it is that the ingredients are pretty basic:
400 g canned green kidney beans (or red ones, whichever you can find)
400 g canned lentils
2-3 handful arugula
4 tablespoons capers
Dressing:
One tablespoon brine
Two tablespoons peanut butter
One tablespoon tahini
One tablespoon tamari
Two tablespoons balsamic vinegar
Two tablespoons hot sauce
Instructions:
After combining beans, lentils, arugula, and capers, drizzle with the dressing - and voila! Your super-nutritious gluten-free salad lunch box is ready!
4. Kale Salad with Spiced Tofu and Chickpeas
Grams of protein per serving: 16g
Prep time: 40 minutes
This tasty bowl offers fiber, calcium, vitamins, and vegan protein. This light and easy vegan salad recipe works great as a side dish or as a meal on its own.
Ingredients:
3 ½ teaspoon paprika
3 ½ ground cumin
Two teaspoon garlic powder
One teaspoon freshly ground pepper
Four tablespoons extra-virgin olive oil, divided
Five tablespoons lemon juice, divided
14-ounce extra firm tofu, drained
15-ounce canned chickpeas, rinsed
One large baby kale, torn
One medium bell pepper, cut into strips
½ cucumber, halved and sliced
Salt to taste
Instructions:
Preheat the oven.
Cut tofu into 3/4-inch cubes, then pat dry. Combine the following: paprika, cumin, garlic powder, pepper, and salt. From this combination, measure out 2 1/2 teaspoons and set them to the side. Next, add 2 tablespoons of lemon juice and 1 tablespoon oil to the remaining spice mixture. After, add the tofu and chickpeas to the spice mixture and stir to combine. Marinate this for 10 minutes.
Spread the tofu and chickpeas evenly on the baking sheet in a single layer. Roast until golden brown, about 20 minutes total.
Put the 2 1/2 teaspoons of spice mixture into the large bowl. Then, whisk in the remaining 3 tablespoons of lemon juice and oil. Add kale and massage the greens until they are reduced in volume by almost half, for 1 to 2 minutes. Add the bell pepper and cucumber. Toss to combine.
Serve the salad topped with roasted tofu and chickpeas.
5. Holiday Crunch Salad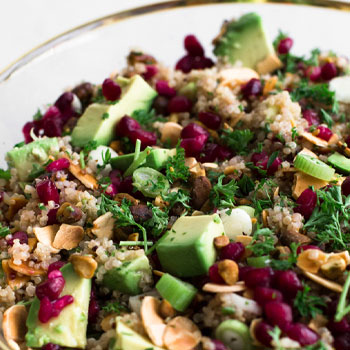 Grams of protein: 6.9g
Cook time: 20 minutes
Total recipe time: 10 minutes
The crunchy texture from almonds and pomegranate seeds is what makes this high-protein quinoa-based recipe so satisfying and fresh.
But the rest of the ingredients are equally healthy and exciting:
Four cups cooked quinoa
One cup pomegranate seeds
Four chopped scallions
1 cup chopped parsley
½ cup toasted sliced almonds
½ orange- zest and juice
⅓ cup olive oil
¼ teaspoon cracked pepper
¼ teaspoon cinnamon
¼ teaspoon allspice
1–2 chopped avocados (optional)
Instructions:
Put cooked quinoa, scallions, parsley, pomegranate seeds, and almonds in a medium bowl. Toss this combination with olive oil, orange juice and zest, salt, and spices. Add some salt and gently fold in avocados before serving.
You can throw in a handful of sunflower seeds for extra crunch or some greens for more vitamins.
These colors would look fabulous on your festive table or on any other occasion.
6. Tofu and Tempeh Salad

Grams of protein per serving: 21g
Total time: 20 minutes
If you're a fan of Asian cuisine, this high-protein peanut tempeh salad could become your next favorite vegan meal.
Ingredients:
One batch marinated peanut tempeh
6 ounces vermicelli noodles
Two medium ribboned carrots
Two stalks finely chopped green onions
¼ cup chopped cilantro
1 cup chopped spinach
Two tablespoons mint
1 cup thinly sliced red cabbage
One thinly sliced red bell pepper
Instructions:
Cook the noodles.
Add drained noodles to a large bowl and mix with carrots, green onions, cilantro, mint, spinach, cabbage, and red bell pepper, tossing loosely to combine. Set aside.
Make the dressing by adding peanut butter, tamari, maple syrup, chili sauce (or red chili pepper), and lime juice to a small bowl. Then whisk them together. Next, gradually add warm water until the sauce becomes pourable.
Add 1/2 of the tempeh (optional) and 1/2 of the sauce to the salad and toss. Then top with remaining tempeh and sauce.
You can proudly serve this rich vegan protein salad as lunch or dinner to your meat-eating friends to convert them instantly.
P.S. If you're a tempeh fan, you won't want to miss these vegan meat recipes.
Get Your Chopping Board Ready
Saucy, creamy, and delicious are not adjectives that we usually associate with salads, but these recipes prove that even a plant-based protein salad qualifies as comfort food.
With some basic cooking skills and a dash of creativity, you can add your own twist to any of these amazing high protein vegan salads on the list.
You don't have to be a vegan to appreciate these recipes; people looking to reduce sugar, cholesterol, and fat in their nutrition can also reap the benefits of eating these delicious salads.
These delicious vegan high protein salads can make any meal plan richer and healthier.
[thrive_leads id='11437']
About the author