A quality pre workout nootropic is hard to come by these days. Most supplements contain stimulants, which may cause or even exacerbate certain side effects, such as sleeplessness.
However, the Genius Brand claims to provide all the natural nutrients your muscles need that are guaranteed to expand your physical capabilities.
In our Genius PreWorkout review, we will look at the ingredients used to see whether they are effective or not, plus will see if there are any dangers you need to be aware of. This review will also look at what the customers have to say.
What Is Genius Pre Workout?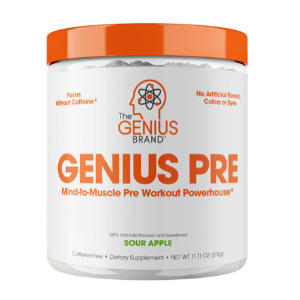 Genius is a clinically dosed nootropics-based supplement, which is evaluated by the Food & Drug Administration.
It is designed to:
Improve exercise performance by increasing blood flow and bolstering the mind-muscle connection. Muscles are stimulated by scientifically proven ingredients, such as CarnoSyn Beta Alanine and ATP, all brought together to ensure 

Perform better mentally thanks to the powerful nootropics that ensure your brain is engaged.
Considering there are no stimulants, you can perform better without encountering any jitters, crashing or insomnia. Note that the Genius Pre Workout supplement is not intended to diagnose, treat, cure or prevent any disease.
The Ingredient List

The ingredients found in Genius include:
L-Citrulline Malate (6 grams) - Shown to boost performance and overall endurance by increasing nitric oxide production and improving blood flow [1]
Beta-Alanine (2 g) - Beta-alanine is an effective performance booster [2]
Betaine Anhydrous (2 g) - Increases cellular hydration, which boosts endurance and growth [3]
L-Tyrosine (1 g) - A neurotransmitter that improves both performance and mood [4]
L-Arginine (1 g) - L-Arginine may also improve the flow of blood by increasing nitric oxide boosting [5]
Taurine (1 g) - Shown to improve energy and cellular volume [6]
AlphaSize (600 mg) - This is 50% Alpha GPC, which is a type of choline that can aid focus and overall mental clarity [7]
a-Hydroxyisocaproic Acid (500 mg) - Otherwise known as HICA. This is a metabolite of the BCAA leucine and may increase protein synthesis [8]
ElevATP (150 mg) - This is a combination of ancient peat and apple fruit extract. It is said to increase cellular energy, which can lead to muscle gains in the long term [9]
Rhodiola Rosea (100 mg) - Rhodiola Rosea helps to reduce stress [10]
Theobromine (30 mg) - May boost energy levels [11]
AstraGin (25 mg) - Panax notoginseng extract and astragalus membranaceus extract work together to increase the bioavailability of the other ingredients [12]. Think of it as an alternative to Bioperine.
Huperzia serrata (10 mg) - Works in a similar fashion as Alpha GPC
How Do Genius Pre Supplements Taste?
Genius Brand comes in two natural flavors:
While the taste of the Genius Pre Workout supplements is subjective, there are plenty of users commenting that it tastes surprisingly good.
The flavors are not overwhelming. The grape limeade, for example, is very mild with only the grape noticeable.
PROS
Contains natural ingredients that provide essential nutrients
Caffeine-free
Increased performance and faster recovery
CONS
Very pricey at nearly $2 a serving
Dosage of certain ingredients is low
No proof that ingredients work on their website
Potential Side Effects

As there are no stimulants found in this pre-workout powder there are fewer side effects to watch out for. This is not to say that there are no side effects, however.
One of the main ingredients is beta-alanine, which can cause a tingling sensation on your face, chest, arms, and legs. This problem may be alarming, but it is not serious and will go away after a while.
To reduce the risk of encountering any issues it is advised that you build up your tolerance to the ingredients. This can be done by using a smaller dose for a while.
If you are concerned about any pre-workout side effects then it is always advisable that you speak to your doctor.
Where To Buy Genius Pre Workout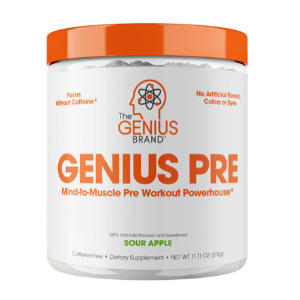 You can buy Genius Pre Supplementation from a variety of health food and supplement stores online, including the Bodybuilding.com store.
It also has its own official website where a 20 servings tub is available for a moderate price.
You can also sign up for the "subscribe and save" option on e-commerce websites to receive a new package whenever you choose.
For example, every 2 weeks or every 6 months. There are no fees involved with this subscription and it can be canceled at any time.
The one issue when buying via e-commerce sites is the lack of money-back guarantee.
If this is important to you then the official website may be a better option for you. They offer a 100% money-back guarantee, ensuring that you get a full refund should you feel the product doesn't meet your expectations.
Customer Reviews

With almost 80% of the Genius Brand reviews boasting 5-stars, it is clear that many users are indeed impressed with this product.
"The first thing I noticed is that my attitude has improved, sort of like experiencing a "lightness of being". My day-job is very physical so I can feel the extra kick. Also, I'm 55 and am no stranger to trying out pills, potions, diets and whatnot. Genius is something that makes your head and body work and feel better. Kudos!"

- Wayne, Buyer
"I don't feel like I'm crawling out of my skin with Genius. There's no bouncing off the walls - I just feel like I'm in "the zone", which is helping me pump through my gym sessions. Overall, this is one of my favorite products so far."

- Giovanni John, Buyer
Most of the negative reviews are regarding the tingling sensation users experienced, which tends to be quite a common side effect to pre-workouts in general.
"I had terrifying skin tingling! Rest assured, I'm not buying this product again."

- Leslie Duran, Buyer
"I wanted to like this product so much because the taste is great. Unfortunately, I had an allergic reaction, which is a bit strange since I'm not allergic to foods. At first, I wasn't quite sure what was the cause and it took me 3 days to figure out that the product is the culprit. Too bad."

- Cat, Buyer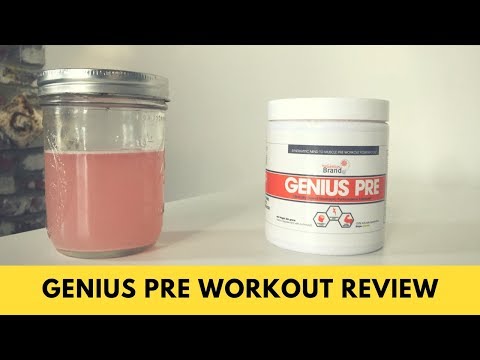 FAQs
What Is The Recommended Dosage?
The recommended dosage of Genius is one scoop in 14 ounces of water. This should be consumed 15-30 minutes before your exercise.
It is advised that when you first start taking this pre-workout that you stick with ½ a scoop or less while you assess your tolerance to its ingredients. As you become more used to its effects, you can increase the dosage to the recommended amount.
Does Genius Contain Any Stimulants?
No, Genius Pre Supplement does not contain stimulants like caffeine. Each ingredient in the product is natural in order to provide the best results possible.
Should You Buy The Genius Pre Workout?
This nootropic pre-workout is certainly not the worst product out there, but unfortunately, it is not the best either.
It has some powerful ingredients, such as citrulline malate, l-citrulline malate, and l-tyrosine. While these pre workout ingredients are a staple, many of the ingredients used have a dosage that seems a bit low, especially for gym rats.
Our suggestion would be to use 4Gauge, which is another stimulant-free brand shown to improve performance and focus when you hit those weights.
It has just the right dosage to keep you energized and focused throughout your workout routine, and best of all, it is suitable for both men and women.
What do you think of our Genius Pre Workout review? Which do you think are some of the best vegan preworkout supplements? Let us know in the comments below.
4 Gauge
Our #1 Recommendation
5 calories per serving
Numerous health benefits
Effective bodybuilding supplementation
Natural ingredients
Get the BEST PRICE until the end of May
Click For Best Price
About the author