As if life couldn't be difficult enough when trying to eat only plant-based foods; the real difficulty can come with everything from shampoo to makeup, and, of course, vegan condoms.
Believe it or not, it was my girlfriend that pointed out that I might need to check the labels of the condoms after I switched to a vegan diet. It was something I had never even thought of.
The problem just a few years ago was that hardly any safe sex products indicated whether they were vegan-friendly or not. It's a bit better these days, so our team decided to do some research and some completely selfless testing with our respective partners.
And here are the results.
Our Top Products
1 - Glyde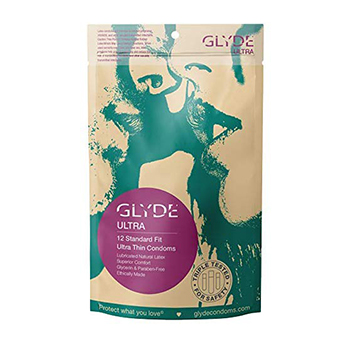 For many of my vegan friends, this is one of their go-to condom brands, mainly because they have been approved by Peta and the Vegan Society.
That means they use natural latex from fair trade sources with no animal testing involved.
There are a lot of positive reviews that they feel thin for added pleasure, but you might want to add some lubricant (see further down for a recommendation).
PROS
Made with natural rubber latex
Uses no irritating substances, ideal for sensitive skin
Thin feel for a more pleasurable experience
Peta and Vegan Society approved
CONS
Doesn't have a lot of lube
2 - Sustain Natural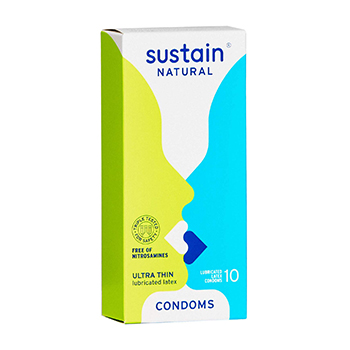 These condoms have a lot of positive reviews about the thin feel, which can make your sex life that much more enjoyable.
I personally like the fact that the latex they use is from fair trade sources.
Not only that, but the company makes significant donations to women's healthcare projects, too.
One minor downside is the fact that there are not enough sizes available to ensure the most comfortable fit.
PROS
Ultra-thin for more sexual pleasure
Made using fair trade latex rubber
Free of parabens and fragrances for less irritation
The company supports women's healthcare by donating 10% of profits
3 - Lifestyles Skyn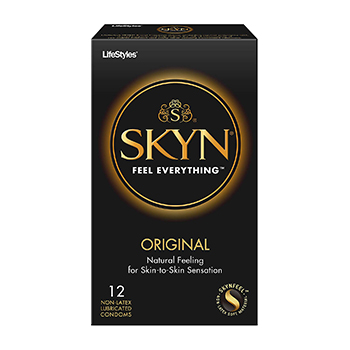 I would agree with a lot of the reviews saying that these condoms feel the most natural. You also won't need to worry about extra lubricant, as they seem to provide quite a well lasting effect.
If your body tends to react badly to latex, then these could well be your best option as they use only synthetic rubber.
Personally, I found the smell a bit stronger than the above options.
PROS
laims to be one of the most natural feeling condoms
Uses long-lasting lubricants
Non-latex option based on synthetic ingredients
Many people comment on the comfortable fit
CONS
These condoms have a slight rubbery odor
4 - Trojan Supra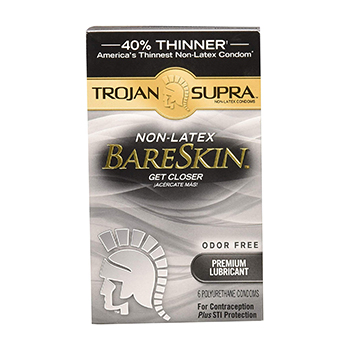 Here's another brand that a lot of vegans love, and if you have allergies to latex, then they can really improve your sex life.
They feel comfortable and light, and I would agree with a lot of the comments that there is barely any smell off them.
One thing to keep in mind is that they don't come in a great selection of sizes.
PROS
The very thin design makes them feel more natural
The latex-free option makes it ideal for those with allergies
Each condom is checked electronically before packing
A lot of positive feedback that there is very little odor from them
CONS
More size options would be good
5 - B Condoms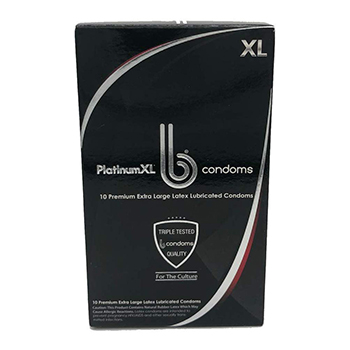 For men that need a larger size option, comfort is often a problem. But with these B Condoms, the extra-large option might just be what you're looking for.
None of the ingredients are made from toxic substances or GMO products.
As a result, you minimize any irritation or allergic reaction.
I did notice a few comments online that they didn't seem to have enough lube on them.
PROS
Extra large size can make them a more comfortable option
Uses non-toxic lubricant for a more pleasurable experience
No irritating chemicals like parabens and glycerin as a spermicide
Doesn't have the strong rubber smell that is so common
CONS
Some people found it could use more lubrication
6 - Royal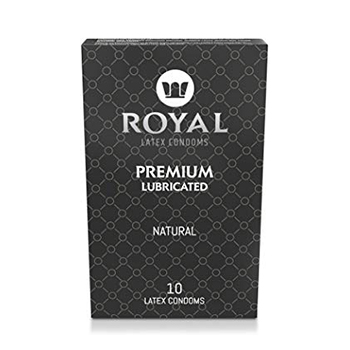 Who would have thought that organic vegan condoms were actually available?
But if you really want to get a product that uses ingredients as intended by nature, then Royale may be your answer.
While they are organic, it does seem like they are not as thin as some of the other options available.
PROS
Certified vegan-friendly and animal cruelty-free condoms
Uses only organic products
Doesn't include chemicals to reduce allergies and yeast infections
Available in bulk-order boxes for a lot more enjoyment
CONS
Not the thinnest condoms available
7 - Durex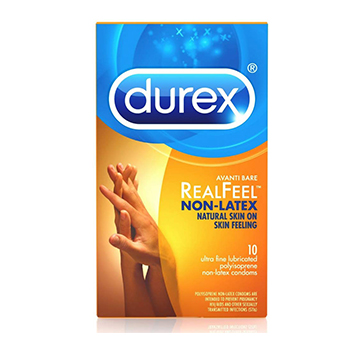 Probably one of the leading condom brands in the world, we did think that at least one of their products should feature on this list.
Durex uses synthetic rubber and contains no harmful chemicals, hence the positive reviews about the easy-on shape and smell.
The reason we placed these condoms so far down the list was that they aren't the most comfortable feeling condoms.
PROS
Non-latex option based on synthetic rubber
No strong and distracting smells
Positive reviews about comfortable fit and easy on shape
Vegan-friendly option from one of the leading condom companies
CONS
Not the most natural feeling
Vegan Lubricant Recommendation
OK, at this stage, you should be all set for safe sex with the peace of mind that your chosen condoms support your vegan lifestyle.
But, sometimes, your sexual health and enjoyment can hinge on just a little help from lubricants.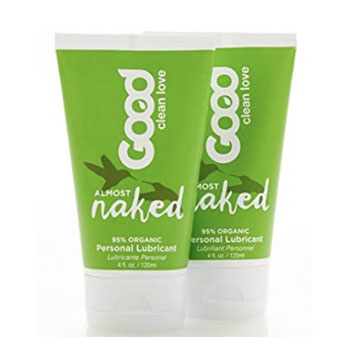 There's absolutely no shame in it, and if it makes things a bit more fun, then you just need to make sure you get the right stuff.
With a name like Good Clean Love, we simply couldn't resist trying it out and ultimately giving it two thumbs up.
It's effective, doesn't smell bad, is organic, and has the added bonus that there no chemicals in sight, making it not only vegan-friendly but also vagina-friendly.
Many (lubricants) use glycerin, which can promote yeast growth.

- Caitline O'Connor, Naturopathic Doctor
Good Clean Love is suitable for women with very sensitive skin, so if any of this sounds familiar, then give this lubricant a try.
FAQs

What Are Vegan Condoms Made Out Of?
The majority of vegan condoms are made of latex rubber. However, for those who have allergic reactions to latex, there are synthetic rubber options available as well. If you choose one of these, then make sure they are certified cruelty free as well.
Are Condoms Eco-Friendly?
Yes, vegan latex condoms are eco-friendly as natural latex is biodegradable. The one thing you want to make sure is that the condoms you choose source their latex from sustainable farms to minimize environmental harm.
Supplements we recommend to help your performance:
Which Vegan Condoms Should You Choose?
For all of us here at VeganLiftz, the favored choice of vegan latex condoms is Glyde. First of all, they come with the approval of the Vegan Society and Peta. It really doesn't get better than those endorsements.
Then there is the fact that they don't have irritating substances to take all the fun out of your bedroom activities. Finally, they actually feel very natural, which makes it all just that bit more fun.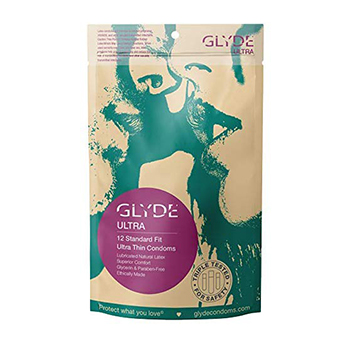 Glyde
Best Vegan Condom
Made with natural rubber latex
Uses no irritating substances, ideal for sensitive skin
Thin feel for a more pleasurable experience
Peta and Vegan Society approved
Get the BEST PRICE until the end of May
Check Current Price
About the author