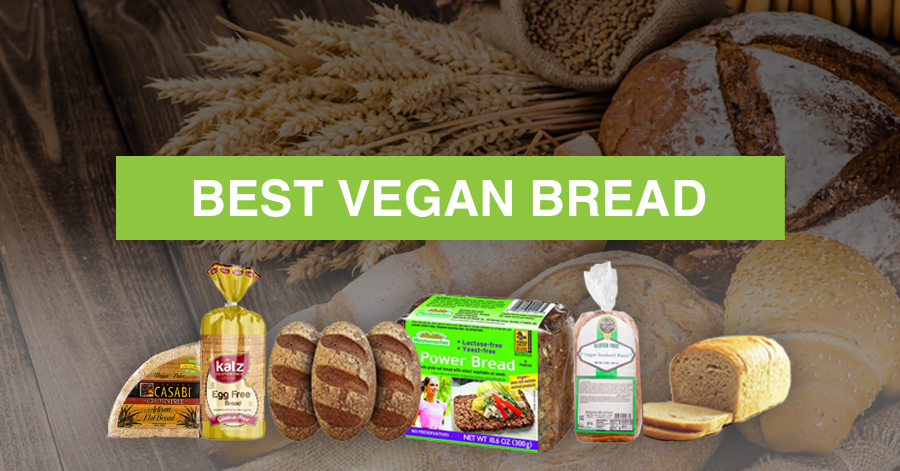 One of the most common fears people have about becoming vegan is they think that they have to give up bread. After all, isn't it made with ingredients like eggs, butter, and milk?
You may be surprised to learn that often, bread is made without those ingredients. There are plenty of vegan-friendly bread options.
Here's a list of some of the best vegan bread brands.
1. ​Casabi ​

​(Editor's Choice)

2. ​​Organic Bread of Heaven ​
1. ​Casabi Casabe Artisan Bread (

Editor's Choice

)
The Casabi Casabe artisan flatbread is as simple and straightforward as it gets. It's made from cassava or yucca root and nothing else.
You can use it as a pizza 'dough' or eat it as it is for snacks. Personally, I like it best with some vegan cheese or pesto dip.
The thing that might turn you off about this is that it's not ready to eat. You need to bake it with your preferred herbs for flavor.
I usually drizzle a dash of olive oil and salt, place it in my oven for about 10 minutes, and I got a crispy, tasty, and healthy snack ready.
---
​2. ​​Organic Bread of Heaven Healthy White Sandwich Bread
This bread is certified vegan, so you don't have to worry about any hidden animal ingredients. However, it's made from unbleached wheat flour, so it's not an option for gluten-free people.
I enjoyed the soft and fluffy texture of this bread. It tasted just like any other white bread, so I think it's a great vegan alternative.
The one problem I have is that the nutrition label online wasn't legible even after I zoomed in.
I always like to know what's in a product before I buy it, so it was an inconvenience.
---
​3. ​​​Mestemacher Power Bread
This vegan bread from Mestemacher is yeast-free, which means that it's level 5 vegan approved.
It's high in fiber and low in fat, making it a good meal replacement for those who are trying to lose weight.
It's made from sunflower, flax, and pumpkin seeds, and it does taste a little seed-y, which you may or may not like.
I find that the texture is too soft, almost soggy. But a quick toast will do the trick.
---
​4. ​​​​Yez! Artisan Keto Bread
I became a fan of Yez! Bread when I read their ingredient list and was able to pronounce everything on the list.
This bread is baked to ship, which means you are getting fresh bread shipped to your door, and it shows in the taste.
Unlike other vegan bread brands, this has the same texture and taste you would expect from other rustic and full-grain bread.
The one problem I had with this bread is that the loaf is not pre-sliced.
---
​5. ​​​​​ New Grains Vegan Sandwich Bread
This is a wholesome bread that the family can enjoy, as it is vegan, gluten-free, soy-free, and peanut-free. It's made from whole grain and oat flour.
Note though, that this contains yeast, which some vegans may consider not appropriate to the diet.
Despite being gluten-free, this bread's flavor is one of the best.
The texture is just like regular white bread, but the taste is something else -- it's surely delicious.
---
​6. ​​​​​ ​Katz Gluten Free Egg Free Bread
Katz prides themselves on their egg-free bread. They use gluten-free flour to make it, and they ensure their product is also dairy-free, peanuts-free, and soy-free.
It's soft with a little bit of sweetness to it. It also has chia and flax seeds, which makes this bread packed with nutrients.
However, a closer inspection of the ingredients shows that honey is in the bread.
Depending on how strict you are, this may not meet your vegan standards.
---
​How to

Easily Identify

Vegan Brands
Some brands claim they are vegan-certified, but you should always double-check the ingredient list. They might list ingredients like honey, which is not suitable for vegans.
Bread like brioche or challah is more likely to be made with eggs or butter. Any bread that is soft and enriched is the highest non-vegan offenders.
You should always double-check the label before purchasing.
​Vegan English muffins, bagels, sandwich bread, flatbread, and buns can be found in most grocery stores, and natural foods stores usually have even more options to choose from.

​Other Resources You May Like:
Is it

Healthier to Eat

Gluten-Free Bread?
​Sometimes it is healthier to eat gluten-free bread. If you have gluten allergy or intolerance, then eating gluten-free bread may be a better option for you.
​If you don't have any gluten intolerance, then you may be better off eating regular bread.
​Gluten-free bread often lacks some nutrients compared to regular bread. If gluten-free bread is made from refined grains (like cornstarch, rice flour, or potato flour) then it means fiber and nutrients have been stripped.
​So you may be denying yourself some nutrition by choosing gluten-free bread, which seems unnecessary if you don't have a gluten intolerance.
There's also not much evidence that a gluten-free diet offers any health benefits.
However, there are still some gluten-free options to consider that still offer some nutrition. Some good choices include amaranth, quinoa, buckwheat, teff, millet, corn, and rice. They contain protein, fiber, and many nutrients like niacin, iron, folate, and more.

What are Some Non-vegan Bread

Ingredients

?
​There are a lot of ingredients in bread that makes it non-vegan. Some of these are obvious like egg, milk, or honey. Others are not so obvious. I made a simple list of ingredients that may show up in bread that are not suitable for vegans.
​What

Types of Bread

Are Vegan?
​Even though each bread varies with different brands, there are usually trends in types of bread that can help determine if it's vegan or not. Let's take a look at some popular bread types.
​Sourdough
​Surprisingly, sourdough bread is usually vegan. It depends on the "starter" that the bakery uses. Most of the time, they use a vegan starter using flour and water, but occasionally milk products are used instead.

Pita
​Pita bread is another great vegan option. Pita bread is made using only flour, water, yeast, and salt. However, dairy products can be added for taste.

Ciabatta
​Ciabatta bread is famous for their crunch crust while maintaining a soft interior. It's also vegan-friendly except for ciabatta al latte version, which is made with milk.

Naan
​Naan is not a vegan option. It's commonly made with dairy ingredients and ghee. The traditional Indian flatbread does have vegan alternatives though.

Rye
​Rye is one of the heartier bread in the world. Sometimes it's vegan-friendly, but occasionally, milk or eggs gets added to make the texture lighter.

​Watch the video to see if vegan ​do eat bread.
​FAQ

Can I Eat Bread as a Vegan?
​What Kind of Bread Do Vegans Eat?
​Is Whole Wheat Bread Better Than White Bread?
​Are English Muffins Vegan?
​Can You Make Bread Without a Bread Machine?
​What is the best vegan

bread​

?
If I'd recommend a good vegan bread, it's the Casabi artisan bread. It's simple, straightforward, vegan, and packed with nutritional value.
I was also happy with the amount of nutrients because it's practically pure fiber without any unnecessary sugars or fats. I expected such a nutrient-packed bread to not taste great, but it has a sweet yet sublt flavor. The crisp texture is lovely for dipping.
Which of these vegan bread have you tried? Let us know your experience with them.
​Casabi Casabe Artisan Bread
Latest posts by Rafid Nassir
(see all)