is a bright yellow spice that invokes smells of curry, earthy tastes, and skin dyed yellow if you come into contact with it. It's more than a spice, though.
Many studies show the health benefits of turmeric, especially the active ingredient called curcumin. However, many turmeric supplements fall short of reaching the potent needed.
I did some research into the best turmeric supplement products, and here's what I found.
Top Turmeric Supplements (2021 Updated)
1 - Curcumin MD Plus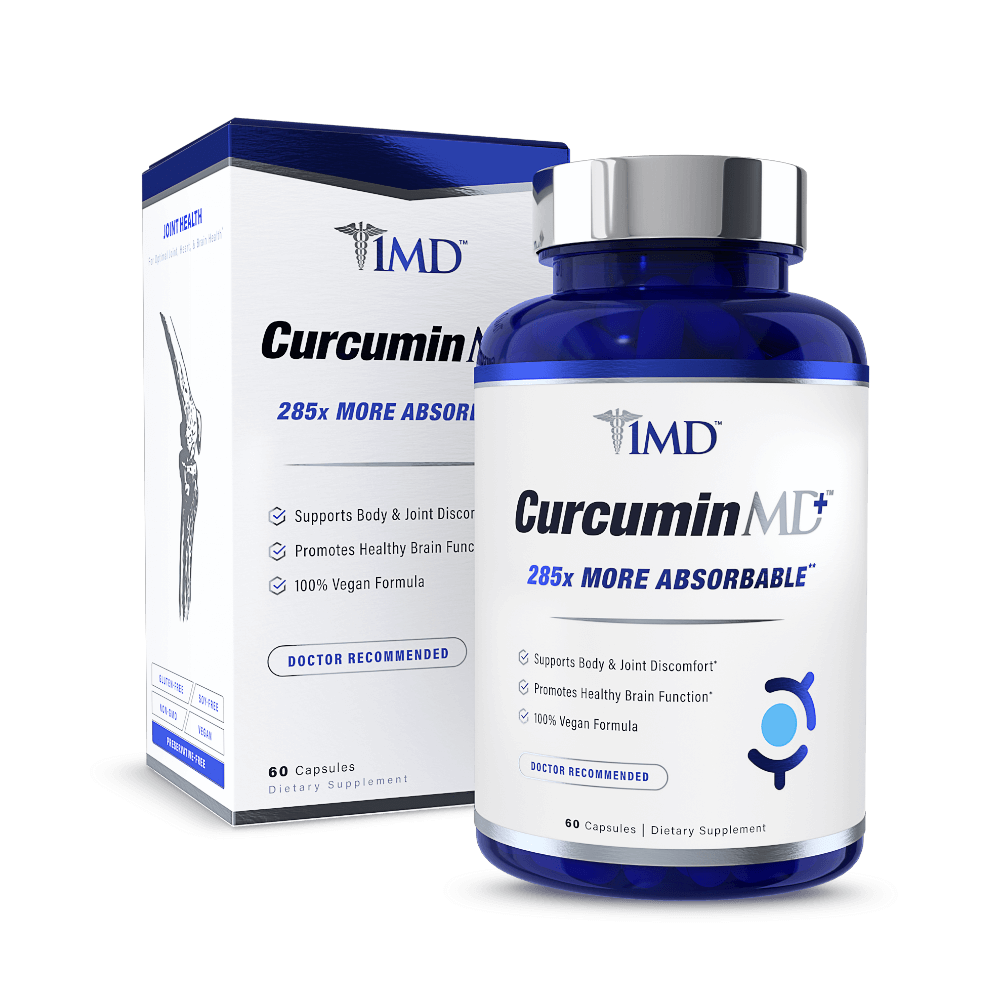 Turmeric contains an active compound called curcumin, and CurcuminMD Plus helps you enjoy all the benefits this compound has to offer.
Curcumin is a natural antioxidant that helps protects joints and tissues, boost the natural production of antioxidant enzymes, improve cognitive health.
With the Longvida Optimized Curcumin formula, this product ensures that the antioxidant reaches the area deep down the digestive tract. This way, your body will be able to absorb it 285 times more effectively.
PROS
​Optimized Curcumin for Improved Absorption and Effectiveness
​Absorbed up to 285 times more efficiently
​Improves brain function
100% Vegan-Friendly
2 - LiveWell CurcuWell
The CurcuWell by LiveWell is also an excellent supplement for supporting your joint, body, and cognitive health.
The 1300 mg Formula contains 1000 mg of 95% Curcuminoid Turmeric Curcumin extract and a 300 mg of 65% Boswellia Serrata. There's also BioPerine black pepper extract which is believed to increase absorption of the product by 2000%.
The overall formula claims to remove joint discomfort, improve brain and heart function, and support your overall body health.
You won't also have to worry about any harmful fillers, as Livewell always prefers having natural ingredients.
PROS
​Contains 95% Curcuminoid Turmeric Curcumin
Includes 65% Boswellia Serrata for joint and body discomfort
Has a BioPerine black pepper for faster absorption
High-Potency Curcumin and Boswellia Blend
CONS
​Some users complain of major side-effects such as bleeding (always consult a physician before buying)
3 - Nuzena Turmeric Curcumin+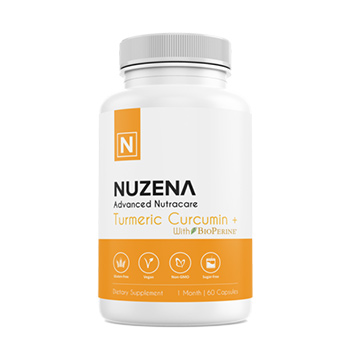 Nuzena is impressive because you can tell how much they care about the individual consumer. My purchase included a personal health specialist, which I've never seen from other supplement brands.
Their turmeric formula is made with 100% natural ingredients. Based on my research, it helps with bloating and feeling healthier and more focused. People also like that it doesn't have any spice taste.
One bottle will last a month, and they recommend taking 1 pill in the middle of the day and another in the evening for the best results.
PROS
Personal health specialist included
Discount when bought in bulk
100% natural ingredients
CONS
Recommended to take twice at different points of the day
4 - TransparentLabs Turmeric 95% Curcuminoids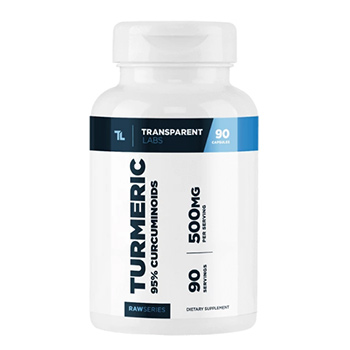 TransparentLabs has the best turmeric amount. It contains 500mg of turmeric powder that is 95% curcuminoids. That's the highest potency you can get, and it also contains the right amount to get the full benefits of turmeric.
It's a little more expensive because of this, but it means that you are getting higher-quality vegan turmeric compared to cheap turmeric root powder.
One capsule is 1 serving, which is great since that's about 2-3 pills. There are 90 capsules per bottle, which will last you 3 months.
PROS
No artificial sweeteners, preservatives, coloring, gluten-free, non-GMO
Healthy amount of 95% curcuminoids (500mg)
Only need 1 pill per day
5 - Ora Organic Turmeric Curcumin Pills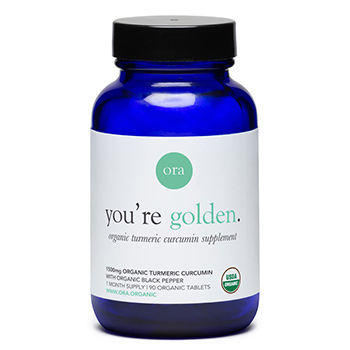 Ora Organic claims they had the first Certified USDA Organic Turmeric Curcumin products in the industry. Both ingredients, 1500mg of turmeric and 15mg of black pepper, are organic and vegan.
A friend of mine loves the health benefits. They say they had reduced inflammation and aches and pains, which was a great perk for them.
One thing that I don't like is that you need to take 3 tablets per day, which is a lot, especially if you take other supplements too. One bottle will last you one month.
PROS
USDA Certified Organic
Contains Piperine
No added sugars, filler ingredients, artificial colors, flavors, sweeteners, or preservatives
Subscription service includes a 20% discount
CONS
3 tablets per day is a lot
6 - BioSchwartz Turmeric Curcumin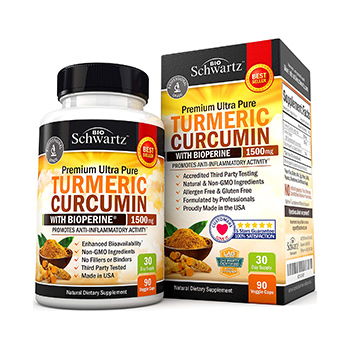 BioSchwartz claims they have the highest potency available in their turmeric pills. I found this is slightly misleading.
They have two different turmeric supplements in their pills -- turmeric root and turmeric extracts. Only the extract has the highest potency available (95% curcuminoids), and there is only 150mg of it in a serving compared to the 1350mg of turmeric root powder.
Each bottle has 90 capsules, but they recommend taking 3 pills per day. One bottle will last 1 month with daily usage at their recommended dose.
PROS
No fillers, preservatives, or GMOs
Third-party tested for quality and purity
Money-back guarantee if you're not satisfied
CONS
Slightly misleading advertising
3 capsules per day is a lot
7 - Vimerson Turmeric Curcumin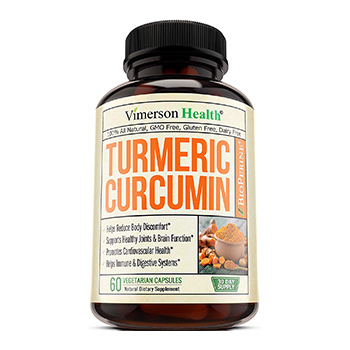 Vimerson says their turmeric supplement is a great choice for women, men, and seniors. It contains 1300mg of turmeric, and 100mg of it is the turmeric extract with the coveted 95% curcuminoids. It also includes BioPerine, a black pepper extract, to help with better absorption.
I wasn't expecting their capsules to be so huge. It was a little more difficult to swallow, but it was manageable. They recommend taking 1 or 2 vegetarian pills per day, depending on your sensitivity. At that rate, one bottle will last you 30-60 days.
PROS
No artificial ingredients
Contains BioPerine for absorption
Made in a GMP-certified facility
8 - Doctor Recommended Turmeric Curcumin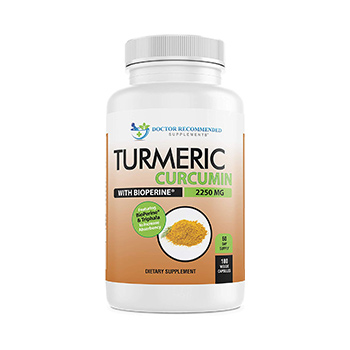 I was excited about this one because it has the most turmeric out of all the supplements on the list. One serving has 2,250mg of turmeric. Most of it is organic turmeric root, but 625mg of it is turmeric extract. It meets the amount that I need to get the full benefits of turmeric.
It also contains BioPerine and Triphala powder to help with bioavailability like absorption and digestion, which I needed, considering how much turmeric is in one serving[1].
PROS
Organic and vegan ingredients
Most turmeric amount
Contains BioPerine and Triphala powder
CONS
Recommended 3 capsules per day is a lot
9 - NuVitality Turmeric Curcumin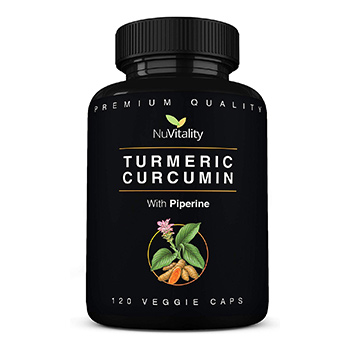 NuVitality is made in an FDA-registered facility that meets the strict GMP standards. Their ingredients are 100% pure and natural, although I didn't see any certifications or verification for this claim.
It has 1300mg of turmeric, but most of it is root powder and not the extract with the high potency. I think there are better options available, but my research shows this helped a lot of people with pain relief.
They have a 100% risk-free money-back guarantee, so you can always get a refund if this product isn't for you.
PROS
Only 2 vegetarian capsules per day
Money-back guarantee
Non-GMO with natural ingredients
Most cost-effective
CONS
Only 100mg of turmeric has 95% curcuminoids
10 - Garden of Life Turmeric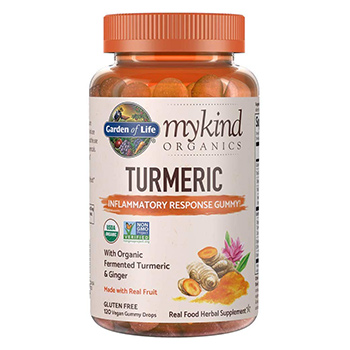 If you have a hard time taking pills, then this might be the turmeric supplement for you. They are vegan gummy turmeric supplements.
This could be a great option if you are looking for low amounts of turmeric. There are 4 gummies in one serving, and each serving has 254mg of turmeric proprietary blend.
It does contain other ingredients that I believe are for flavor. It includes cinnamon, ginger root, and an organic fruit blend. It's also lightly dusted with organic rice powder. People say it tastes great.
PROS
It's a gummy, not a pill
Children can take this
Certified USDA Organic
CONS
Low amount of turmeric per serving
11 - Nature's Nutrition Turmeric Curcumin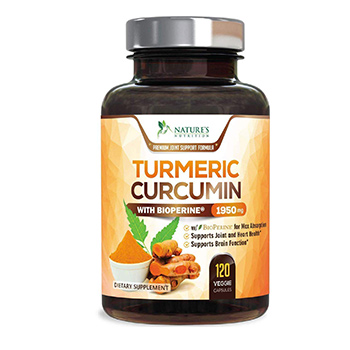 This is one of the more affordable turmeric supplements available.
It contains 1950mg of turmeric, with only 150mg of it being curcuminoids. It seems to have a lot of cheap root powder, which may not have the best quality. I found a lot of reports of adverse side effects, including nausea and diarrhea.
This is another supplement where they recommend taking 3 capsules per day. If you get a 120-pill container, then this will last you for just over 1 month.
PROS
Affordable
Contains BioPerine
GMO-Free
CONS
Recommended serving is 3 capsules per day
Reported side effects
Adding this powerful plant (turmeric) to your diet is one of the best things you can do for long term health.- Natalie Kling, Nutritionist
12 - FineVine Turmeric Curcumin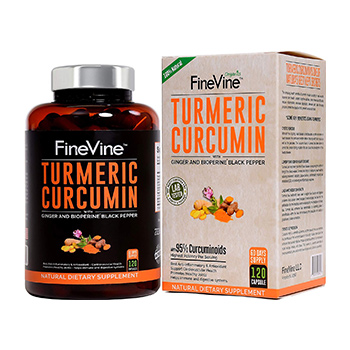 Reviews for FineVine's turmeric supplement says it helped them with their inflammation and joint pain.
One of the ingredients included is ginger root extract, which the company says helps with reducing pain and stiffness in joints. It also contains BioPerine for better absorption.
What I didn't like about this product is that its turmeric is a proprietary blend. So even though it contains 1500mg of turmeric root and extract, I can't tell the exact amount of each.
PROS
Non-GMO
Third-party tested for quality and purity
Includes ginger root and BioPerine
CONS
Proprietary blend blocks the exact amount of ingredients
What Are the Benefits of Turmeric?
There are several benefits of turmeric for your body and brain. It has important antioxidant and anti-inflammatory properties. If you want to enjoy the anti-inflammatory benefits of it, we recommend you to check out this vegan turmeric coffee & golden milk recipe.
There has been a lot of research to support the health benefits of turmeric, so it's not one of those supplements that don't have any evidence [2].
Let's take a look at the most common benefits of turmeric.
Natural anti-inflammatory and antioxidant properties
Can help manage symptoms of arthritis
Boost brain function
Lower risk of brain disease
Lower risk of heart disease
May help prevent cancer
May prevent Alzheimer's disease
Potential help with depression
May help with diabetes management
Could increase longevity
What's The Best Curcumin Supplement For Vegans?
Many people take turmeric powder primarily to relieve pain. Its anti-inflammatory properties can help alievate discomfort in your joints, with curcumin being its most active compound. However, some of these turmeric supplements aren't suited for vegans.
Our best recommendation: out of all the products above, 1MD CurcuminMD® Plus is definitely one of the best turmeric supplements out there if you are vegan.
Adding this powerful plant (turmeric) to your diet is one of the best things you can do for long term health.

- Natalie Kling, Nutritionist
This high quality curcumin supplement may help in improving your joint health, regulate your blood sugar, and overall well-being. One study also claims to improve brain function, which can be backed up by its list of healthy ingredients.
Again, that's just our humble opinion. If you feel some other products deserve to be on this best turmeric supplements list, let us know in the comments below. Spice up your life.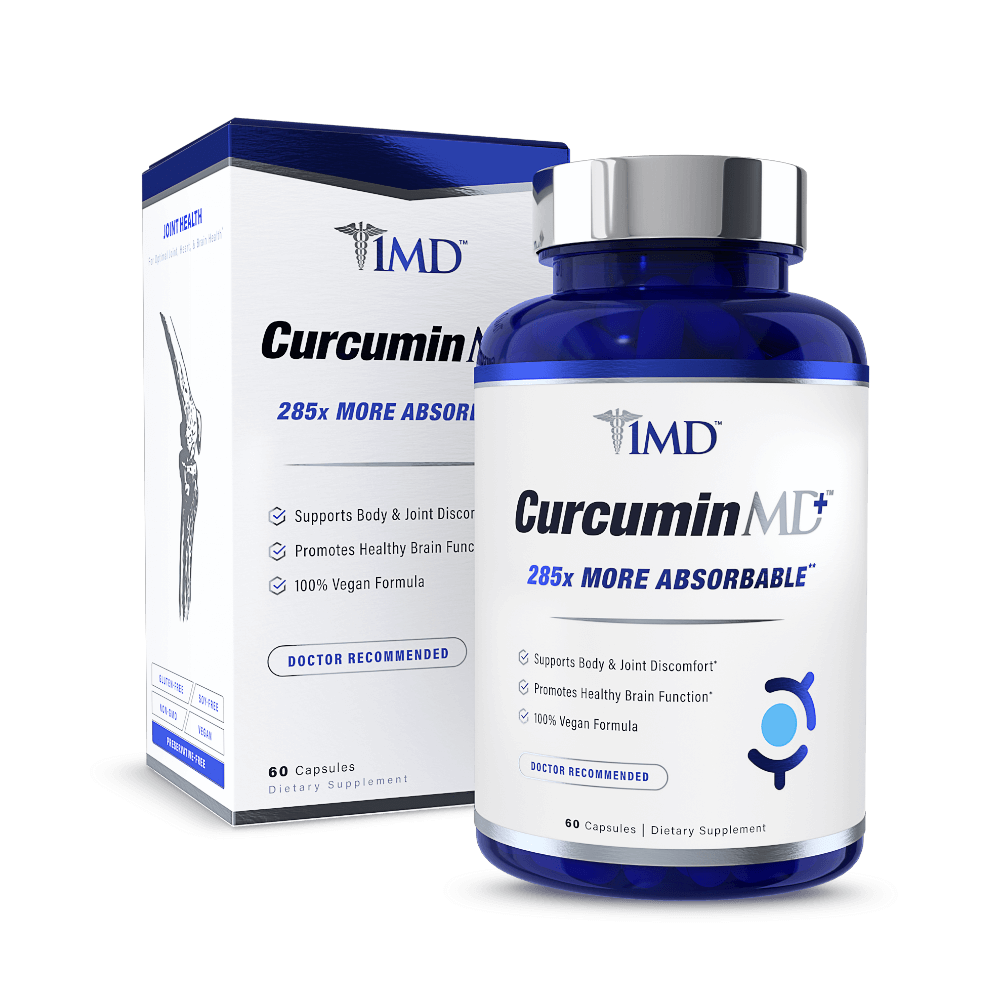 Curcumin MD Plus
Our #1 Recommendation
​Optimized Curcumin for Improved Absorption and Effectiveness
​Absorbed up to 285 times more efficiently
​Improves brain function
100% Vegan-Friendly
Get the BEST PRICE until the end of May
Click For Best Price
About the author