Eating well can sometimes feel like a full-time job. When you're focused on weight loss or keeping it super healthy, a meal plan can be even more challenging.
Urban Remedy aims to take the difficulty out of the diet meal plan by providing you with a super healthy, organic, fresh, yet delicious experience.
If you've ever wondered how it feels to eat and live like a supermodel, then Urban Remedy can do that for you.
What Is Urban Remedy?
Urban Remedy is a meal delivery service that focuses on health. They offer 3-day or 5-day meal plans that are tailored to specific aims.
Whether you're after a juice cleanse or a metabolism reset, you can find delicious recipes to nourish your body and soul.
If you really want the supermodel experience, you can even commit to the Kate Upton 12 week meal plan combined with her Strong4Me Fitness program.
The juices and meal plans are all tailored to your needs, and if you have any specific allergies, they will cater to that as well.
Benefits And Highlights
If you want to know what healthy eating feels like, few meal plan programs do it as well as UR. It is plant-based and focuses on juices and meals that will keep you feeling full throughout the day while also being big on flavor.
It doesn't leave you feeling wanting or hungry and can help to build good habits.
"We choose each ingredient based on their overall health benefits from our salts and oils to our certified organic produce, grains, nuts, and seeds."

- Neka Pasquale, M.S., LAc, Founder of Urban Remedy
Another great thing about the program is that if there are any particular juices or meals (like the delicious rainbow salad) that you become addicted to, you can order them individually.
From the first day, you will realize how good green juice in the morning can leave you feeling.
For those who want to learn more about the green juice, its benefits and tips on how to make the most out of the body reboot, watch the video below: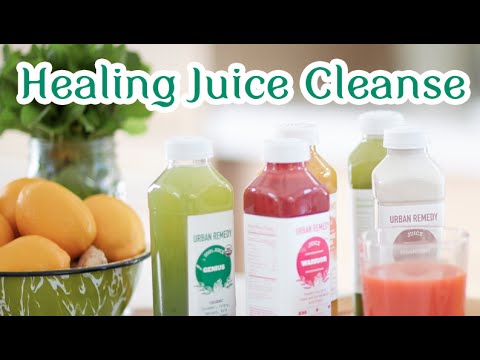 Urban Remedy Shortfalls
It would be impossible not to talk about this supermodel juice detox and food plan without mentioning the price. It is exclusively expensive and definitely marketed towards the elite.
It is gluten-free, plant-based, organic, and every other buzz word needed to warrant the outrageous price tag.
A fully catered meal plan for just three days can cost you a ton of money, and even the cheapest variant isn't much better.
In terms of value, it is undeniably worth it. You are getting incredible quality in the juice cleanses and healthy eating options.
Every day serves up something new, and the three days can really impact the way you would like to eat and diet going forward.
But even with all that, the price can be a bit of a barrier.
In-Depth Review
As mentioned above, the cost is at the elite level. Compared to other meal delivery services or even just juice cleanse programs, it is at the absolute upper end in terms of price.
The value is there, and the juices, snacks, and salads will keep you feeling excited to eat even when hungry.
I haven't been able to get a real clear answer on whether there is much flexibility in the plans. The ingredients are all fresh, and they shy away from all the more problematic fare like gluten or known allergens.
They list the daily schedule on the website, but whether you can opt-out of food that you know isn't to your taste remains to be seen.
This is one of the biggest draws to the program, and it remains one of the main reasons to try it out, even if just for a three day cleanse. The flavors and the food is an excellent example of just how truly delicious healthy eating can be.
If you treat it as a taster program and then buy the cookbook or continue buying the individual items that most tickle your tastebuds, it can really positively impact your diet.
The variety of what you will eat on any particular plan is again very surprising. While there are staples such as the morning juice or the snacks that you eat day to day, even in a salad, there is an enormous variety in ingredients and dressings that make it feel brand new.
I didn't get bored at all with my cleanse and would definitely have tried more days.
What are the food choices?
In terms of choice, there is a great deal at the first stage when deciding which kind of cleanse or diet plan is right for you. But past that, what is on the menu is what you get.
There are many different cleanse and diet options to choose from, though, and each one is tailored to a specific goal or intention, which is very helpful.
Is the company environment friendly?
This one is a little hard to parse. What I really like about the cleanse and diet options is their commitment to sustainable healthy living, but as with all food delivery services, that is made hard in the packaging.
The company has committed to upcycling wherever possible and manages their waste as responsibly as possible. They also work in their local community and donate profits to feeding the hungry.
Would I Use Urban Remedy Again?
I think what Urban Remedy provides is possibly one of the best cleanse and health-focused options out there. It can really change the way you think about what a good diet is, and having tried it and felt the benefits, many will continue those habits going forward.
That said, other companies offer that same "love salads" feel with a focus on food made to nourish. It doesn't have to break the bank, and while the odd cleanse here and there might be felt to be beneficial, you can do it cheaper.
I would recommend Trifecta as a much more sustainable option.
They provide the same great taste in your good-eating breakfast, lunch, and dinner but at a fraction of the cost. When I have a particularly busy week coming up, they are always my go-to choice to keep the stress out of eating.
Trifecta Nutrition Meal Delivery
Our #1 Recommendation
Offers large meal plan varieties - Keto, Paleo, Vegetarian, Vegan, and Classic
Organic ingredients
​Utilizes low carbon footprint
Delivers fully-cooked meals at your doorstep
Get the BEST PRICE until the end of June
Click For Best Price
About the author