Many ask the question: are green superfood powders any good? Right, you are! But do all brands deliver top-quality? Far from it.
Nested Naturals Super Greens is one such supplement that is designed to increase your daily intake of beneficial vitamins and minerals that you may be missing from your diet.
In this Nested Naturals Super Greens review, we will look at this product in more detail to see what ingredients it contains, whether it brings good value for money, and what's the public opinion.
What Is Nested Naturals Super Greens?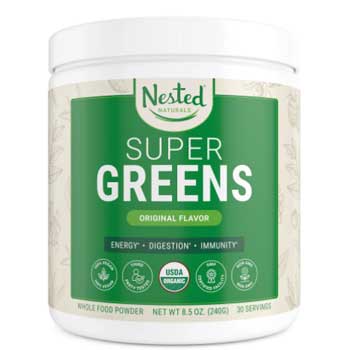 The company was created by Jeremy Sherk in 2014 in Vancouver, Canada.
The owners created this company to offer products that use globally-sourced ingredients, and that have been thoroughly tested by third-party labs. They aim to be transparent and honest with their customers.
It is essentially a 100% natural green drink made from various fruits and veggies that you may simply drink in order to fill any nutritional gaps in your diet.
There are over 40 green superfood powder ingredients to be found in the formula, with every batch tested and certified. This supplement is certified USDA organic, is non-GMO, and 100% vegan.
Some of the key features/claims of this plant-based juice powder include:
offers a probiotic blend, enzyme blend, immunity blend, antioxidant blend, etc.
40+ organic ingredients
1,000 mg spirulina - contains various amino acids, vitamins and minerals
300 mg chlorella - a good source of fiber, omega-3, antioxidants and protein
Quickly and easily absorbed

Helps boost your brainpower
Improved digestive health
Increases energy levels
Improved immunity
Other green powders you can check out:
List of Ingredients

The ingredients of this super greens powder supplement are broken down into several "blends". These include:
Alkalizing Blend (3847 mg)
The alkalizing blend contains ingredients such as barley grass, wheat grass, alfalfa grass, wheatgrass, spirulina, chlorella, dulse, spinach, broccoli, parsley and collard green powder.
It is believed that when you alkalize your body it will help prevent damage caused by free radicals [1].  If you have bad skin or wrinkling and wrinkles, that's a good sign that you have increased levels of free radicals in your body.
Free radicals damage has been linked with conditions such as Alzheimer's [2], rheumatoid arthritis [3], and cancer [4] among other problems.
To help prevent all of the problems above, add NOW spirulina powder to your supplement stack.
Immunity Blend (1053 mg)
This blend is made from beetroot, acerola, eleuthero, echinacea, acai, green tea, milk thistle, gingko leaf, luo han guo, raspberry, blueberry, and carrot powder.
As the name suggests, this blend contains ingredients shown to promote a healthy immune system.
Probiotic Blend (333 mg)
This blend contains lactobacillus gasseri, bifidobacterium bifidum, and bifidobacterium longum, with 1.67 billion CFU.
Probiotics offer numerous health benefits for the GI tract and have been shown to offer relief from both IBD and IBS [7], may help boost your immunity [8], and promote good digestion [9].
Enzyme Blend (67 mg)
The final blend contains amylase, protease, lactase, lipase and cellulase.
These enzymes can all help to improve digestion and the various health benefits that can offer.
How Does Nested Naturals Super Greens Taste?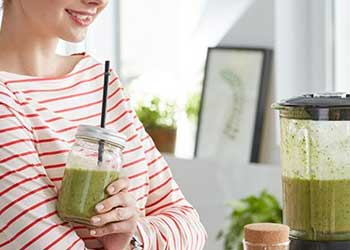 While the taste is not necessarily the worst, and is certainly not as grassy as some other super greens supplements, it is not something to brag about either.
The flavor is described as being similar to raisin bran, but without any of the raisins or added sugar.
If you like the taste of whole-grain cereal then you should be able to stomach the taste.
To make this taste more palatable you may want to try adding this powder superfood to a smoothie, or adding another sweet ingredient.
PROS
Will help close any nutritional gaps
Affordable price
Lifetime guarantee
CONS
The label reveals that the vitamin and mineral content is low
Blends hide the dosage of each ingredient
Questionable taste
Potential Side Effects

Nested Naturals Super Greens does not contain any well-known allergens, such as wheat, gluten, GMO, soy, dairy, egg, fish, nuts, corn, yeast, shellfish, and tree nuts.
It is worth checking the label yourself to ensure you do not have any allergies to any of the ingredients found in the formula.
Some of the common side effects associated with greens superfoods include:
Diarrhea and other GI issues. Changes in your diet can potentially disrupt your bacterial gut flora. An increase in dietary fiber that is found in the leafy vegetables may also cause an upset stomach.
They may interact with medication. Leafy vegetables such as kale and spinach are both rich in vitamin K, which could interfere with blood thinners.
Nested Naturals Super Greens also contain probiotics that have also been shown to cause side effects such as:
Temporary increase in gas and bloating that will subside over time.
They may cause an increase in histamine, which can lead to symptoms similar to an allergic reaction.
An increased risk of infection in those who have recently had surgery, or have a compromised immune system.
If you do encounter any side effects then you may want to consider stopping the use of this supplement. You may also wish to speak to your doctor about any problems encountered.
If you suffer from any of the following side effects, you may try superfood powder from MacroLife Naturals.
Where To Buy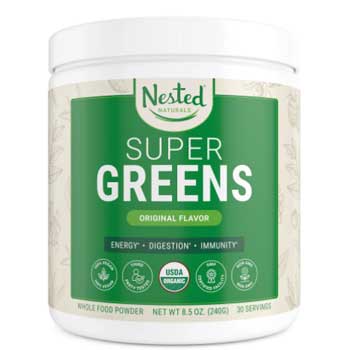 You can buy Nested Naturals Super Greens from two places online, its official website and from e-commerce websites.
E-commerce sites seem like a better option.
The supplement is for sale either as a "one-time purchase", or you can "subscribe and save", which will ensure you save 5% off the RRP from online retail sites, and 10% off the RRP when buying from the official website.
If you do wish to buy this product then I would recommend opting for the subscription offer, as not only will you get the product cheaper but you will also be able to choose when your next delivery will be.
This service has no additional fees and can be canceled at any time.
Whichever option you choose, there is a full lifetime guarantee available. If you are not happy with your purchase then you simply need to contact the company to get your money back in full.
Customer Reviews

Over 70% of customer reviews have been 5-star rated. Many of whom have experienced an increase in energy and improved health.
"I haven't had experience with green powders before. Spirulina and chlorella? Never heard of it. But I've been trying this man greens product for some time and it feels like a game-changer to me. Huge difference in the way I feel, every day."

- Johnny Dang
"I try and find ways to improve the flavor. And considering I often feel exhausted (I'm constantly on the go), this organic veggie drink saved me in a way. I have started drinking one serving of 12oz in one scoop per day and feel ten times better. I'll be buying it again, for sure."

- grim789
However, a 1-star super greens review also keeps popping up every now and then. Here are some examples:
"I'm not keen on this stuff, but having issues with my digestive tract, I was getting to the point of desperation. I read that a hefty dose of super greens is packed with recommended daily nutrients and digestive enzymes. All mine did was exacerbate the problem. Maybe others like it, but it's definitely not for me. That, and it tasted like dirt."

- Samantha
When people overuse words like 'health', 'great', 'best', 'gluten free', and 'organic' - I get all skeptical. I know supplement nutrition is vital, but does it have to be so unpleasant on the tastebuds. Third-party tested or not, this is not a green superfood drink for me. I was right to be skeptical. 1-star review from me."

- Rebecca Walton
FAQs
How To Take Nested Naturals Super Greens?
You should take Nested Naturals Super Greens by mixing 1 scoop with 8 or more ounces of water, juice, or mixed in with your favorite smoothie.
Does Nested Naturals Super Greens Contain Added Sugar Or Artificial Sweeteners?
No, Nested Naturals Super Greens does not contain any added sugar or artificial sweeteners, the flavors all come from natural ingredients.
Is Nested Naturals Super Greens Organic?
Yes, Nested Naturals Super Greens is certified as organic by the USDA (United States Department of Agriculture).
What this means is that this super greens supplement contains at least 95% organic ingredients.
Is Nested Naturals Super Greens Suitable For Vegans?
Yes, their super greens powder is suitable for use by vegans. It contains 100% vegan-friendly ingredients.
Can Super Greens Powder Be Used As A Meal Replacement?
No, super greens powder should not be used as a meal replacement.
Even though it contains various vitamins and minerals it is not an adequate replacement for a healthy diet full of fresh fruit and vegetables.
Should You Buy Nested Naturals Super Greens?
Frankly, this antioxidant blend is not a bad product, but it is not our number one choice either.
On one hand, it is made from 100% organic ingredients and will certainly help close any nutritional gaps you may have in your diet. It is also affordable and offers a lifetime guarantee on all orders, which is always a good sign.
However, the problem is that when looking more closely at the label we cannot see how much of each ingredient has been used, as this information has been hidden behind the "blend". It is also clear that the vitamin and mineral content provided is low.
Paired with the fact that it is not the best tasting greens supplement available, some users are instinctively bound to turn away their heads.
Our suggestion would be to look for an alternative, such as Organifi Green Juice.
The amount of nutrients in the formula is drastically richer and is a better-tasting product overall. It may be a bit more expensive, but the ample amount of fruits and vegetables as well as digestive enzymes provided per serving is definitely worth the extra dollars.
What do you think of our Nested Naturals Super Greens review? Do you have a super greens review to share? Tell us about your experience in the comments below.
Organifi Green Juice
Our #1 Recommendation
Convenient Source of Nutrition
Boosts Immunity
Decreased Stress Levels
Detoxification
Overall Health Improvement
Use code: VEGANLIFTZ for 15% Off until end of May
Click For Best Price
About the author