Mike Tyson once bit an opponent's ear off. During a televised fight. He didn't just have a nibble that drew some blood. No. One minute Evander Holyfield's ear was attached to his face; the next, it was between Tyson's blood-soaked teeth.
This story jumped out at me when a friend recently asked: "Is Mike Tyson vegetarian?"
I hopped onto Google and was massively surprised to find that, up until recently, the boxer who once tasted man flesh was a full-on vegan! (Picture the Uruk-hai eating Lembas bread.)
The Tyson We Remember is a New Man
As a casual fan of boxing, I've always been aware of Mike Tyson's reputation both in and out of the ring. He was something special when he was fighting. Without a doubt, one of the best boxers the world has ever seen.
I'm not alone in wondering what his legacy might have looked like if he'd managed to avoid becoming one of the worst-behaved sportsmen in history. Sadly, he'll mostly be remembered for ear dismemberment, cocaine abuse, imprisonment, and squandering a fortune.
What most people don't know is that this version of Tyson exists no more. Today, he's comfortably inhabiting a sensitive persona of calmness and professionalism. He's remorseful and aware of the damage he's caused himself and other people. He's a changed man.
It may be a stretch to say that turning vegan was the primary reason for his dramatic turnaround. But, listening to the man speak about the impact a plant based diet has had on his life, you'd be tempted to think so.
[thrive_leads id='11437']
Comeback and Ditching the Vegan Diet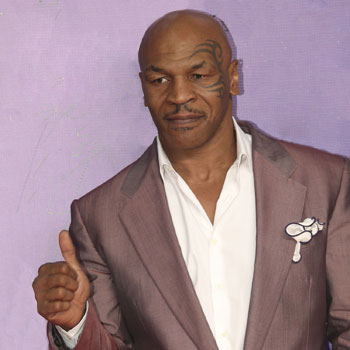 Adopting a vegan diet for close to a decade gave the 54-year old enough reason to feel he's ready to step back into the ring. In many of his training and sparring videos circulating online, Tyson looks incredible.
The man is in terrifyingly good shape, moving with the speed and power of a much younger fighter.
His trainer, Rafael Cordeiro, recently said: "I didn't know what to expect from a guy who hasn't hit mitts for – I think – almost ten years," the MMA trainer told Talksport [1].
Sadly for the vegan community, in order to get in shape for his upcoming exhibition fight against Roy Jones Jr, Tyson has reintroduced red meat into his diet.
Speaking to Joe Rogan - whose podcast is fast becoming the platform-of-choice for announcing that you've turned your back on the plant-based lifestyle - Tyson said:
I stopped because of the training and because of what I wanted my body to look like and the strength that I wanted to possess.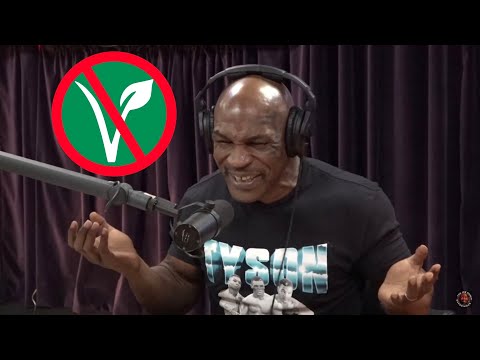 Why did Mike Tyson Choose a Plant-Based Diet?

Still the youngest man to ever hold the title of world heavyweight champion, Tyson started following a strictly vegan diet for weight loss and for health improvement reasons in 2010. This was five years after his retirement - three years after his last brush with the law. He was 44 years old at the time.
He was a shadow of the man he once was, albeit a 380 lb, cocaine-addicted, alcoholic shadow with high blood pressure. In a 2013 interview with Oprah Winfrey, Tyson admitted that he recognized that his life was out of control and that he needed to take action. Adopting a plant based diet was one of his first steps.
"Becoming a vegan gave me another opportunity to live a healthy life," he told Winfrey. "I was so congested from all the drugs and bad cocaine, I could hardly breathe. High blood pressure, almost dying, arthritis and once I became a vegan all that stuff diminished."
In another, rather more candid, interview, Tyson gave more information on his dietary choices. "I don't eat anything that has a mother and father."
He told GQ Magazine.
If you were created through a mother and father, through any kind of intercourse, I won't eat you.
Benefits Beyond Physical Health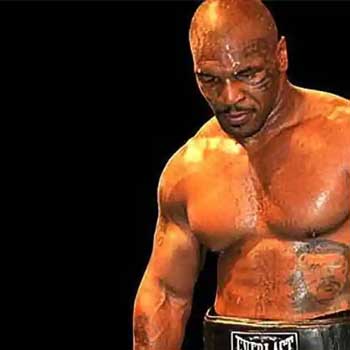 Becoming a vegan was clearly a decision motivated by a desire to improve his health and, let's be frank, avoid dying. His high blood pressure alone was enough to scare any middle-aged man into reconsidering his lifestyle.
At the time, the Mike Tyson Diet seemed to consist mainly of steak, casual violence, booze, drugs and bad cocaine.
Aside from solving all the physical issues that years of poor eating habits and substance abuse caused, choosing a vegan diet had a remarkable impact on Tyson's tormented personality.
To say he was "no angel" is beyond an understatement.
In his interview with Oprah, Tyson made it obvious that becoming vegan played a big role in stabilizing his tormented, violent psyche.
"I just felt like changing my life, doing something different. And so I became a vegan. It gave me another opportunity to live a healthy life," he said about how his new lifestyle has made him a better husband and father.
Notable athletes that turned vegan:
Final Thoughts
Did Mike Tyson turn his life around because he became a vegan? Or was a vegan diet simply an inevitable part of turning his life around? The answer is immaterial.
What's important is that, for close to a decade, a plant-based diet played a key role in the 54-year old enjoying renewed physical and emotional well-being.
His turnaround is an incredible endorsement for plant-based eating. At his worst, Tyson was a social terror - an unhinged menace.
Hearing him speak about his turnaround is beyond motivational. It's real evidence that anyone can improve their lives by making the right choices.
[thrive_leads id='11437']
References:
1 - https://talksport.com/sport/boxing/702274/kill-mike-tyson-new-coach-rafael-cordeiro-age-boxing-comeback/
About the author